Cut yourself some Slack
Bring your team to Cliq: the business chat app with built-in productivity tools and a robust platform, for one-fourth the price of Slack!
Your business can save $900/year with Cliq
A workplace chat app should be

smart and efficient, secure, and affordable!
Features

Screen share

$6.67

SAML-based single sign-on

$12.50

OAuth with Google

$6.67

File storage

100GB

per user at $3

20GB

per user at $12.50

Active Directory Sync

$12.50

Multi-team channels

$3

$12.50

Custom user groups

$3

$6.67

User provisioning and de-provisioning

$12.50
- Free
- Free
Cliq strives to give the best team chat experience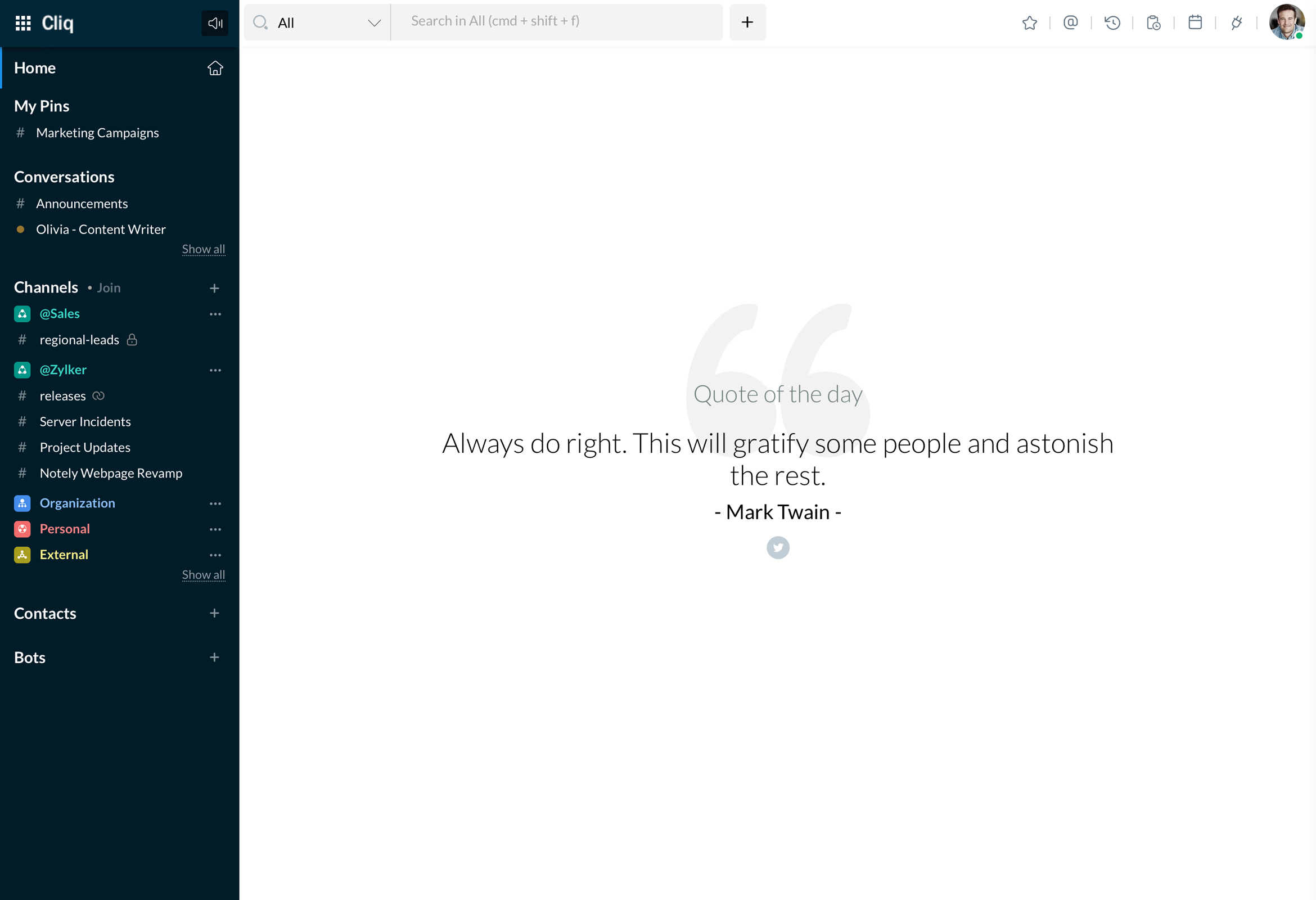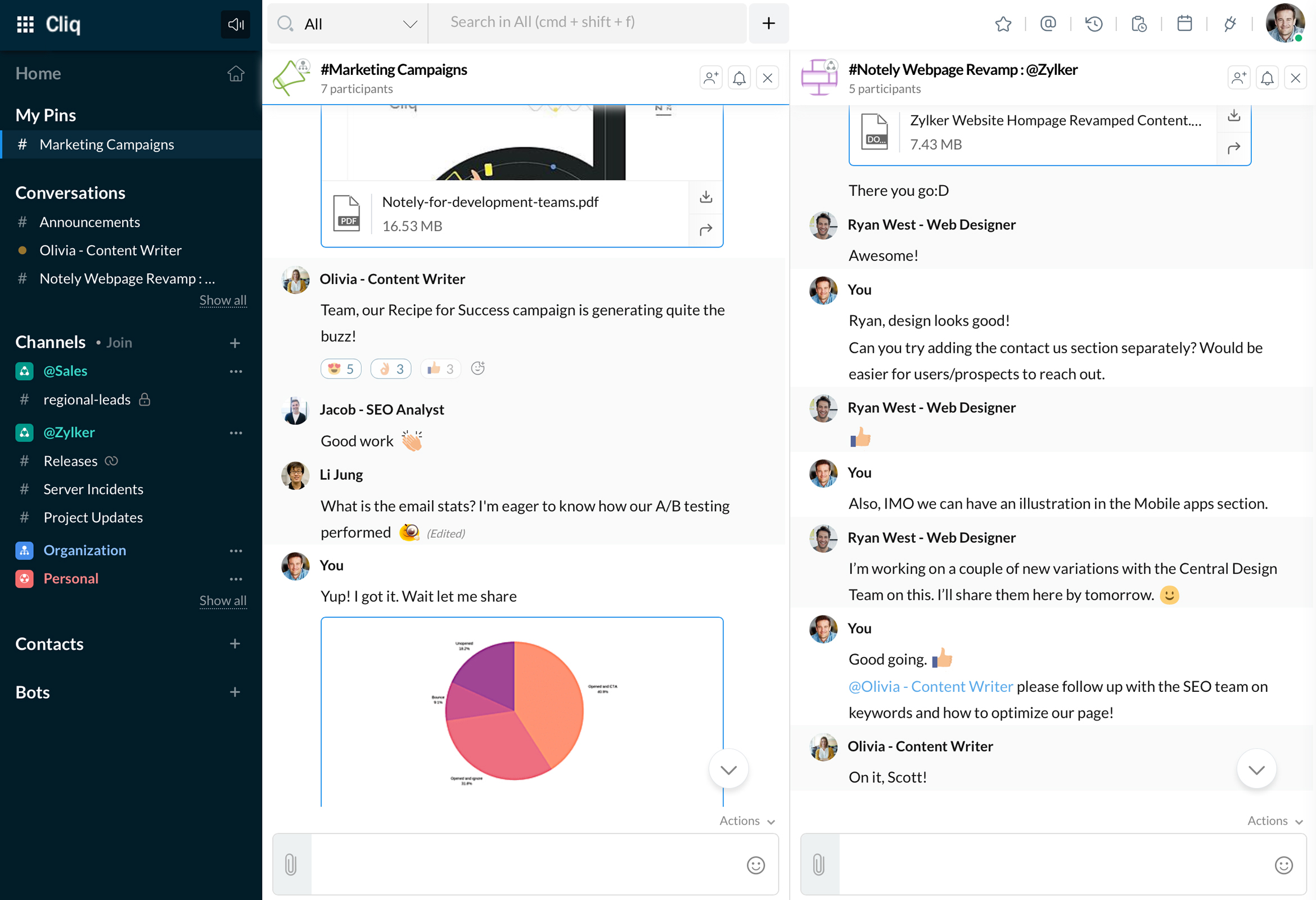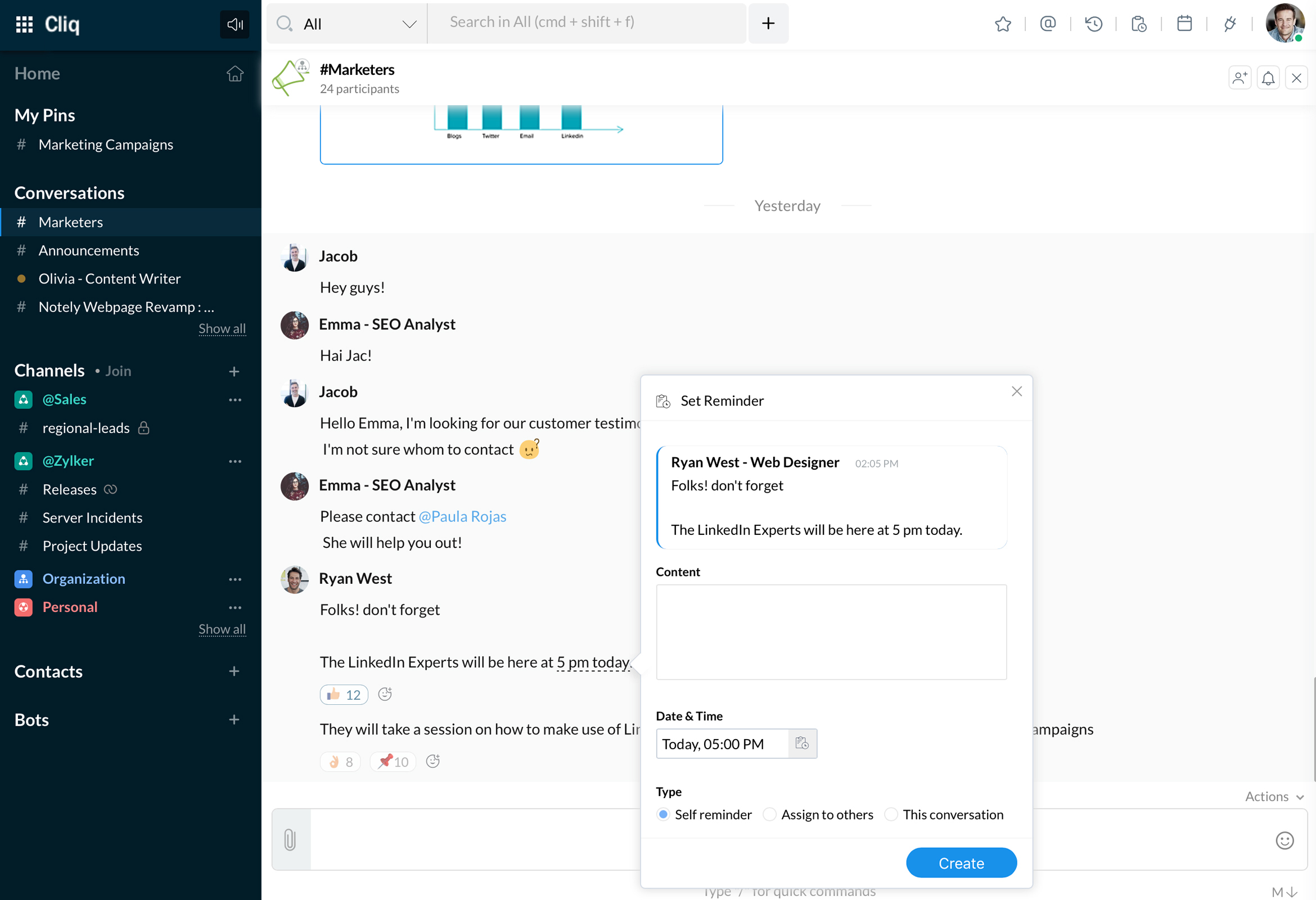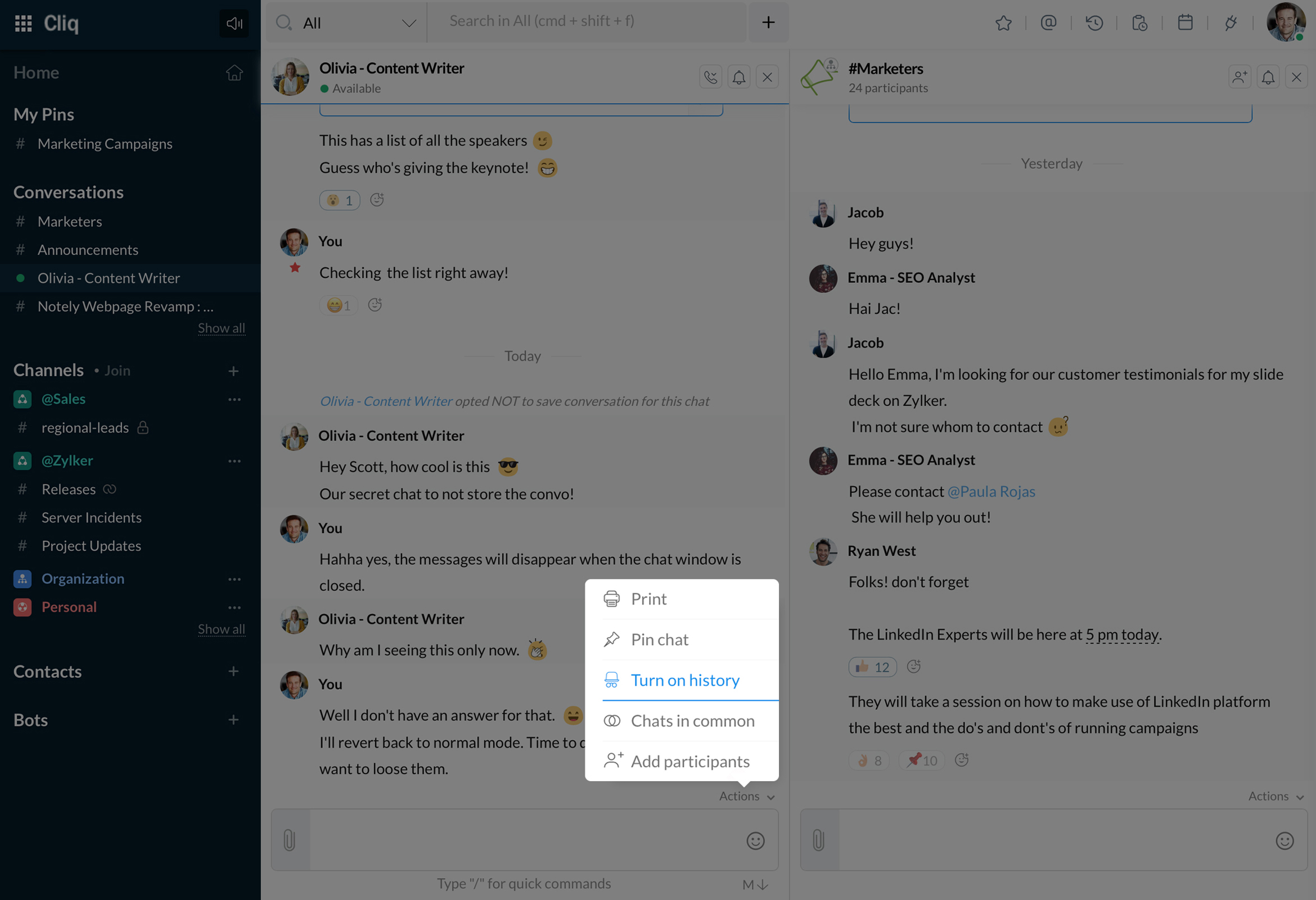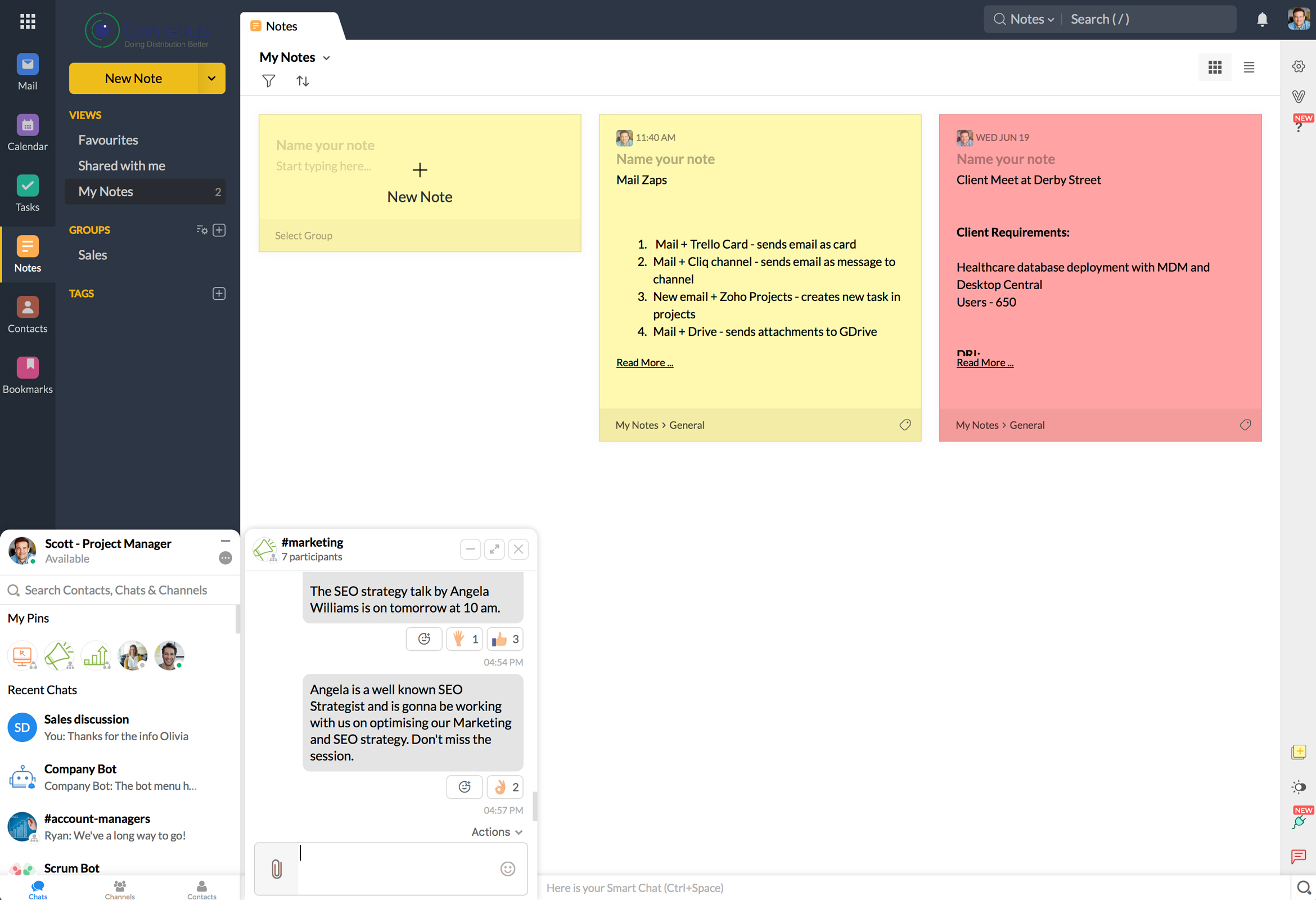 Channel levels

Organization, Team and Multi-team, Personal and External channels to structure and streamline your communications.

 

 

Multiple chats on screen

Keep an eye on all your most important chats, share files, and make video calls—all in parallel with Cliq's multiple chats view.

 

 

Smart suggestions

When your discussions grow into bigger decisions and to-dos, convert them into helpful Reminders or Events right in chat window.

 

 

Secret Chat

For talks that need absolute privacy, leave no trace of your conversation by turning off chat history when needed.

 

 

Contextual & Natively Integrated

Whether you're checking your email or writing up a document, access your conversations without leaving your tab. Cliq is natively integrated with all Zoho apps!
Let your apps work together
Choose from our 50+ integrations and connect your team's apps with Cliq, ensuring a steady stream of updates and app activities right within Cliq.
Dropbox

Trello

Crashlytics

Mailchimp

 

Zoho CRM

Zoho Desk

Zoho People

Zendesk
Build your own army
Cliq offers a robust platform to build your own workflows—creating endless possibilities for connecting with all your apps
 

 

Chatbots

From fetching daily news from your favorite source to raising a travel request, you can create bots to do it all.

 

 

Schedulers

Be it weekly campaign results or daily website traffic, build schedulers and get them delivered in your chats.

 

 

Message Actions

Establish message actions to convert your conversations into useful actions like logging them in your Sprints module.

 

 

Actionable Cards

Bring buttons in your bots, schedulers, forms, ... to life by giving them a function to perform.

 

 

Databases

When you build your own components, storage is a breeze with Databases in Cliq.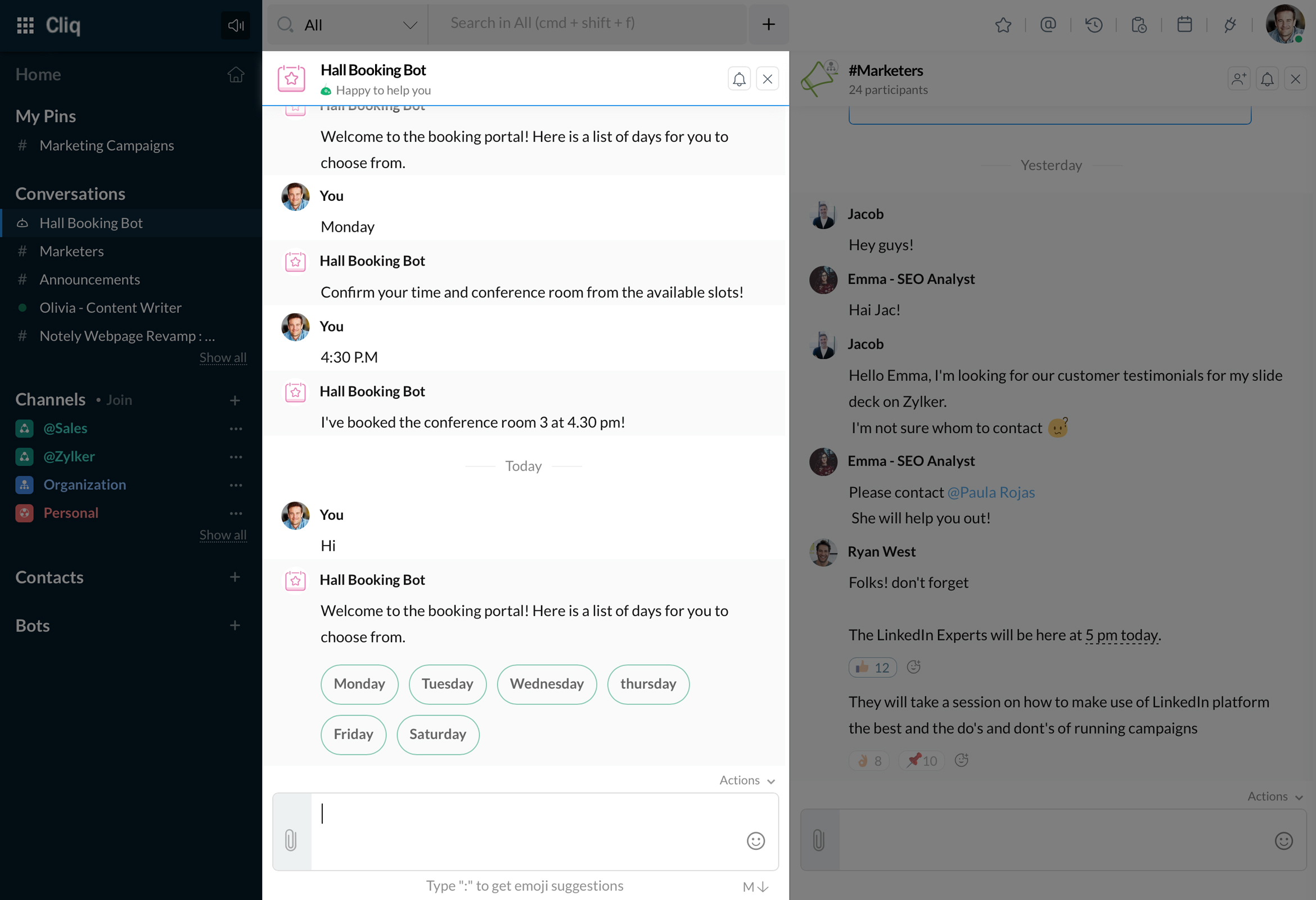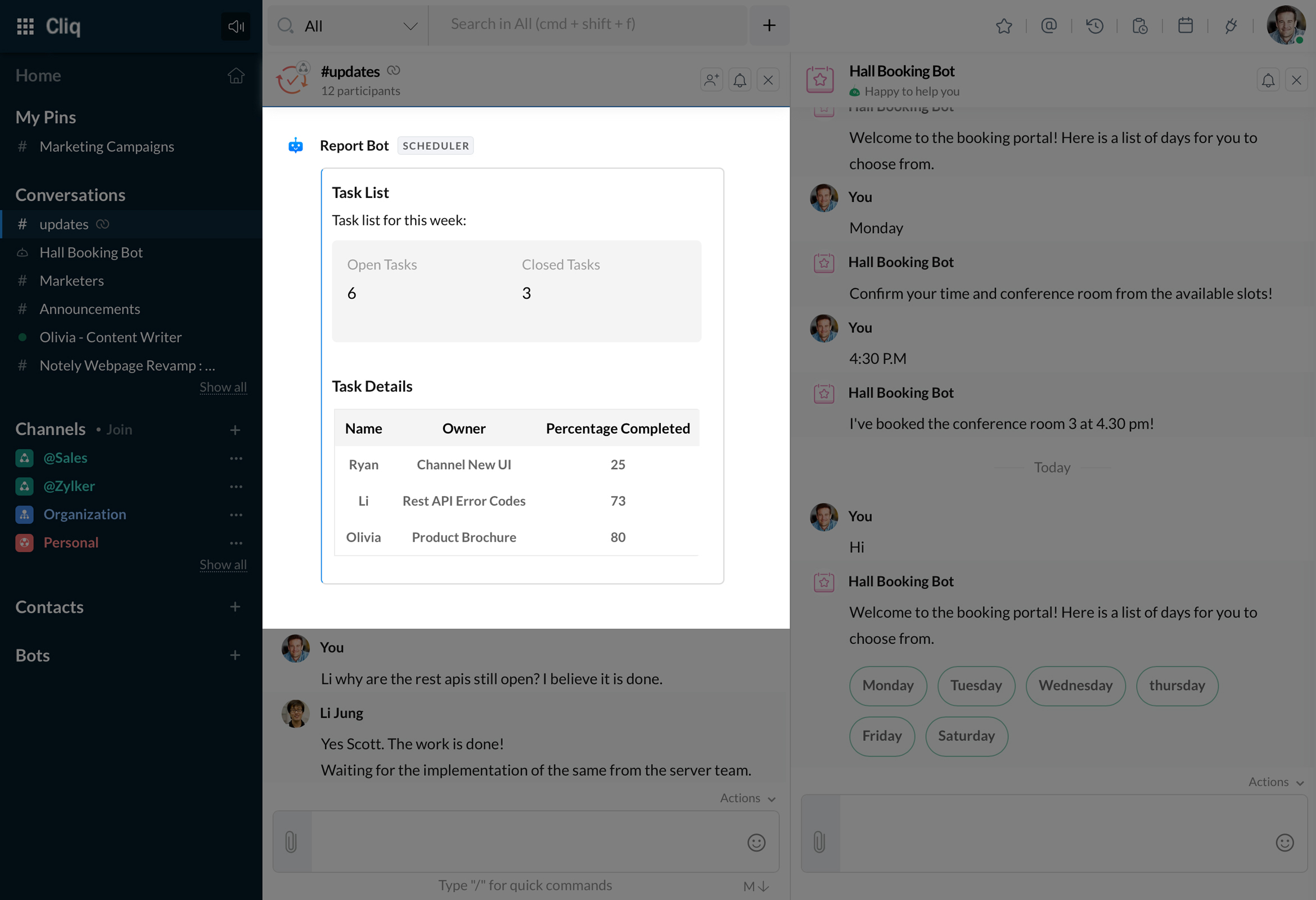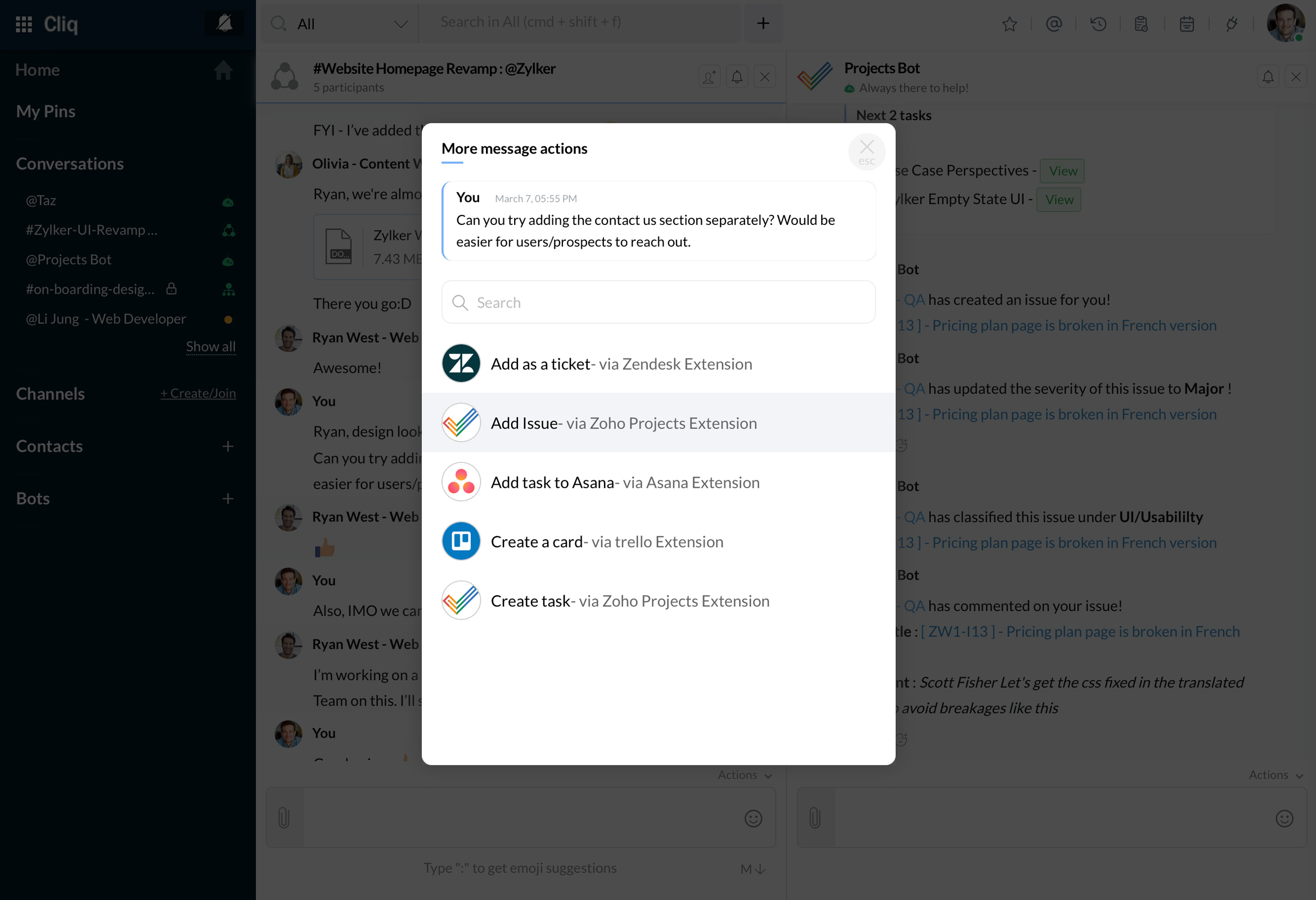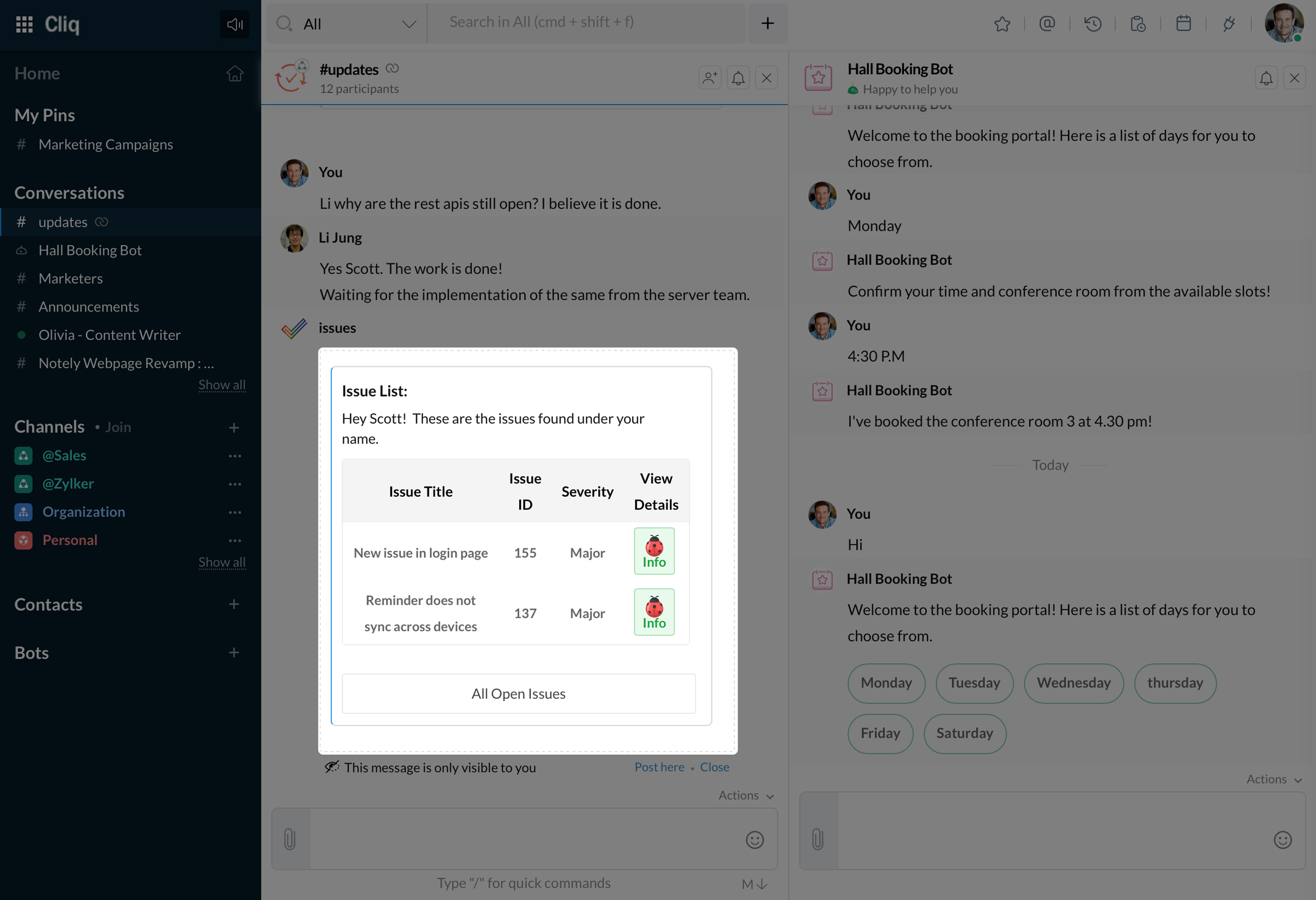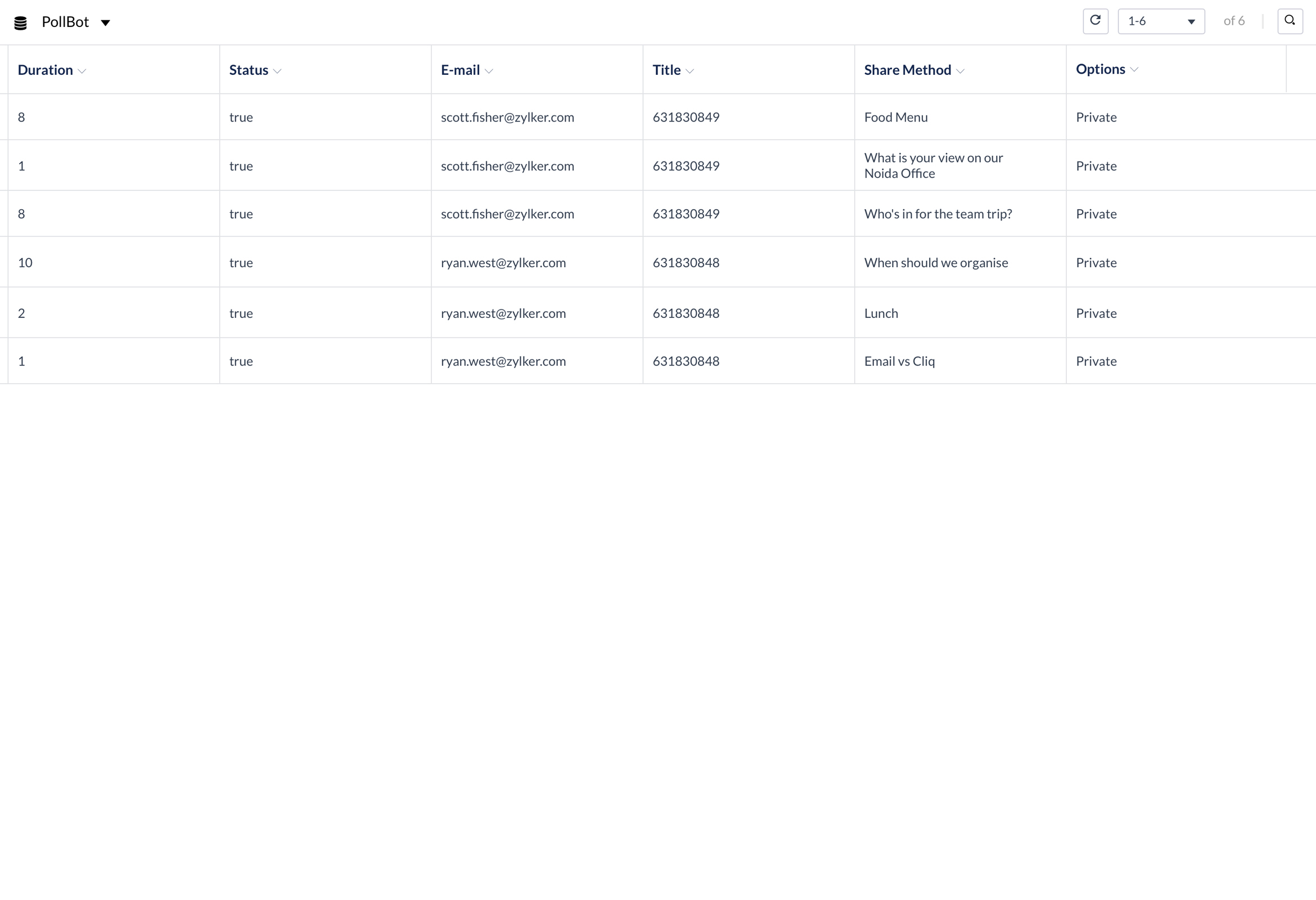 Cliq's got it all!
From Startups and Remote teams to Enterprises
Audio & video collaboration
PrimeTime—live streaming broadcast
1-1 Audio & video calls, screen sharing
Group video conference
Data privacy
GDPR compliant
Consents for each workflow
Secret Chat
Organization Directory
User Profile with custom fields
Departments & Designations
Teams
Security Management
User role based security
TFA & Password Policies
Restricted Access
SSL for custom domain
Make Cliq your Own!
Custom Domain
Custom email address
Logo
Favicon and Themes
Want to know more? Get a comprehensive list of all our features here.
Hear what former Slack users tell about Cliq
"I've ensured that we use Cliq for all official internal communications. Wherever possible, we've switched from internal emails with endless reply threads to Cliq, for instant collaboration and delivery."
Team Everest
"We use Cliq on an everyday basis in our center. We have numerous channels with a lot of discussions going on. The biggest benefit of Cliq for us is the message"
HTIC
"We started using Cliq at a team size of 20. We've grown from 20 to 120 active users on our Cliq community and steadily growing. It's been a seamless journey to use Cliq in different aspects of our organisation."
NavGurukul
You are in good company

migrate your Slack data to Cliq seamlessly

2

Open the migration tool in Cliq

3

Import your file and pick your channels

And it's done. You can resume the conversations right where you left them off!
Need help making the move?
We have really nice people you can talk with. Contact us