Looking for a powerful Slack alternative?
You're in the right place.
Zoho Cliq is the all-in-one team chat app with built-in productivity tools, extensive admin capabilities, and a robust platform. Plus, it's just a quarter of the price of Slack.
Your business can save up to $11556/year* with Cliq
You need a secure and affordable space to collaborate with your team.
Here's why Zoho Cliq should be your preferred Slack alternative.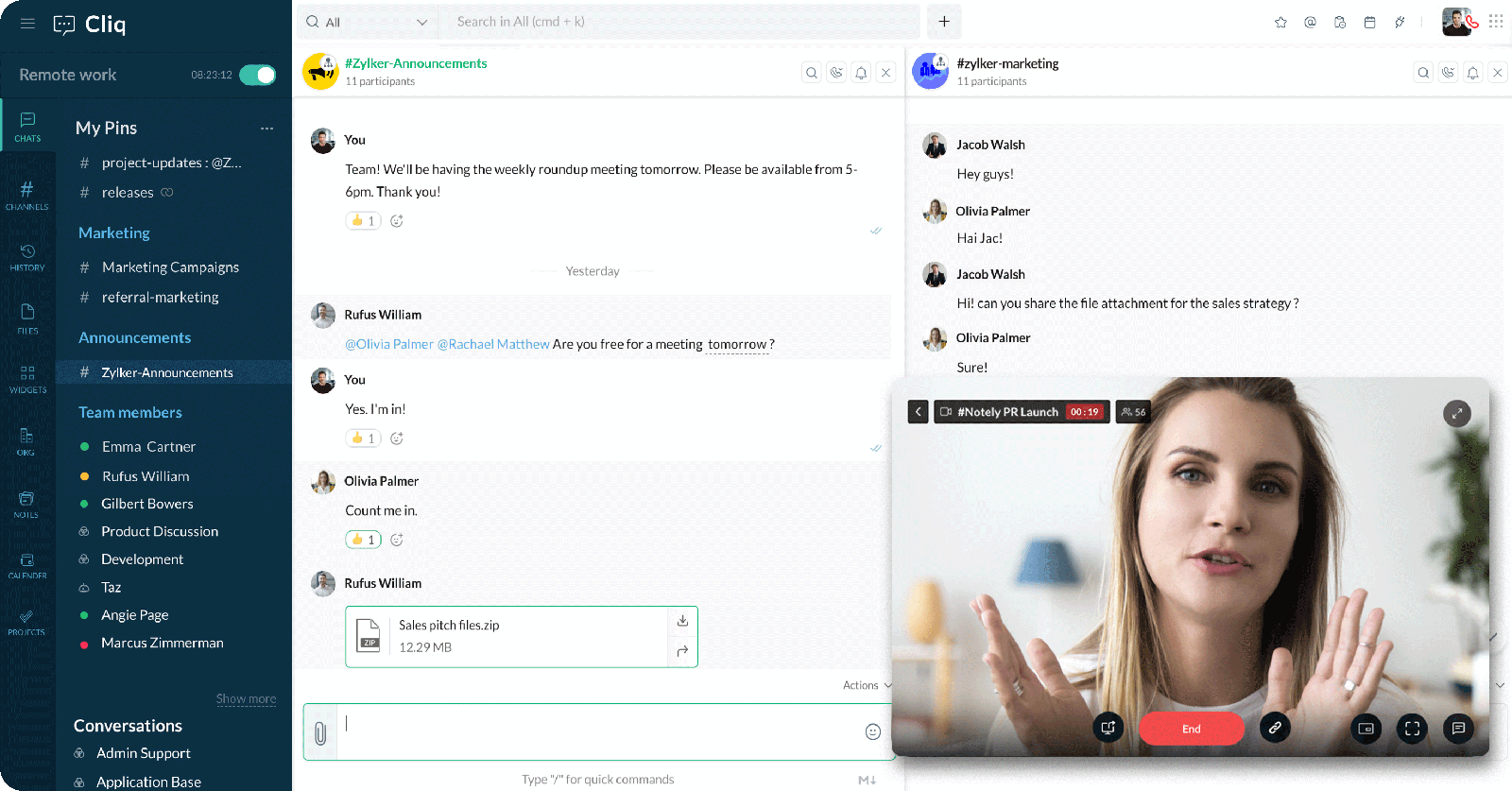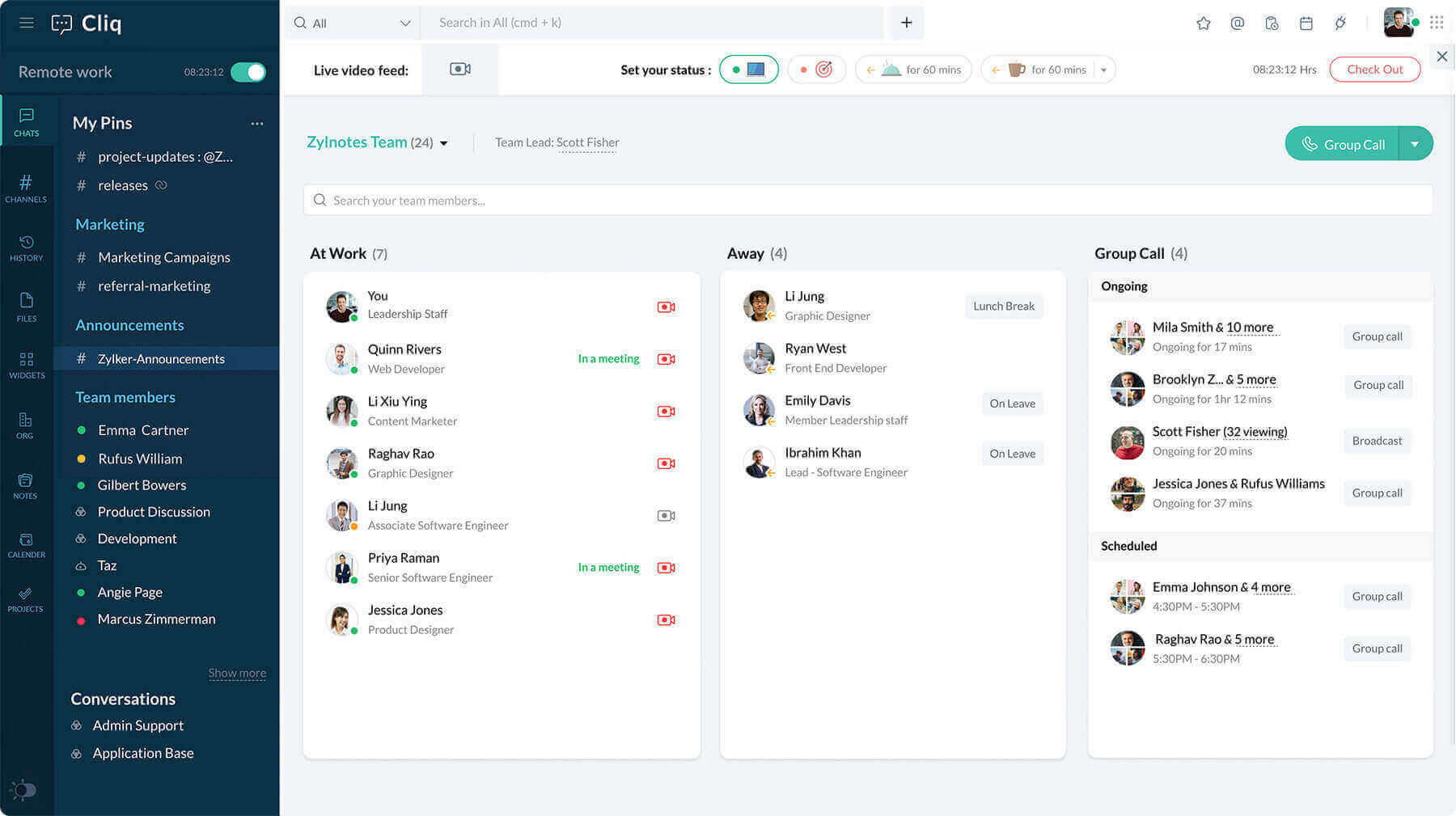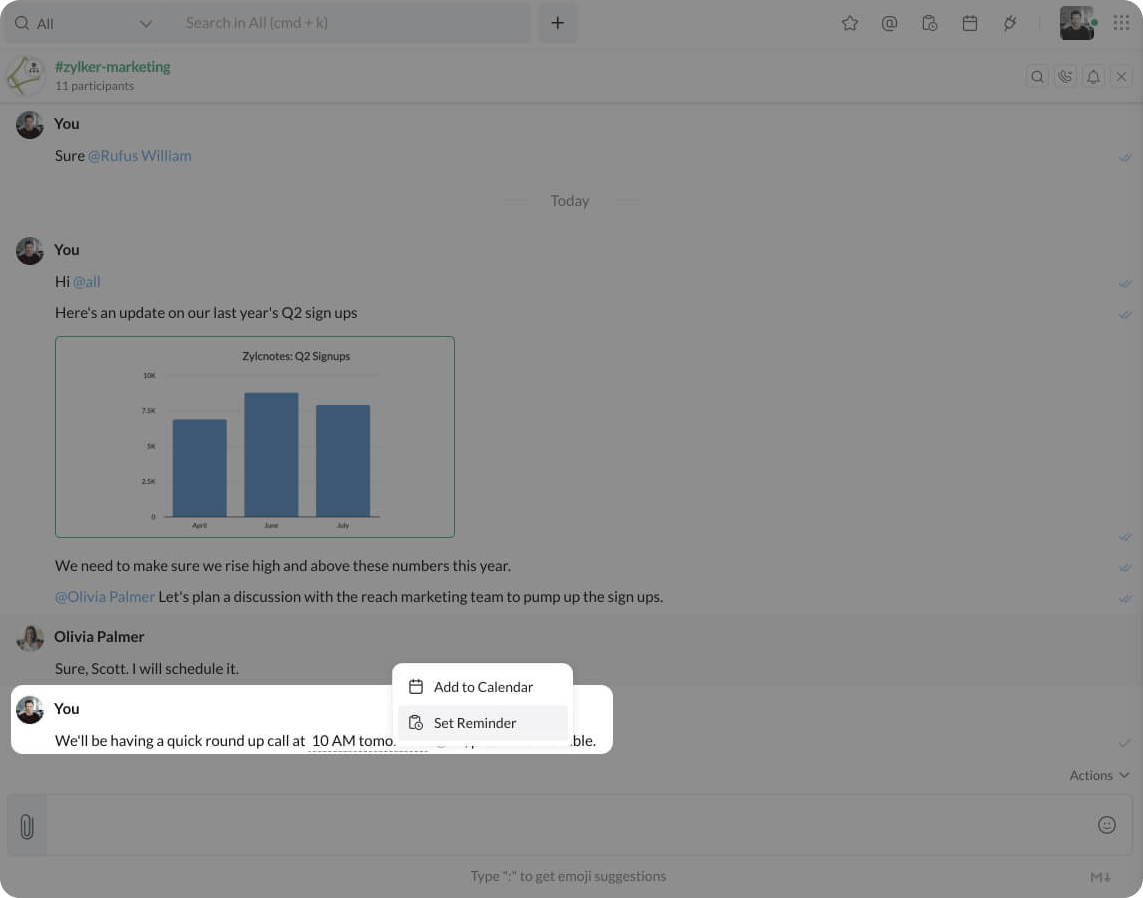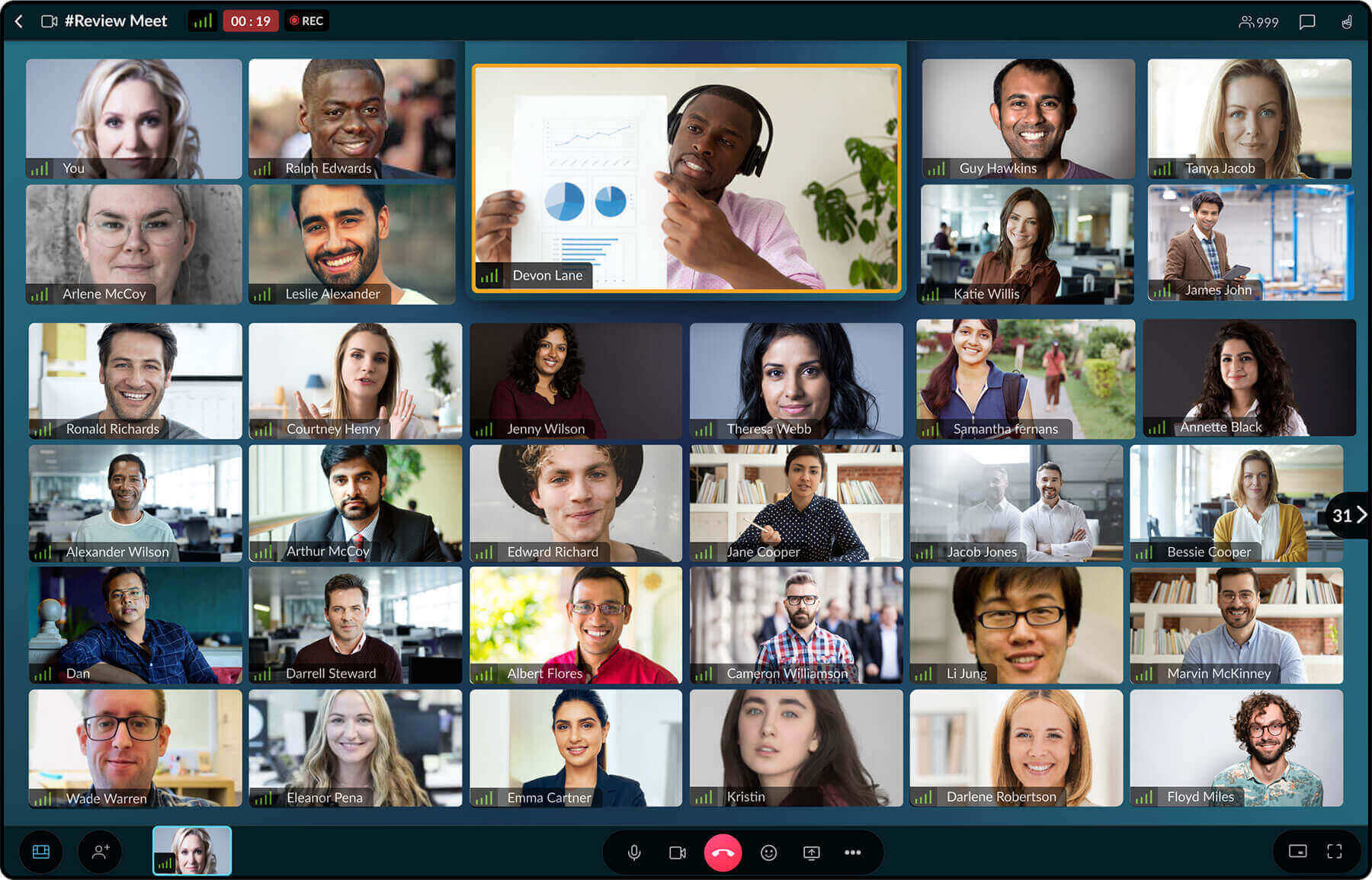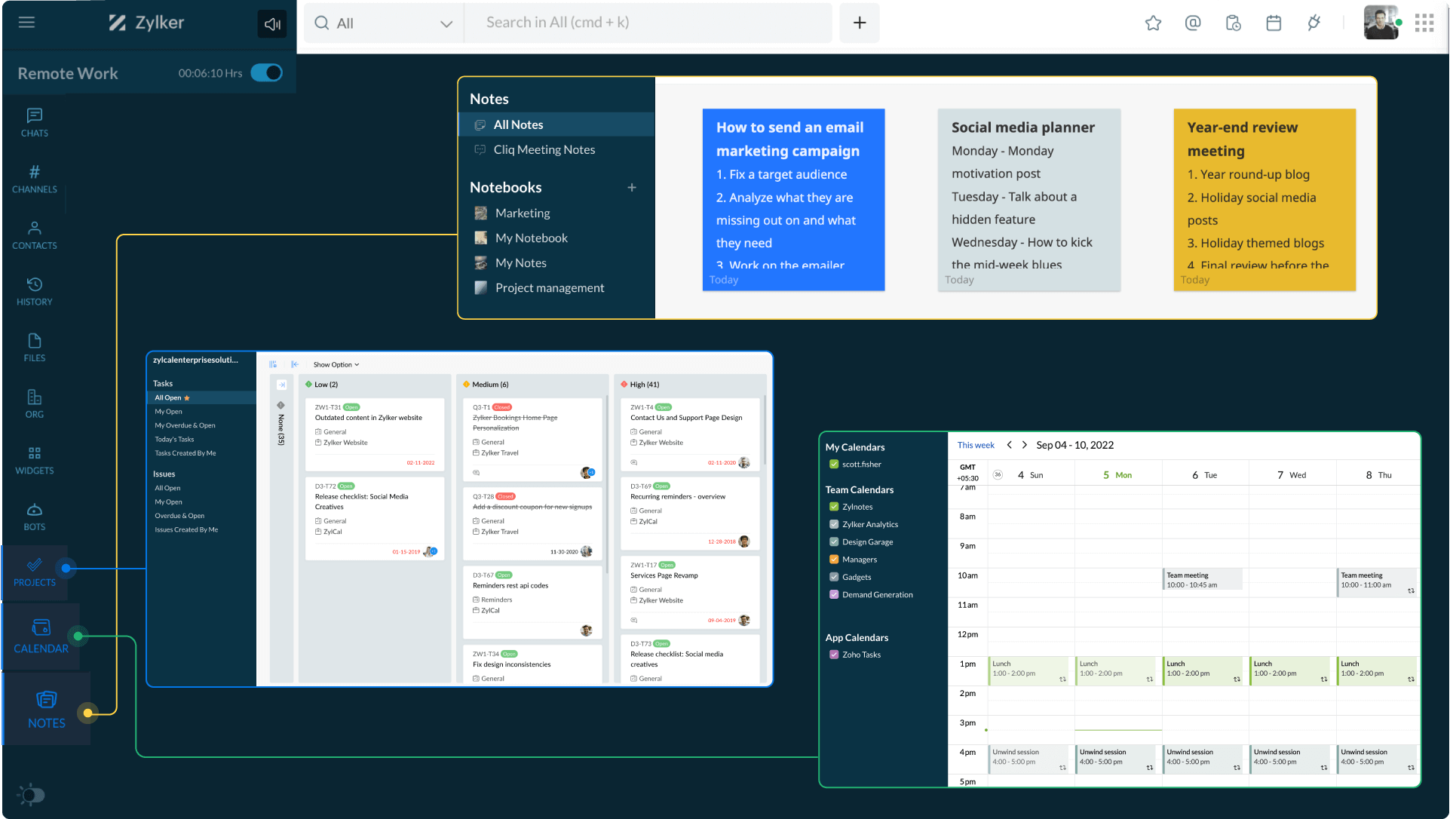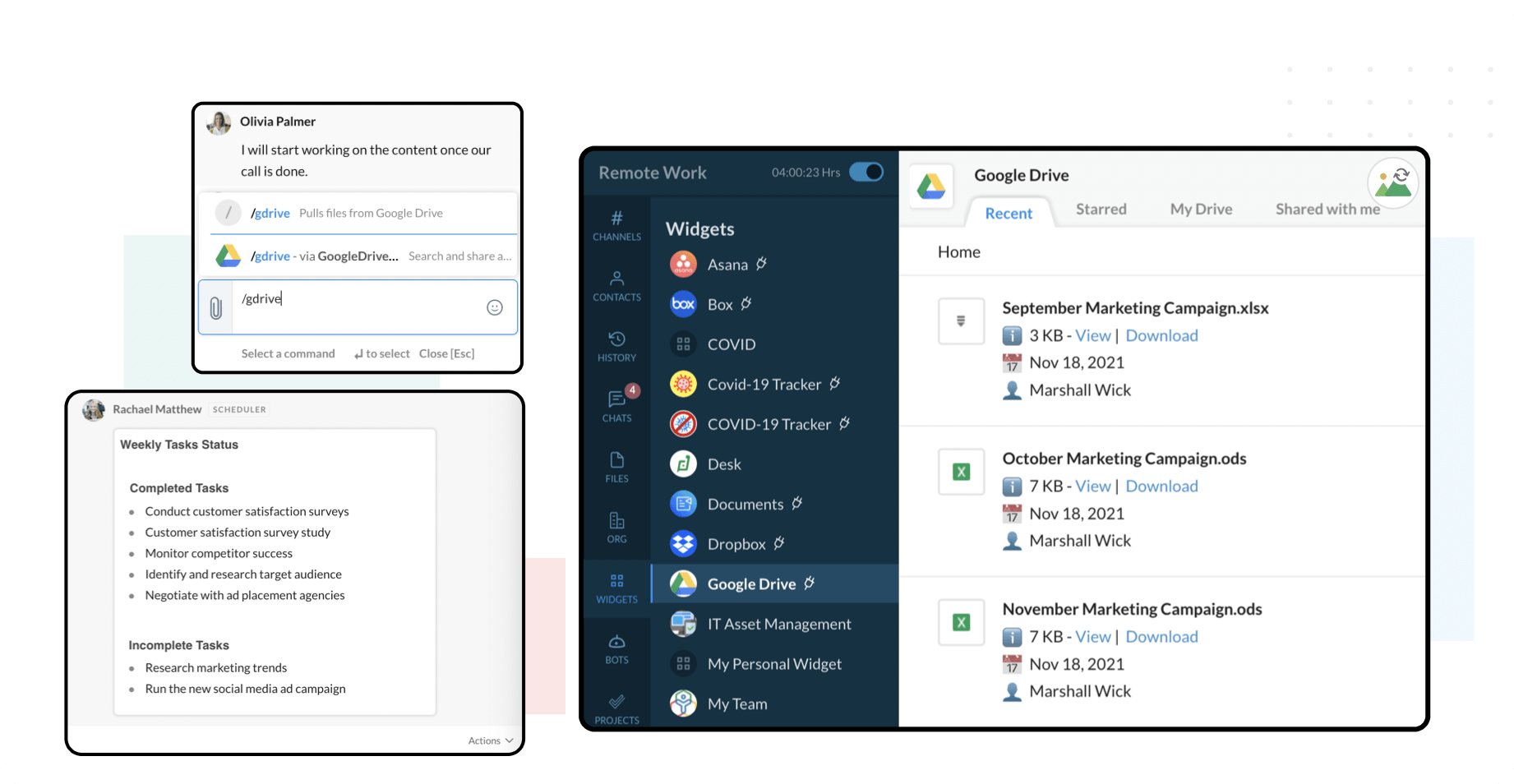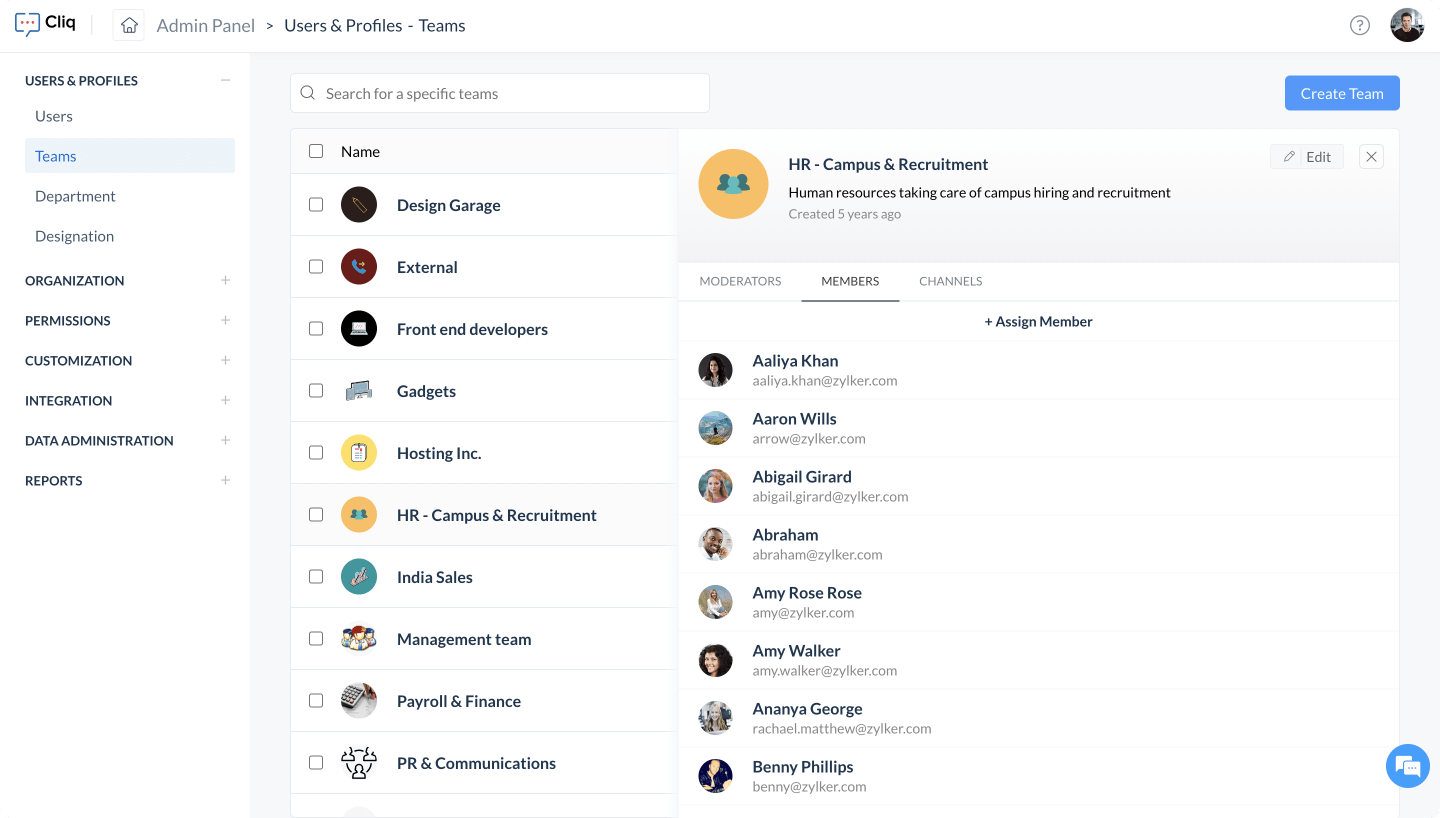 Monitor multiple chats at a time

Multi-chat view gives you a full picture of your active conversations. Pin important chats, respond to messages, share files with colleagues, and make calls, all from the same Cliq window. Plus, easily switch to single-chat view when a conversation requires your undivided attention.

 

 

Work together, even when you're apart

Cliq simplifies remote communication for the hybrid workplace. Use the Remote Work view to find out who's available and who's busy, on a call, or on leave before you reach out to them.

 

 

Work smarter with contextual suggestions

When your discussions involve decisions and to-do lists, Cliq presents thoughtful suggestions to help you take action. It can help you set reminders, save calendar events, send follow up emails, and even call someone directly from the chat window.

 

 

Connect from anywhere with online meetings

Collaborate with your team through audio-only and video meetings. You can host up to 10,000 participants, record sessions for future reference, and take control with the option to mute attendees, monitor screen sharing, and set meeting permissions.

 

 

Stay on top of your schedule

Take notes, schedule events, and assign time-sensitive tasks to your colleagues. All notes are synced with Zoho Notebook, events are reflected in Zoho Calendar, and tasks can be integrated with Zoho Projects.

 

 

Build apps and run them in Cliq

Use the power of the cloud to build apps that suit your business needs. Deluge, Zoho's proprietary scripting language, allows you to construct apps from scratch, automate your workflows, and fetch data from external apps through simple tools like bots, commands, message actions, and functions.

 

 

Organize and manage users by team

Sort employees into their respective teams, and assign moderators and channels to these teams for streamlined collaboration.
Get a big-picture view of all your apps and stay in context
Cliq is natively integrated across all apps in the Zoho Suite, as well as with a wide range of other apps. Whether you're checking your email or writing a document, you can access your conversations without leaving your current tab.
Dropbox

Trello

Crashlytics

Mailchimp

Zendesk

 

Zoho Desk

Zoho People

Zoho CRM

Zoho Notebook

Zoho Projects
Lets compare Cliq with Slack
Features

Screen sharing

Free

$7.25

SAML-based single sign-on

Free

$12.50

OAuth with Google

Free

$7.25

File storage

100GB per user at

 

20GB

per user at $12.50

Active Directory Sync

Free

$12.50

Multi-team channels

 

$12.50

Custom user groups

 

$7.25

User provisioning and de-provisioning

Free

$12.50
Oh, did we mention how budget-friendly we are?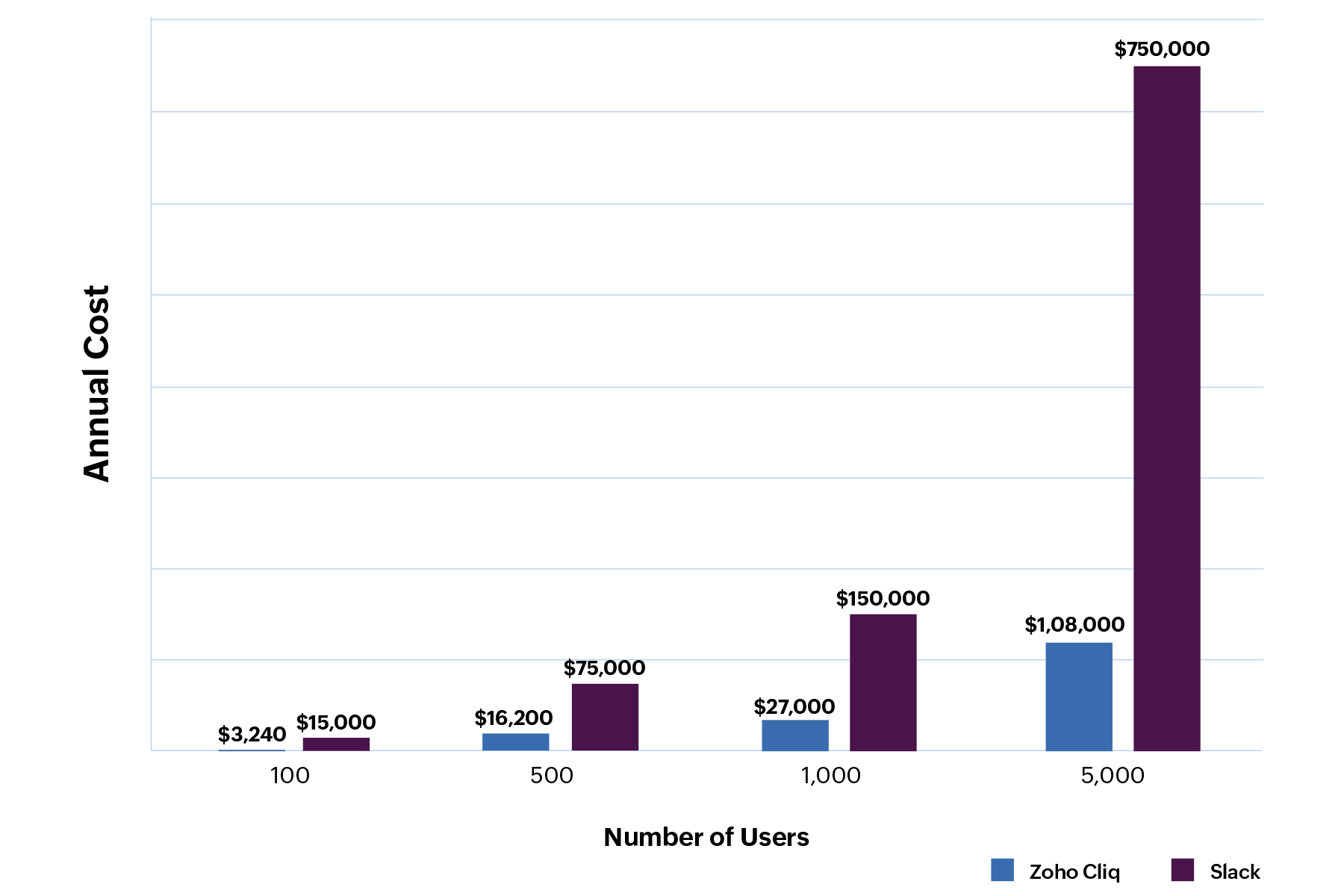 Cliq's got it all!
From Startups and Remote teams to Enterprises
Audio & video collaboration
Live video broadcasting
Group audio and video conferences with recording
1-1 audio and video calls, and screen sharing
Data privacy
GDPR compliant
Consents for each workflow
Secret Chat
Organization Directory
User Profile with custom fields
Departments & Designations
Teams
Security Management
User role based security
TFA & Password Policies
Restricted Access
SSL for custom domain
Make Cliq your Own!
Custom Domain
Custom email address
Logo
Favicon and Themes
Want to know more? Get a comprehensive list of all our features here.
Hear what former Slack users have to say
"A great thing about Cliq is how everyone can be a part of a company-wide channel! Cliq channels have streamlined our internal support requests and it's easy to manage. The Poll Bot is handy to run company wide surveys and collect everyone's opinions easily. We have custom-built bots that post alerts whenever that's an issue we need to look into and this has made our workflow so much easier."
- Takeyoshi Nakayama, Solutions Engineer, Human Sciences
"Zoho Cliq is natively integrated with all Zoho products, which makes it easier for us to use. We also rely heavily on the Zoho Desk and Zoho Projects integrations to help us with reports, task updates, etc. We use Cliq channels to discuss new projects and collaborate easily."
- Hemad, IT Administrator, GameVision
"I've ensured that we use Cliq for all official internal communications. Wherever possible, we've switched from internal emails with endless reply threads to Cliq, for instant collaboration and delivery."
Team Everest
"We use Cliq on an everyday basis in our center. We have numerous channels with a lot of discussions going on. The biggest benefit of Cliq for us is the message"
HTIC
"We started using Cliq at a team size of 20. We've grown from 20 to 120 active users on our Cliq community and steadily growing. It's been a seamless journey to use Cliq in different aspects of our organisation."
NavGurukul
Already using Slack?

Migrating to Cliq is simple.

2

Open the migration tool in Cliq

3

Import your file and pick your channels

And done! You can pick up right where you left off.
Need help making the move?
Our support team is happy to help you make the move so you can import your data from your Slack workspace and set up Cliq in a few minutes.
Get in touch with us