See what you can do with Cliq on your phone
Channelize your conversations
Keep your team's discussions, files, and channels in the palm of your hand and under one single view.
Attend meetings on the go
Away from your desktop? No worries. Hop in to your team meetings and connect instantly with a swipe
from your phone.
Keep your conversations organized
Sort your favorite pinned chats into specific categories to keep them handy and easily reachable.
Switch between multiple Cliq accounts
Got more than one Cliq account? Swiftly navigate between different accounts, and check and respond to chats right away from your Cliq mobile app.
Turn on DND to eliminate distractions
Sort your favorite pinned chats into specific categories to keep them handy and easily reachable.
Let your team know you're available
Start your day at work by checking in from your phone to let your colleagues know you're available to connect and collaborate. Then check out of work with the click of a button when you're done for the day!
Convert messages into tasks or notes
Quickly transform messages into work items, add them to your to-do list, or attach them as notes for leads in CRM.
Carry your bots with you
From connecting to the tools you love to bringing you notifications and broadcasting updates to conversations, they're your 24/7 virtual assistants.
Quickly access your internal apps
Your internal apps are now within arm's reach. All internal apps from your Cliq web app can now be accessed on the mobile app as well. You can also pin a particular app on the bottom navigation bar for quick access.
Search within chat
Search built into every chat narrows down your search results, maintains context, and helps you quickly find any message you're looking for.
Hey Siri, make a quick call
From opening unread chats and calling your colleagues to setting your status, use the default Siri commands available on iOS or create custom shortcuts of your own.
Digitize documents on the go
Have a document you'd like to digitize and share? No need for a scanner—just use your camera. Focus. Scan. Send. It's that simple!
Expedite event scheduling
Take a quick look at your calendar from the Cliq mobile app to see what your schedule looks like, and create events while on the move.
Annotate images when you share
Bring more clarity to your conversations when you share images through chat by adding markups like shapes, text, or blur on your Cliq iOS app.
What our customers have to say
Cliq is used by my organization for internal communication. Works well on laptop, mobile, and tablets. The calling option is a great feature, as many of our team are all around the world. File sharing is smooth. No complaints.
Good apps for office. This is better than so-called Teams or Skype. You will love it once you start using it.
The overall experience with Zoho Cliq was very good. We could chat and have a video call along with scheduling tasks all in one place. Thank you.
Amazing app! I get timely notifications, the layout is great, I can also make calls that don't glitch.
Zoho Cliq for iPad
Send and receive messages and join team meetings right from your iPad.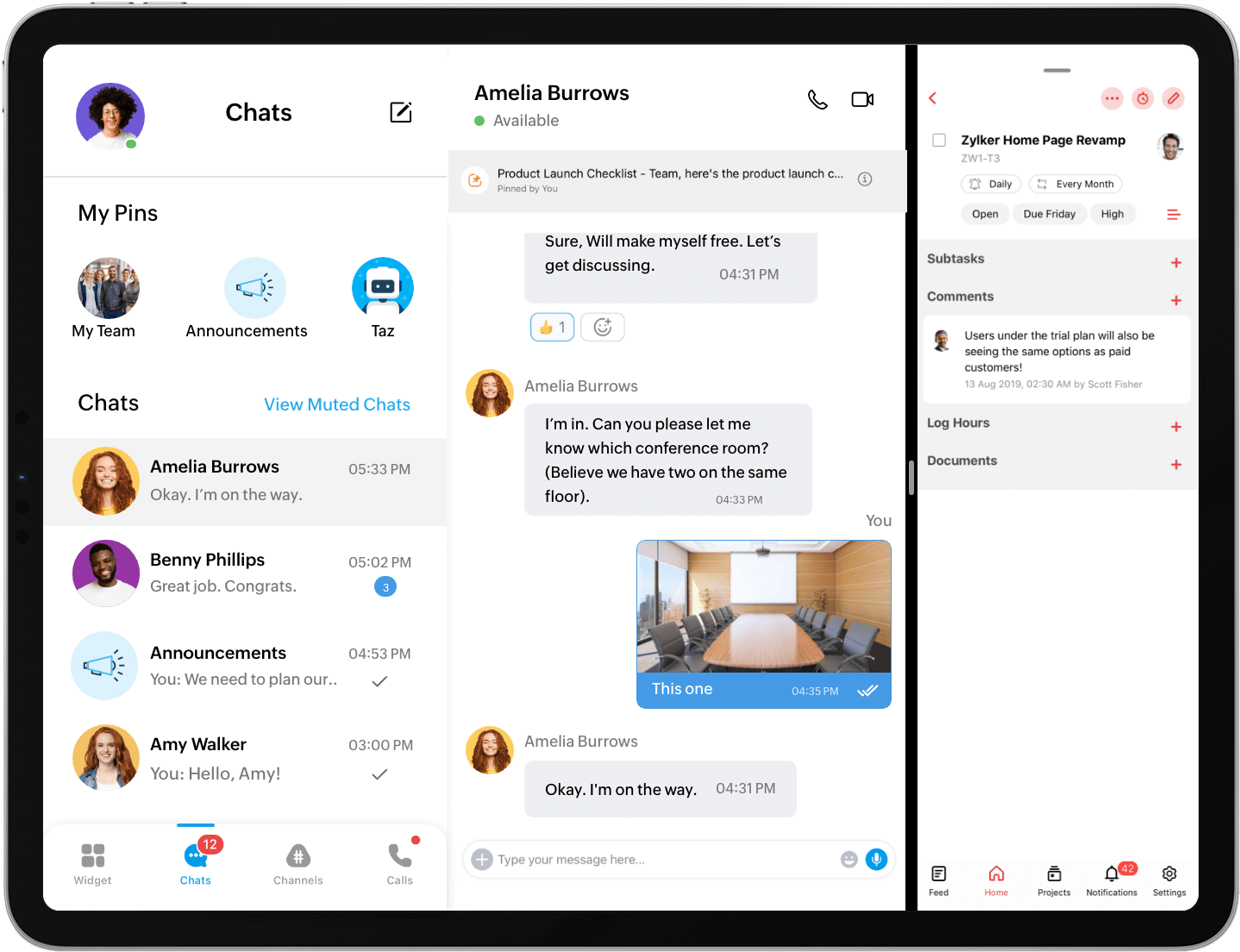 Split view for multi-tasking between apps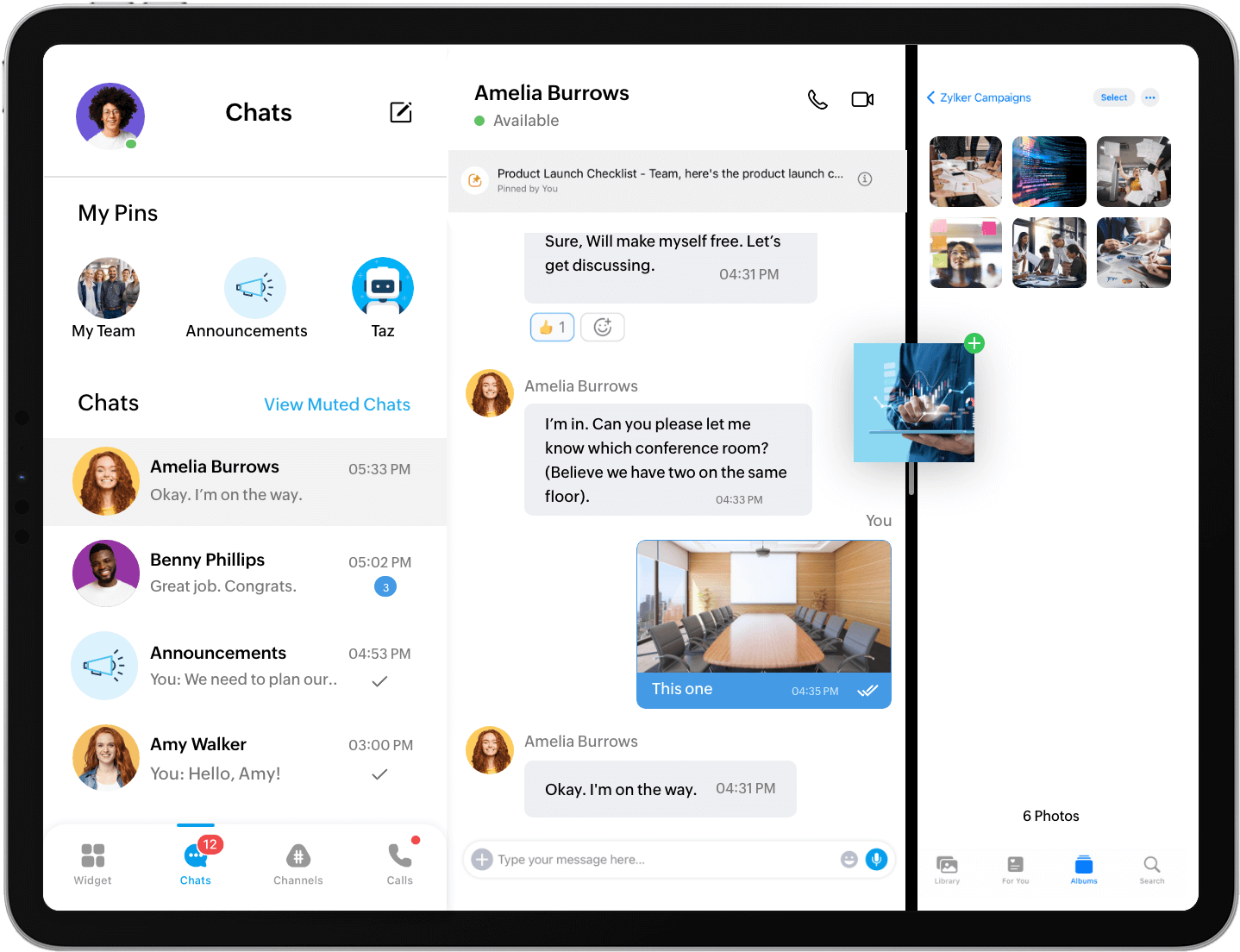 Drag and drop files into conversations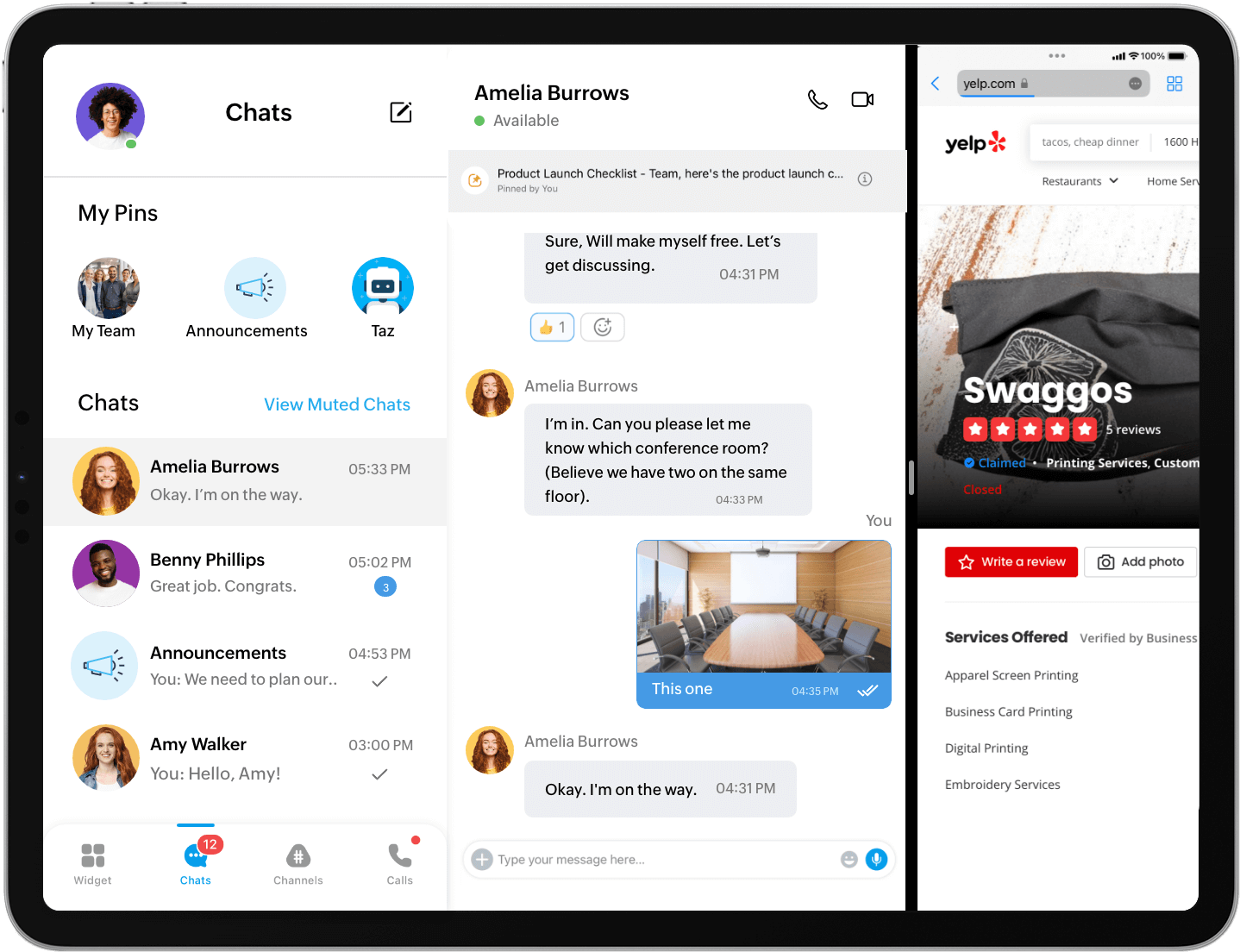 Landscape mode support
Conversations from the comfort of your car
Zoho Cliq supports both Apple CarPlay and Android Auto. Ask your favorite virtual assistant–Siri or Google Assistant—to read out messages, attend calls, and more, all hands-free, while you're driving.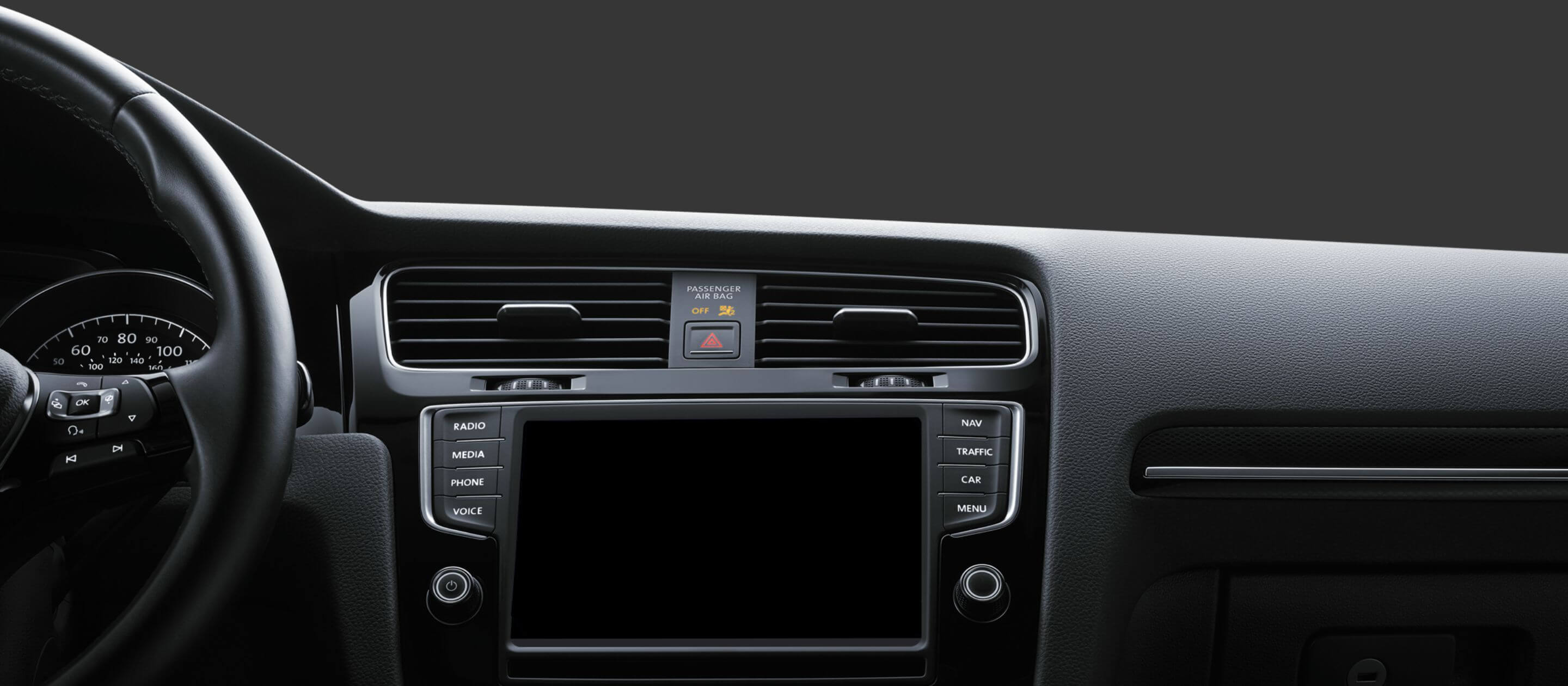 Tick tock, get Cliq on your watch
Do you sometimes wish you could get notifications on your smartwatch? Well worry no longer! Be it Apple Watch or WearOS, you can now receive Cliq notifications, and respond to messages and calls instantly.