How do I delete or remove users from my organization?
As the admin of the organization, you can delete or remove users anytime. Click on your profile picture in Cliq and select Admin Panel. In the Admin Panel, under General click on 
Users, where all your active users will be listed.
There are 2 methods available,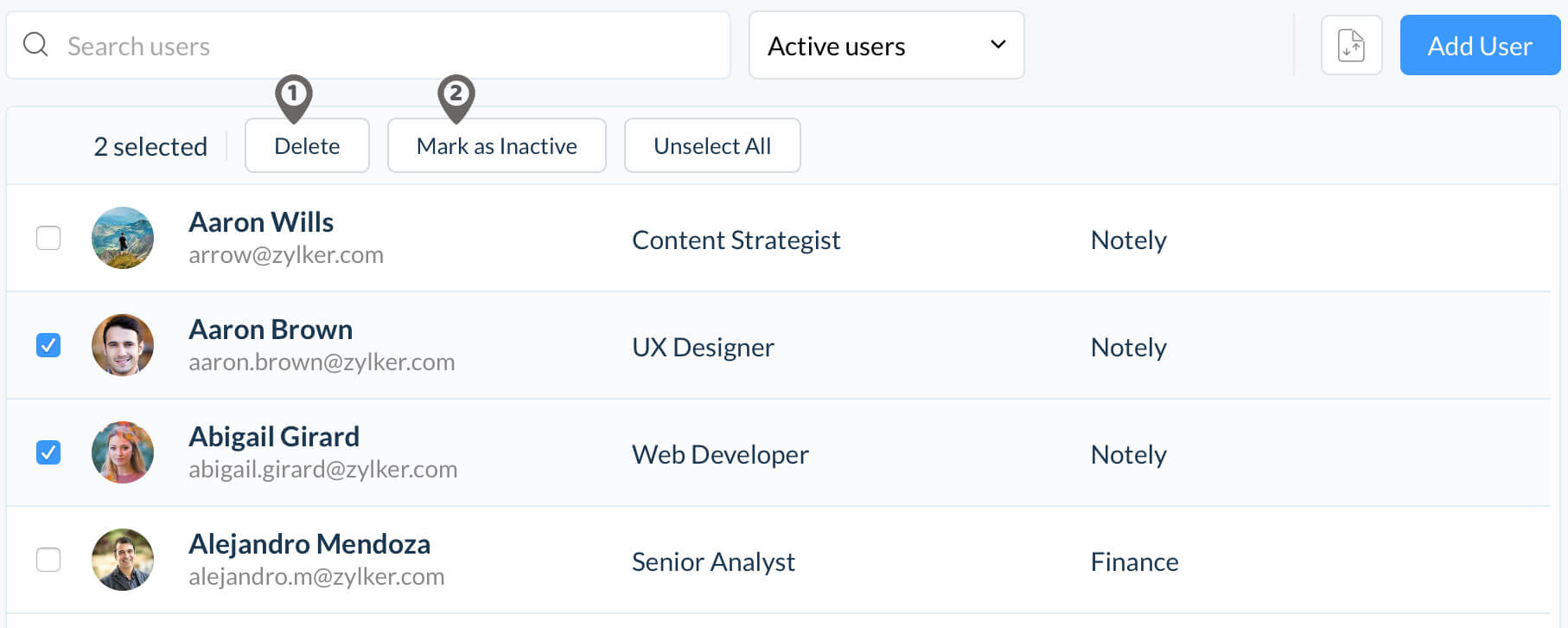 1. Delete users from Zoho
You can delete users from Zoho, i.e. the users will be deleted from all Zoho apps that your organization uses, e.g. Zoho Mail, Docs, CRM, Projects, ... 
To do so, check the box of users whom you want to delete and then hit the Delete button. A popup will appear asking for confirmation and you have to enter the word "delete" to proceed. 
You can also delete users individually by opening a user's profile and clicking on  
 (More) → Delete. 

Important Note:
Users once deleted, are not recoverable. All their data will be cleared from across your Zoho apps.
2. Remove users from Cliq
If you do not want to delete users from all Zoho apps, but want to remove them only from Cliq, then you can mark those users as Inactive. This will terminate their Cliq account and they will not be able to access Cliq via the web, desktop, and mobile. Even Chat Bar (mini chat version in other Zoho apps) will not be accessible. 
You can always bring back the users, just select Inactive Users from the dropdown, click on the user from the list and Activate their account. 
Difference between Delete and Inactive
| | | |
| --- | --- | --- |
|   | Delete Users  | Mark as Inactive |
| 1.  | Users will be erased from all Zoho apps   | Users will be removed only from Cliq |
| 2.  | Email id and data once erased is not recoverable | Users can be made active again and data is preserved |
| 3.  | User cannot access any Zoho apps | User cannot access Cliq and Chat Bar (mini chat in other Zoho apps) |