How to manage users of my organization?
As an admin, you have complete control over the users in your organization. You can provision and de-provision them anytime from Cliq admin panel and if you have a host of Zoho apps, then you can make use of Zoho Directory for the same! 
Detailed instructions on how to add and delete users, and how to edit their profiles are discussed in the previous help pages. This help page will cover aspects of other user management activities that admins can exercise control.
Follow the below steps to open Users menu, 
Click on your Profile Picture in Cliq and select Admin Panel.
In the admin panel, under General click on ​ Users
Here, all active users in your organization will be listed. You can also search for a user and look them up. 
Table of contents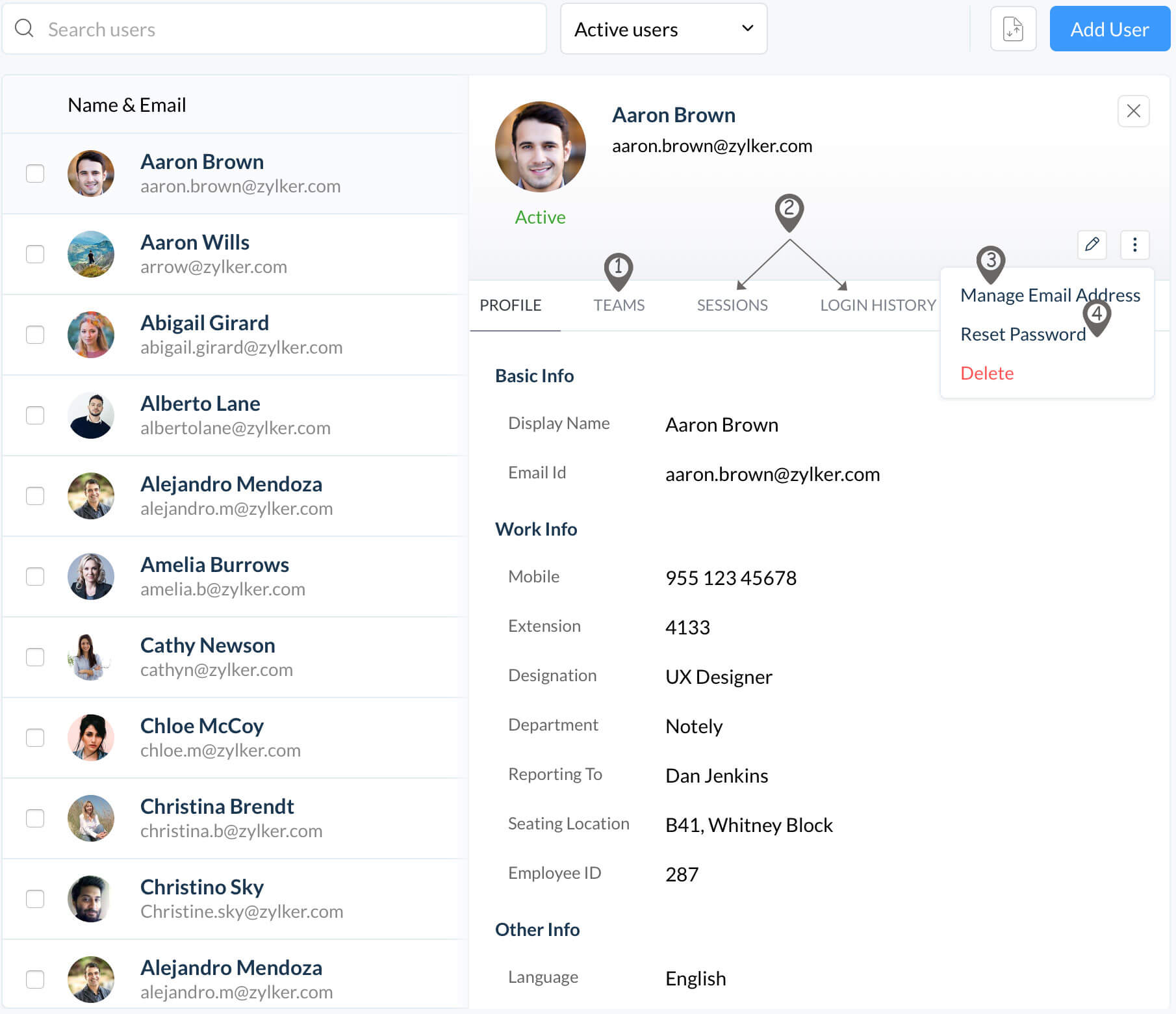 1. Users' Teams 
Teams are groups for all purposes and projects inside an organization. You can assign a user to any number of teams based on the purpose and projects and once done, you can unassign them from the teams. 
Example: Olivia is a Growth Marketer in Zylker organization and is part of teams, Zylker Europe Marketing and Marketing Leads. 
In the Users menu, click on a user to open their info. In the info tab, click on Teams header to view the user's teams. 
Here you can assign the user to teams by clicking on + Assign team. 
You can unassign the user from a team, by hovering on that team and clicking on Unassign.​
2. Account Activity 
As admin, you can check and track your users' account activity details. You can view their active Cliq sessions under Sessions and login time, IP details, duration and device under Login History. 
3. ​Manage Email Address
Click on
 and select Manage Email Address. Here you can add a secondary email address to the user's profile. An email will be sent to the user's primary email address for the verification of the new secondary address that you configured. However, do note that admins cannot change a user's primary email address. 
4. Reset Password
Click on 
 and select Reset Password. Here you can enter a new password for the user and hit the Reset Password button. Then you must share the password you have set with the user and on login, they will be prompted to set a new password to access Zoho account. 
You can choose to clear the active mobile sessions and API authtokens. The user will be logged out of the mobile app and all consents they have given for integration components will be revoked. After logging in with the new password, the user can activate the authtokens again on usage.