How do I add a secondary email address?
In case you forget your password or cannot sign in for some reason, adding a recovery email address will let you get back your Zoho account. The first email address that you use, to sign up for your Zoho account will be the default primary email. To add a secondary email address in your current Cliq account:
In User Panel click My Zoho Account.
In the accounts page that opens, select My Profile Info -> Email Address.
Click on Add Email, a dialogue box will appear.
Enter your new Email ID and current password and click on the Update button. 
A verification email will be sent to the mentioned email address. Click on the link to verify. 
Your secondary email address will be listed in a dropdown to choose from when you are trying to recover your Zoho account.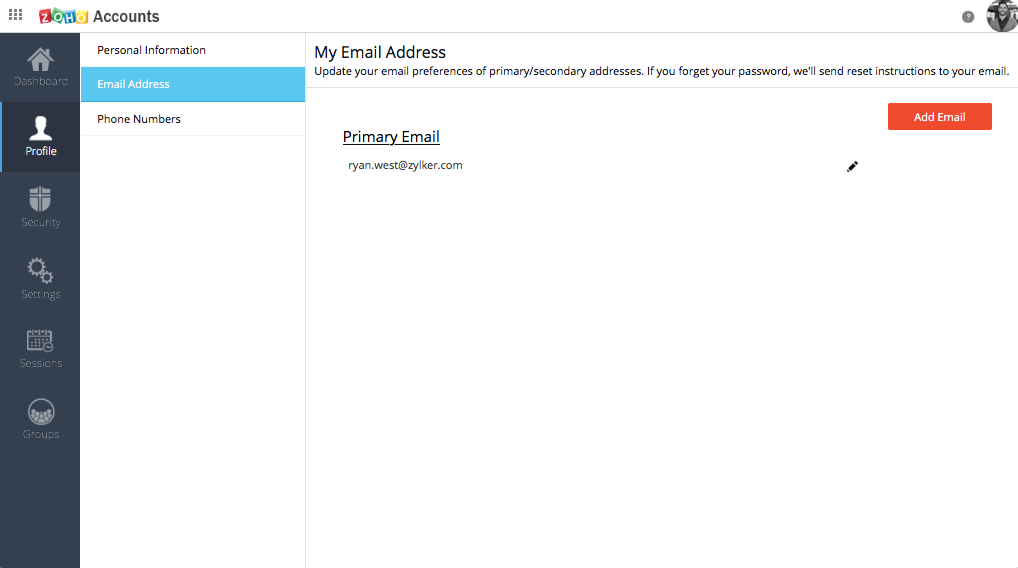 Notes: 
Your organization may have blocked adding recovery email addresses to your account in accord with your organization policy. If you are not able to access your account or need to reset your password, contact your super admin.
Incase the confirmation mail is not received, hover over the added email address and click on the Mail icon to receive the confirmation mail again.