Migrate from Slack
Continue your communications in Cliq right from where you left off in Slack! This migration wizard will help import all your data from Slack—channels, messages and users without loss of chat history or context. 
Note: The data you can export from Slack depends on your Slack plan. 
Table of contents
Exporting from Slack
To export your data from Slack, you need to go to settings under your profile. Your Profile -> Administration -> Workspace settings -> Import/Export Data.
Hint: Before clicking on Import/Export Data, make sure that you have enabled 'Email Display' under Settings in your slack account. This is very crucial for the migration to happen. 
Under Export section you will be able to see the data which is included and also that which will not be included in your export zip file.
Click on Start Export button. Your request will be processed and the export will start.
After the export is done, click on Ready for download under Your Workspace's Exports. Your data will now be downloaded to your computer/laptop as a zip file.


Importing to Cliq
​In your Cliq application, click on your profile picture in top right corner and select Migrate your Data. A new tab will open, wherein you have to select Slack to start the migration process. 
Note: Migrate your Data will be available only to Cliq admins.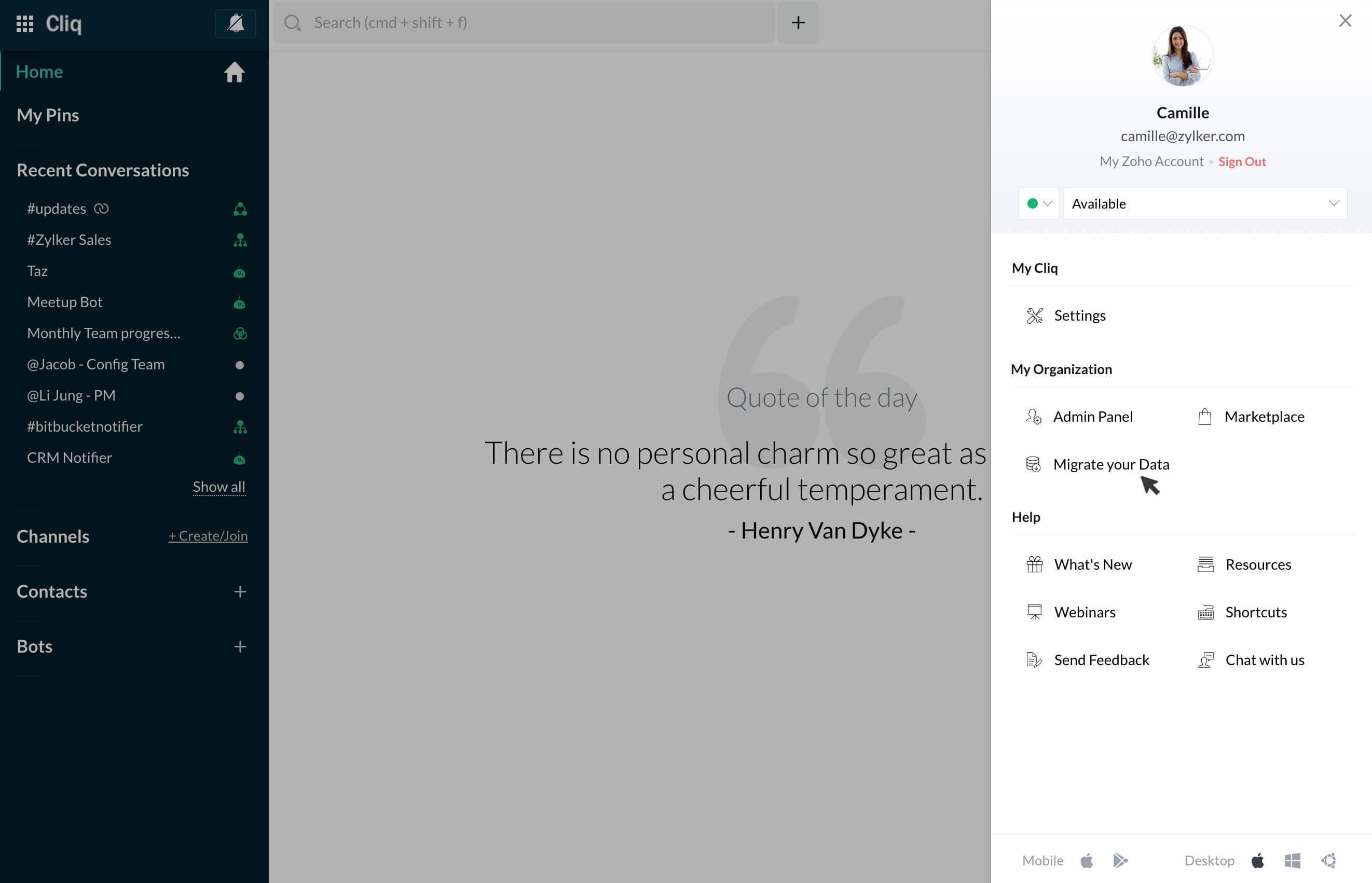 The following are steps to migrate your data successfully to Cliq.
The first screen in Slack migration takes you through the export process in Slack. Confirm by clicking on button Export done to proceed.
Next, drag and drop or upload from desktop—the exported slack zip file—and click Start Import. 
Slack Channels will be imported as Cliq Channels. You can pick the channels that you want to bring over to Cliq, and then you can either choose to bring them all in as Organization Channels (public within your Cliq company), or as Team Channels (visible only to the chosen team's members). 


The migration will be in progress and once done a success message will be displayed on screen along with the number of Users, Channels and Messages imported. An email will be rolled out to you stating the same.
The users imported successfully will receive an email inviting them to Cliq. On clicking the CTA button in that mail they will be navigated to your Cliq organization.
The migrated channels will be imported to your Cliq account and you can access them under your channels.

Note: If a channel with the same name already exists in Cliq, then the imported channels will be displayed as _slack along with its name, i.e. #general_slack, #ui-design_slack 
Common failures
Users failed to import - If a user already belongs to a Cliq company, then they will not be imported into your Cliq organization.
Maximum file size - When the export file exceeds 150MB, the zip file extraction process will throw an error.  

For further help on the above 2 failures, please contact our support team support@zohocliq.com
Error when trying to upload zip file - This happens when you have exported data without enabling Email Display under Settings & Permissions. You can fix this easily by enabling the checkbox as shown in image below, and then exporting once again.
​