Global Search Bar
Global search Bar is where you give a text input and results are displayed for you to choose from. The global search works more extensively if your Cliq organization is connected with Zoho People, i.e. search is integrated with Zoho People to get info like mobile number, designation, department and more... 
Global search when your Cliq organization is:   
1. Integrated with Zoho People
Type the search term in the search bar and results will auto populate for you. The results will be populated in order of Contacts, Joined Channels, Departments, Organization Users, Channels you can join, Direct Messages, Bots and Messages. 
2. Not integrated with Zoho People
Type the search term in the search bar and results will auto populate for you.  Here the headings, Departments and Organization Users will not be displayed as they are obtained from Zoho People. 
Note: Results will be displayed under the mentioned headings only if there is a match for your search term.    

#1. Results populated for the entered search term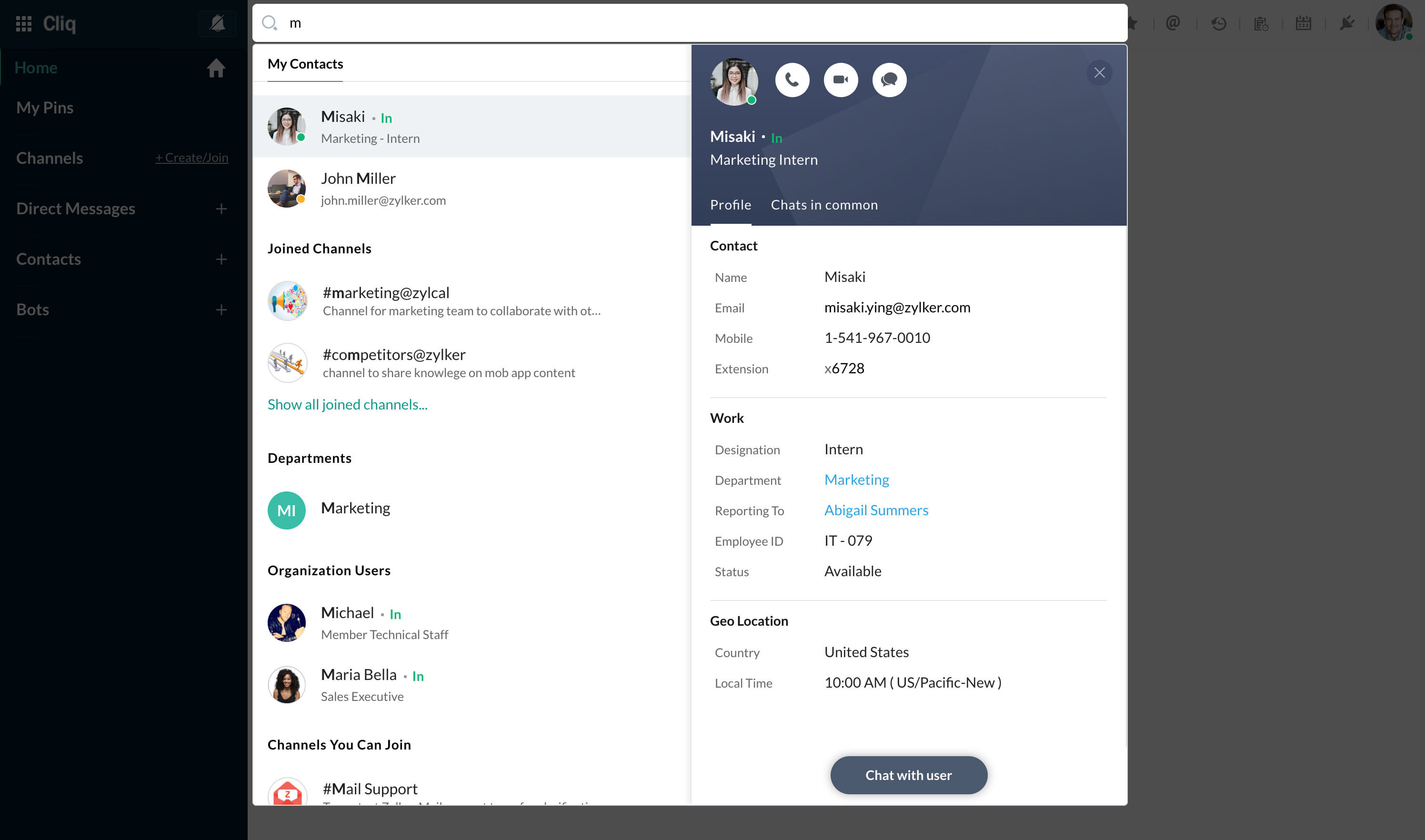 When you enter a search term, the first result will open along with a side view (refer image above). As you select a result or scroll through using arrow keys, the side view will display information for each result as follows: 
Users - the Profile will list all user details, and Chats in common will list out the most recent chats that you and the user are part of.
Joined channels - the recent conversation of the channel will be displayed.
Channels yet to join - Channel description and recent conversation along with Join button will be displayed.
Departments - the department lead and the members will be listed. 
Chats - the recent conversation of that chat will be displayed.
Bots - Bot details will be displayed with option to subscribe as well.
Search Tips:   
You can search for a user with any of the data displayed in the user's side view, i.e. you can enter any information you know like team name, mobile number, designation, seating location, and more… This search will work only if all these details are updated for users in Zoho People.
If the organization does not use Zoho People, then a user can be searched only with email id and location. 
In the user's side view, you can click on the department name of that user to view all the other users in that department.
The In/Out you see next to each username lets you know if the user has checked-in or not respectively. 
 
#2. Search for a specific user by entering the department name