How to set a reminder?
You can set a reminder in 4 easy ways: 
- Icon in topbar
- Quick Plus  
- Message Actions
- Command
1. Creating reminder through icon
Click on the reminder icon in top bar of Cliq and the reminder panel will appear on screen. 
On the field 'Add new reminder' type what you need to be reminded about. 
Click on clock icon to set the time. The selected time will be saved automatically. 
If you want to assign the reminder to others, then click the @icon and type to select users or a chat (group chats and channels), and click Save. 
In case of group chats and channels, only one can be selected at a time. 
Once the above steps are done, press Enter to create your reminder.
Note: You can also set the reminder without a time. But we strongly recommend setting a time, so that notifications will be received.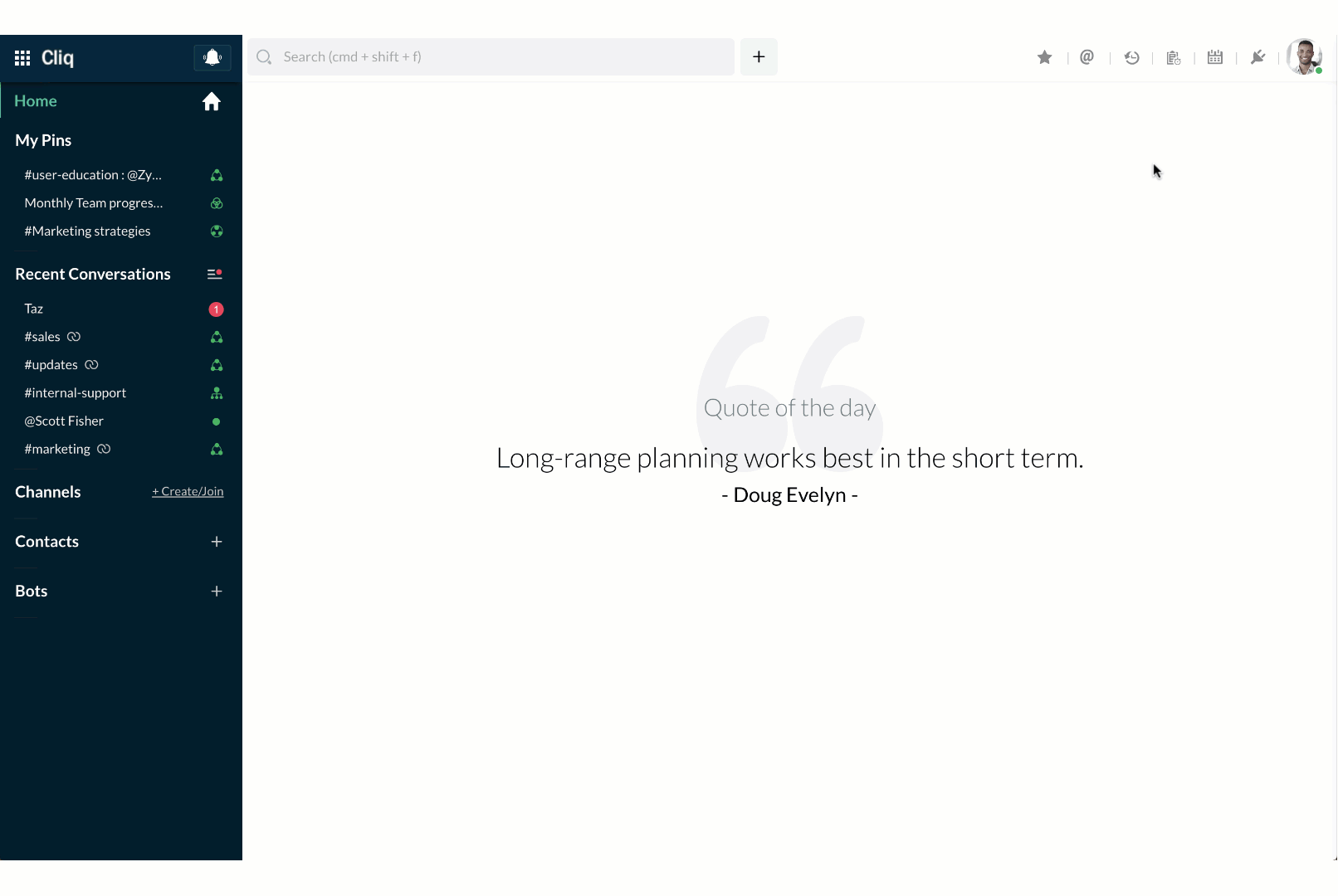 2. Creating reminder through Quick Plus 
Click the Quick Plus icon next to Search Bar on top and select Set a Reminder. 
In the pop-up that appears, enter your reminder, set a time, and if this reminder is to be assigned then under @ icon type and select users or a chat. 
If the reminder is for you, you have to only set the time.
Once the time is set and users selected, click Enter. 
​
3. Creating reminder through Message Actions
Any message you want can be set as a reminder for yourself. 
Hover on the message, click the Message Actions icon and select Set Reminder.
You can choose a time from the given options or set a custom time. If the message has a time specified in it, then that time will also be displayed in the options for you to choose from. 

4. Creating reminder through command   
Use /remind to create a reminder from any chat window. 
Creating reminder through the command will not post the reminder in that chat. It will be displayed only for you to see. 
 /remind (@user) (reminder content) (at time)  
Examples:  /remind @userreminder content at time
/remind

@scott

Meet with Andy from Design Scope

at thursday 3pm

/remind

@olivia

@abigail

 

Finish the review of product pricing plan doc

 

at july 24

 
/remind

Read Miller's blog

at 6pm today

 


Note: If you set a reminder with just a date, then by default 9 AM will be the reminder time.