What are Policies and how to enable it?
In your Cliq application, click on your Profile Picture and select Admin Panel. In the screen that opens access Policies under Permissions in the left sidebar. These policies are offered as a toggle and you can enable or disable them accordingly. 
There are set of policies that which the administrator has control to implement as rules for the entire organization. The policies are as follows: 
General Policy
Allow users to join External Channels of other Organization
Enabling this policy will allow your organization users to join External Channels created by other Cliq organizations.
Allow request to auto join your organization
Enabling this policy will allow users to send request to you for joining your organization in Cliq, when they sign-up and try to find a company to be part of. 
Their request will trigger a mail to your inbox from where you can accept or decline the request to join your organization.
Allow users to turn off Chat History
Enabling this policy will allow your organization users to turn off their chat history for 1-1 and group chats. 
Note: Turn Off Chat History is available only under Paid plan of Cliq.
Allow users to create Organization level channel without approval
​Enabling this policy will allow your organization users to create and use Organization Channels on their own, i.e. the org admin does not have to approve the channels. 
Allow chats with users who are not a part of this organization
Enabling this policy will allow your organization members to have 1-1 conversations with External users (users from other organizations). 
External channels and group chat with external users do not come under this policy, as conversations can be established in both these scenarios without the need to be Contacts. 
Allow admins to export private conversations as part of your company's data export.
Enabling this will allow your org admins to include private conversations such as 1-1 chats, group chats, personal channels, and external channels in the data export file. If this is disabled, then only the public data that is accessible by everyone, i.e. org channels, team channels will be exported. 
Following General Policies are the Password policy and Two Factor Authentication for your organization. Both these policies are discussed in detail in the successive pages.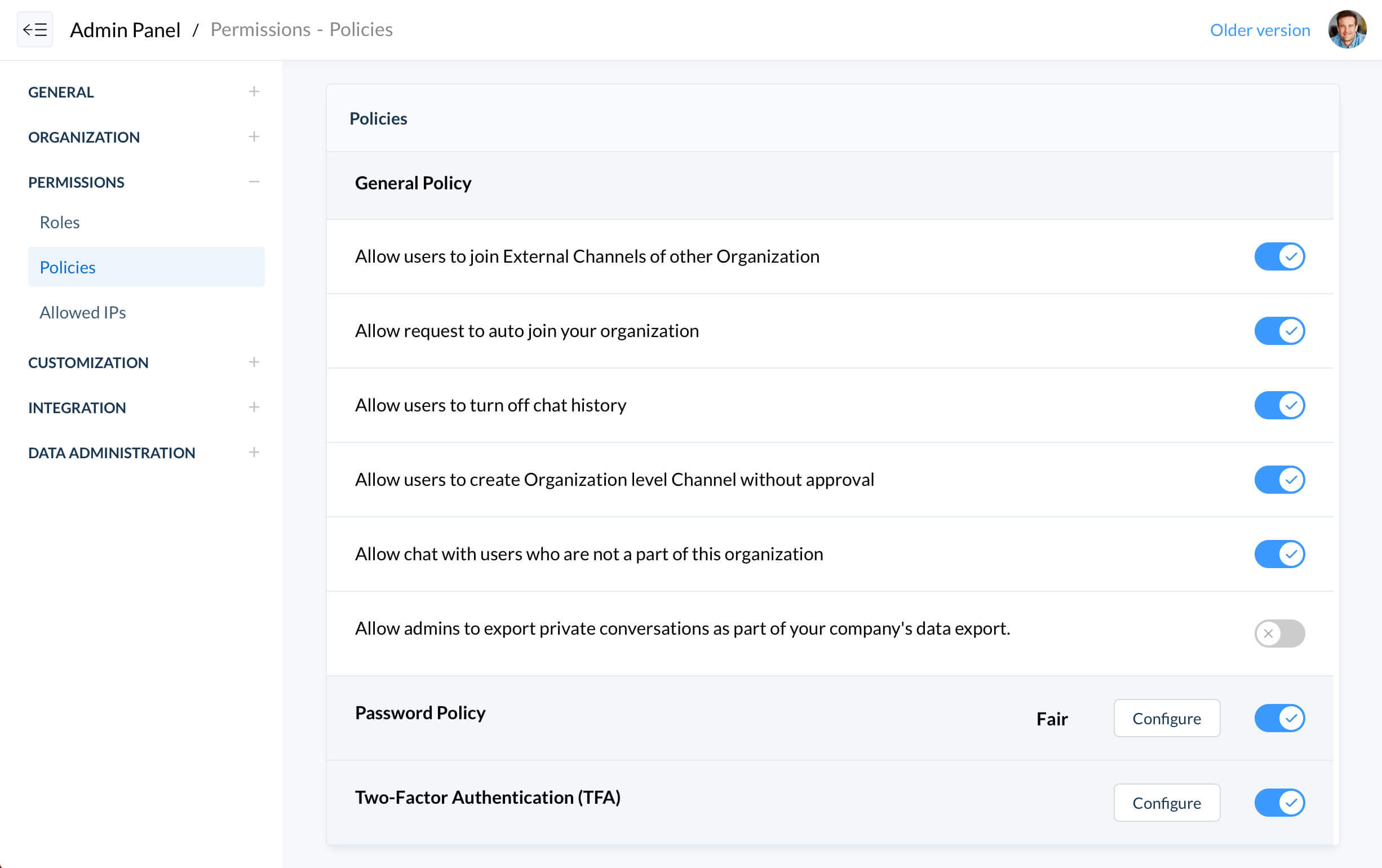 Related articles to help you
To know how to have 1-1 conversation with external users specified in Policy numbered 5, do check out our help guide on the same—Chat with external users.