Trello
Collaborate on any Trello project from within Cliq!
Trello is a project management software that allows you to keep track of everything, from the big picture to the minute details. The Trello with Cliq integration, brings together your team's projects and communication at one place, to collaborate better on all tasks, projects and milestones. 
Table of contents 
Trello in Cliq 
Trello in Cliq consists of a slash command and a message action. The initial steps to get started with Trello integration are consents and authentication as described below.
The first time you perform any action that has to connect with Trello, you will get an authentication dialog requesting permission to connect with your Trello account. After authenticating your account, the connection will be established between your Trello and Cliq.
Also on using any component of Trello integration the very first time, you will get a consents box requesting permission to access your data. This consents box is to ensure privacy by letting you know how your data will be handled. To know more, check out the related link at the bottom of this page. 


/trellocard command 
Use this command to view any of the open cards, and you can also update the checklists of this card. Type /trello and execute the command, in the interactive form that appears, select the board, pick the list and choose the card that you want to view from it, and hit the View button. The card details will be displayed as a message card in the chat window only to you. You can choose to share the card by clicking on Post here. In this card, you have options to view and update the checklist, archive the card and also to view it in Trello for further updates.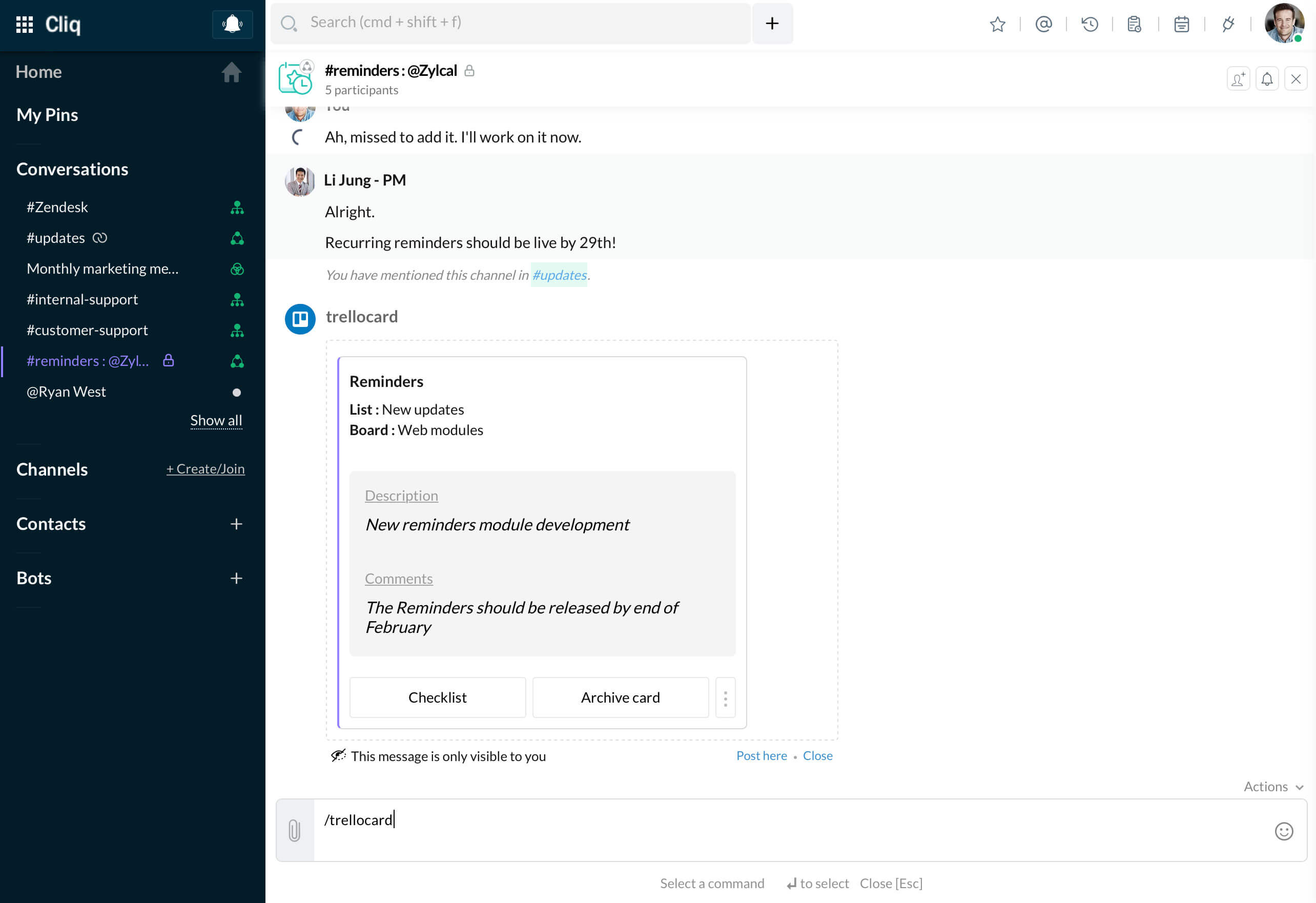 On clicking Checklist, one checklist of that card will be displayed as an individual message card with options to view other checklists. You can check or uncheck an item by clicking on the buttons provided.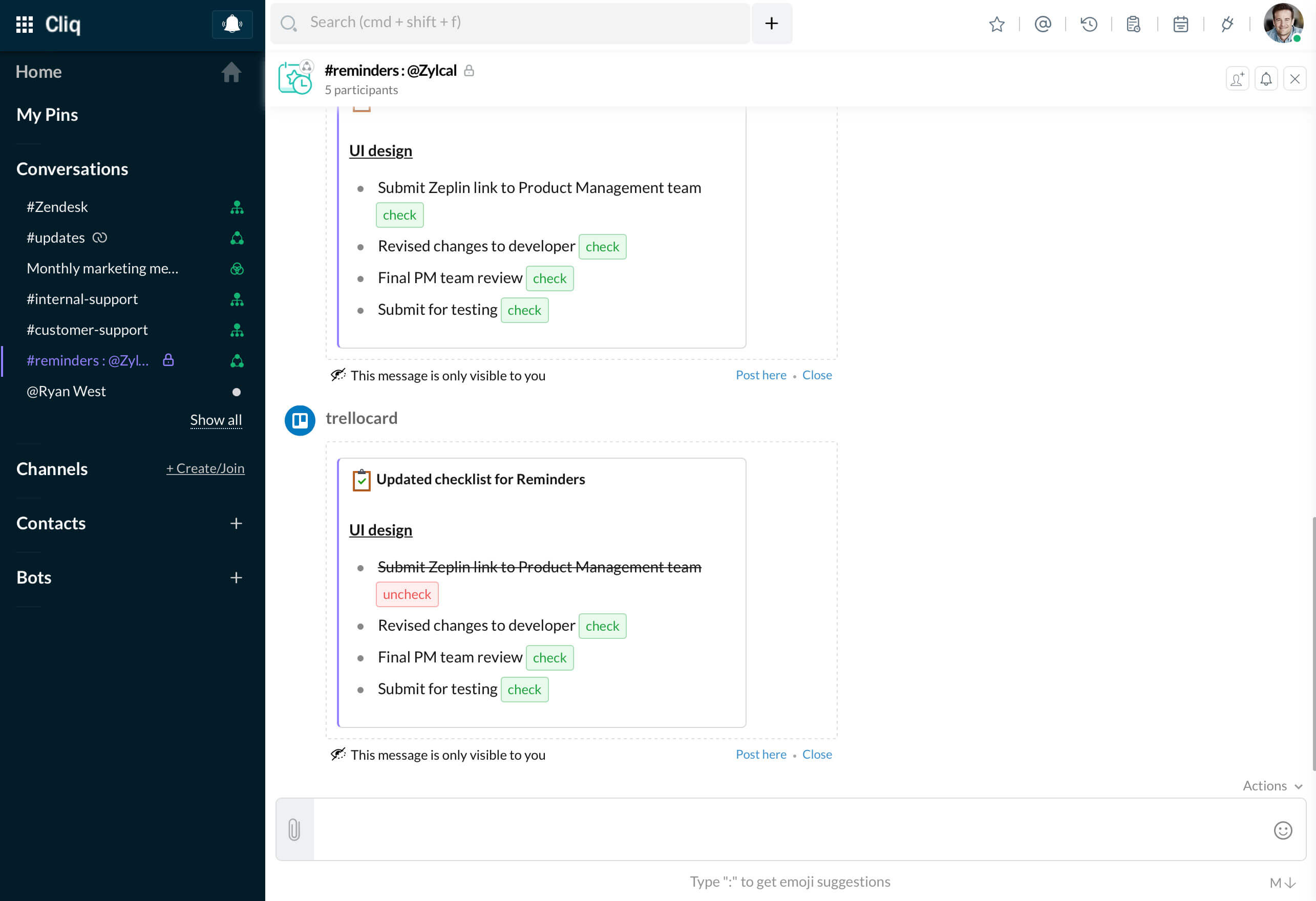 Message Action
As you converse and come up with tasks and to-dos, you can send it as a card to your Trello board with just a simple click. Hover on the message, click on Actions (3 dots) -> More -> Create a card. This will open an interactive form with your message as the card's description. Fill in other details, pick the board and list, and hit on Create button to create your card in Trello.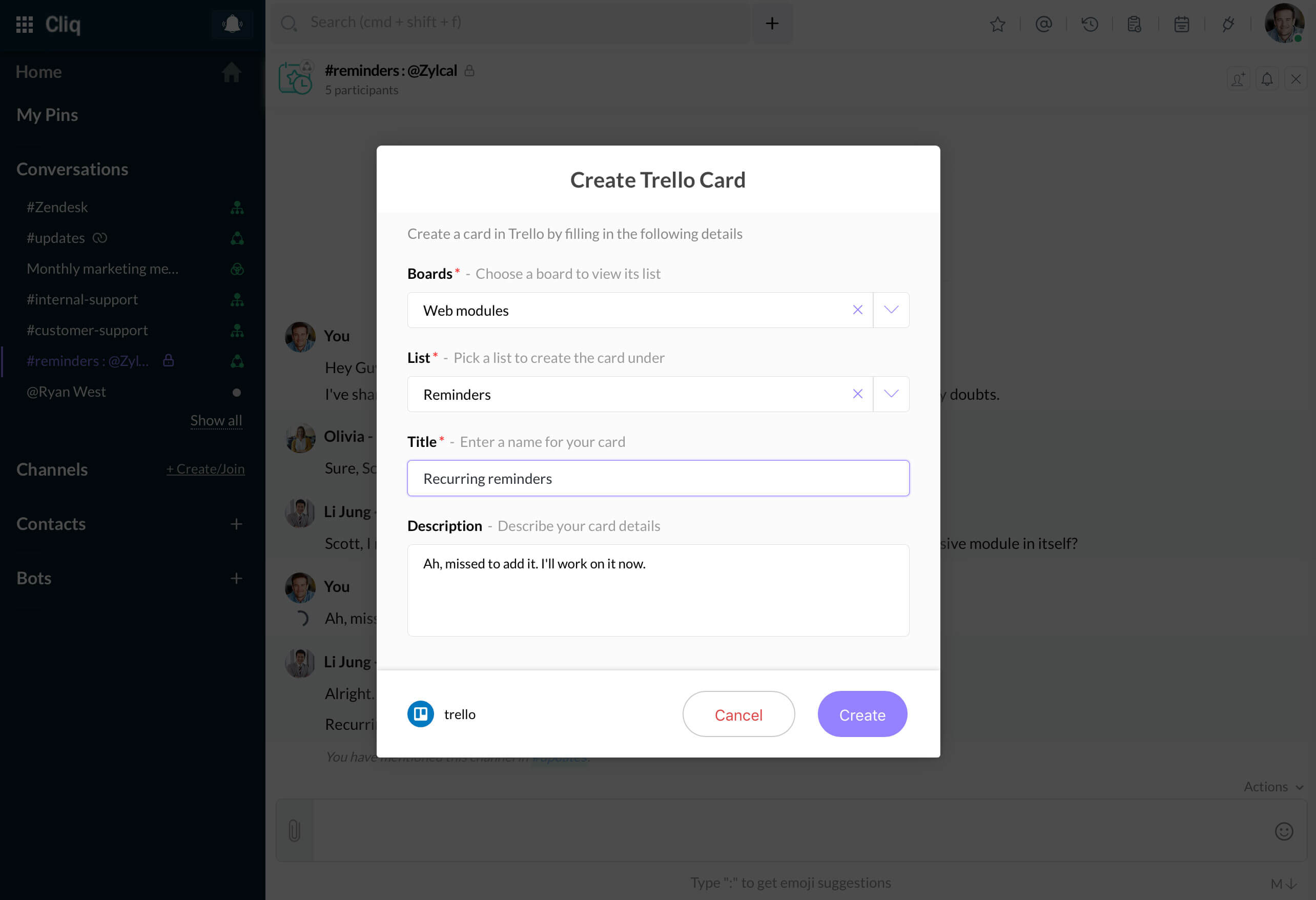 Installation 
Now that you know how Trello integration works in Cliq, install it to manage your tasks, and to turn your conversations into actions—right from within Cliq. 
Note: Only org admins can install an integration for the entire organization, whereas users can install only for their team. Click on the button below to install Asana for your team now!