Rss Digest 
Daily
dosage of latest news right inside your chat window
RSS stands for Really Simple Syndication, in more simpler terms it allows to get web-based updates on areas of interest. Extending RSS to Cliq, allows you to get latest updates from all your favorite sites right inside your chat window.
Table of contents 
RSS Digest in Cliq 
The RSS Digest extension in Cliq consists of just the RSS Bot that acts as the feed reader. To make use of the bot's services, you must subscribe to the bot. 
Click on the + of Bots in the left sidebar.
In the popup that appears, look for RSS Bot and subscribe to it.
When subscribing to the bot, you will get a consents dialog requesting permission to access your details. This consents box is to ensure privacy by letting you know how your data will be handled. To know more, check out the related link at the bottom of this page.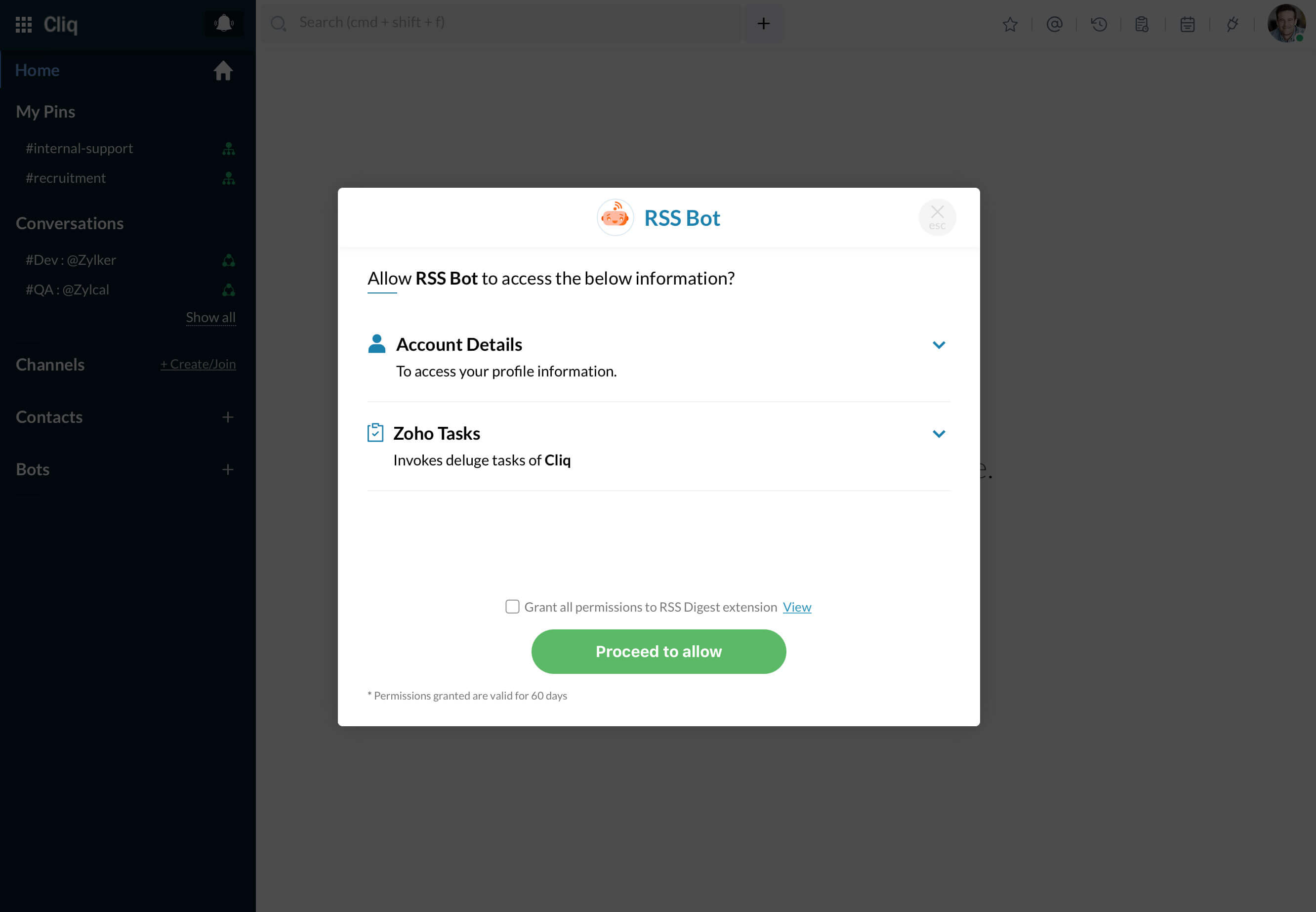 Subscribe to Feeds
You can subscribe to existing feeds or add a new feed by clicking on Subscribe action. From the list displayed choose a feed or select New Feed option. 

Hint:
The numbers next to each feed indicate the number of subscribers of that feed.
For adding a new feed follow the steps below, 
Give a name for your feed and enter the feed's URL. 
To get the right URL, just search in your browser as <website_name> RSS feed.
You can then easily get the RSS feed URL from the results displayed. 
Copy the URL, come back to Cliq and paste it in the URL field
Select a time to receive updates for this feed and hit the Subscribe button. 
The new feeds you create will be public and your colleagues will also be able to follow them.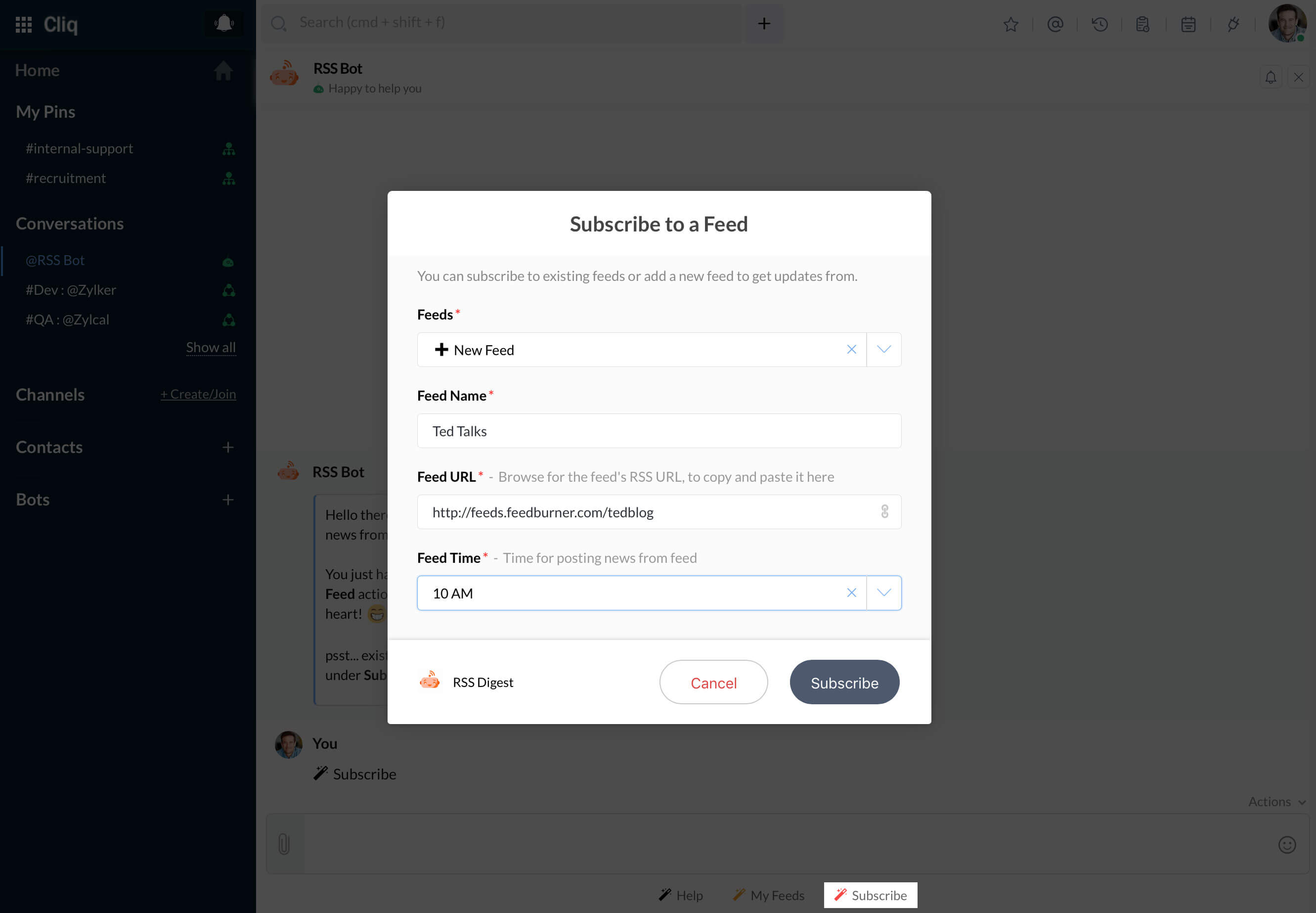 Edit feed time 
You can edit the feed notification time only for the feeds that you have added new and the default feeds of RSS Bot. You cannot edit the time for feeds that were created by other colleagues. Click on My Feeds to view the list of all your feeds. Here under the column News Time, you will have a Change Time button for feeds that you have permission to. 
The default feeds of RSS Bot are as follows, 
BBC 
TechCrunch 
Economic Times - Sports 
Techmeme
MarketWatch - Finance
Unsubscribe
You can unsubscribe from an RSS feed anytime you want to. Just click on My Feeds to view the list of all your feeds and hit the Unsubscribe button next to it.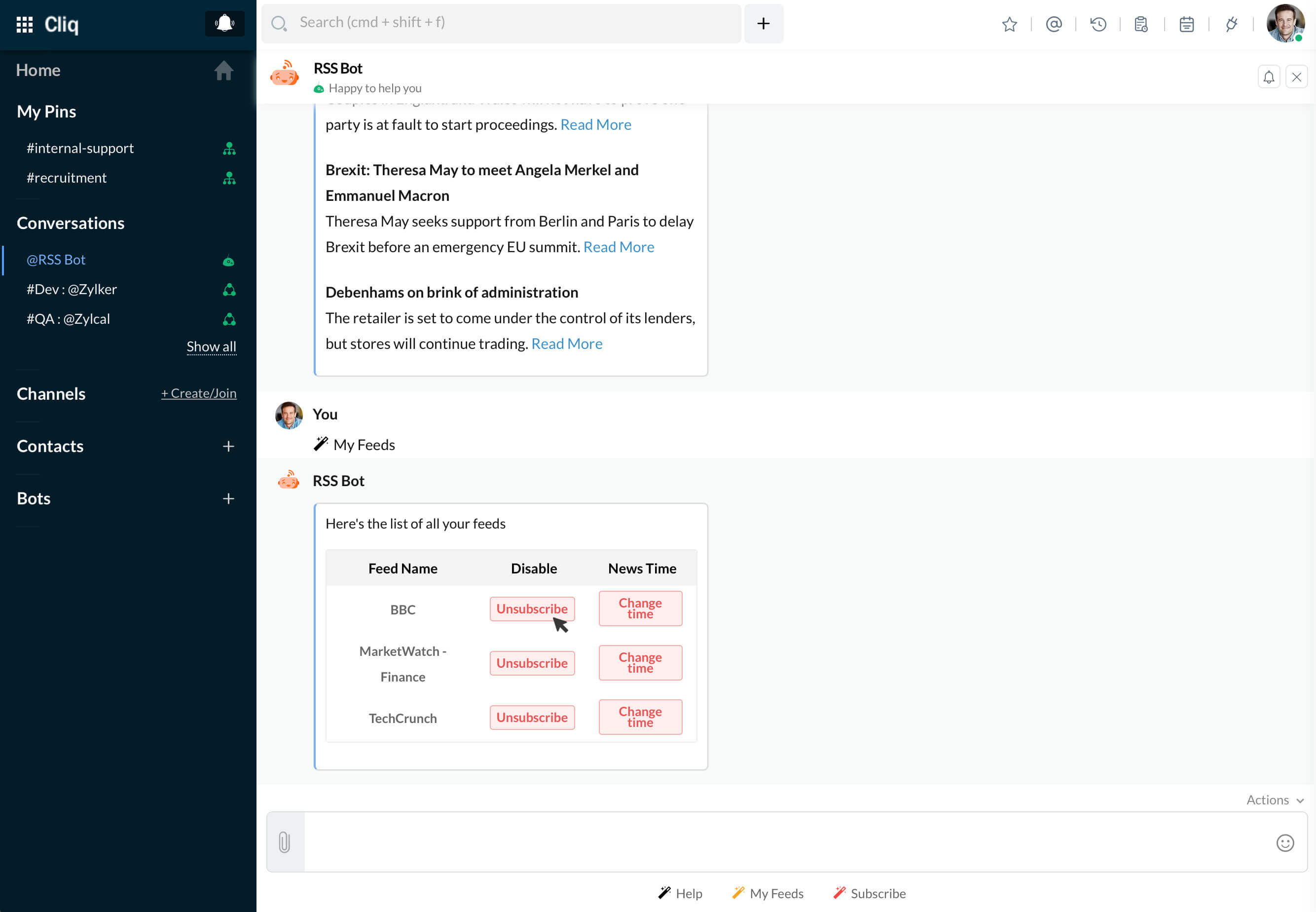 Installation 
Install RSS Digest extension by clicking on the button below, and experience the latest news and updates from the comfort of your chat window. 
Note: Only org admins can install an extension for the entire organization, whereas users can install only for their team.