The Story of Canvas
Here at Zoho, we thrive on having creative freedom in whatever we do: the products we build, the stories we tell, and the experiences we create. It is a core part of our culture, and that personal touch is what makes our work feel like it's truly ours.

Till 2014, we were working out of a rented floor in a big tech plaza, with little control over how our office looked, felt or how our operations ran. Soon, we made it a priority to move into our own place, giving us complete freedom over our work life. So we built our own campus. Buildings, desks, chairs, couches, lights, board games... Every little thing was hand-picked, which is why it feels like it's ours.
Freedom is the founding spirit behind every entrepreneur, which is why they all want their freedom in how they run their business. Their products, offices, values, culture, everything is personalized to represent their style. However, one area where most companies lack such creative freedom is with the software they use, especially enterprise applications like CRM.
We eat our own dog food, so we were in a similar quandary. People in sales, marketing, service and management roles; all use the same CRM, despite having nothing else in common. They were limited by the rigid experience of the otherwise robust software, slowed down by aspects that weren't relevant to them.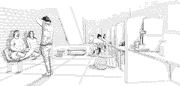 We wanted to change this, and brought this up to our colleague Muthuraja, Zoho CRM's design lead, and it felt like telepathy. Ever since our inception in 2005, we always focused on end-user experience, but at that moment, it suddenly felt like we were on the cusp of something big.
In 2011, we gave Zoho CRM a fresh redesign. There was a 6x surge in CRM usage in three months, and it showed us that great design drives usage. However, while adoption saw a spike, customers wanted something more- a better experience.
In 2016, we implemented a major Zoho CRM design revamp to create a simpler, more contextual experience. Our customers loved it to bits, but they also said that the experience just didn't feel personal to them on a granular level. They wanted Zoho CRM to connect with them like Spotify and Netflix did.
Each customer we spoke to had a unique requirement for the aesthetic of their CRM, how the data should be packaged and so on. We realized that there's an experience gap that's just waiting to be filled by something that brings the experience of a consumer app to the world of CRM software.

That's why we made Canvas, a no-code design studio to help customers craft their own personalized experiences. Industry, role, processes, geography, ideology, standards, there is so much diversity. It is in such diversity, that true unity is found, which is why we decided to empower every CRM user with the creative freedom they need.
This one is for the people who have unique tastes and preferences, who cherish aesthetics and flair and, who like to do business with a personal touch. This is our tribute to the world of CRM, one that can usher in a new era of customer relationships.
Interested in joining the Zoho CRM family?
JOIN US

Mani Vembu, COO, Zoho Corporation.
Interested in joining the Zoho CRM family?
JOIN US