Back
SOS Consulting Group | Australia
About SOS Consulting Group
The professionals at SOS Consulting are more than just software experts. Our senior consultants each have over 25 years of industry experience, making SOS Consulting one of Australia's leading cloud implementation experts. We're also an authorized partner of Zoho.
With over 20 full time staff, we have a diverse range of skills to support simple and complex software implementation projects. Our solutions incorporate integrations, widgets, automations, analytics, blueprints, canvas designs, and much more. Our projects range from large corporations to sole traders, across many business sectors.
Our experience means we appreciate that every project is different. Successful implementation means understanding your unique business processes and leveraging the skills in your team.
Together we will ensure your software implementation project is delivered, minimize any risk associated with change, and improve the efficiencies of your business through digital transformation and automations. We will ensure your business feels supported and your team can excel in their roles.
Visit our website to see examples of our work and exclusive Zoho solutions.
Canvas Template Designs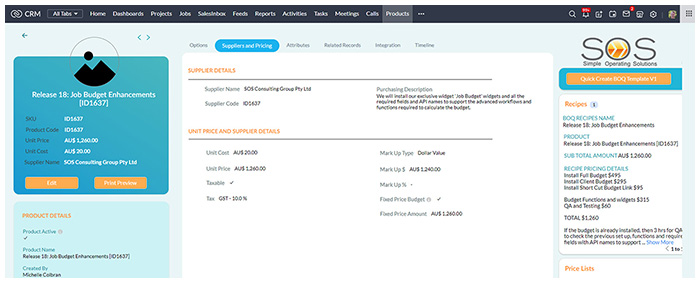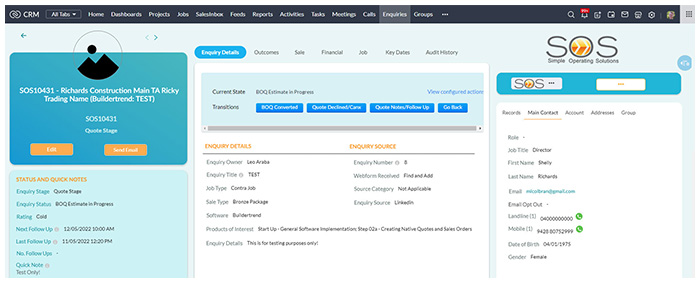 Expertise
Zoho apps consulting & implementation
Workflow automation
Customization
Data migration
Integration of Zoho apps
What our customers have to say
"Michelle and her team have been wonderful to deal with while implementing and designing our custom Zoho system. The previous partner we used took our money and ran, leaving us with a huge mess we weren't able to fix. SOS were able to pick up the pieces and build a system which far exceeded what we originally were promised. I highly recommend SOS and the team for any Zoho implementation work."
Rodger Brehaut,
Director, Hebco
"SOS Consulting have built cutting-edge systems into Zoho that help take the platform to the next level. The customizations that they've built have allowed our business increase efficiencies immensely and the reporting that we now get from this system is invaluable. To top it all off, the team at SOS are very professional and helpful."
Lisa Collis,
Operations Manager, Playscapes
"SOS Consulting have taken the time to understand not just our Zoho environment but our business processes to ensure that the solutions they propose fit our needs. Despite a 10-hour time difference, their response times to all our questions have far exceeded our expectations. Complete visibility of service ticket status and per-minute billing means our projects stay on budget as well as on time.
Working with SOS was a breath of fresh air. Lovely people to work with."
Dawn Mendez,
Group Marketing Manager, Rhopoint Instruments
Michelle Colbran
+61-428-807-522

PO Box 3083, Burleigh Town, Queensland, Australia