Back
Smartbricks Technologies | Chile
About Smartbricks Technologies
Smartbricks Technologies is a CRM consulting and implementation firm focused on adding value to your company through digital transformation. We aim to lower the barriers associated with CRM implementation and adoption by offering the right technology platform.
We are Zoho Premium Partners. Our implementation process involves three steps: 1) Consultation with the main stakeholders of your company to understand your specific needs 2) Analysis of the state of your technology and the maturity of your team 3) Offering a customized solution to suit your team and business requirements.
We are a team of IT consultants, web developers, and designers. We have supported more than 100 clients in industries as diverse as Construction, Finance, Healthcare, Real Estate, Education, and more.
When we work with you, we'll try to understand your commercial, marketing, or service processes, configure those process on our platform, train your team on the new solution, and support them in the technology adoption process. If your company has already implemented a product, we can help you with support plans for maintenance, training, and improvements in your processes.
Our team includes the right mix of Business Analysts, Project Leads, Developers, and Integration Specialists to help you with implementation, customization, and on-going maintenance.
Canvas Template Designs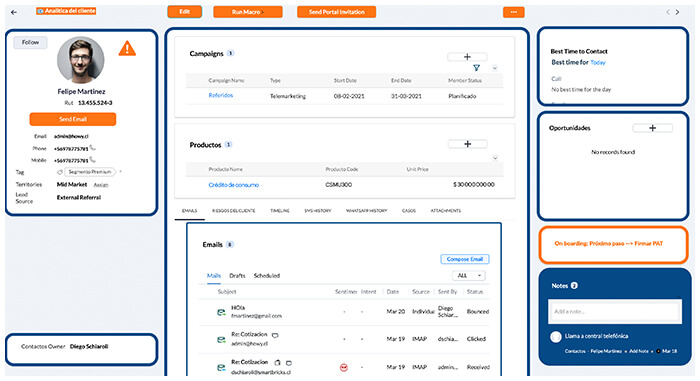 EXPERTISE
CRM Implementation
CRM Optimization
Support
Web Development
App Development
What our customers have to say:
"Thanks to this tool and the designs provided by Smartbricks, we could see all our customer data in a simple, centralized, and attractive way."
"Canvas designs improved user adoption in our company by 20%."
Diego Schiaroli
+56-9-7877-5781

Barros Borgoño 160, Santiago, Chile