Back
Cloud Mobile Forms | United States
About Cloud Mobile Forms
Cloud Mobile Forms is a consulting firm that specializes in helping small and medium enterprises leverage the performance of their sales and marketing teams by adopting Zoho's cloud-based business solutions with a focus on CRM, Marketing Automation, Mobility, and BI Analytics technologies.
Ariel Segall, founder and CEO of Cloud Mobile Forms, is a Zoho Consultant with more than 25 years of experience in business consulting and more than 10 years of experience providing certified Zoho solutions to all size businesses.
Cloud Mobile Forms is based in Weston and Ft Lauderdale, Florida and not only provides local Zoho Consulting services to businesses in Miami Dade, Broward, and West Palm Beach but, as a cloud-based firm, it also services clients nationwide.
The core success you can expect from working with Cloud Mobile Forms is in achieving your set goals with our expert advice, strategic thinking, hand-holding deployment, ergonomic adoption, best-practices engagement, and ongoing coaching 100% focused on innovation and customer-centric activities for your business growth.
Our culture is about making your business self sufficient with all aspects of the Zoho business management tools and becoming your advisers and partners for success.
Canvas Template Designs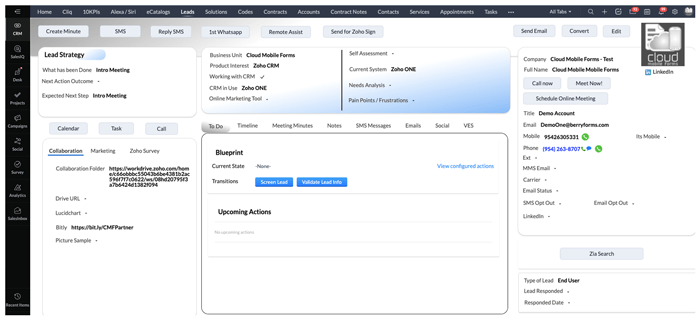 EXPERTISE
Zoho CRM consulting
Business intelligence
Coaching and training
What our customers have to say:
"Ariel and Cloud Mobile helped our organization develop and roll out Zoho to our group and patiently worked with us to create the various modules that best support our business. They were very thorough in developing and refining a needs analysis and then implemented the software and trained us extremely patiently until we were able to stand on our own. Every time I needed questions answered or ran into a sticky situation, I knew I could count on Ariel and his team."
"Working with Ariel was a pleasure. We needed to convert our application process from DocuSign to Zoho Sign and integrate it with Zoho CRM. Not only did Ariel create a seamless process for my agents, he also suggested additional features he could add to the project that I hadn't even thought of. Excellent value with very reasonable costs! We will definitely use his services again."
Gregg Mora,
Dynamic Capital
Ariel Segall
+1-954-888-9932

2200 North Commerce Pkwy, Suite 200-219, Weston, Florida, United States