A seamless interface for easy navigation. 
Smart Dashboard.

The new dashboard brings everything to the forefront in an easy-to-read display. From account setup to recent activities, your information is neatly arranged however you want. Customize your widgets and create your own dashboard to maximize efficiency.

Organized Tabs.

No more cluttered windows and clunky navigation. Advanced features and tools are grouped into different tabs, allowing you to switch from one tab to another, and shift your focus where it needs to be.

Simple Shortcuts.

From mailing lists to email campaigns, all of your crucial data can be catalogued into custom folders. If you want to refer back to any specific page within the product, favorite it for easy access.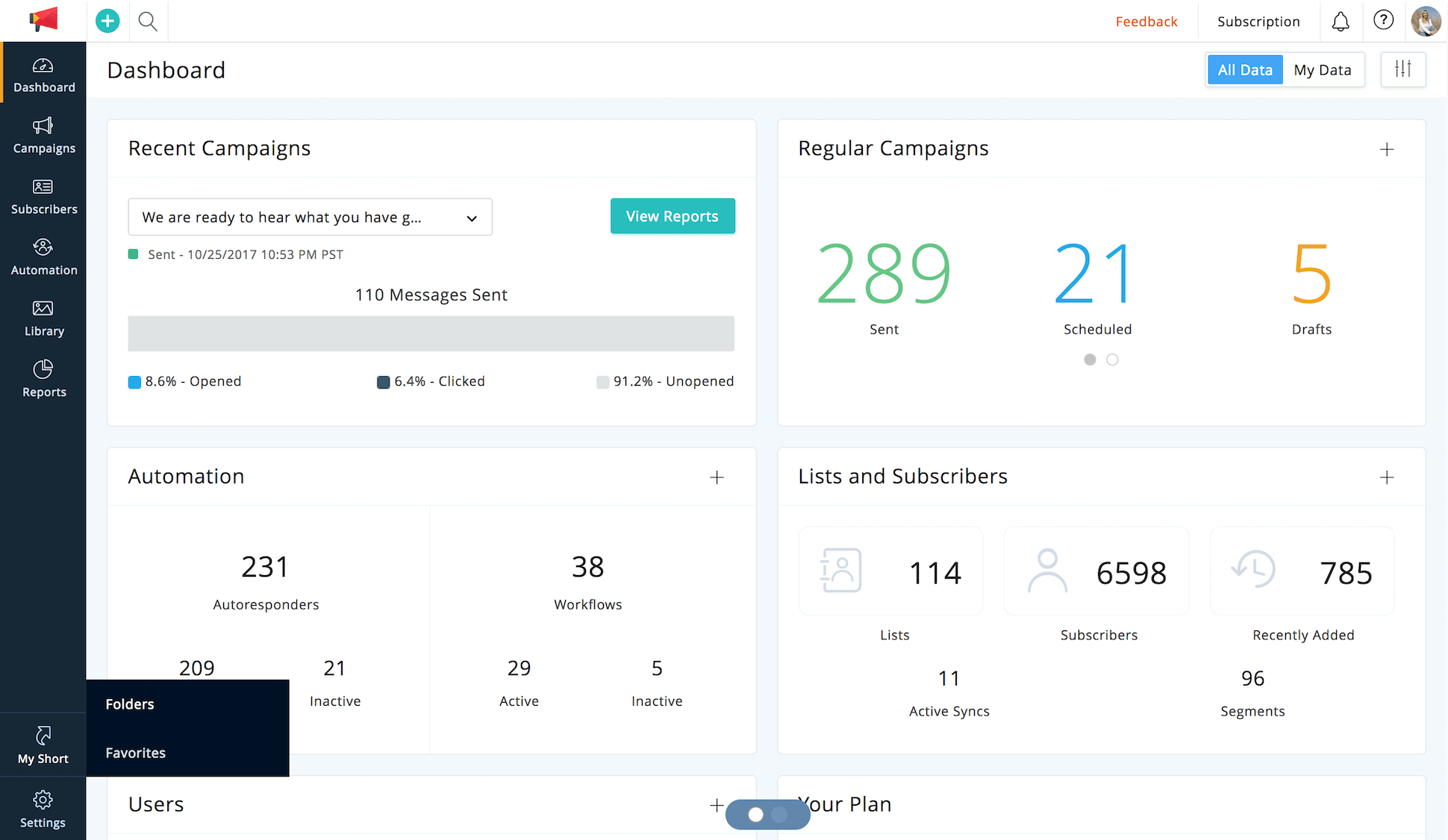 Extensive tools for exceptional campaigns. 
Designing impressive, responsive email campaigns can't get much easier. Transform your images using our advanced image editor, save your email content across each draft, and preview your emails to see how it looks on various devices. Our campaign crafting features aim to make campaign creation an enjoyable experience for you. Learn More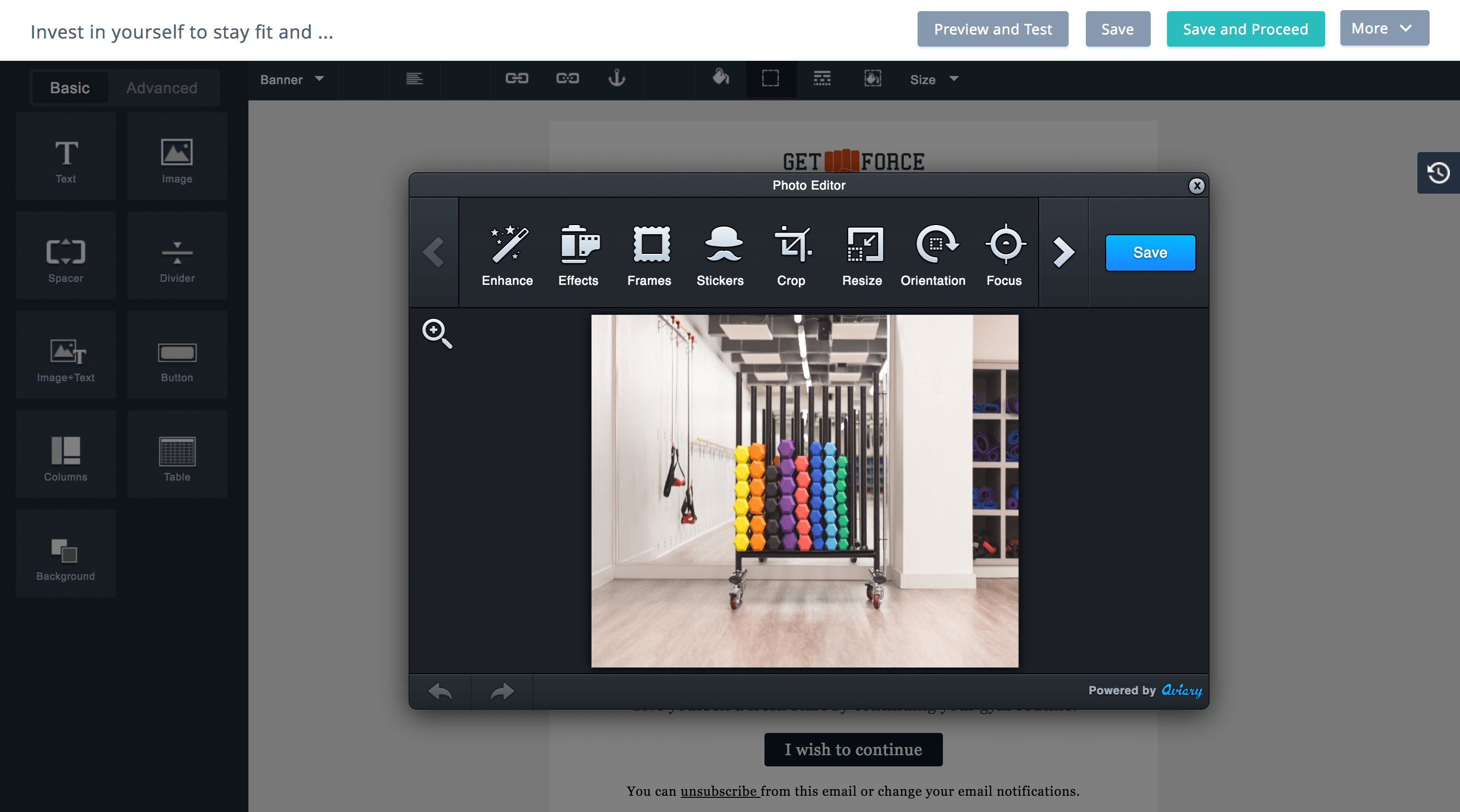 Workflows to simplify repetitive processes. 
Doing the same thing over and over is a waste of your valuable time. Set automatic triggers to send targeted emails, run one-off, recurring, and activity-based workflows, and take contextual action automatically. With so much time and effort saved, you can concentrate on more engaging tasks. Learn More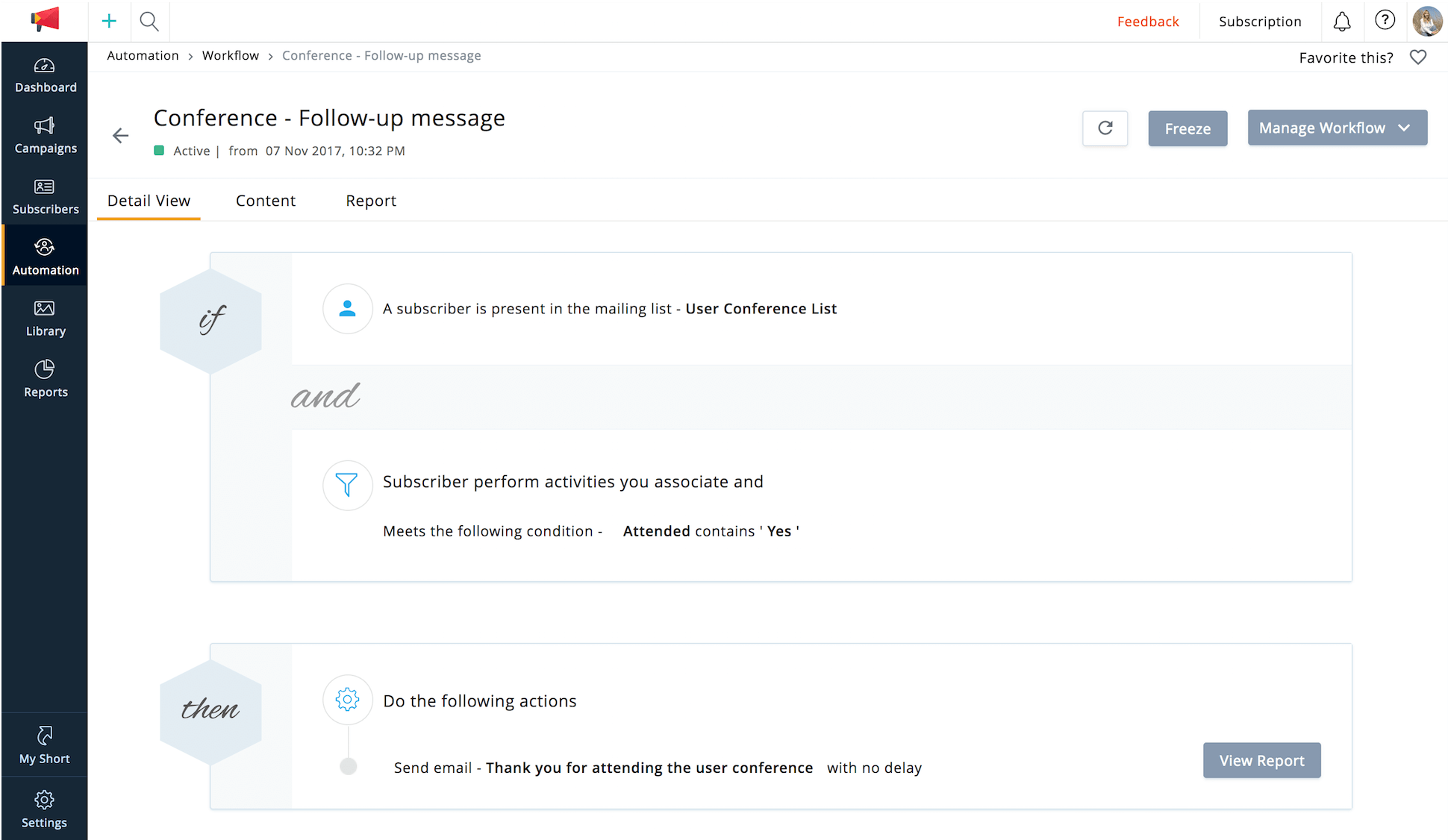 Contextual emails for targeted outreach.
Set up a series of win-back emails for every occasion. Keep your people in the loop with automated, personalized messages about everything from blogs and promotions to events and announcements. Use our sophisticated autoresponder tools to decide who will receive which messages. Learn More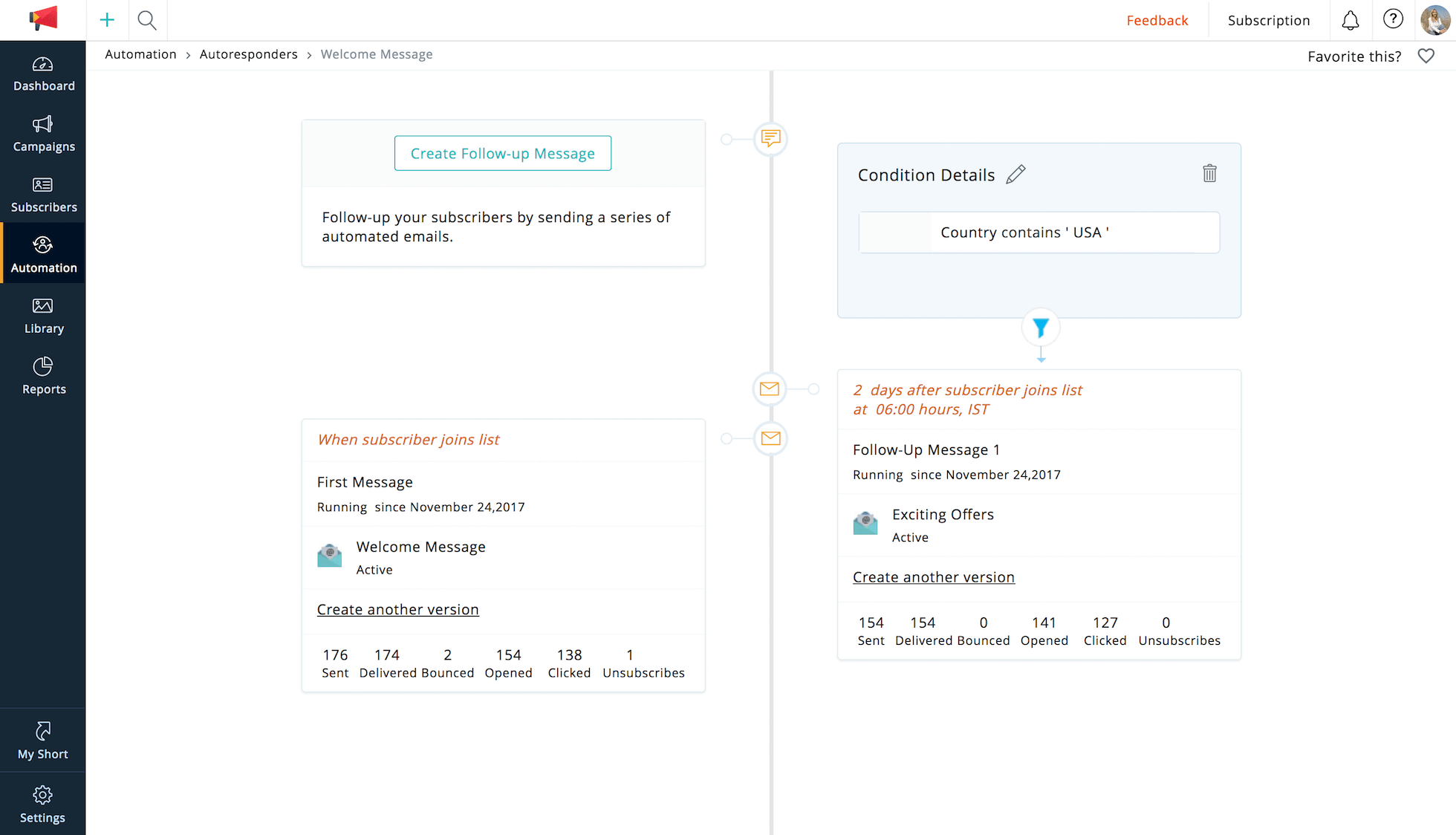 Permission-based engagement to improve deliverability.
Send messages to your most interested subscribers to increase your open rates and improve your campaign performance. With vCards, you can include your contact information in any email or sign-up form to get added to your subscribers' contact lists, improving your brand's credibility and reputation.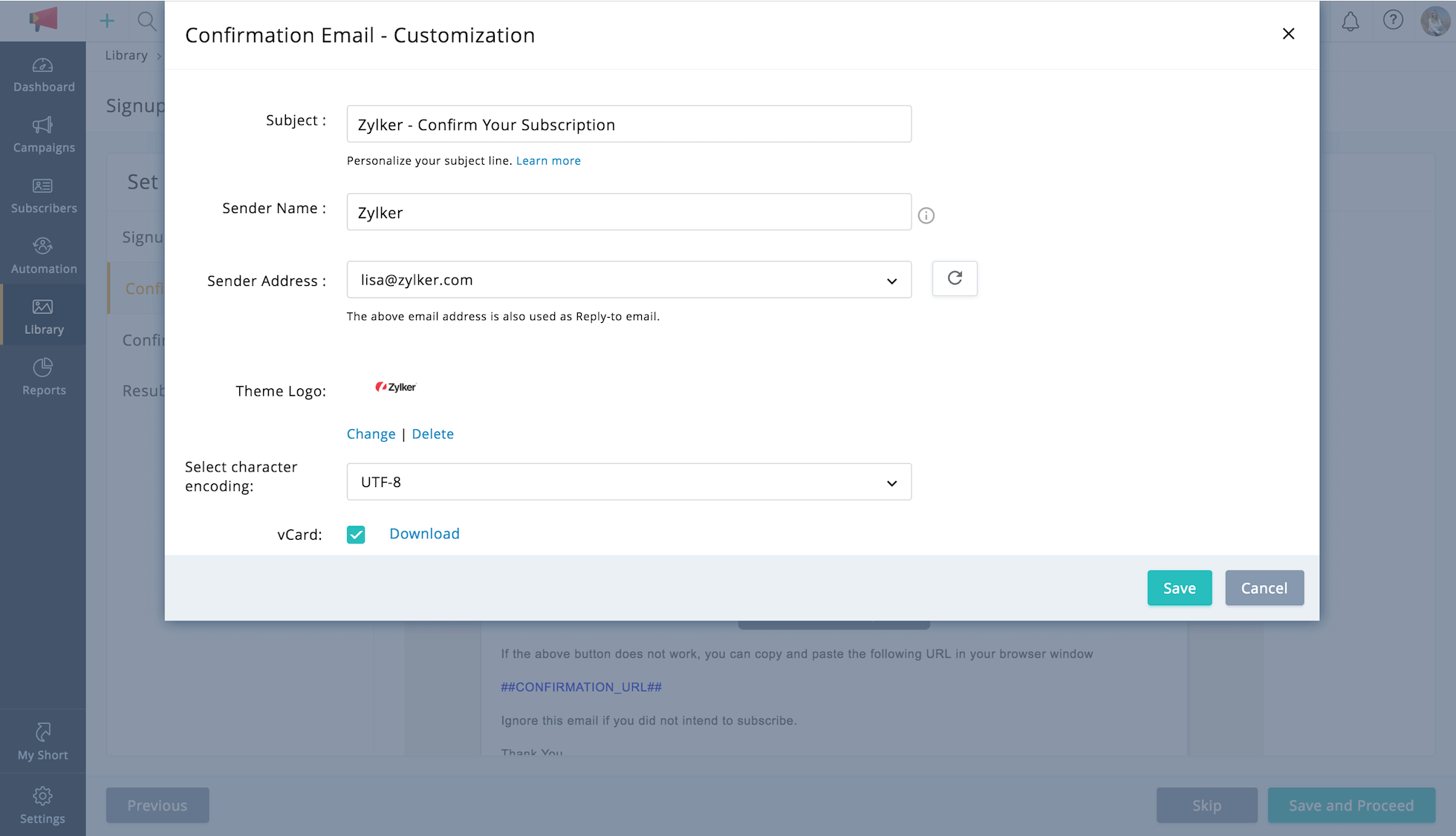 Real-time analytics for performance measurement.
With the right data to monitor and analyze, get to know the metrics that govern campaign success. Through detailed campaign comparisons, open-click distribution, lead growth charts, and other follow-up/engagement reports, you can improve your strategy and take your future campaigns up a notch. Learn More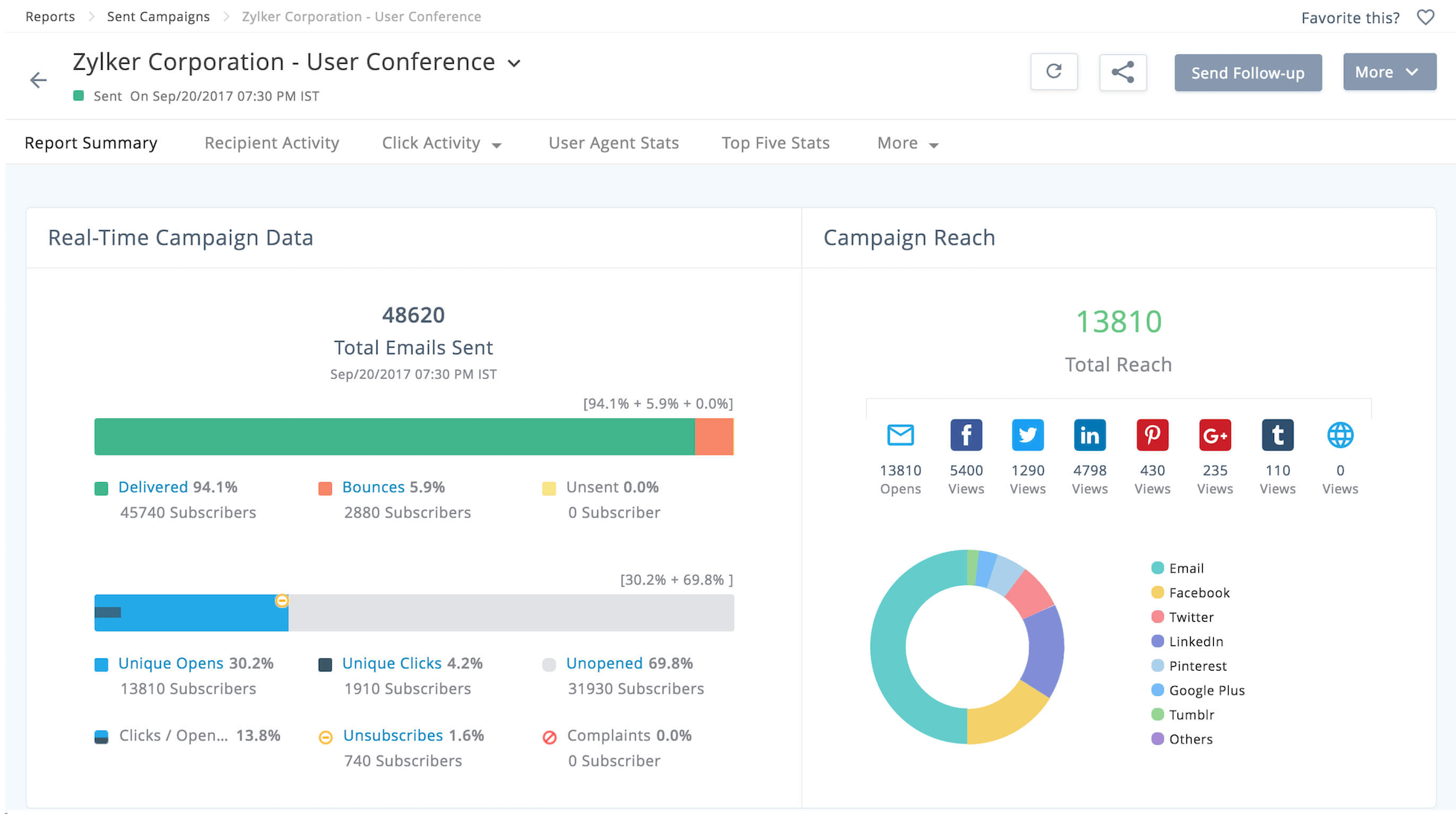 Campaign management using specific settings.
To improve click-through rates, it's important to keep tabs on your email sending frequency. The Email Limits option lets you set a threshold on the number of emails sent over the course of a particular time period. With options to configure admin approval of email content and user privileges, your campaigns will stay manageable. Learn More