Zoho Campaigns Webinars
Learn how email marketing can help you reach and engage with your customers, with Zoho Campaigns webinars.
How to increase your webinar engagement with email marketing
When you get a substantial amount of attendees for your webinar, you will feel good, will you not? Now, how about converting your webinar registrants and attendees to customers? Does it not sound even more good? Don't worry about how you do it, because Zoho Campaigns is here to help you in sending out re-engagement emails for your webinar registrants and attendees.
Q&A
We couldn't attend to all the questions during our webinar. However, we have answered them in detail here.
Q1. Is it possible to send multiple reminder emails?
A1: As of now, it isn't possible to send multiple reminders using Zoho Meeting, but it's in the development phase. You can send multiple reminder emails with the help of automation in Zoho Campaigns.
Q2. What makes a perfect webinar?
A2: Webinars, as we all know, has become a great platform to educate leads and contacts about products. The more interactive the webinar turns out to be, the more your contacts gain a better understanding of your product/brand.
Here are a few preparation methods that can make your webinar a perfect one:
Decide a topic for your webinar — Your webinar topic is key to deciding your audience count. Choose an interesting topic that would engage your contacts. For this, you'll have to research previously conducted webinars and different forms of content.
Form the agenda for the webinar — Agenda is the second major factor that influences how many registrants and attendees attend your webinar. Giving a glimpse of your webinar before conducting it will help the audience decide if they want to attend.
Confirm the content for the webinar — Once the topic and agenda are fixed for your webinar, you'll have to prepare content that elaborates on them and ensures your content explains your agenda points.
Choose a platform on which to conduct the webinar — The tool you use also decides if the webinar be successful. Make sure you choose a user-friendly tool. We're obviously fans of Zoho Meeting, our in-house online meeting tool that helps you create and conduct webinars for teams/organization.
Decide the time and date for the webinar — You'll have contacts from different parts of the world. This should be kept in mind, and the time and date for your webinar should be scheduled accordingly to ensure maximum attendees.
Schedule the webinar — When the points mentioned above are updated, it's time for you to schedule the webinar.
Promote the webinar — Once you schedule the webinar, you'll have to promote the webinar, which will help you get more registrants and thus more attendees. You can promote your webinars via emails, website, blogs, social media, and many more outlets.
Send a thank you — When your webinar is over, don't forget to thank people who attended. This is a great way to engage your attendees and turn them into your customers. Also, remember to send a "sorry you missed our webinar" emails to registrants with the webinar recording attached so they feel you value them, even though they didn't attend the live session.
Learn more about how to do webinars using Zoho Meeting.
Q3. How can we create good follow-up emails for the webinar?
A3: Once you schedule a webinar, you'll be sending out invitation emails to all your contacts. When you get registrants and attendees for your webinars, you can start connecting with them by dividing your email marketing into three stages:
Pre-webinar emails
Post-webinar emails
During-webinar emails
Pre-webinar emails are mainly focused on sending webinar invitation emails to your contact list. Once they register and the time is nearing for the webinar, you can send them reminder emails where the goal remains the same — to get more attendees for the webinar.
Post-webinar emails are important because ending your webinar doesn't mean your relationship with the attendees is done. It is, in fact, a beginning. You now have a reason to engage them in the future. Once the webinar is over, sending thank you emails can cultivate your relationship with the attendees. Sending a "we missed you" email to registrants who missed the live webinar and attaching a recorded version of the webinar will also help keep registrants engaged.
During-webinar emails simply state that the webinar will begin shortly, which — again — will help you get more attendees.
These are just a few of the follow-up emails that can be used while conducting webinars.
Q4. What's the difference between Zoho Meeting and Zoho Showtime?
A4: Zoho Meeting is a meeting tool and Zoho Showtime is a training tool. To reiterate, Zoho Meeting can be used to conduct a web meeting within your team/organization or with your customers. Zoho Showtime is more of a training tool to train your team/customers.
Q5. Doesn't the webinar setup do automated emails reminders as well?
A5: Yes, you can go to the Settings tab on the left corner of your screen, in your Zoho Meeting account. You will have to schedule the time for reminder emails (before 1 hour, before 1 day, etc.) and then schedule the webinar so that reminder emails will be automatically sent to all the registrants based on the time that you've set.
Q6. Is Zoho Meeting an open-source software or based on subscription?
A6: Zoho Meeting is like any other Zoho products - Subscription-based service.
Q7. How many people can join the webinar?
A7: Currently, Zoho Meeting supports 250 attendees at the maximum for one webinar. We are also working to increase the count up to 1000 attendees.
Q8. What are the advantages of sending emails in batches?
A8: Sending emails in batches helps you avoid straining your email server with continuous emails. Since most email servers will have a restricted amount of email acceptance at a specific time, sending emails in batches will help to safeguard your domain reputation and avoid your emails reaching spam folder. Read more
Q9. Will it be possible to send thank you emails to webinar attendees through Zoho Campaigns?
A9: Yes, it's possible. Once you schedule the webinar in your Zoho Meeting account and integrate it with your Zoho Campaigns account, all the registrants and attendees list will be available in your Campaigns account. You can select the list of attendees and send out your thank you emails.
Q10. After recording the webinar, may we edit it with our software, and then replace the recording on your website with the improved one?
A10: You can download the recorded webinar from your Zoho Meeting account. We will give the recording as a file in both playable and download format. You can edit as per your wish once you download the same.
Q11. How do we add the unsubscribe button?
A11: By default, the unsubscribe link will be added at the bottom of all your email campaigns. If you want to use it inside the content, you can use the unsubscribe merge tag $[LI:UNSUBSCRIBE]$
Q12. Which is the best day for sending an email?
A12: The best day for sending out email campaigns are Tuesdays, Wednesdays, and Thursdays. You can schedule your emails for any of these days. Also, when you schedule a campaign in Zoho Campaigns, you'll have the option to schedule it for the recipients' optimal open time, allowing your emails to automatically arrive at the time the recipient is most likely to open your email. For example: If a person opens their email regularly between 10 and 11 a.m, the email will be delivered to them during that time.
Speaker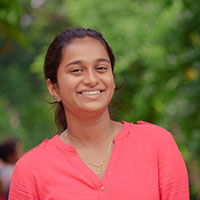 Annet Mathews
Product Marketer