Zoho Campaigns Webinars
Learn how email marketing can help you reach and engage with your customers, with Zoho Campaigns webinars.
Intelligent email marketing with Zoho Campaigns
While email marketing software helps you save a considerable amount of time and effort, there are a lot of smart features that can help you fetch high returns. Designned to make your email marketing smarter and faster, these features help you gauge and optimize every vital aspect. In this webinar, you'll get a peek into such features and learn how to effectively use them.
Q&A
We couldn't answer all the questions that we had during the webinar. However, we're answering them in detail here.
Q1: What are the different ways of scheduling my email campaign?
A1: It's good to know that you're emphasizing on scheduling methods to improve your engagement levels. Zoho Campaigns allows you to schedule your email campaigns in four ways:
1. Fixed time and time zone - Under this option, the campaign will be sent to all your recipients exactly at the time and date you specify
2. Recipients' time zone - This option comes in handy when you have the geographical information of your contacts stored in your mailing list. Upon choosing this option, emails will be automatically sent to every recipient at their time zone
3. Recipients' optimal open time - This option enters the picture if you have had previous interactions with your contacts. The past three open times of every contact is considered and an optimal time calculated; based on that, the emails are automatically sent
4. Batch sending - This allows you to split your campaign into batches and send it to your contacts at different junctures
Q2: How to be absolutely sure about the design elements of my newsletters?
A2: You can turn to email testing tools to ensure there aren't any discrepancies which may lead to spam complaints. With the help of testing tools, you'll be able to see how your content renders across devices and platforms; and do the fine-tuning work. Zoho Campaigns integrates with Litmus for this purpose.
Q3: How to craft relevant and tailored content to my contacts in a time-effective manner?
A3: Zoho Campaigns has a feature called Dynamic Content which allows you to craft different versions of your messages under one email. Moreover, you'll be able to set specific criteria for every version. Let's say there are seven different criteria set for seven different versions; the content an individual gets to see depends on the criteria s/he meets.
Q4: Can I know more about the Email Policy feature?
A4: Zoho Campaigns' Email Policy or Email Limits is something which helps an account administrator to keep a check on the number of emails that goes out to a contact over a period of time. This is primarily done to ensure you don't accidentally bombard your audience with too many emails.
Speaker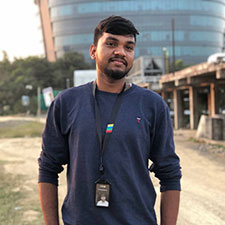 Aravindhan
Product Marketer