Zoho Campaigns Webinars
Learn how email marketing can help you reach and engage with your customers, with Zoho Campaigns webinars.
Make the Most of Automation in Zoho Campaigns
Automate your email marketing efforts with Zoho Campaigns. Learn how automation can help you send out a series of automated and personalized email campaigns, perform different actions on your contacts based on their interests and more through this webinar.
Q&A
We couldn't attend to all the questions during our webinar. However, we have answered them in detail here.
Q1. Do small businesses have to adopt automation?
A1: Being small businesses, you might not have a large contact base and might think it is better to go with the regular email marketing campaigns than to invest additionally in an automation platform. But think about it the other way.
As a small business owner, you would have fewer resources in your company and all you worry about would be your production, shipping, clients, support, etc. Maintaining customer relationship is equally important so as to drive good business revenue and emails are the primary source for it. So if you want your business to scale, investing in an email marketing software that includes automation is essential
Q2. How best can automation in Zoho Campaigns help me send follow-up campaigns to my contacts based on their activities?
A2: Firstly, let's thank automation that helps email marketers plan everything in advance and get all the work done efficiently.
This webinar would have walked you through different types of autoresponders catering to different business scenarios where Email-action autoresponder is the one you have to be looking at for your requirement.
With Email-action autoresponder, you can set up an automated email follow-up series for any of your previously sent campaigns. Every follow-up series is based on the recipient's interaction with the parent email campaign and can be triggered as soon as the recipient performs the specified action or you can set a delay for the trigger.
Here are the types of follow-up messages you can send to your contacts with the help of Email-action autoresponder.
Send relevant emails to contacts who have opened your emails
Send reminder emails for those who have not opened your emails yet
Understand your recipients' interests better by analyzing their link click activities and sending them relevant follow-ups
Q3. What is the number of emails I can send in an autoresponder series?
A3: You can send up to 50 emails in an autoresponder series. However, if you have a requirement of sending 50 messages and above, you can contact us at support@zohocampaigns.com and we can increase the limit based on your business needs.
Q4. How does automation help push the best leads to my CRM system?
A4: Connecting your CRM software and email marketing software is very important for your sales and marketing activities to go in tandem. Zoho Campaigns helps you achieve this by tightly integrating with Zoho CRM, the in-house CRM system. This integration lets you seamlessly sync contact and campaign data between Zoho Campaigns and Zoho CRM.
To answer your question, workflows in Zoho Campaigns help you push the most-engaged contacts to Zoho CRM. Here's how you do it.
Assign scores to your contacts based on their profile information and campaign activities using the Lead Scoring feature.
Use one of the workflows that best suits your needs to push the contacts who have reached the target score into your Zoho CRM
Q5. I have set up weekly newsletters for a couple of months and the new contacts who subscribe to it should receive only those newsletters scheduled after their date of sign-up. Which autoresponder helps?
A5: Smart-series autoresponder in Zoho Campaigns best serves your purpose. It lets you set up a series of messages for your contacts where you can define date and time for each message.
Let's take your scenario where you have set up weekly newsletters for your contacts. Assume that you've put up the newsletter subscription form on your website and every day hundreds of people subscribe to it. With the smart-series autoresponder, you can trigger the newsletters that are scheduled after the date of your contacts' signup. In the case that you want your new contacts to read your previous newsletters, you can choose to archive the links of the same in the newsletters they receive.
Speaker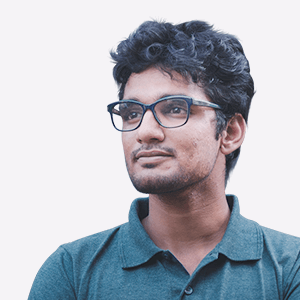 Sarvesh CK
Product Marketer