What's New in Campaigns Mobile App
2022
Oct
More actions in one-go
Stage Manager in Zoho Campaigns helps you create a campaign or a list, check the reports of your previous campaigns, and much more simultaneously. Learn More
Set up lock screen widgets
Besides the home screen widgets in your iPhone, you can now set up lock screen widgets to get detailed information about your email campaigns. Learn More
Scan text from your camera/pictures/videos
Now effortlessly create email content by scanning text from your camera or your pictures/videos. Creating an email template has become quicker! Learn More
2021
Aug
iPhone, iPad & Android
iPhone, iPad & Android
Meet the new Zoho Campaigns app—Version 2.0
New and existing users of Zoho Campaigns mobile application will have the following feature sets for your mobile email marketing. Keep a track of changes that you'll love. Let's dive in!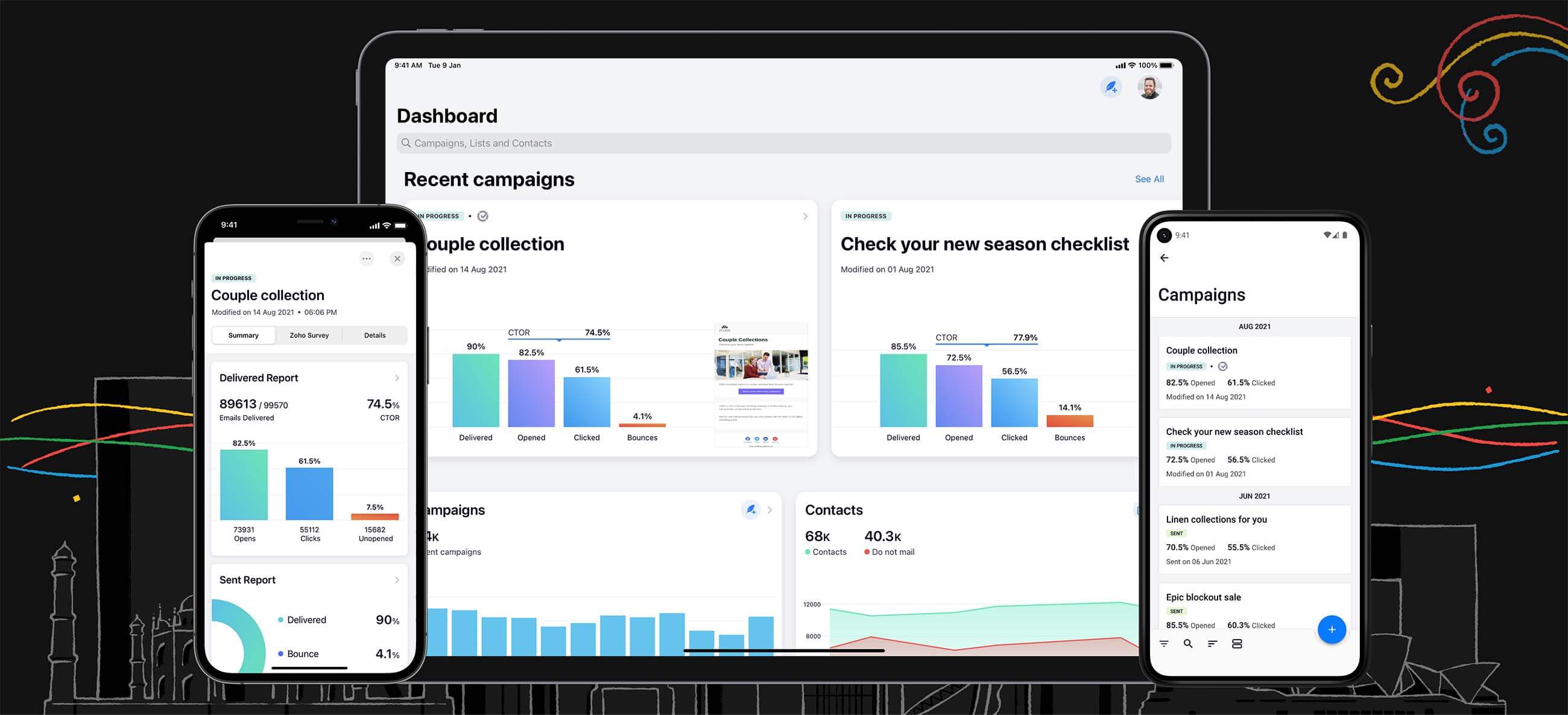 Create an email campaign from scratch
You can choose from the pre-designed templates and refine them based on your business needs.
Basic template editor to optimize email campaigns
You can edit and refine the text, buttons, image, and social widgets of the pre-designed email templates before sending the campaign to your recipients.
Merge tags for personalization
Send personalized, tailor-made content to your contacts by inserting the recipient data like first name, email address, company name, etc. into your email campaign content.
Clone email campaigns with just a click
Clone any of your existing regular email campaigns and make your campaign creation process easier by just editing the required information.
Bulk import contacts to your account
A bulky list of contacts stored as a file (.csv, .xls, .xlsx) in your mobile devices can be directly imported to any of the mailing list in your Campaigns account.
Send time optimization to schedule email campaigns
Schedule your emails when your recipients are likely to open the email. This feature analyzes the open time of your recipients based on their past three opens and gets your emails delivered to recipients at their right time, improving your engagement rates.
Live dashboard for an overview of your account
Get the reports of recently sent/in-progress email campaigns, the overall chart of your email campaign, and overall subscriber growth chart.
Summary of sent campaigns
A detailed report of both regular and advanced campaigns of your account can be analyzed with the help of the mobile app. All you require is an active internet connection.
Reports to improve future email campaigns
Monitor and keep a track of all regular and advanced campaign performances, their real-time analytics to learn their exact geographical regions, statistics about the devices, web browsers, and operating systems through which they open the emails, etc. This helps you optimize and target your future email campaigns.
Filter to modify and view contacts
Use various fields and criteria to learn about contact profile and to edit and refine them. You can also filter out other users' contacts and perform the same actions, provided you have permission to access their lists and folders.
Responsive design for different screen sizes and devices
The app is designed in such a way that it's not a completely different app when it comes to multiple devices.
Thumb friendly design and easy navigation
Single-handedly use the Zoho Campaigns mobile app to carry out all the necessary actions with ease.
Demo account for better understanding
If you're a new user or finding it difficult to navigate through the app, a demo account is set up automatically that takes you to a complete tour of the app giving you a detailed idea of how to go about with the app.
Dark mode support
Choose the aesthetic you prefer for your account and adopt a dark appearance if you're tired of watching the app in bright mode.
Notifications to view updates
Set up custom notifications on your mobile device to push timely updates about the status and performance of recently-sent campaigns straight to your mobile device.
Smart actions to work without switching the current context
Switch between different organization portals that's associated with you and perform actions from within the app.
Switch between associated portals
Switch between different organization portals that's associated with you and perform actions from within the app
Privacy and security updates
A passcode security is provided to protect your app from unauthorized usage. You can also handle the usage of data by altering your in-app settings.
In-App purchase
Choose subscriber based plans from your mobile devices, if you're a free plan user. The subscription will be auto-renewed.
Available in multiple languages
The app is now available in 19 languages including English (US), Spanish, Italian, Danish, Dutch, German, French, Portuguese, Hungary, Turkish, Polish, Chinese (Simplified), Japanese, Russian, Hindi (IN), Vietnamese, Korean, Thai, and Indonesia.
Add contacts by scanning data
Build the audience in your account by scanning contact data using a card scanner.
Bottom bar design
The Zoho Campaigns mobile app adapts the latest UX trend of the floating bottom bar design at necessary areas.
Widget optimization
Set up widgets in your android devices to take a quick look at the campaign summary of your email campaigns.
iPhone & iPad
iPhone & iPad
Accessibility related optimizations
Voice over, dynamic font size support including accessibility font sizes, and color blindness supportive colors are added to make the app accessible for all.
Widget optimization
Check the performance of your email campaigns and the reports or upcoming campaign information by setting up widgets on your home screen.
Siri shortcuts
Create shortcuts to actions that you wish to do in your app and call Siri to receive instant updates.
Email campaign and mailing list search options
The email campaigns and mailing lists in your account can be searched from the device's spotlight search option or can also be found out with the help of our app's global search option by tapping 'Search in app' option at the top right of the Campaigns search results section in Spotlight search.
Context menu for a quick look at the reports
Get a quick glimpse of the report summary of an email campaign by a long press on that particular campaign.
Multiple windows for better analysis
Multiple sessions of the app can be viewed at a time helping you to check and compare campaign performances simultaneously.
Multi-tasking with split and slide over views
Open your Zoho Campaigns account along with other applications and perform multiple tasks at the same time since the app supports all re-sizeable layouts.
Drag-and-drop support
You can associate a mailing list to an email campaign and view reports of email campaigns on drop supported third-party applications by dragging and dropping them.
Keyboard shortcuts and pointers support
Do actions quickly and easier with shortcuts on your iPad's magic keyboard. Moreover, use pointer support in order to navigate and perform tasks as simple as possible.
Apple pencil support
Hand written text and images drawn with an Apple pencil can be uploaded and it gets converted to text and recognizes shapes in order to craft an email campaign.
2018
Dec
Reports
Be it an A/B testing campaign or a regular one, preview the results on your Apple TV and analyze your organization's campaign growth and performance as a team and enhance the result of your email marketing efforts.