Account Settings
Quick Links...
Account settings include two categories: My Profile and Company Profile. Before you start sending out campaigns, you first need to set up your profile and your company details.
Edit My Profile
You should set up your profile with information such as name, country, region, and email before you start sending email campaigns.
To edit my profile, follow the steps below,
From the Navigation toolbar, click Settings.

Choose Profile under General.
Click on Edit button found on the top right corner.

In Profile page, enter information in appropriate fields.

Name – This is the name the user will be identified with. Enter your first name and last name.
Email – This email address will be identified as the sender's email address.
Country – The country where the user is located.
Region – Specific region in a country. (State/Province)
City – The city in the state/province where the user is located.
Contact name format - This is the format used to display contact details.

Click Update to save the information.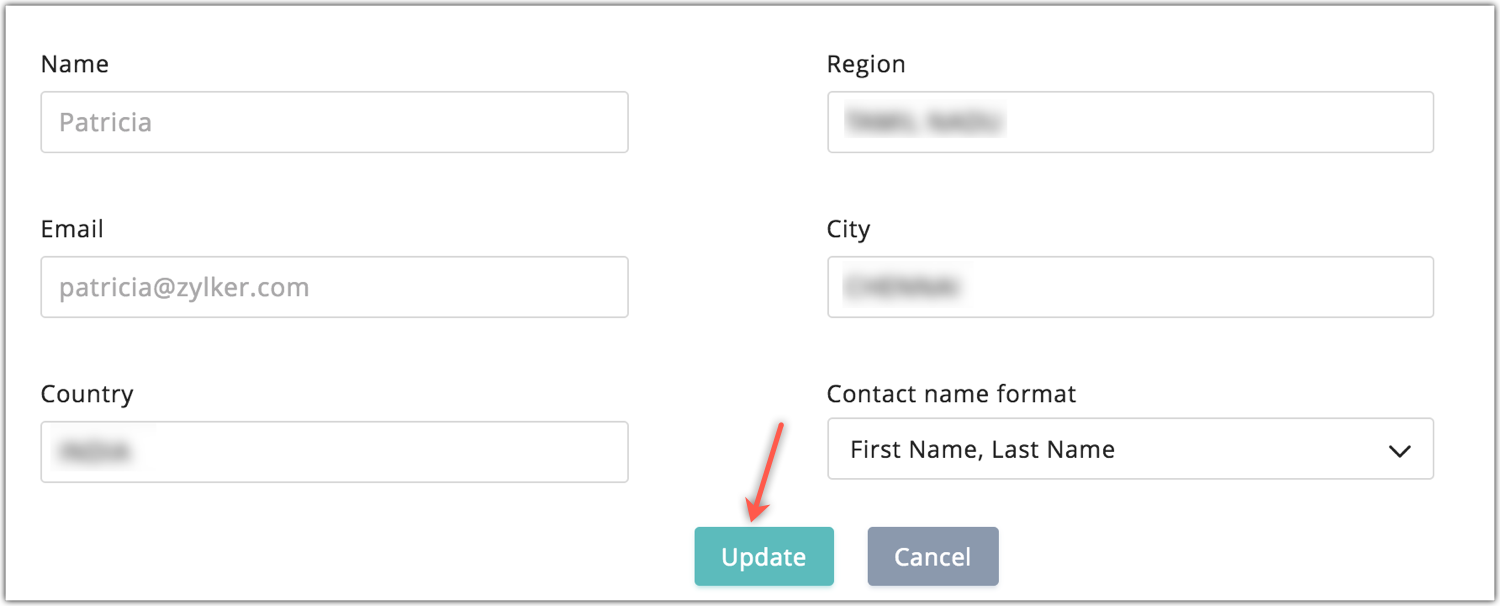 Note
Updating your location-related information will enable you to find the number of open recipients from your location.
Edit Company Details
Before you create an email campaign, you need to enter information about your company. An administrator of the Zoho Campaigns account can access this page to enter company-related information. This information will be used in the campaign footer. This lets users know that they have received an email from an authentic source, thereby reducing complaints about spam.
To edit company details, follow the steps below,
From the Navigation toolbar, click Settings.

Choose Comapny Details under General.
Click Edit button found on the top right corner.

Fill out the following fields:

Name – Enter your company name.
URL – Enter your company website address.
Phone – Enter your company's phone number.
Address – Enter your company address.
BrandLogo –Add your company logo by clicking the image thumbnail.
Privacy Policy link - Update your company privacy policy link. This data will be displayed in the footer of your email campaign.
Terms of Use link - Update your company terms of use link. This data will be displayed in the footer of your email campaign.

Click Update to save the information.
Note
Company information will be updated in the footer section of an email campaign.