Email marketing made easy.
Whether you're selling a product or engaging with your customers, email campaigns are by far the best way to connect. With Zoho Campaigns, you can create, send, share, and track email campaigns with ease.
Subscriber management

Import leads from various sources like Zoho CRM, Eventbrite, and G Suite into Zoho Campaigns and start engaging them right away.

Drag-and-drop editor

The editor lets you design outstanding emails. You can customize the look however you like—add images, text boxes, social buttons, and more.

A/B testing

Test out two versions of your campaign to find out which one is most effective to maximize your results.

Merge tags

Personalized emails provide superior results over cookie cutter copy. Merge tags help you sound more human and build a better connection.
Automation that works as well as you do.
Trigger messages based on how your recipients are interacting with your campaigns. Whether you're sending an onboarding, lead-nurturing, or customer-engagement series, all you have to do is to set the sending conditions and the rest is taken care of.
Automated programs

Make a visual representation of your subscribers' journey. Trace the lines where every subscriber can go in your marketing program and engage them accordingly.

Autoresponders

Create an email series and set a schedule for your next email series. Autoresponders will take care of the rest.

Workflow

Get your subscribers into the right mailing lists and you'll be able to send the right message to the right audience.
Lead management to speed up conversions.
Bring all your lead information to one place so you can focus on turning more leads into customers. Nurture leads based on their interests, qualify them for sales readiness, and give your sales team the best leads you can muster.
Lead Generation

Build a repository by adding leads from your website, social networking sites, and platforms like Eventbrite and GoToWebinar.

Lead nurturing

When leads are properly nurtured, they're much more likely to become customers. Plan a lead-nurturing series to guide your leads through the sales funnel.

Lead qualification

Conversion rates depend on the quality of your leads. Add scores to your leads based on their responses to your campaigns to identify the most engaged ones.

Pushing to sales

Push your qualified leads to CRM, helping your sales team cut off their lead research time so they can focus on conversions.
Behavioral marketing for a personal connection.
Studying subscriber behavior makes targeting easier. If you learn who your subscribers are, what they like, and why they chose you, you can offer them exactly what they want.
Website tracking

Track subscribers from your email campaign to your website, understand their online behavior, and target them right.

In-app tracking

Get to know how your users navigate through your website and send them suggestions that'll help them get the most out of your product.

Dynamic content

You can't send the same email to everyone and expect great results. Add dynamic content to personalize your emails and improve your conversion rates.
Real-time analytics to measure your success.
Keep track of campaign performance with intuitive reports which show you the number of clicks, opens, unsubscribes, bounces, and shares that your campaigns have received. You can also track your recipients' locations with geo-location reports and find out if more people are viewing on PCs or mobile devices.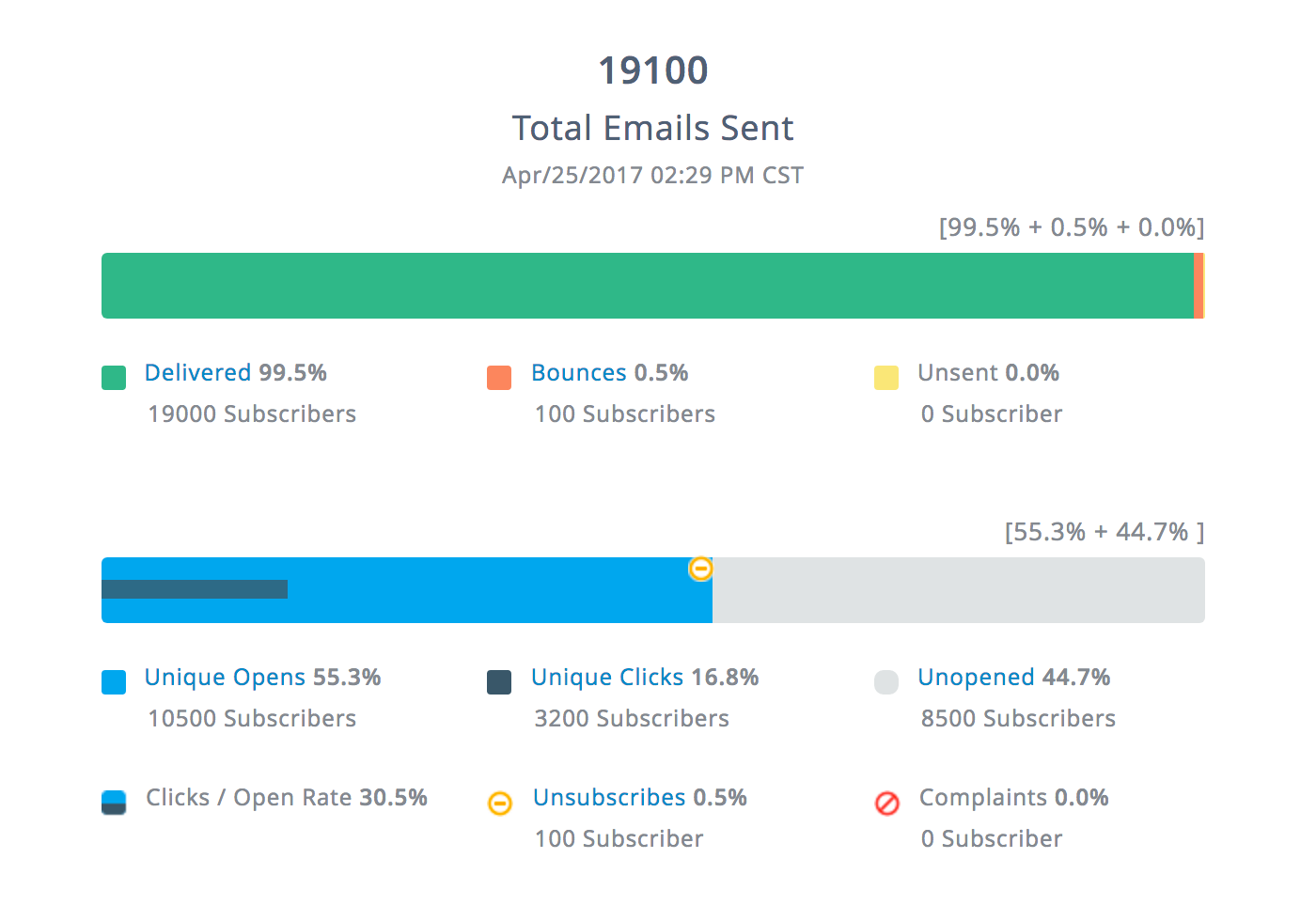 Mobile version to get you going.
Don't wait until you're at your desk to send out campaigns. The mobile edition of Zoho Campaigns lets you add contacts to your mailing lists, send campaigns, and check or share reports, no matter your location.