Types of Calendars
Zoho Calendar provides the option of adding and integrating various calendars under one platform. When you login to Zoho Calendar, a primary calendar is set-up by default. The primary calendar is listed under "My Calendars" section. Apart from the primary calendar, you can also create other calendars, subscribe to group calendars and friends' calendars, synchronize with calendars from other applications and subscribe to Holiday calendars.
Table of Contents
My Calendars
"My Calendars" refers to your Personal calendars. If you want to add a new calendar and manage your events, you can create a calendar under "My Calendars". These calendars can be made public or you can share these calendars with a specific group or a person. 
Group Calendars
Group calendars can be created for a group of people on Zoho Calendar. All the members in the particular group calendar will be able to view events, add events and send invites to members in the group. You can either create a group calendar from the LHS menu or you can subscribe to the group calendars of the groups already created. There are two types of groups that can be created on your Zoho account: Personal Groups and Organization Groups.
Personal Groups:
Personal groups can be created by any user using their Zoho account. These groups can contain members from inside the organization and outside it as well. The main purpose of personal groups is to communicate for internal/personal purposes. 
To create a personal group:
1. Login to Zoho mail.
2. Go to Settings  > Groups > Manage Streams Groups.
3. Click on the '+' icon on top to Add new group.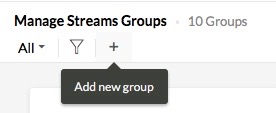 4. Enter the Group name, Member Email Addresses, Description and Group Image.
5. Click on Create Group and your group is now created.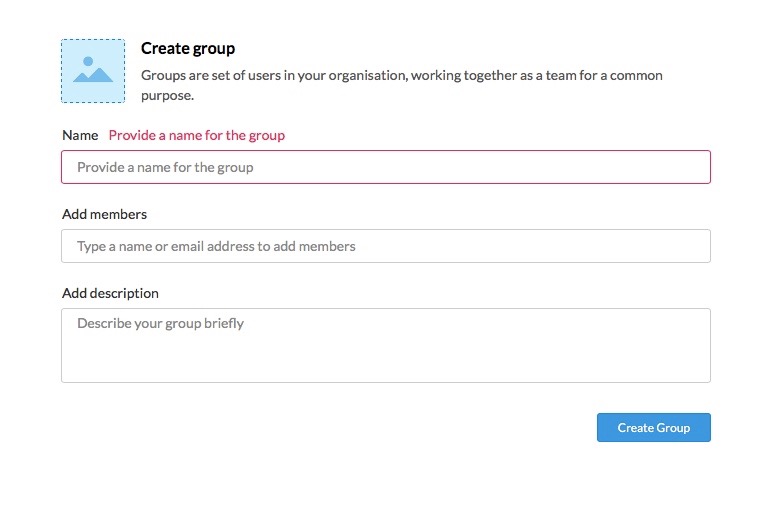 Organization Groups:
Organization groups belong to the organization/company that you are a part of. These groups are created for communication or to send announcements to the members in a particular department or organization. These groups can be created by the organization administrator only. 
Steps to create an organization group:
1. Login to Zoho mail as Administrator or Super Administrator.
2. Go to Settings  > Control Panel > Groups.
3. Select Add Group.
4. Choose "Organization" in the access level to create the Organization group.
To know more about Organization groups, refer here.
After creating the groups, you can subscribe to the group calendars. Refer this link, to know more about subscribing to groups. 
App Calendars
Zoho Calendar provides the feature to integrate calendars from other Zoho apps into one calendar. A two-way sync of calendars is possible between the following Zoho apps and Zoho Calendar:
Zoho CRM
Zoho Task
Zoho Recruit
After syncing, you can manage the events from the Zoho app calendars on Zoho Calendar and vice versa. 
Meanwhile, you can also subscribe to calendars from Zoho Projects and Zoho Contacts, view the calendar events using Zoho Calendar and schedule your meetings. 
Subscribed calendars
Web URL Calendars
Web calendars are public calendars that are available on the web which can be viewed by any user. These web calendars can also be subscribed and the events can be added to your Zoho Calendar if needed. The Web URL of the calendar is required to subscribe to the calendar. 
Friends' Calendars
Calendars that are created by your friends and colleagues can also be added to your Zoho calendar. All public calendars listed by your friend/colleague will be available when you enter the email address. You can choose the calendar you need to subscribe to. You can also request for individual sharing of calendars to your friend in case you need to subscribe to their private calendars. 
Holiday Calendars
Zoho Calendar provides you with options to choose from as many holiday calendars as you want according to the region. Subscribe to one or more holiday calendars and get updates about the holidays followed across various countries.