Integrate Dropbox with Zoho BugTracker
With Zoho BugTracker Dropbox Integration, you can now share files that are the most important from your Dropbox account into Zoho BugTracker documents area and vice versa to simplify your work and ramp up your productivity.
Note:
Only Portal Owners and users with Manager role can configure Dropbox account for the selected projects in Zoho BugTracker.
Dropbox integration is available only in Premium and Enterprise (Monthly and Yearly) paid plans.
Integrate Dropbox account
Select the required project in Projects and then click Documents. 
Click Dropbox and then click Configure your Dropbox sync.
Click Add New Dropbox Account in Configure Dropbox Account to create your dropbox account.

If you have configured more than one dropbox account, click Add New Sync, and select the dropbox account to integrate into Zoho BugTracker.
Select the dropbox folder in Dropbox Folder and then choose the folder to associate the dropbox account in Zoho Docs Folder.

Click Sync Folders.
Click Start Sync in Start Sync to initiate the synchronization.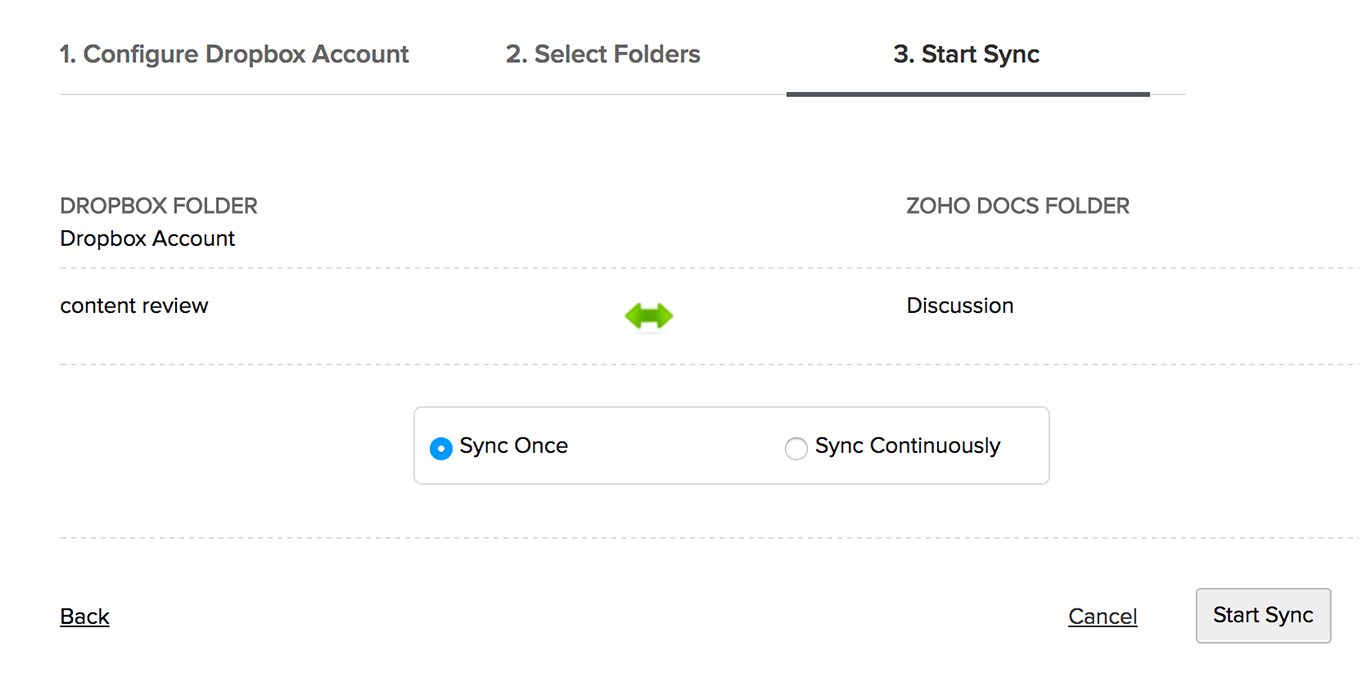 The sync process supported by Zoho are Sync Once and Sync Continuously.
Sync Once - Files are synced from your Dropbox into Zoho BugTracker and vice versa only once. 
Sync Continuous- Files are synced from your Dropbox into Zoho BugTracker and vice versa as and when the files are uploaded or updated in Zoho BugTracker and Dropbox.
The sync status is displayed in Dropbox Configuration view along with 4 different status buttons.
Sync Once - Single-headed arrow in Green indicates that you've set Sync Once for file updates.
Sync Continuous - Double headed arrow in Green indicates that you've set Sync Continuously for file updates.
Stop Sync - Blue color button when clicked stops the sync operation for this project.
Delete Sync - Red color button when clicked deletes sync operation for this configuration.
Details about folders and file upload
Select any number of subfolders from your Dropbox and map it to any particular folder in Zoho BugTracker.
Only one-to-one mapping of folders is supported in Zoho. But you can map another from same Dropbox account.
Supports mapping of folders between two different languages in Zoho.
Latest updates are synced for every 1-minute time interval between Zoho BugTracker and Dropbox and vice versa.
File names are unique in Dropbox, so every update of the same file is maintained as next version in Dropbox.
File names are not unique in Zoho BugTracker, so every version of Dropbox file is added as a new file in Zoho.
Max file limit per upload is

125MB

in Zoho BugTracker.
Max file transfer limit is

125MB

for instant upload and

300MB

for scheduled upload i,e for Sync Once/Continuously.
Messages with explanations for Dropbox Integration
| | |
| --- | --- |
| Messages | Description |
| Sync schedule starts | The sync operation has been properly started. |
| Dropbox Fetch Success | Your files from DropBox are successfully copied into documents area. |
| Dropbox Push Success | Your files from Zoho BugTracker are successfully copied in Dropbox. |
| Dropbox Sync Success | Your files from DropBox are properly synced in Zoho BugTracker |
| Sync stopped | The sync operation is successfully completed. |
| Disk Space exceeded | Maximum allocated disk space reached for your portal. |
| Folder not found | The folder you specified is not present or must have been deleted. |
| Unauthorized to delete | You are not authorized to uninstall Dropbox configuration in Zoho BugTracker |
| Path not found | Sorry, the specified folder path is not found. Please provide the correct path. |
| Too many entries | Your file size in the folder has crossed the maximum allocated file limit of 10000. |
| Unable to access file | Unable to access your file in Zoho BugTracker. |
| User Over Quota | You've crossed your maximum allocated space for this account. |
| File size more than allocated | Your file is too large to be uploaded in Zoho BugTracker. |
| Dropbox not reachable | Cannot access the DropBox account specified by you. Please try again. |
| Account already exists | The account you are trying to configure has already been configured by another user. |
Note:
You can configure a Dropbox account only once.
You can view the Dropbox account configured only by you.