Create Projects for Bugs
Create projects in Zoho BugTracker and assign bugs to users. Group projects based on common clients, technology, or any other criteria that suits your business. You can delete projects once they are completed, or archive them in paid plans. Track and sort bugs with several projects running simultaneously.
Create a new project
Create a new project and add it to a project group. The number of projects you can create depends on your subscription plan
Click New Project on the Projects Page and enter a project name.
Choose a template, if necessary.

If you create a project using a template, bug settings, documents, users, milestones, and forums will carry over to the new project.

Select an owner for the project.
Specify the Start and End Date.

If you select Strict, the work items cannot be scheduled for days beyond the project date range.

Enter an overview, if required.
Select a Group Name or click  to create and add the project to a new group.
Select a Billing Method.
Choose Project Budget based on the number of hours, or a fixed amount.
Select the required Project Access.

Selecting Public will let other portal users follow, view, and add comments to the project.

Click Add Project.

You can customize tabs for this project. Click it to deselect the tabs that you don't want to see.
Edit / Delete a project
You can edit an existing project and change its project detail if required.
Navigate to Projects
Click Active Projects, and hover the mouse over the required project.
Click to enable edit and delete options.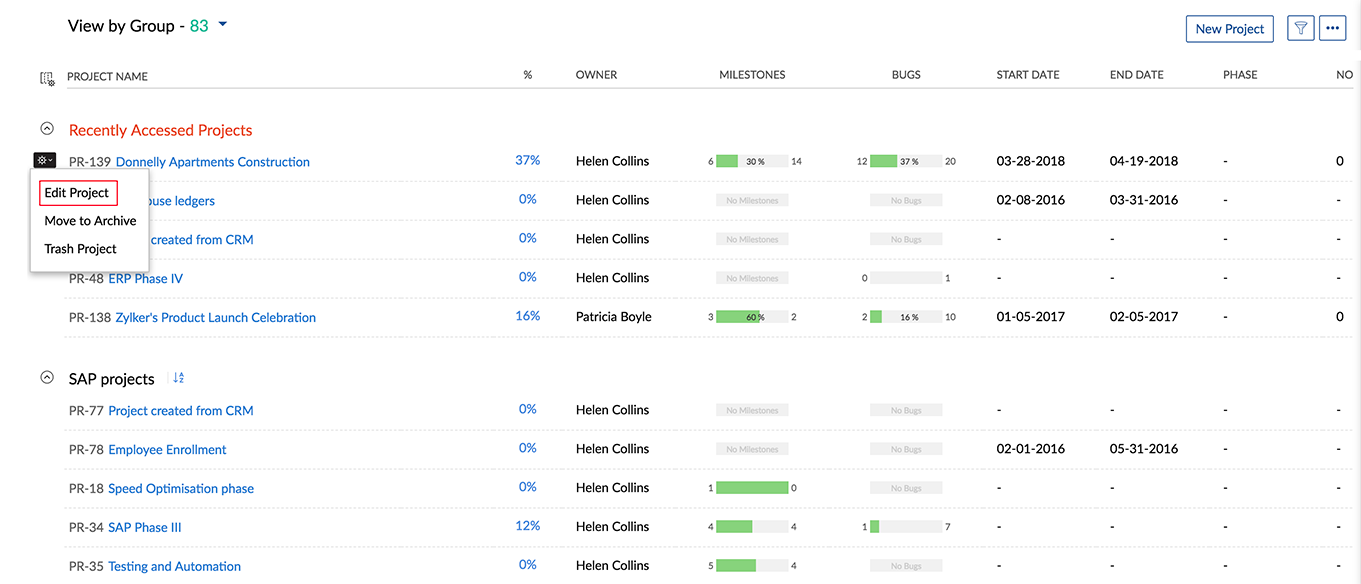 Bugs Prefix
With multiple projects running simultaneously and numerous bugs being reported, it's important to name bugs appropriately so that they are easy identify. Bug prefix lets you append a suitable numeric key to your bug and lets you know which project it belongs to.
Select a project. 
Click  in the upper-right corner and select Edit.
Under Bugs Prefix, edit the auto generated prefix.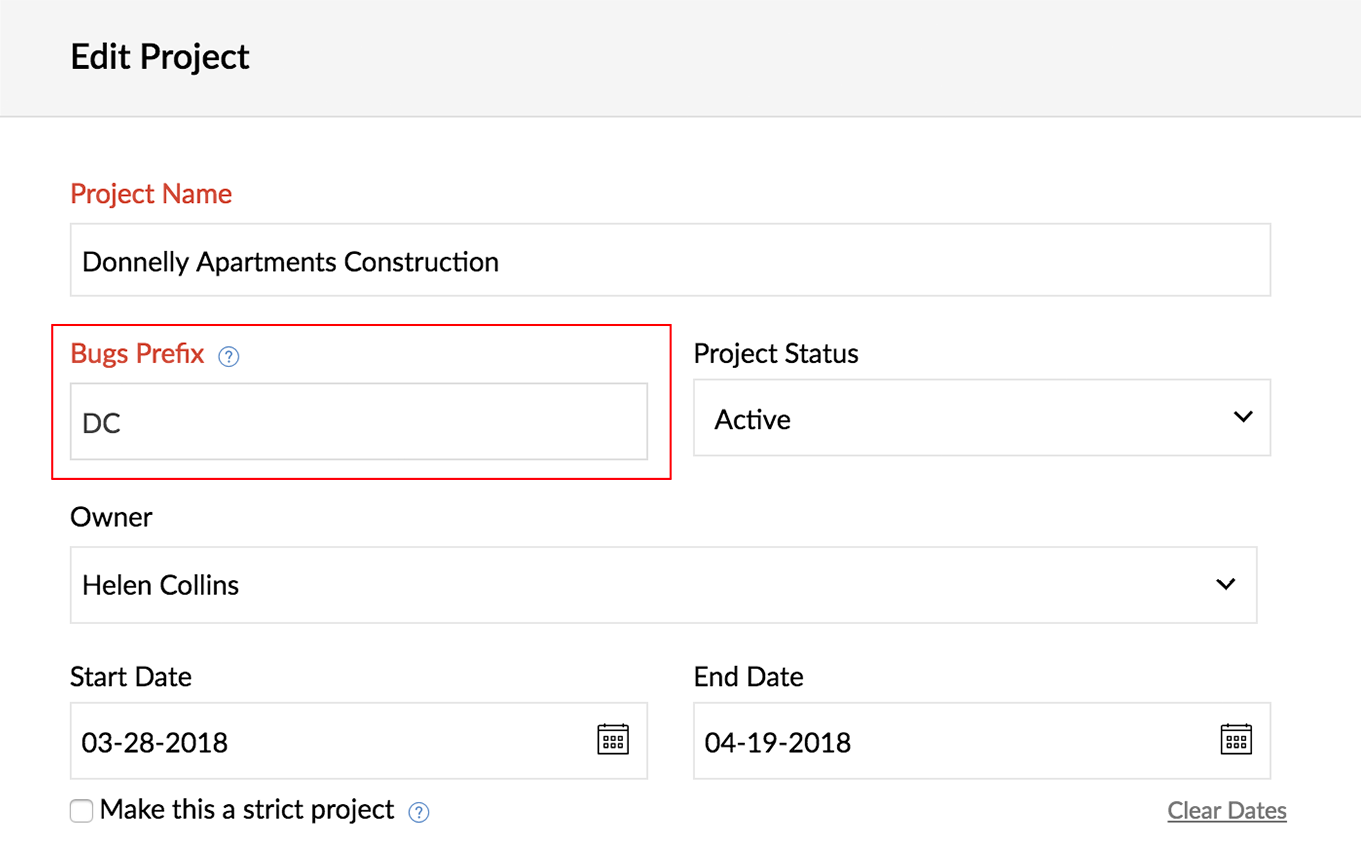 Activate / Delete an archived project
You can edit and activate an archived project or delete it if you no longer need it.
Navigate to Projects.
Click Archived Projects, and hover the mouse over the required project.
Click to enable edit and delete options.

View project by client
In View by Client the projects are listed by client groups. You can add a new project, edit, and delete projects in the View by Client view.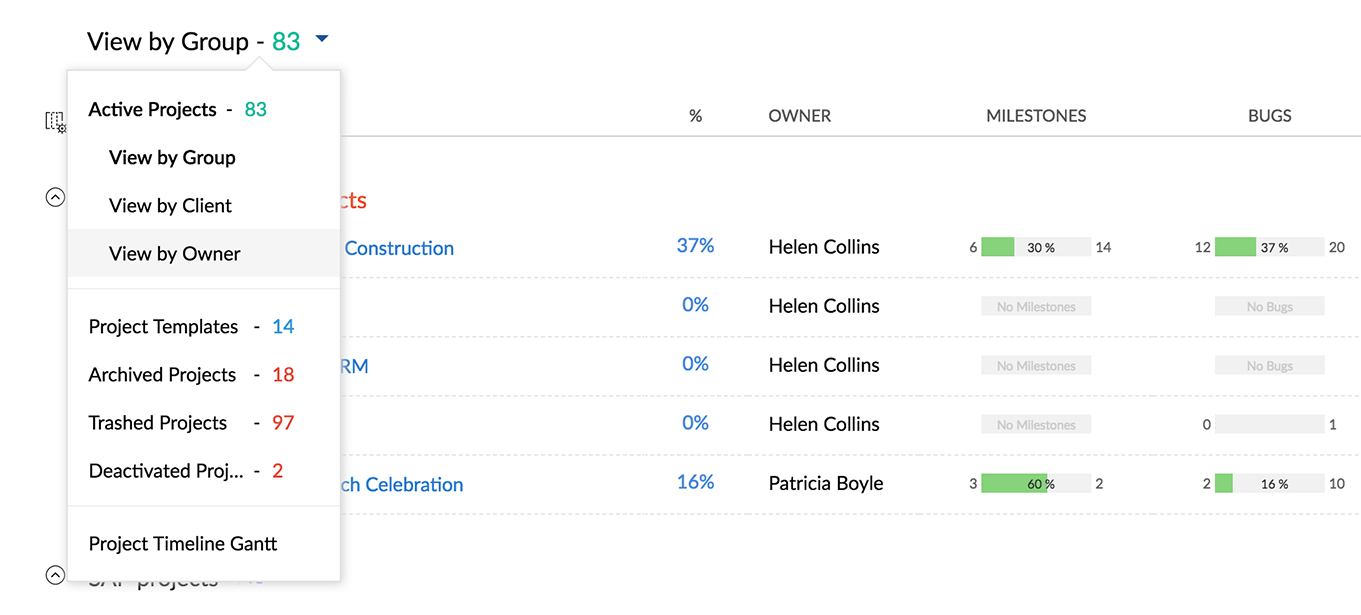 Project timeline Gantt
Navigate to projects list view.
Click on the drop-down panel and then click on Projects Timeline Gantt.
View the Gantt chart displaying all your projects and their timeline.

Click on the project or the timeline to open the projects dashboard.
Sort the Project timeline Gantt by project creation date, project start date, or project end date.
The chart displayed is plotted for 5 consecutive years - previous 2 years, current year, and the next 2 years. For instance, if the current year is 2019, the timeline gantt will show data from 2017 to 2021.