Zoho BugTracker and Crashlytics
Integrate Zoho BugTracker and Crashlytics to receive mobile app crashes as bugs in Zoho BugTracker.
Copy Service Hooks of Zoho BugTracker
You must copy the Project ID and Token Value in Zoho BugTracker to integrate with Crashlytics. 
Select the required project in Projects.
Click  in the upper-right corner.
Select Developer Space in Integrations.
Copy the Project ID and Token Value in Service Hooks.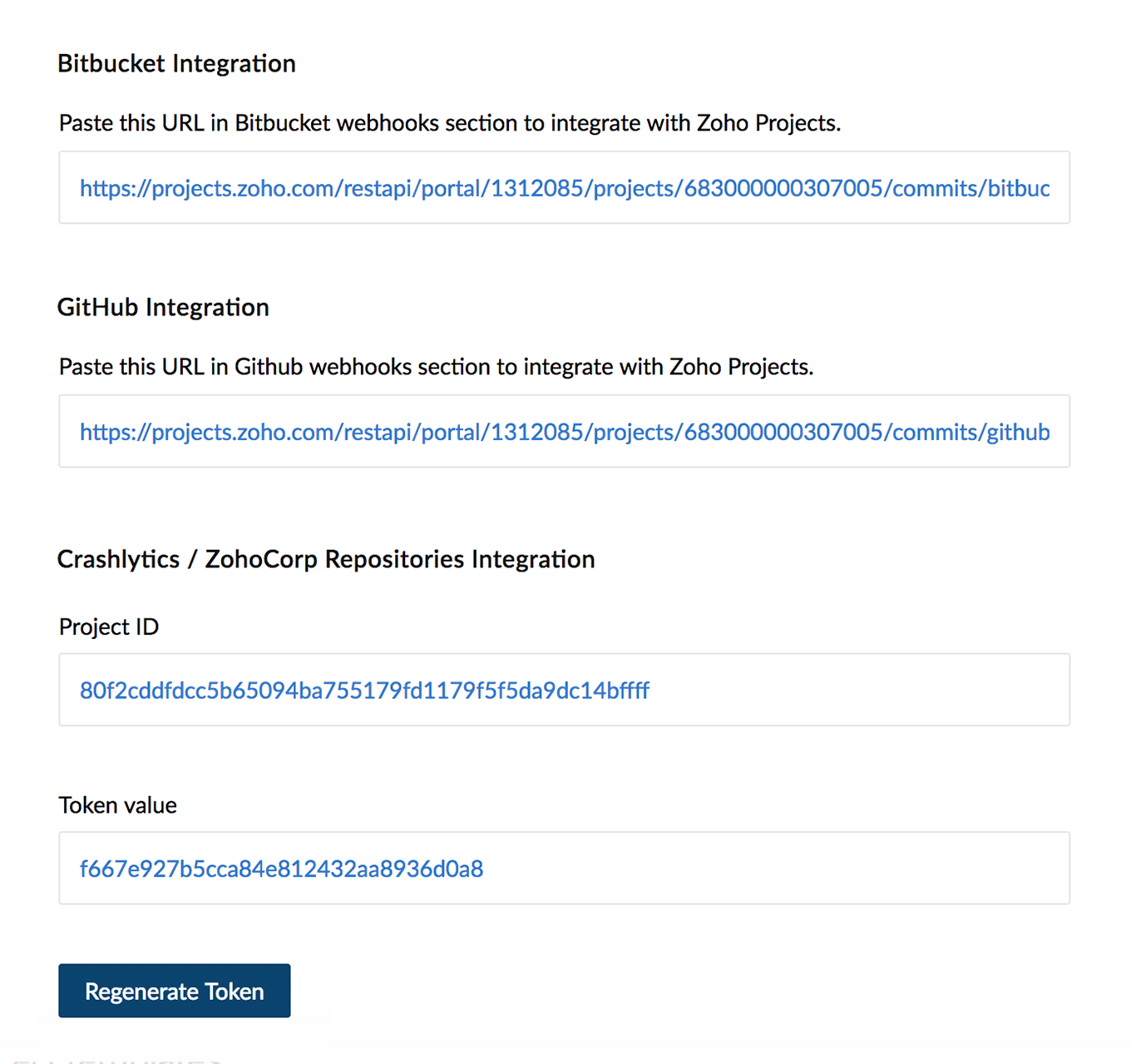 Set Service Hook in Crashlytics for Zoho BugTracker
Log in to Crashlytics.
Click Settings and then click Apps.
Choose the desired app.
Search and select the hook Zoho BugTracker under Service Hooks.
Paste the copied Project ID and Auth Token from Zoho BugTracker in the Project ID and Token value fields.
Click Verify to create a service hook for Zoho BugTracker in Crashlytics.
Once Zoho BugTracker is configured in Crashlytics you can set the desired impact level to track issues.
View Bugs in Zoho BugTracker.
Select the required project in Zoho BugTracker. 
Click Bugs. 
In List view, you can view all the bugs reported from Crashlytics.
Troubleshooting
If you have problems viewing your bugs in Zoho BugTracker, you might need to reconfigure and try again. In most cases, you simply need to check the validity of your auth token. 
Error Mesaage
What it indicates: The provided authtoken is either wrong or invalid.
Resolution: Check if you recently changed your password, or clicked Regenerate Token to generate a new authtoken, or deleted the active authtokens in Zoho Accounts.
If you still have problems after troubleshooting, email us at support@zohobugtracker.com to contact our support team.