Milestones
Milestones are significant achievements that help to track the progress of the project. All milestones related to the bugs are displayed in the All Milestone view.
All Milestones
Select the required project.
Click Milestones.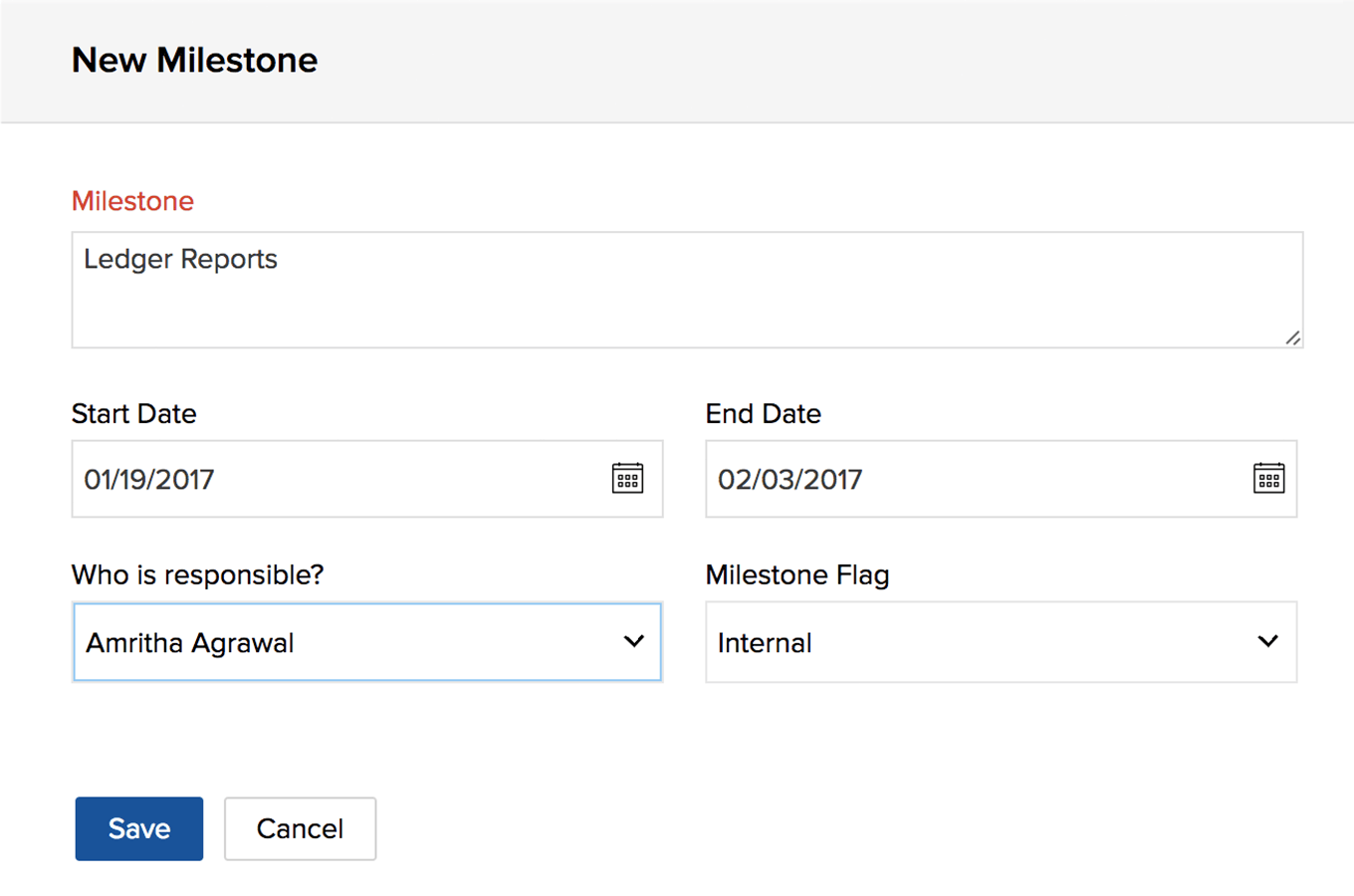 You can view Upcoming, Overdue, Completed, and Archived milestones.
Add a milestone
Click New Milestone.
Enter the milestone name and details, then click Add to add a new milestone.
Edit a milestone
Hover the mouse over Upcoming Milestones or Overdue Milestones.
Click  and then click Edit .
Modify the details, then click Update to save the changes.
Delete a milestone
Hover the mouse over the required milestone.
Click  and then click Delete. The milestone and the associated bugs are deleted.
Overdue Milestones
Overdue Milestones lists important milestones that have gone past their due date. You can edit, complete, and delete an overdue milestone.
Hover over the required overdue milestone.
Click and click Complete. The milestone is moved to Completed Milestones.
Click Reorder, then drag and drop the milestones based on your priority .
Click Save Order to reorder and save.
Archived Milestones
Archived Milestone lists milestones that have been archived for future reference. Milestones can be unarchived at any time. By default, an unarchived milestone is automatically moved under Completed Milestones. You can Delete or Unarchive the milestones.
Completed Milestones
Completed Milestone lists milestones that are completed in a project. You can Archive, Open and Delete your completed milestones.
Hover over the completed milestone.
Click  and then click Open to revert the milestone to Upcoming Milestone list. You can also Archive a completed milestone.
Filters
Click 
to filter milestones based on Owner or Status.
Export PDF
Click 
in the upper-right corner to export milestones as a pdf.
My Milestones
The My Milestones section in the dashboard gives an overview of all the milestones in the portal. Milestones can be grouped by projects or status. You can add, delete, edit or change the status of milestones.
Click View More to expand My Milestones

.
Milestones can also be sorted by name, start date, end date, owner and milestone type.
Click and choose the parameter to sort the milestones.
​