Your website is your fortress
Here's the deal: your website is a home base that needs to be well equipped.
After exploring relevant content across your company's different channels, interested prospects will return to your website to take the next step.
It's important to strike while the intent is high. By using Zoho SalesIQ, a live chat software, on your website, you ensure that conversations happen where your buyers are.
Now, what if you aren't available for an incoming chat?
Automated chatbots and workflows come in handy, covering you around the clock and ensuring a great impression. This provides your prospects with a positive buying journey.
What if prospects want a personalized demo? Or talk to a human?
Enter Zoho Bookings, the appointment scheduling software that connects to Zoho SalesIQ.
Zoho SalesIQ +Zoho Bookings integration
In the era of conversational sales, placing contact forms or demo request forms are friction points on your website. Buyers don't have the time to fill out a form and wait for your email.
Any delay in answering their questions or meeting with them is an easy way to lose their business to your competitors.
With the Zoho SalesIQ + Zoho Bookings integration, you can avoid delays and quickly get in touch with your prospects.
Whether you strategically program when the chat window pops up or wait for customers to engage, the invitation to start a conversation becomes constant.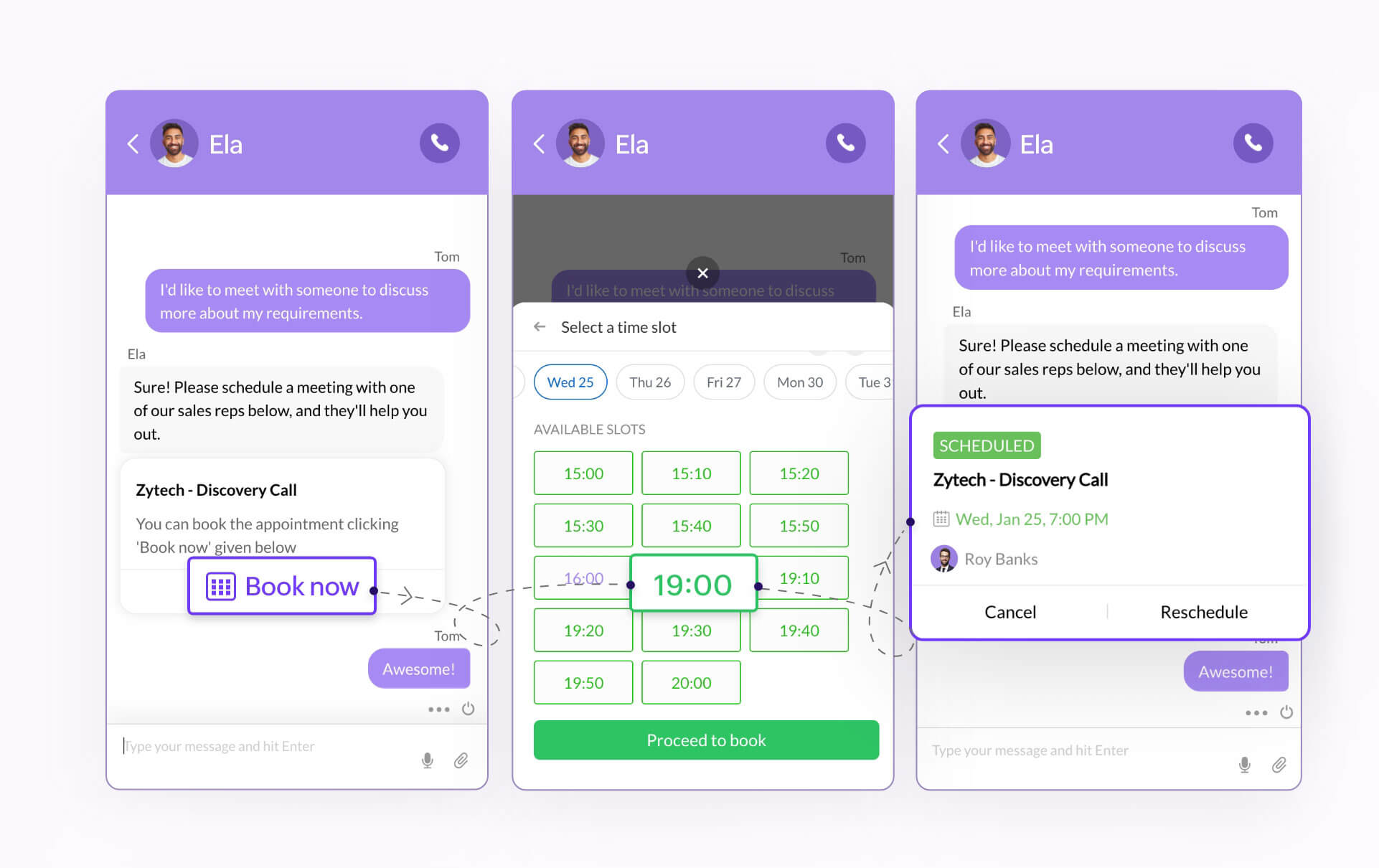 7 benefits of integrating a scheduling app with your chatbot
1) Efficient automation and a streamlined process
You gain complete control over your website interactions with the chatbot and scheduling app integration.
Elements like when the chatbot should trigger conversations with prospects, how it should respond, when it should route to an operator, and when it should help prospects schedule meetings can all be customized to a tee.
You can also automate activities post-chat, including CRM sync, creating a desk ticket, adding prospects to your campaign list, and more.
With SalesIQ, you can:
Set up a chatbot or AI answer bot that converses with and nurtures your prospects.
Train your bot to respond to queries with your content library and saved responses.
Set up workflows to trigger predefined responses based on the lead score, customer profile, CRM data, or the questions asked.
Create assignment rules, and route the chat to available operators based on different touchpoints.
Go beyond chatting to provide value. Start a screen sharing session, audio call, or even a remote assist session with prospects.
With the SalesIQ + Bookings integration, you can:
Display the operator's available time slot and schedule meetings instantly. This is especially useful if the operator isn't currently available for a chat, or if prospects want a demo or to talk to sales.
All these functionalities help you streamline your website for prospects to self-serve and get instant value.
2) Saved time
Make no mistake—individually, the two apps will save you plenty of time that otherwise goes toward manual form submissions and back-and-forth emails.
When both apps are connected, not only do you save on follow-up time, you also automate your website visit lifecycle for prospects.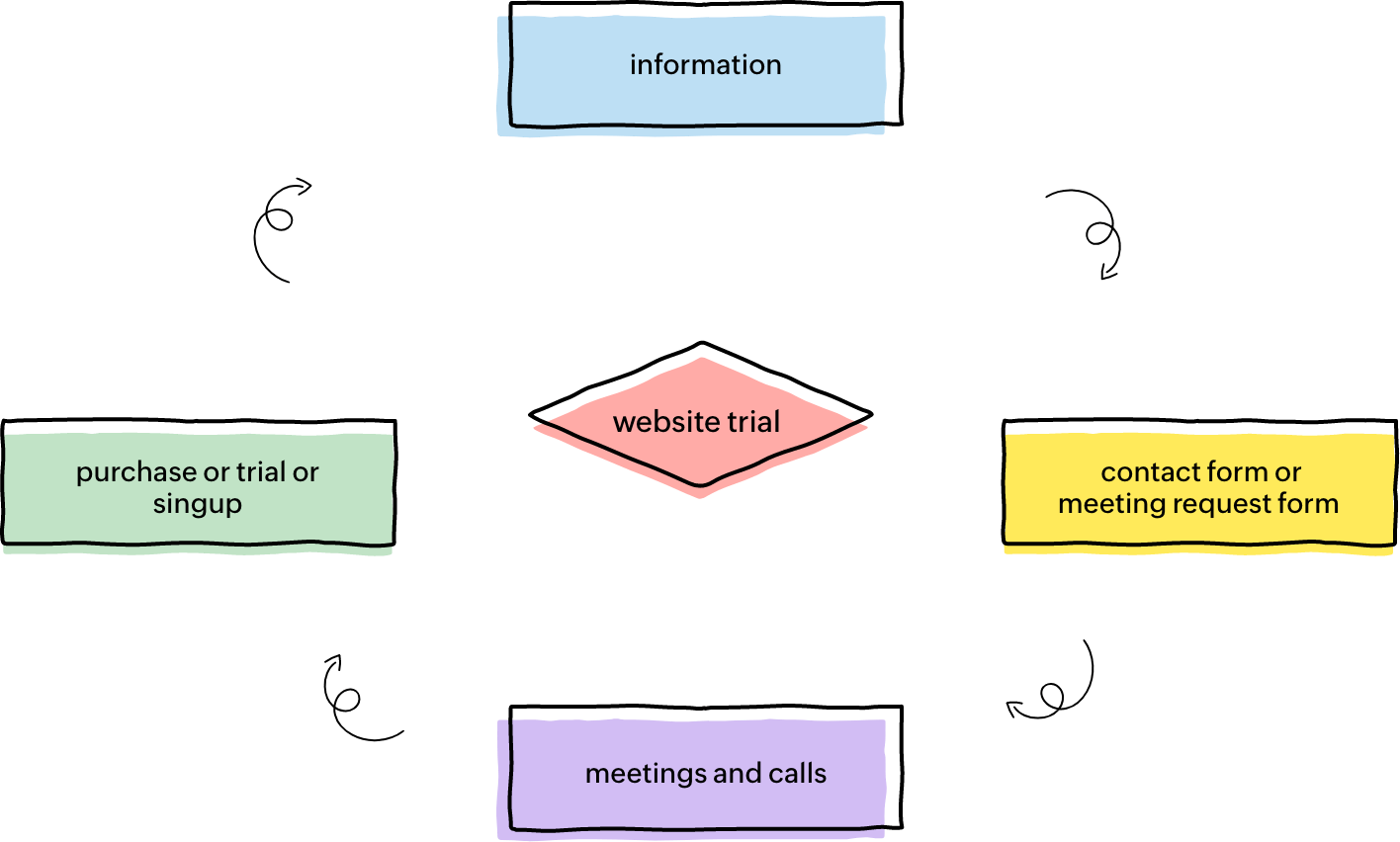 With live chat and scheduling software in place, you can automatically offer real-time conversations that respond to any of these four stages, without making your prospects wait.
Time is one of the many factors that determines success.
The potential to scale your business increases the sooner you connect with a prospect, provide value, and help them complete the purchase.
3) Enhanced customer experience
Your prospects are looking for a solution. When they land on your website, they're looking to find out if your product or offering is the solution they need.
Any friction in this process will make them move to competitor websites.
When we talk about customer experience, we should consider the following questions:
Does your website quickly provide the information prospects need?
Do you have blog post that can help them if they need more information?
Is it easy for them to explore your website?
Most importantly, can they contact you instantly for information or support?
According to HubSpot, 76% of people believe a website should make it easy to find what they want.
Exceptional customer support becomes a crucial factor that differentiates your company from competitors.
Why? Because you don't let your prospect's intent to purchase or momentum to explore fade away.
With a live chatbot system, you allow prospects to instantly access the information they need on their own, which further amplifies their interest.
4) Qualified lead conversion
Leads converted on your website are equally valued by marketing and sales teams.
Imagine qualifying leads like a relay race. The entire run is a team effort.
The baton that runners start with represents your website visitors; marketers make the run and pass it to the sales team; the sales team then runs to convert them into customers.
The finish line represents the lead to customer conversion, and the track is your tech stack.
A high-quality sales pipeline is essential for sales teams to close deals consistently.
Momentum is essential for sales. Any unwarranted delay from your side drastically reduces the intent to purchase for prospects.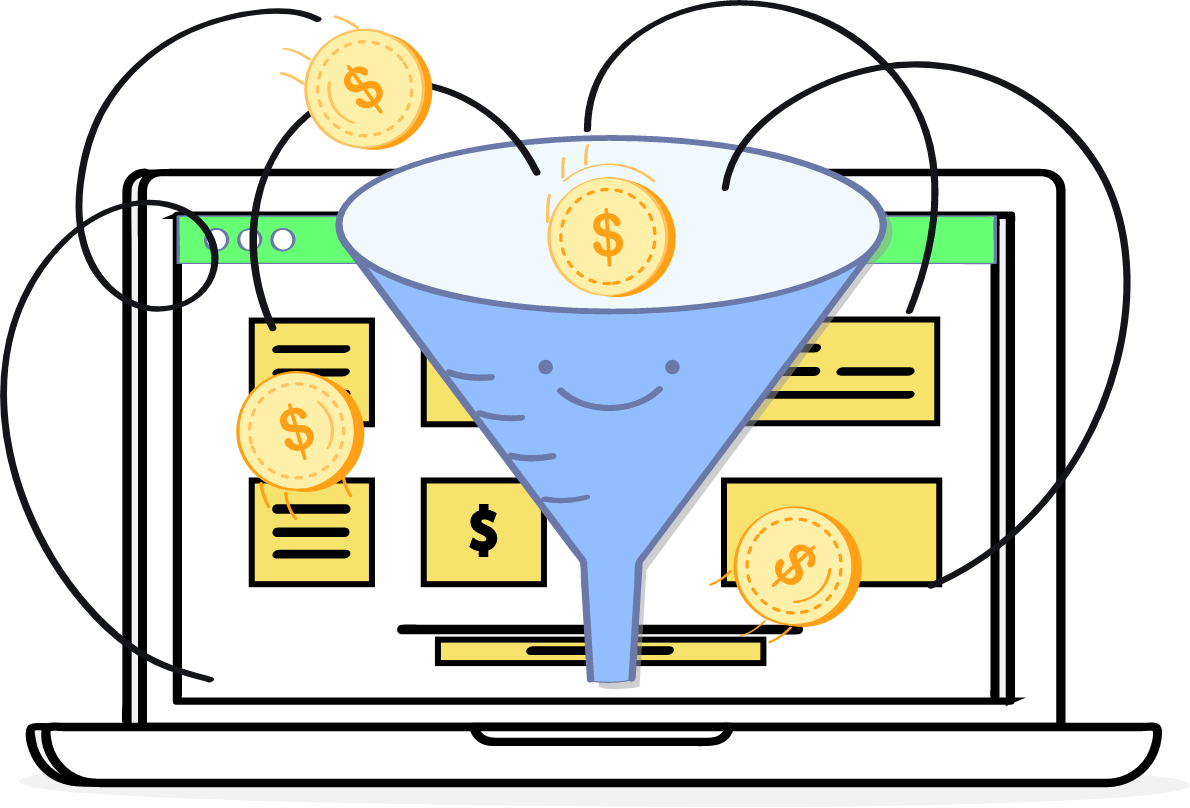 Chatbot software ensures that conversations happen instantly, and it steers prospects in the right direction.
Cold leads are nurtured step-by-step from the moment they visit your website.
Warm leads are nudged with personalized chat invites and resources that help them consider further.
Hot leads are routed to available operators to move them further down the sales funnel.
A meeting can be scheduled with the sales team within seconds without losing any opportunity.
5) Round-the-clock meetings
We have to face the truth: Humans need a break.
Having people available all the time to chat with prospects may not be possible.
That's when a chatbot integrated with a scheduling system fills the gap.
You'll be able to schedule online meetings with customers 24/7, leaving no room for missed opportunities.
By customizing your chatbot to collect relevant information, inputting the qualification criteria, and programming it to schedule meetings with the right SDRs, you speed up your sales cycle.
In other words, you're always on for sales.
6) Revenue acceleration
If there's one metric that matters the most for your customer-facing teams, it's revenue.
Revenue flows when customers decide to purchase and stay with you for the long haul.
A revenue acceleration system means all your customer-facing teams work together with combined metrics and data.
In the exploration phase, marketing needs data on why prospects are interested in buying.
During the purchasing phase, sales reps need data on prospect interest levels and the value they receive or wish to receive.
For the nurturing phase, the customer success team needs data on why they chose to purchase and the value they hope to get.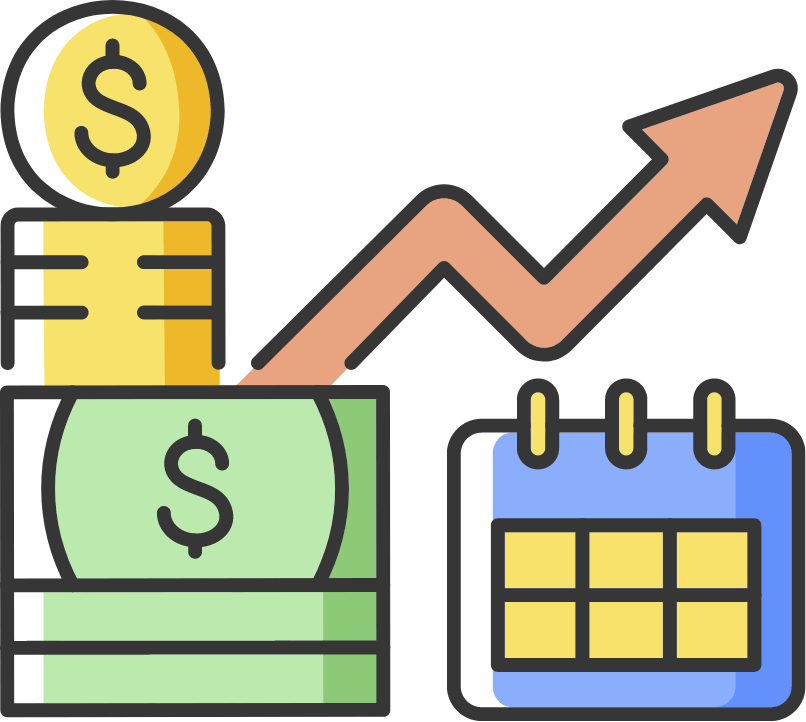 The Zoho SalesIQ chatbot automatically adds all interactions made before and after purchasing to your CRM. Any team that wants more information can access it from one central repository.
This creates a feedback channel, and teams can use it to change, personalize, and act on strategies to provide immense value.
When prospects experience immense value in no time, you are bound to:
Increase and qualify website conversions.
Speed up the sales cycle and close deals in no time.
Retain customers for years.
All of this eventually helps to accelerate your revenue.
7) Increased target account conversions
When sales and marketing are going after a targeted account, hitting the bullseye must be the only goal.
Your website is crucial to your account-based marketing (ABM) strategy.
Your efforts in either personalized ad campaigns, content strategy, or email nurturing will make key stakeholders from targeted companies land on your website.
With the SalesIQ + Bookings integration, you can:
Connect with your CRM to identify when a target account lands on your website.
Notify SDRs and trigger chat workflows specifically designed for these accounts.
Enable SDRs to start a real-time conversation.
Schedule meetings for SDRs without wasting time or opportunity.
Providing relevant information, instant answers, and a personalized experience makes high-value prospects feel connected with your business and fast-tracks the sales cycle to the purchase stage.
Leverage your website conversations
The deal breaker in every prospect's buying journey is their experience with a business.
Stellar products and service alone may not be sufficient to scale. Timely conversation can help you efficiently nurture prospects down the funnel the moment they land on your website.
The Zoho SalesIQ and Zoho Bookings integration allows you to do just that: get past potential time delays and initiate conversations anywhere when the intent is still high.
Are you ready to enhance the experience you provide on your website and boost your conversions?