Set up your schedule with ease. Get booked when you want to.
Sync your calendars
Zoho Bookings integrates with Google, O365, and Zoho Calendars. Get booked only for slots that are available. Automatically mark slots as unavailable when they're booked.
Set up buffer times
Add buffer times to your schedule to allow yourself preparatory time before and after each appointment.
Avoid surprise bookings
Receive appointments within a set scheduling window of your choice. No more last-minute appointments that leave you underprepared, or bookings for six months from now that may need to be rescheduled.
Plan work and break times
Define your work hours and break times. Prevent people from booking you outside of office hours or during your breaks.
Time-off and special hours
Mark time off for vacations or for a day off. Working an extra day or covering for a colleague? Add special working hours.
No more last-minute cancellations
Set allowed time limits for cancellation and rescheduling. Opt for a deposit or partial payment to discourage cancellations.
Teamwork made more efficient
Manage team members
Team members will get dedicated log-ins and calendar views. Sync their calendars with the Zoho Bookings calendar to block time for appointments.
Locations/Departments
Map your departments or locations to separate workspaces in Bookings. Each workspace can have its booking page, displaying its services and team members.
Roles and designations
Map your team members' roles and designations in Bookings. Add information about their specialities and skills. Customers can see your team's strengths and book with the provider of their choice.
Work with your CRM
Link to Zoho CRM or any other CRM. Bookings will add new clients to your system and update the details of the returning ones.
Booking form
Ask customers more questions with custom fields, so you can prepare more effectively. You can also automatically pre-fill the registration form with user-related values (like name or email) by adding parameters to booking page URLs.
Mobile apps
Check your team's schedule and appointments from our iOS and Android apps. Team members can also log in to see their schedule.
Push notifications
Get push notifications in the mobile and web apps when new appointments are booked. Always be on top of your schedule and appointments.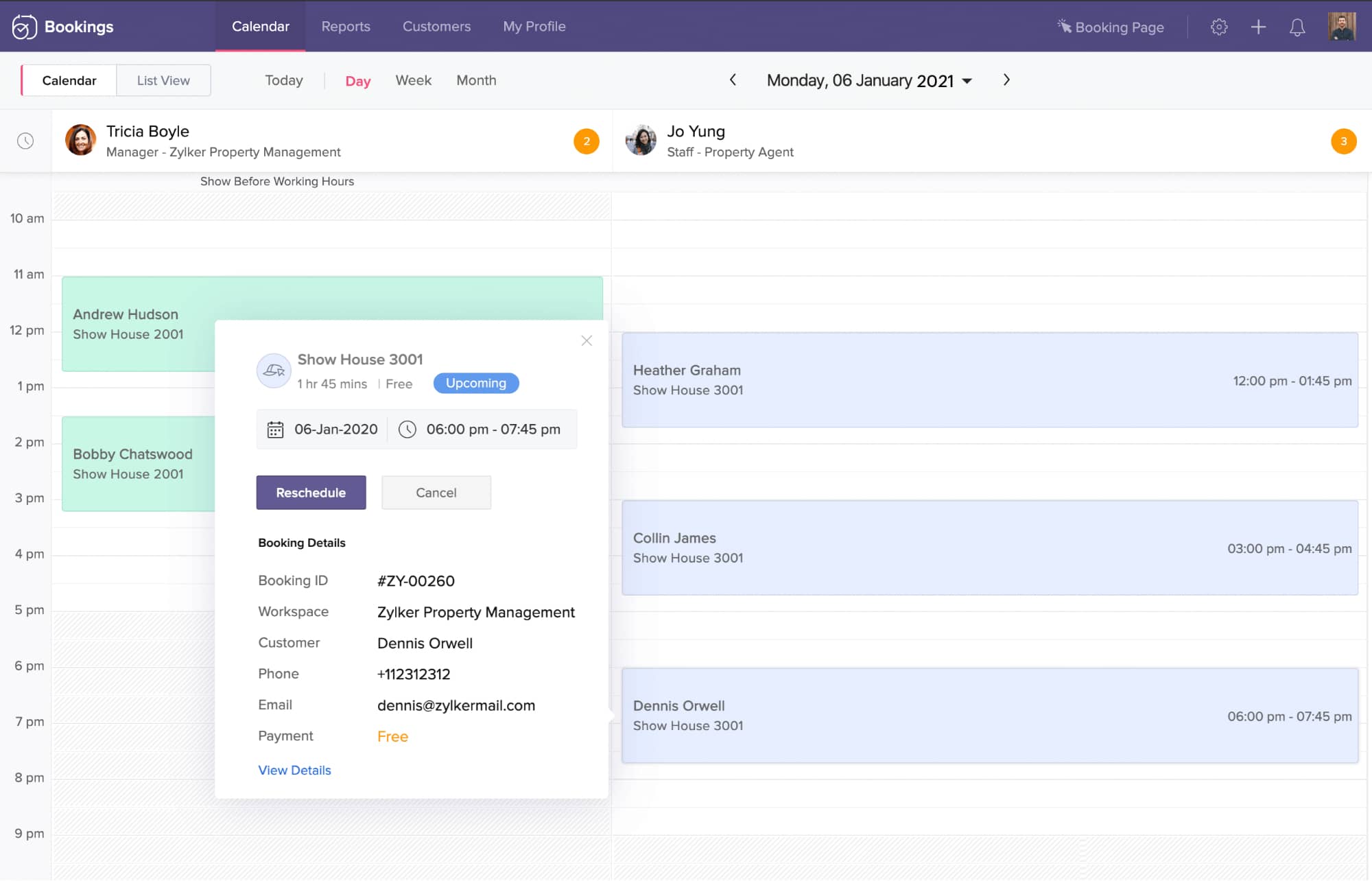 Set up meetings that suit your needs
Meet one-on-one or in a group
Conduct sales calls, interviews, and consultations. Set up recurring group appointments for classes. Use one of the many online meeting tools we integrate with to streamline your workload.
Paid and free
Collect payment in full, part, or as a deposit before appointments. Take payments via popular gateways, like PayPal, Stripe, and more.
Online or offline
Bookings is integrated with popular online meeting tools, like Zoho Meeting, Zoom, Google Meet, and GoToMeeting. Ask for a meeting location from the customer on the booking form.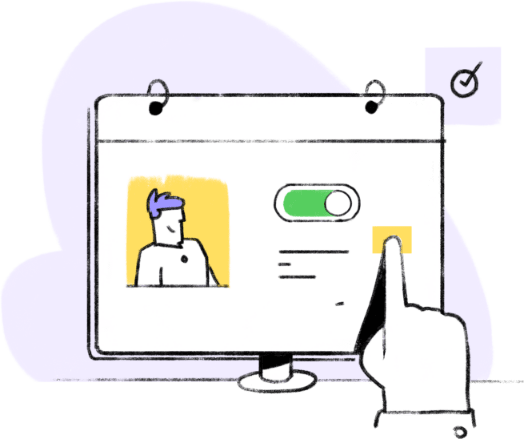 Keep a tab on appointments with reports
Calendar dashboard
See your team's appointments on a calendar. Switch between day, week, and month views. Add new appointments directly to the calendar and edit existing appointments if needed.
Customer reports
Sort, filter, and search your customer database to look for trends in bookings, dips in revenue, and your most valuable customers.
List reports
A dashboard of appointments booked and revenue generated. Apply filters like customer name, number of appointments booked, status, and service.
Revenue by service and staff
Find the service that generates you the most revenue. Evaluate if your premium staff is generating you the highest revenue.
Appointments by staff and service
See your most popular staff members and services at a glance. Filter the report by week or month to spot upcoming stars in your team.
Appointments by status and type
Check your appointments by status: confirmed, completed, no-show, cancelled, or rescheduled. Set targets for your team to reduce no-shows and cancellations while improving revenue.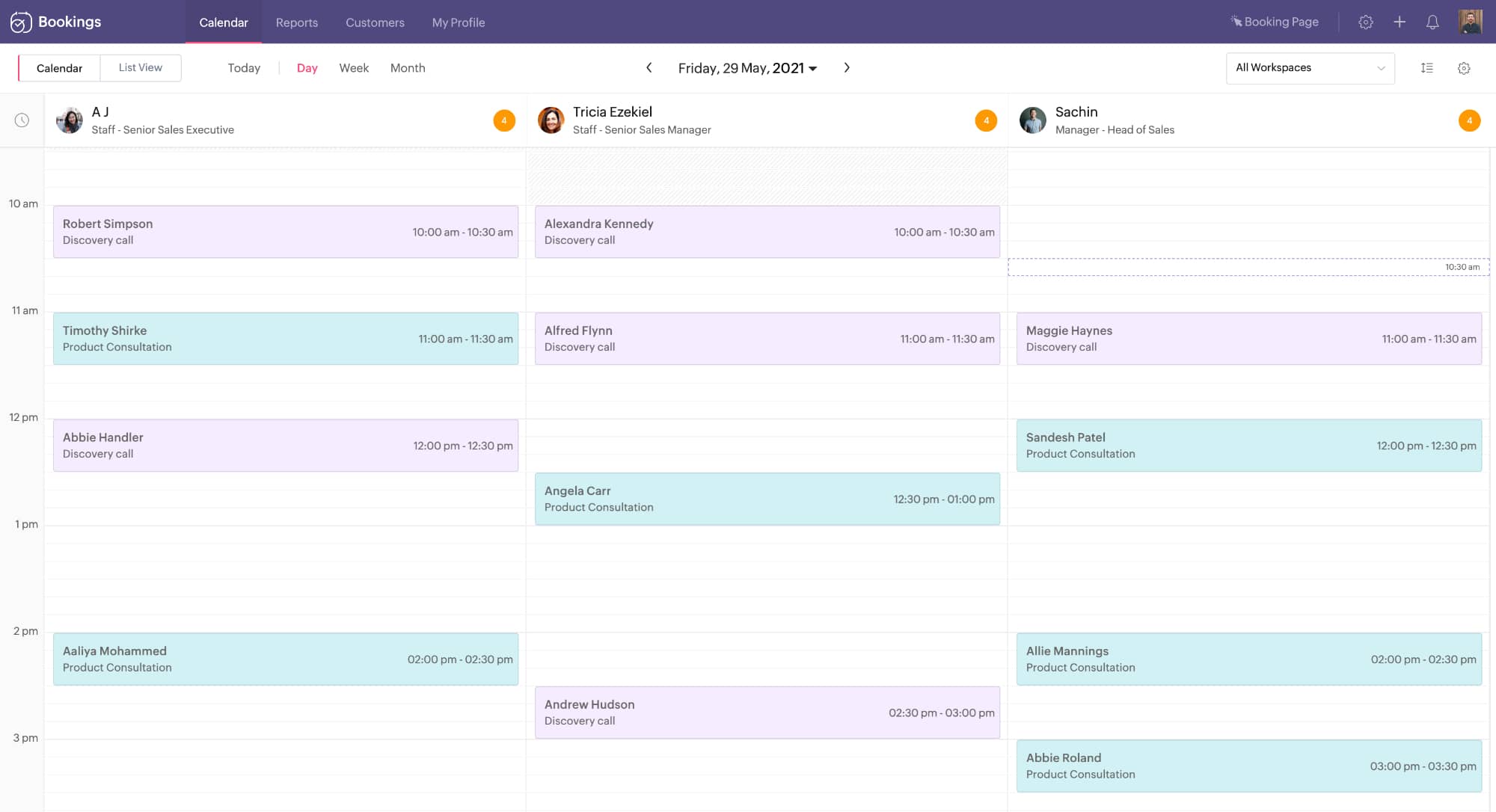 Make the booking page look and feel like you
Brand your booking page
Set a title and a background image for your booking page. Add your own page content that appeals to your customers. Include your contact details on the footer.
Use your brand colors
Select a color scheme for your booking page and its elements that matches your brand. Choose a theme that your customers will find appealing and convenient.
Embed on your website
Have a website? Embed the booking page in that. Use brand elements and color palettes that match with your website.
Host on your domain
Map the booking page to your domain and transfer domain authority to your booking page as well. Give your booking page an SEO boost.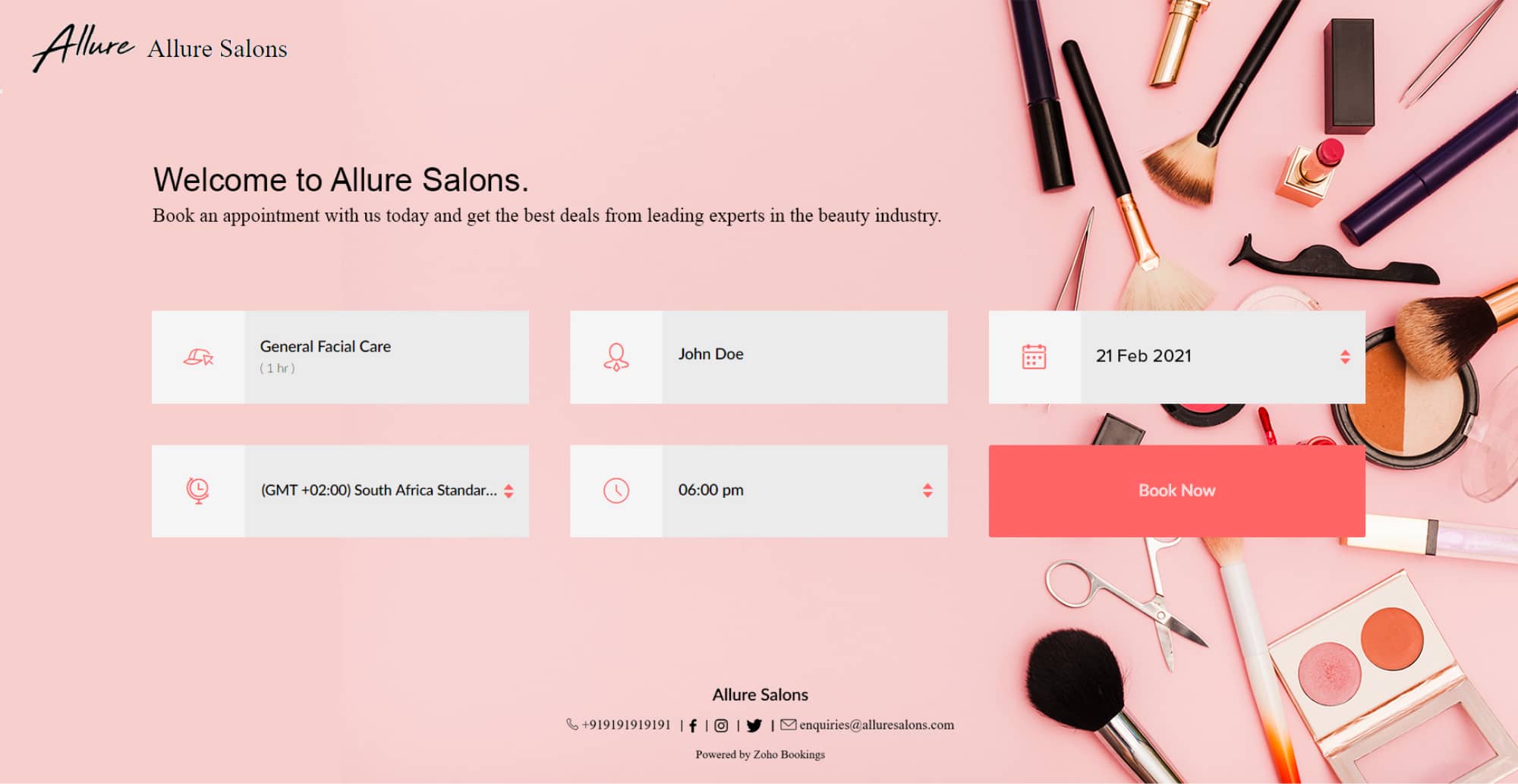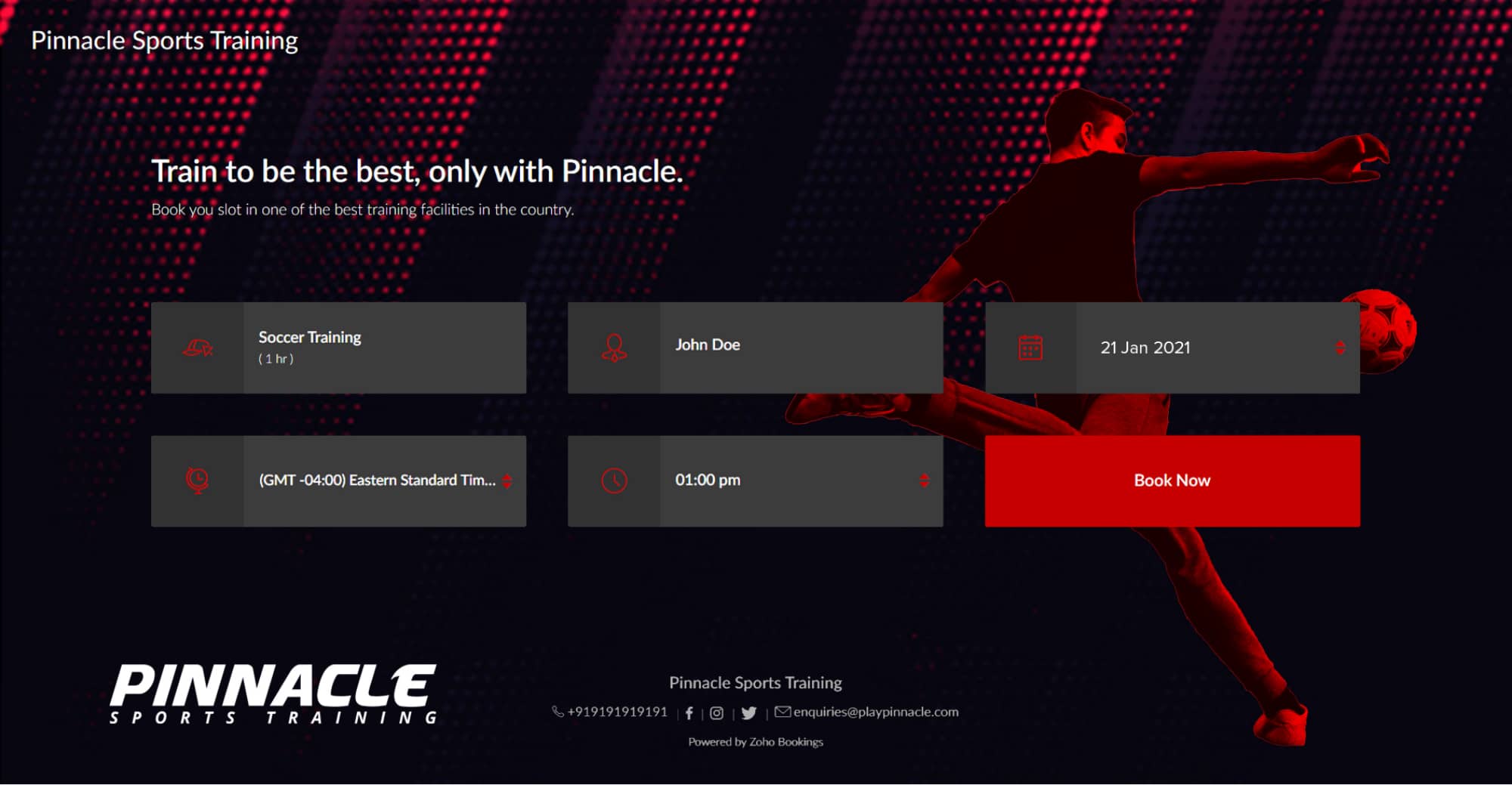 Deliver the best scheduling experience to your customers
Three types of booking pages
Collect bookings for a team, a team member, or a specific meeting or service. Use one of the three booking pages: workspace, service, or team members.
Workspace/team booking page
Let customers choose one from your services on this page. Give them the choice to select a team member, or ask Bookings to automatically allocate team members.
Book appointments for customers
It can't be self-service every time. If you get a call from a customer asking for an appointment, you can book it for them and they'll get the invite.
Staff booking page
Does your customer have a preferred team member? Send them the staff booking page. Personalize emails by sending them from the team member's email address.
Language and time zone
Turn on automatic language and time zone detection and your customers will see the booking page in their language and time zone. Or, you can use your time zone and language by default.
Terms and conditions
Need to get a customer's consent before performing a service? Enable terms and conditions.
Service booking page
Want to ask the customer to book a specific meeting type or service with you? Send them the URL for exactly what they need. We generate separate booking pages for each service.
Customer self-service
Customers can book, cancel, and reschedule an appointment themselves directly from the booking confirmation page and emails. Time saved and emails reduced!
Customer portal
Give some VIP treatment to your regulars. They can log in, book a new appointment, or see their past and upcoming appointments with you.
Reduce no-shows with personalized emails and SMSes
Appointment confirmations
You can automatically notify your team members and customers upon appointment booking, completion, cancellation, rescheduling, and/or no-show. Set up automated emails or SMSes, or send both.
Brand your emails
Send emails from your domain. Design your emails with company logo, colors, and imagery, and upload the html. Improve your brand recognition with every email that you send.
Booking variables in emails
Include join meeting, cancellation, and reschedule links. Use booking variables to automatically personalize the emails for each customer.
Appointment reminders
Reduce no-shows by reminding customers (and yourself) about upcoming appointments. Turn on multiple reminders in regular intervals, if you want more than one reminder.
Personalize emails
Address customers by their name. Send from a familiar email address, whether it's from a known team member or your business email address.
SMS reminders
Surveys and research have shown that customers open SMSes more often than emails. Send SMS reminders and reduce no-shows. We integrate with Twilio, Clickatell, and other popular SMS gateways.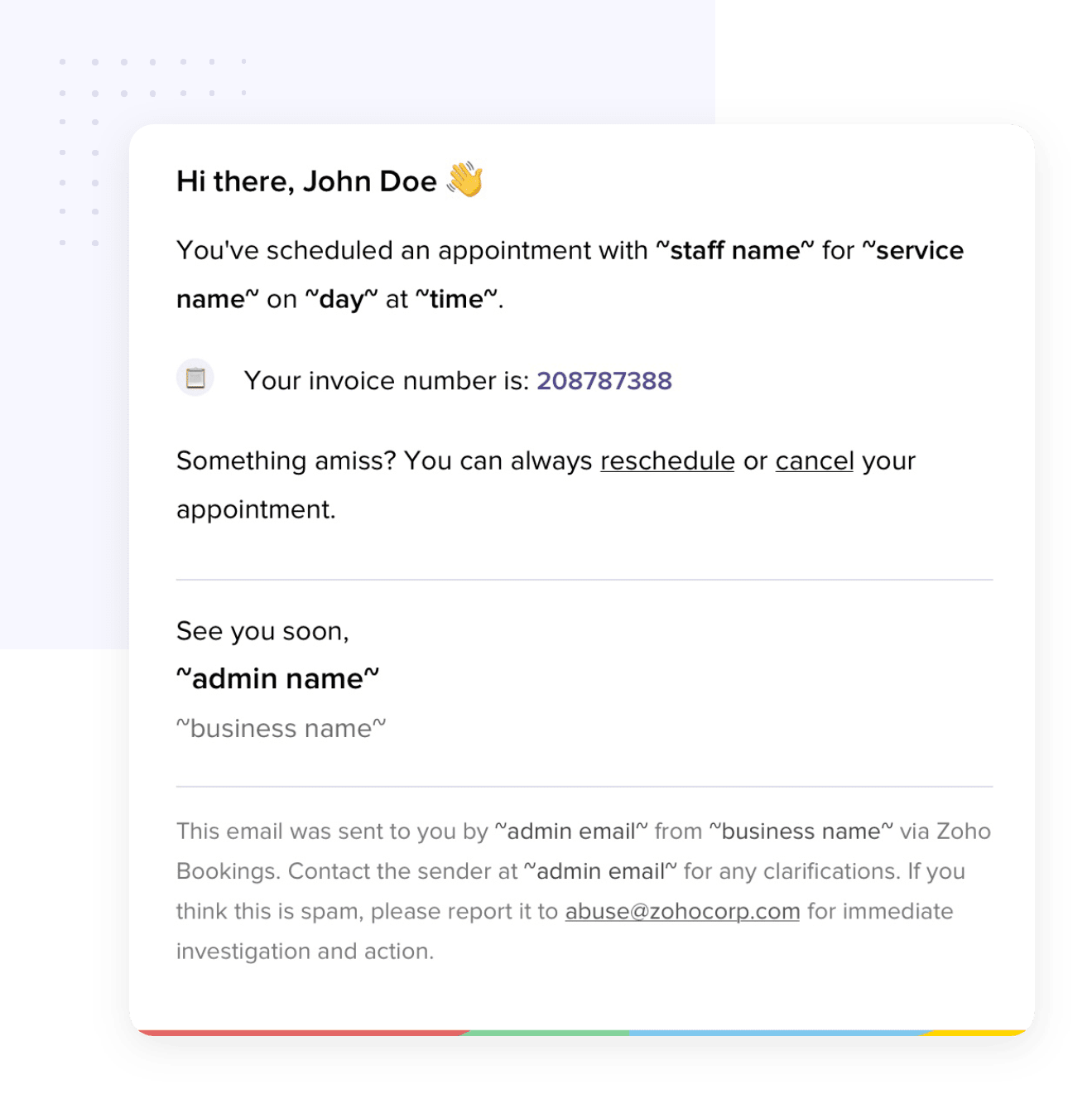 Ready for your custom scheduling requirements
Workflows
You can use custom functions to execute workflows, like sending a periodic email or calling a webhook. Extend the power of Zoho Bookings.
APIs
Use our APIs to build your own scheduling interface on top of Zoho Bookings or bring Zoho Bookings inside your app.
Check out more features with a free 15-day trial
No credit card information required. No obligation.
Continue in the forever free plan after the trial, or upgrade to a paid plan for extra features.
try zoho bookings now