Sending Invoice to your Customers
Send your invoices by email or a hard copy to your customer's address. Here's how you do it.
Email
To send the invoices to your customers by Email option, click on the email icon present on the action bar.

In the email window, fill in the required details such as Send To, CC, Subject and edit the content if you wish to make changes.

Check the Attach Customer Statement and Attach Invoice PDF boxes if you wish to attach them in the mail and click on Send to send the invoice to the customer.

Click on the Send button to email the invoice to your customer.
Scheduled Invoices
You can also schedule invoices to be sent out to your customers on a specific date.
Note: Only invoices which are in the Draft status can be scheduled.
You can schedule your invoices by following these simple steps:
Open the Invoices module, under the Sales drop-down from the sidebar.
Navigate to an invoice which is in the draft state.

Click on the Clock icon, sandwiched between the Print and Email options, as shown in the image below:

In the ensuing pop-up, choose when to send the invoice from the options: Tomorrow, End of this week, End of this month or set up a date of your choice using the Custom option.
Note: By default, all scheduled invoices will be sent out at 08:00 AM.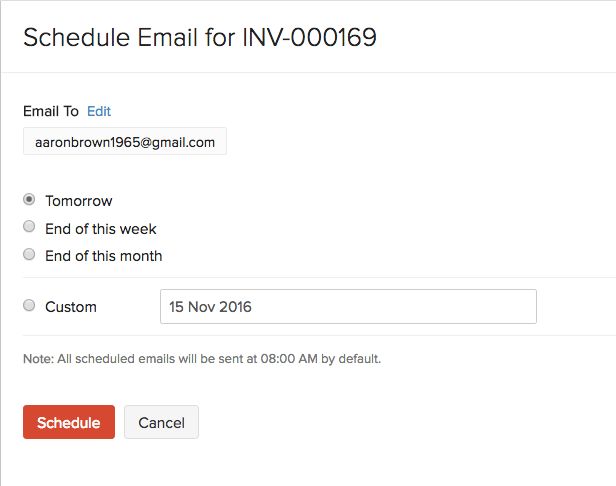 Once this is done, your invoice will be scheduled.
You can edit the scheduled date by clicking on the Schedule option again, or the Edit option as shown in the image below:
You can also choose to schedule an invoice while creating it, by choosing the Save and Send later option available on the bottom right corner of the invoice creation page, as shown in the image below:
P.S - Any action that changes the status of the invoice from Draft, like Marking the invoice as sent, Voiding, Recording Payment, Manually sending the invoice email, and Apllying credits, will result in the removal of the Scheduling.
---