I'm unable to download my backup file from my email. What should I do?
At Zoho, we take privacy and security of your data seriously. So, we have certain security features in place to avoid third parties from accessing your data. Due to this, you need to meet specific criteria to download the backup file. 
You will not be able to download the backup file from email when: 
You access your email account in a browser while your Zoho Books account is logged in from a different browser. 
You've logged in using a different email address for your email account and Zoho Books account.
You access your email in incognito mode and you are not logged into Zoho Books. 
To download a backup file from your email, make sure you use the same browser and email address for both your Zoho Books and email account. 
If you still have trouble downloading the backup file, you can download it directly from Zoho Books.
Click the icon in the top-right corner of the window.
Click the Data Backup option.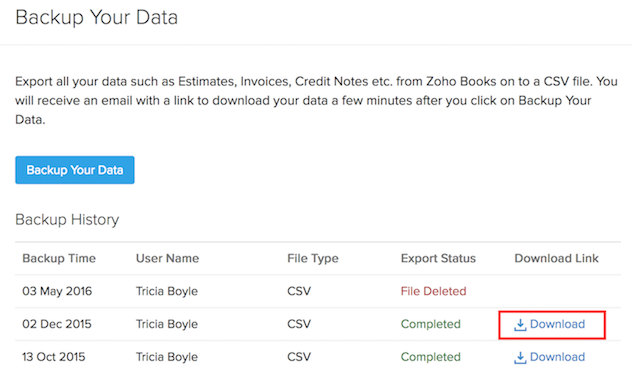 Under Backup History you will be able to view all your backups, which you've performed. You can download a specific backup file by clicking Download.
The backup file will now be downloaded to your device.