VAT Audit File
VAT Audit is the process where the National Bureau for Revenue (NBR) will assess the general compliance level of a taxable person with the VAT legislation and verify if the net amount of VAT declared and the amount paid by the taxable person is accurate. 
The Audit File enables the NBR to audit VAT returns. It contains line-level details of the taxable transactions recorded in Zoho Books in a chronological order and provides information on the base amount and calculated tax amount. The audit file contains details such as the invoice number, date, client/supplier name, VAT amount, total invoice amount (inclusive and exclusive of tax etc.,
You can generate and view/download the audit file in Zoho Books to help you with the audit process.
In this page..
Generate Audit File
You can generate the audit file in two ways in Zoho Books:
Insight:  The audit file will be generated for each return separately. If you make any changes to the return, you will have to generate the audit file again and download it. Doing this will replace your old audit file with the new one.
VAT Audit Report
To generate the audit file from the VAT audit report:
Go to the Reports module. 
Click VAT Audit File under Taxes.
Click Generate NBR Audit File to generate your audit report.

Select the Tax Return from the dropdown, for which you want to generate the audit file.
Click Generate.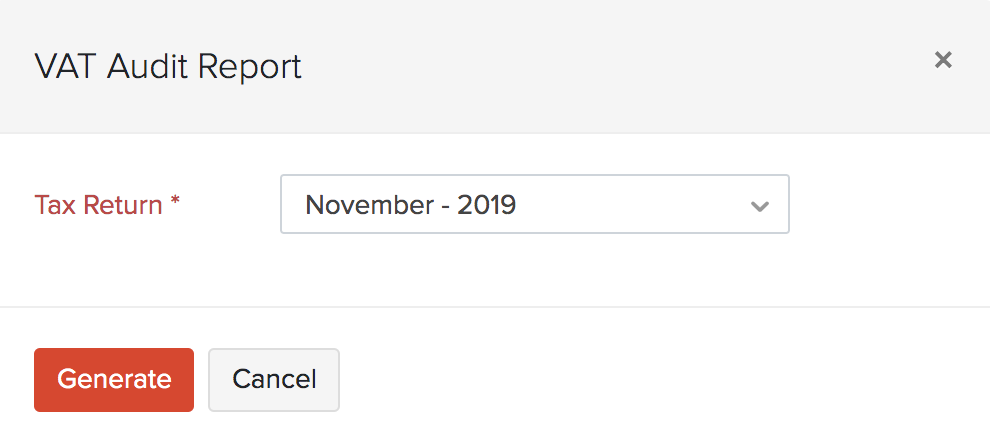 VAT Returns
You can also generate the VAT audit file for each VAT return from the VAT return report. Here's how:
Go to Reports > Taxes > VAT Returns.
Click the dropdown near the Balance Due section for the return which you want to generate an audit file.
Select Generate Audit File.
Insight: It might take sometime to generate the audit file. Once it is generated, you will be notified. 
Download and View Audit File
On generating the audit file successfully, you will be notified in the Notifications pane. You can click it and download the audit file.
All the audit reports will be listed in the VAT Audit Report as well, from where you can download and view the files. To download/view the audit files:
Go to Reports > VAT Audit Report.
Click Download next to the report you wish to view.

You can also view the VAT audit report from the VAT Returns report by clicking the View Audit Report in the top right corner of the page. You will be redirected to the VAT Audit Return report from where you can download the audit files.