Bank Feeds
Once you add an account from the list of banks available, you will receive bank feeds to your Zoho Books account by default. The bank feeds are fetched every 24 hours into your account automatically for the banks that don't require multi-factor authentication (MFA).
Warning: Bank feed availability is subject to the respective bank or service provider's connectivity.
Some banks adopt multi-factor authentication for security purposes. If your bank adopts multi-factor authentication, you will have to refresh the feeds manually.
Notes: Unless the authentication is cleared the bank will not allow Zoho Books to fetch the feeds automatically.
To identify if the bank feed in your account has been activated or not, just check on the bank feed icon present next to the account name.
IN THIS PAGE…
---
Update Credentials
Login credentials of your bank account are necessary for the bank feeds to be fetched into your account. Some cases where it will be necessary to update your credentials,
You have changed your login credentials.
Requested for a new password from your bank.
To update credentials:
Click the Settings icon on the top-right corner.
Click Update Credentials.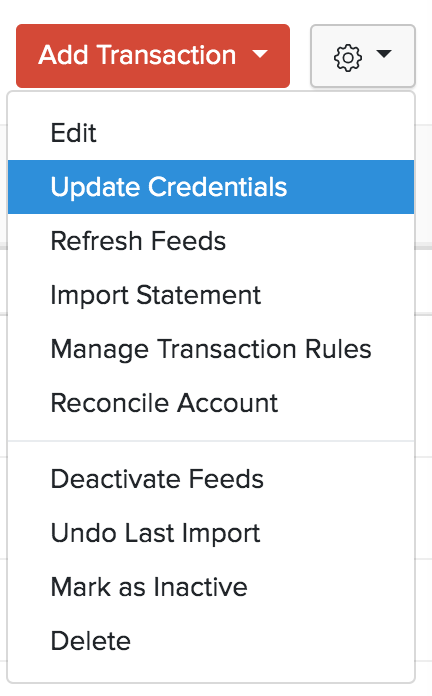 Notes: When bank feeds are fetched, either automatically or manually, they will be fetched the previous day. If you fetch your bank feeds today, you will be able to see the transactions that happened yesterday.
Refresh Bank Feeds
If your bank feeds are not fetched automatically, it could be due to a temporary glitch. You can refresh the bank feeds manually. However, manual refresh is limited to once a day. To refresh bank feeds manually:
Go to Banking module in the left sidebar.
Select your bank account.
Click the Settings icon from the bank account.
Select Refresh Feeds from the drop down.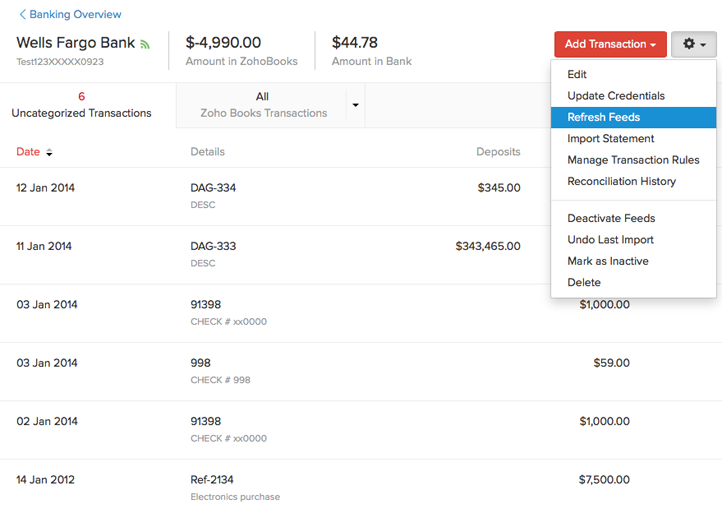 Deactivate Bank Feeds
You can deactivate bank feeds if you do not want it to be fetched from your bank.
Go to the Banking module and select the account you wish deactivate feeds for.
Click the Settings icon.
Select Deactivate Feeds to deactivate feeds from your bank.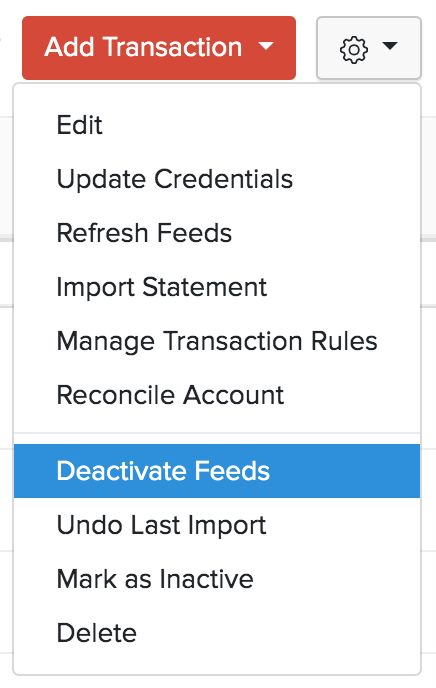 ---
PayPal Feeds
Similarly, you can also deactivate and activate your PayPal feeds.
Deactivating PayPal Feeds
  To deactivate your PayPal feeds,
Go to the Banking module and click the Add Bank or Credit Card button, placed on the top right corner. 
Select PayPal listed under popular banks.
Click the Deactivate Feeds button on the top right corner of the window.

Activating PayPal Feeds
  In case you have deactivated your feeds and wish to reactivate them, follow the step mentioned below.
Go to the Banking module and select the Zoho Books account which was earlier configured with PayPal.
Click the Settings icon on the right and click Activate Feeds.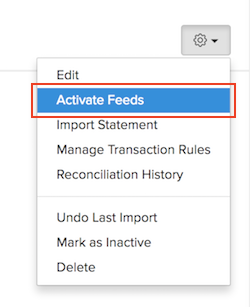 ---
Next >
---
Related >