Advanced Analytics to view and analyze session details
Do you ever have the need to review details of a past remote support session? Assist provides a convenient and efficient feature to help you do just that. With a wide array of reports available in the Zoho Assist remote support tool, you can gain instant access to every session and its designated details.
Get started
What do Zoho Assist reports offer?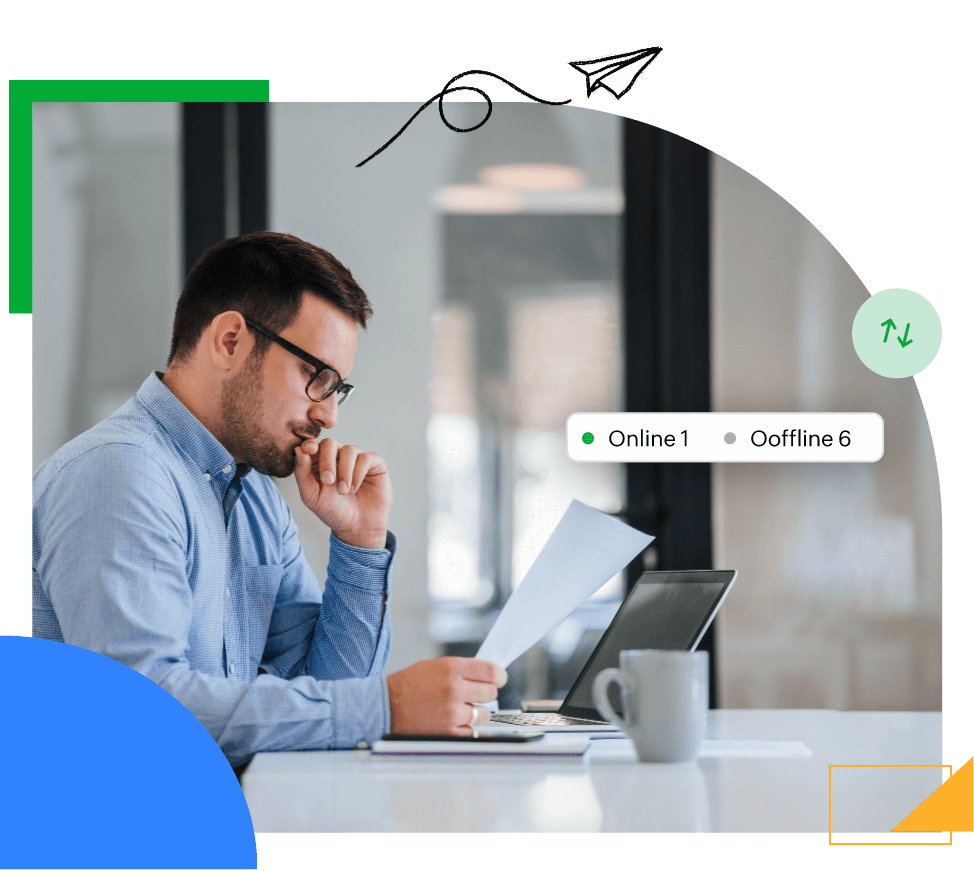 Locate essential information with filters
Zoho Assist features a Reports tab, where you'll find filters, such as technician name, session duration, resources, and session date. These filters can be used to view session information as needed.
View and update session notes
With Assist, you can access, view, and update session notes when required. Session notes can be found in Custom Reports under the Reports section.
Download reports with a single click
Assist helps you download any report for reference. Choose the CSV or PDF file format and export your customized reports.
Customize your session reports
Technicians or Admins might need to view a consolidated and customized report for a particular session, or group of sessions, for reference purposes. To do this, select the Custom Reports option from the Reports menu. Technicians and Admins can access three additional resources under Custom Reports. These include:
1. View Chat
The View Chat option contains messages exchanged in the chat window during a remote support session.Important credentials or issues shared via the chat can be referred to when required.
2. View Notes
The notes section contains session notes recorded by the technician after completion of a remote access session.
3. Video
Recorded videos of remote support sessions are available for reference or auditing purposes.
What are the report types available in Zoho Assist?
Session Count Reports
Keep track of the number of sessions that have been conducted on Assist during a specific time period. Session details, such as start time, end time, and customer's email address, are accessible in this section.
Session Duration Reports
Session Duration Reports These reports contain information about the duration of each remote support or unattended access session. Choose to view reports from the past 7 days, 30 days, 180 days, or from a customized date range.
Technician Based on Session Count Reports
This report displays the number of sessions each technician in the organization has hosted. You can select a timeframe and view the number as a pie chart or bar chart.
Technician Based on Session Duration Reports
Access comprehensive details on the total duration of each technician's sessions. Choose an individual technician, or a group, using the filter. You can also categorize reports by inbound and outbound sessions.
Service Queue Reports
These reports include the details of remote support sessions requested by customers through the self-service portal. Factors, such as department name, status of the request, and start time, are available in these reports.
Live Reports
View details of sessions that ended in the last 60 minutes. These reports contain information, such as start time, customer email address, and technician name.
How to access reports in Assist:
Navigate to assist.zoho.com and log in with your credentials.

Click the Reports option in the top menu bar.

The list of available reports will be displayed on the left panel. Click on any one of the reports to view it.

Reports can be filtered using the Filter option in the top-right corner.

To filter your reports, click the checkboxes next to your preferred categories under the Select Columns menu and click Apply.