USER ACCESS CONTROL
User Access Control(UAC) is a windows security feature that allows a non-administrator to perform administrative tasks by entering the administrator credentials in the UAC elevation prompt. In case of remote support, you cannot run applications, reboot, send alt+ctrl+del nor perform administrative tasks on the remote computer without obtaining the administrative privileges. Ensure that Run As Service (Technician console>Session>Run As Service) is enabled once you start a remote session by entering the Admin credentials in the UAC elevation prompt. Otherwise, when you try to perform tasks that need administrative privileges, Zoho Assist will prompt a dialog as shown below.
Once you click Run Service Mode, the UAC elevation prompt will appear on your screen as shown below.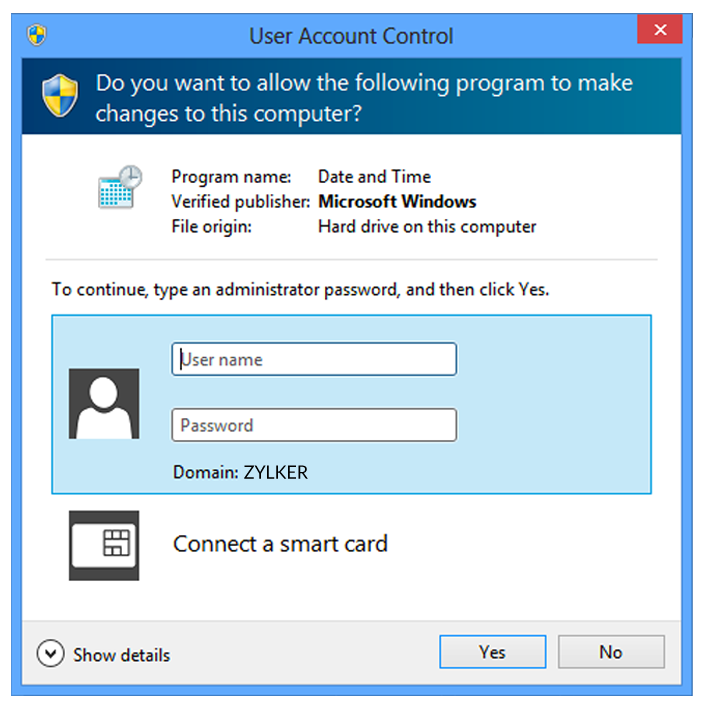 Now you can enter the administrator credentials shared by the customer to obtain privileges, with which you can install applications, change computer settings, reboot and send alt+ctrl+delt without having to switch users, log off, or use Run As. If the technician doesn't know the administrator credentials or if the customer doesn't want to share it, the customer himself can enter the credentials in the prompt that opens up at his/her end.