Measure your application's key performance indicators
Analyze the default metrics like your Daily Active Devices (DAD), Monthly Active Devices (MAD), country for all your applications in a single console.
Bolster your app development with real-time analytics.
Try apptics for free
Everything you need, in one place
App Health
Quality
Growth
Engagement
Security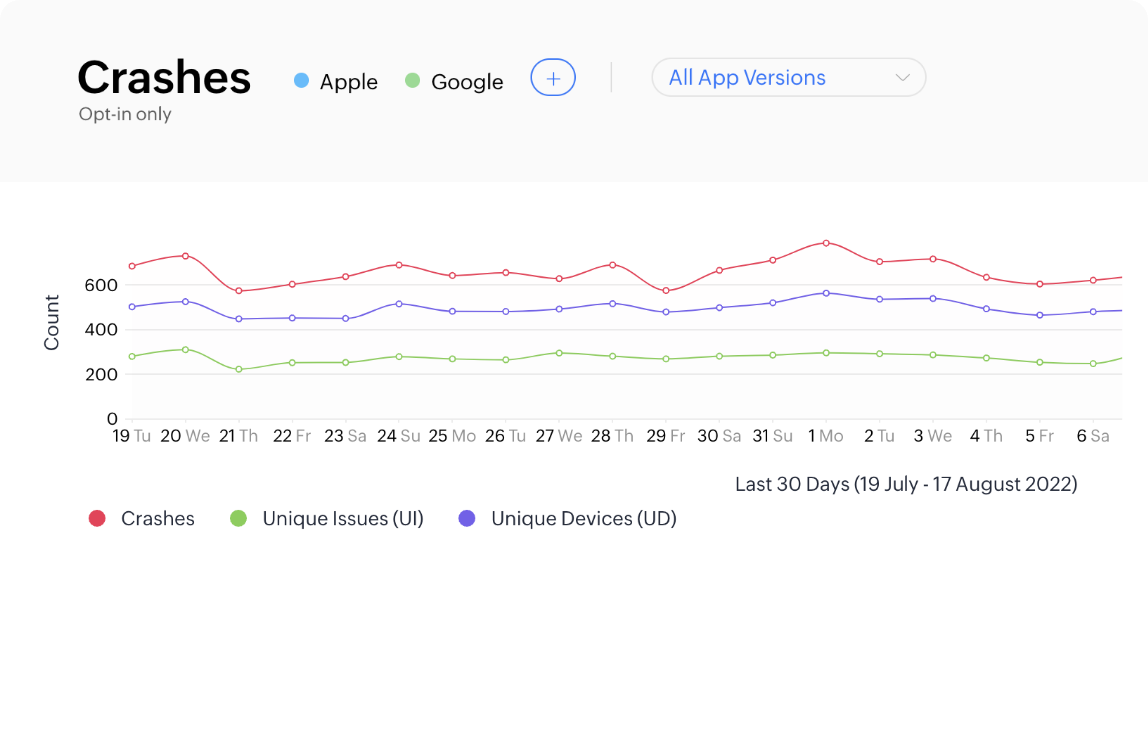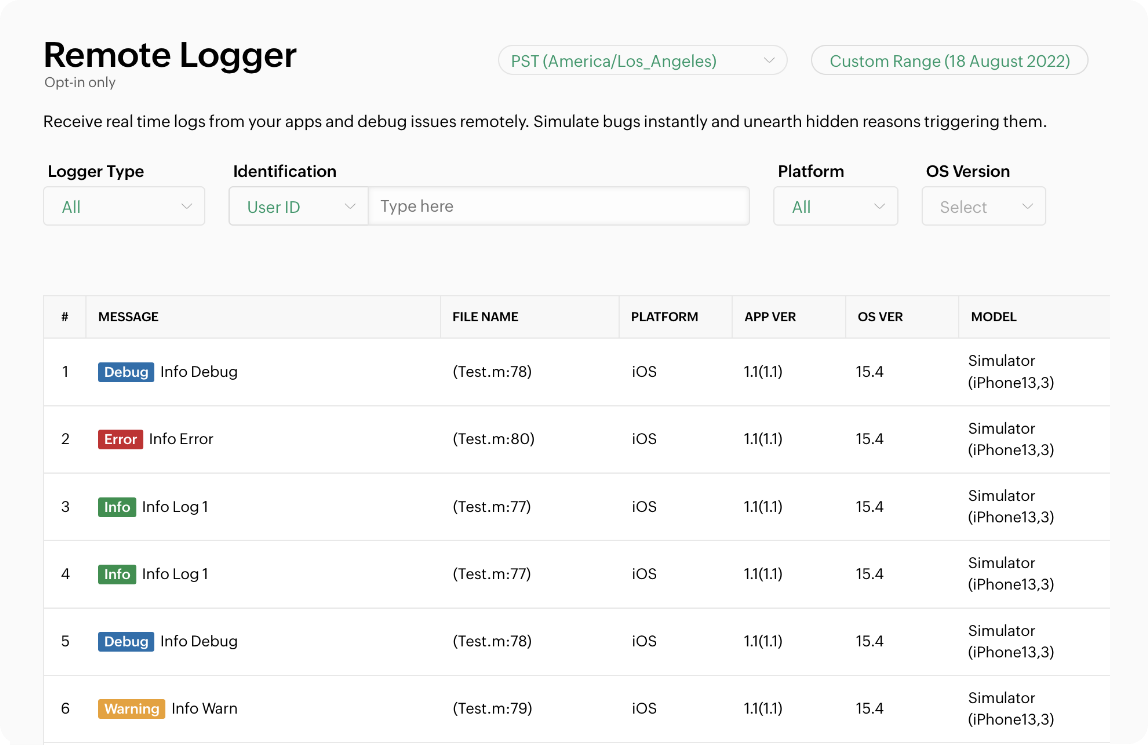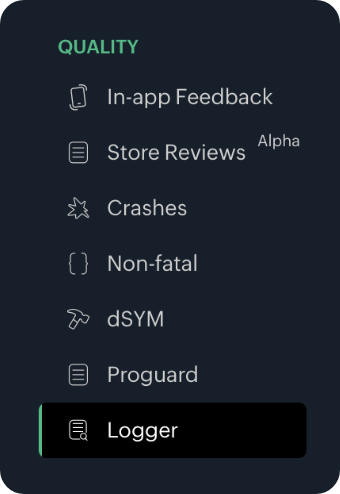 Analyze app performance and identify issues
Crash Analytics
Identify the root cause behind any crashes and non-fatal exceptions reported in real time. Delve deep into the factors such as Events, Sessions, and Screens leading to the app crash. You can also upload and manage DSYM and proguard files to help you debug the issues faster.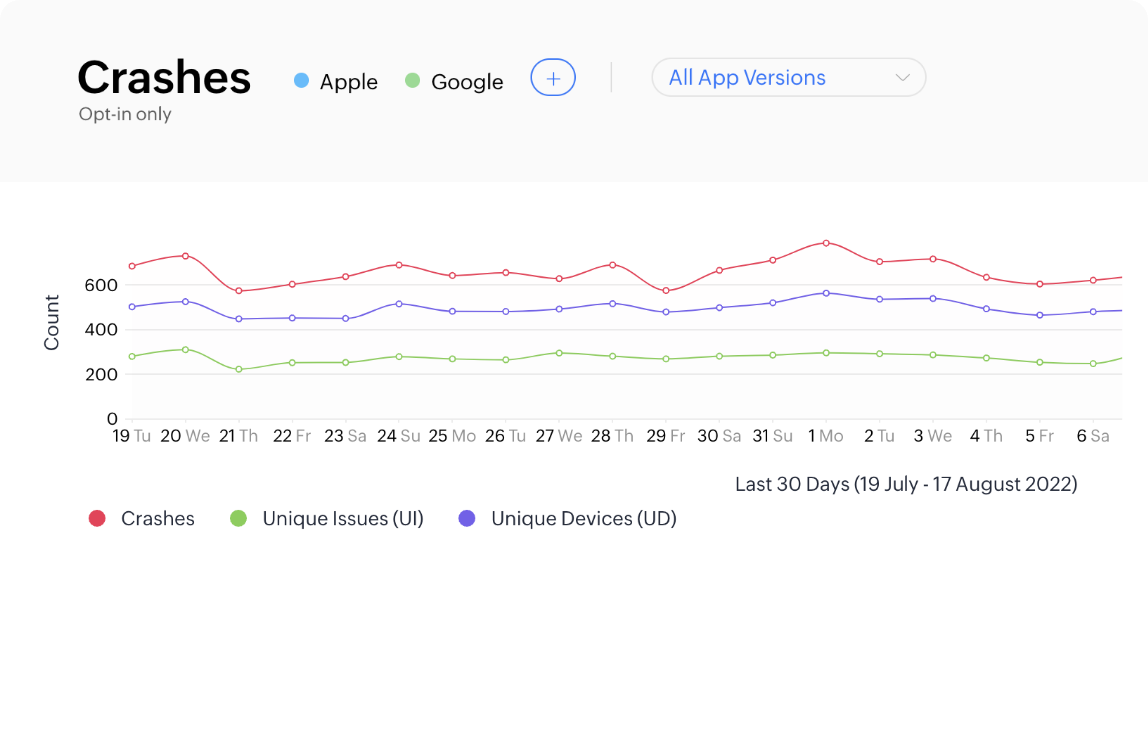 Remote Logger
No more reproducing the reported bugs. Access real time application logs to debug issues faster and proactively even when your user's are offline. You can easily simulate any bug reported by your users, remotely and offer an awesome user experience.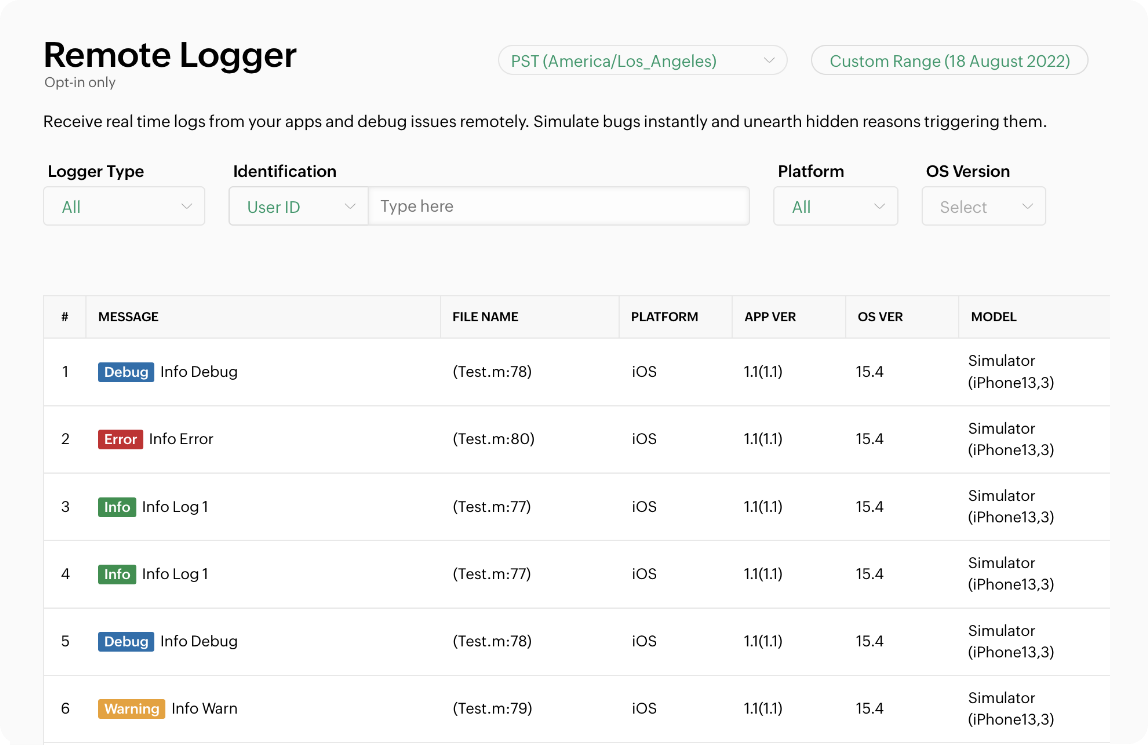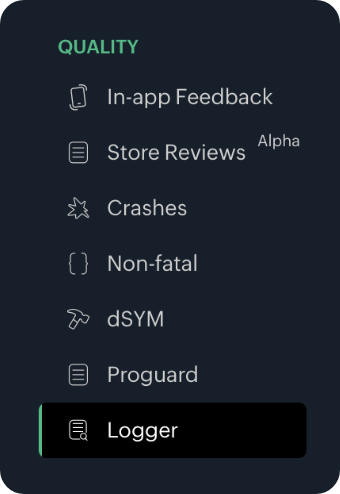 Optimize in-app experience and improve user satisfaction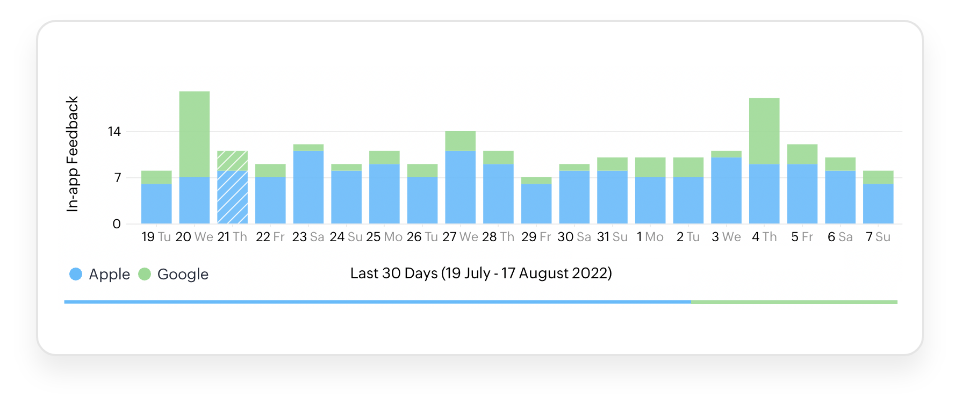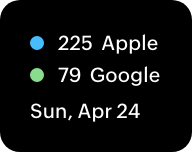 In-app Feedback
Empower your end-users to spotlight how they feel about your app. The simple 'shake-to-feedback' helps your users to report any bugs and feedback immediately. You can review and analyze the sentiment of each feedback received from different platforms in a single dashboard.
Bring powerful changes and create delightful moments
In-app Updates
In-app Ratings
Remote Configuration
Enable your users to unleash the full potential of your app and have a smooth experience. Keep your apps on your end-users' devices up-to-date with force update, remind-me later, and ignorable update alerts.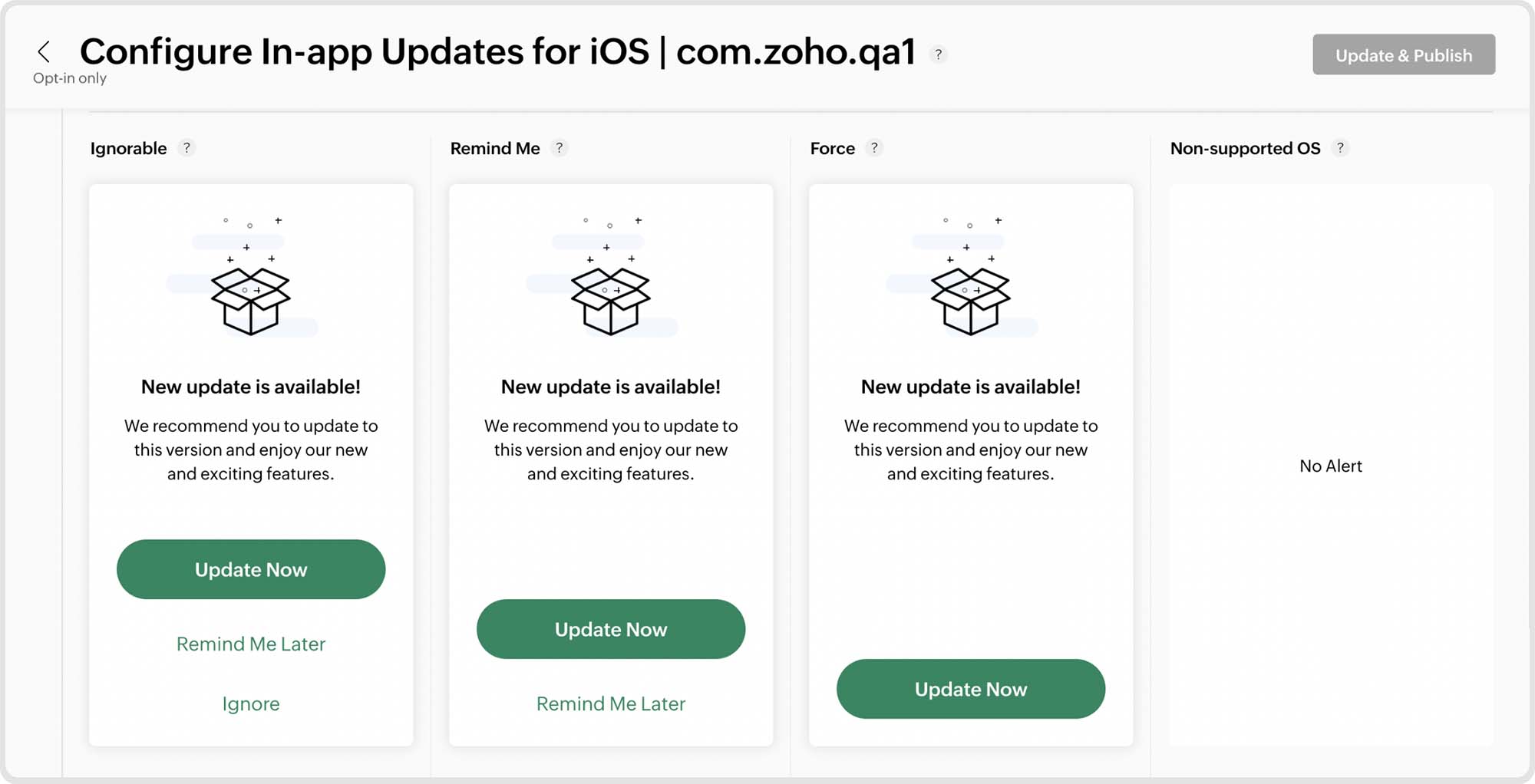 Prompt your users to rate the app when they are likely to do so. Build configurations for that perfect "aha" moment and enjoy how your users rate your work.
Set in-app default values to customize the app's appearance and behaviour for your users. Make minor changes remotely for users, rather than releasing frequent updates. Toggle minor features, configure the outlook, and update elements with ease.
Measure app engagement and unravel hidden insights
Funnel
Set goals for pivotal user actions along the user's journey and measure their progress. Get clear insights on how each user flows into your app step-by-step and identify areas where you need to focus more.
Retention
Understand why and where your users churn. Gain deep insights using the daily, weekly, and monthly retention graphs.
Sessions
Do you know how long your users interact with your app every time? Sessions allow you to filter through the explicit data combining the duration and frequency of each session. From platform and brands, to device models and session duration - Know-it-all.
Screens
Screens are the content in your app that your users interact with. Knowing which screens are the most liked and which are not helps you understand your users better and their choices of content. Delve deep into how many times a screen is visited, on which platform, and the duration of each visit.
Events
Define custom events for the user activities along the funnel and monitor them effortlessly. Break down the data silos by application ID, brand, device model, etc., and convert your first-time users into customers for a life-time.
API Tracking
Analyze the APIs you configure, unveil which ones work the most effectively. Delve deep into their success rates, efficiency, and draw metric comparisons. Sieve through the stats of grouped data to uncover any under-performing aspects to checkout.
Security and Privacy
A pro-privacy solution for you and your users.
With features like Role-based access and Audit Logs, Zoho Apptics enables you to maintain the integrity and security of the data that is available in Apptics. You can define who can access what data in the Apptics console.
Also, there is a log registered for every activity that happens in the Apptics console which is accessible only by YOU (admin).
We offer state-of-the-art user consent management options, which help you keep your data sharing practices transparent to your users. Maintaining it's stand on privacy, Zoho Apptics is a GDPR compliant solution.