Marketing Analytics Tool for Data Driven Marketers
A powerful marketing analytics tool that helps you extract meaningful marketing insights. Visualize data using interactive dashboards, gain meaningful insights, and accurately forecast your marketing metrics using our marketing analytics software.
Sign up in less than 60 seconds
All-in-one Marketing Analytics Software
Use our marketing analytics tool to maximize your ROI. Zoho Analytics tracks all critical metrics in a single platform, providing comprehensive insights that help you make data-driven decisions and improve your marketing strategic outcomes.
Centralize your marketing data

Blend your marketing data from multiple data sources, such as Zoho Campaigns, Google Search Console, and Google Analytics, and start analyzing them from one place.

Detailed performance analysis for data-driven marketing

Make your marketing efforts data-driven by analyzing your campaign performance such as open and click rate, ad performance including clicks, CPC, and CTR, and insights into page impressions and clicks.

Measure your ROI

Measure your marketing ROI and in turn, optimize your spending efficiently. Extract powerful insights, arrive at informed decisions, and devise your digital marketing strategies.

Boost your website traffic

Track and analyze your website traffic metrics in minutes. Discover the top-performing pages, create content that resonates with your audience, reduce bounce rates, and boost your conversion rates.

Analyze your marketing campaigns

Effectively analyze the impact of your email campaigns with the powerful pre-built dashboards. Track your open rates and click rates, and plan your email marketing campaigns efficiently.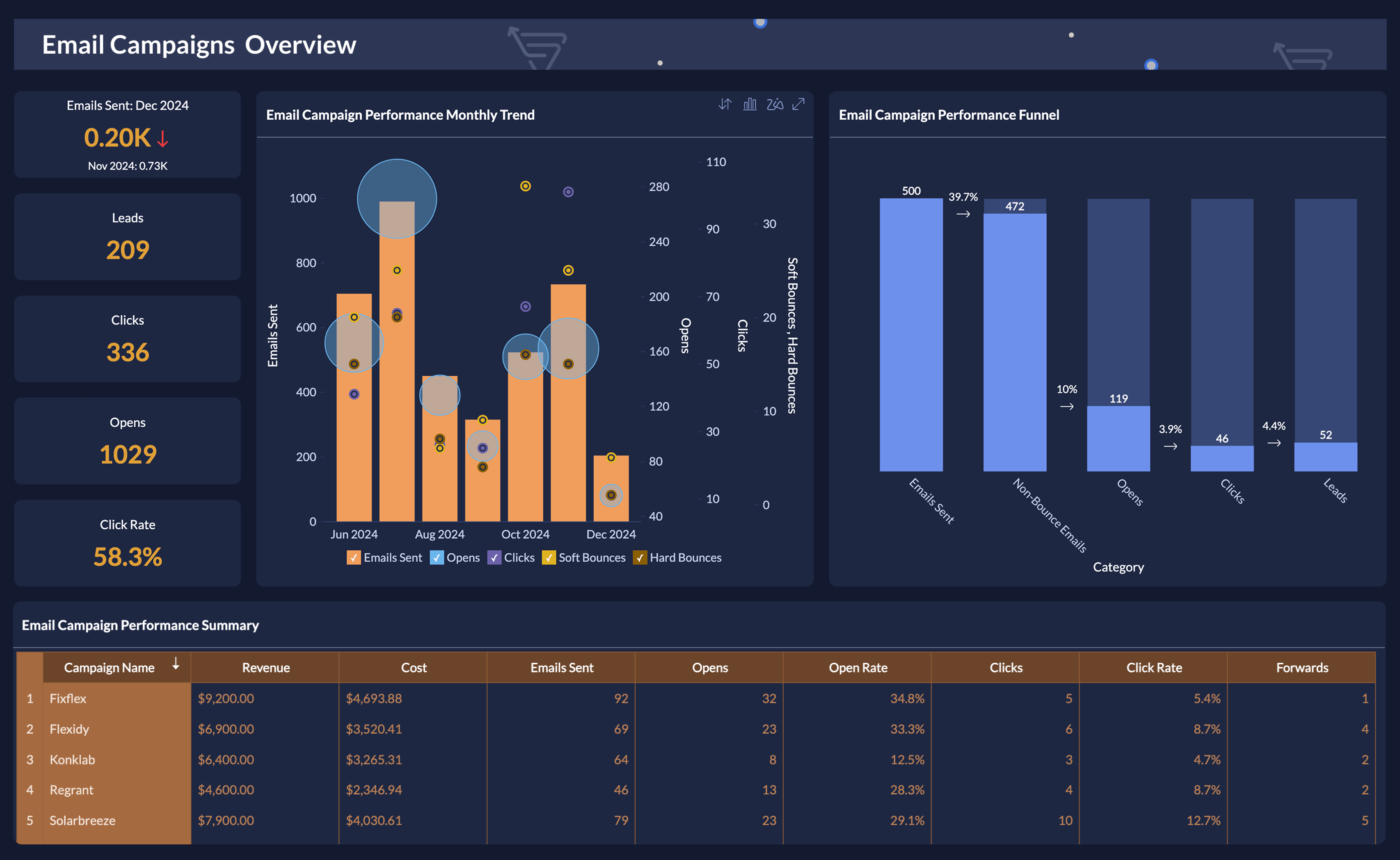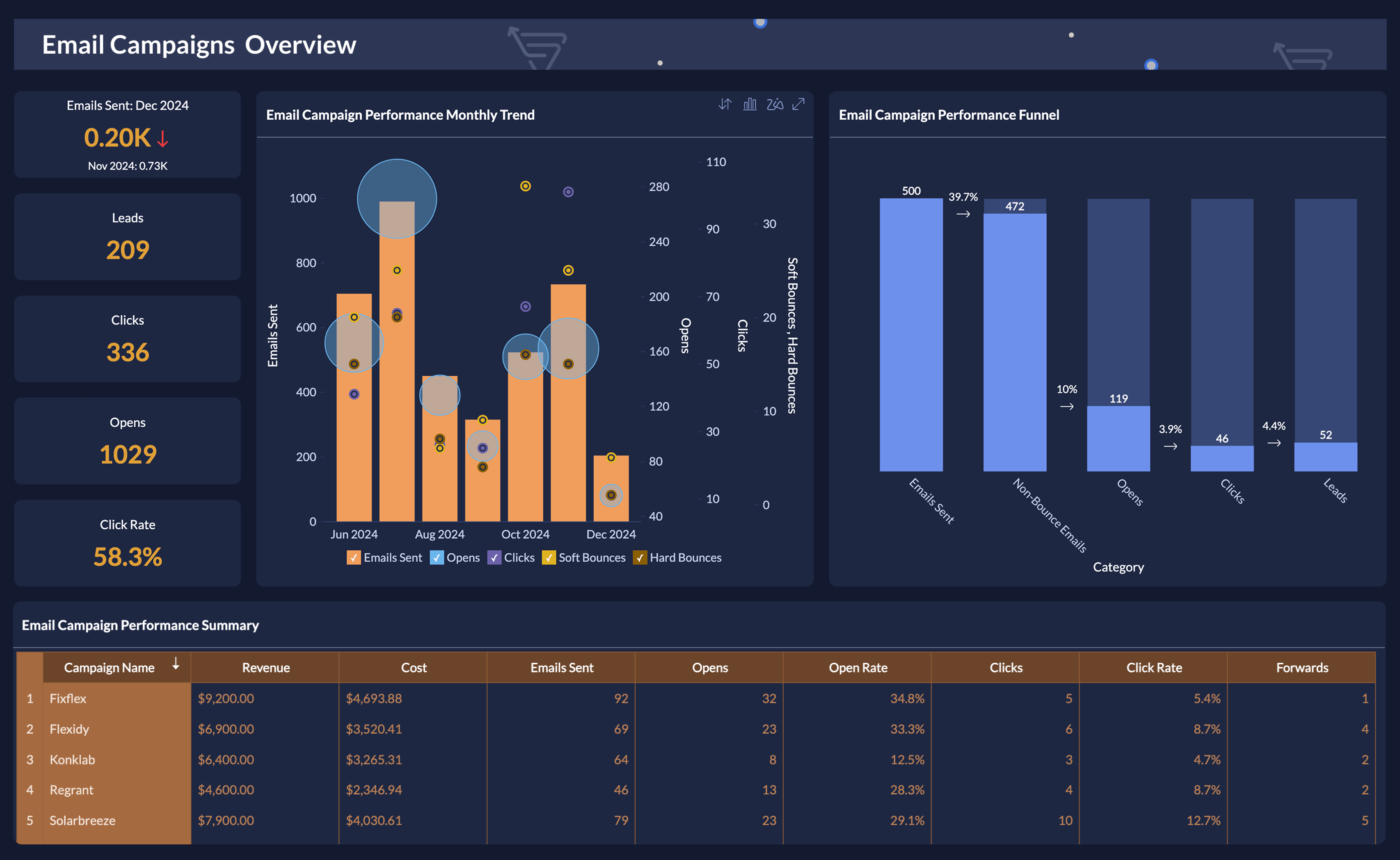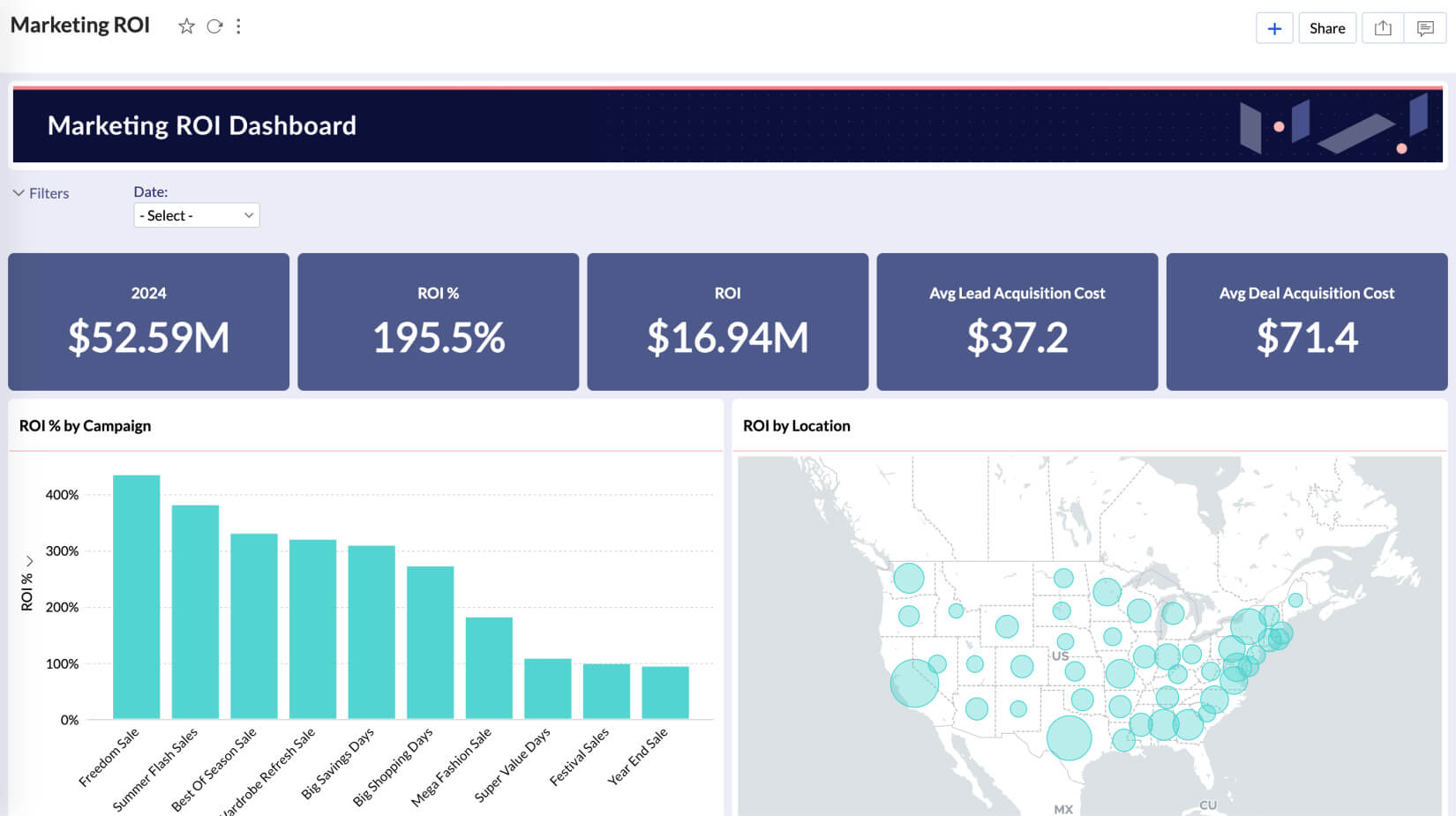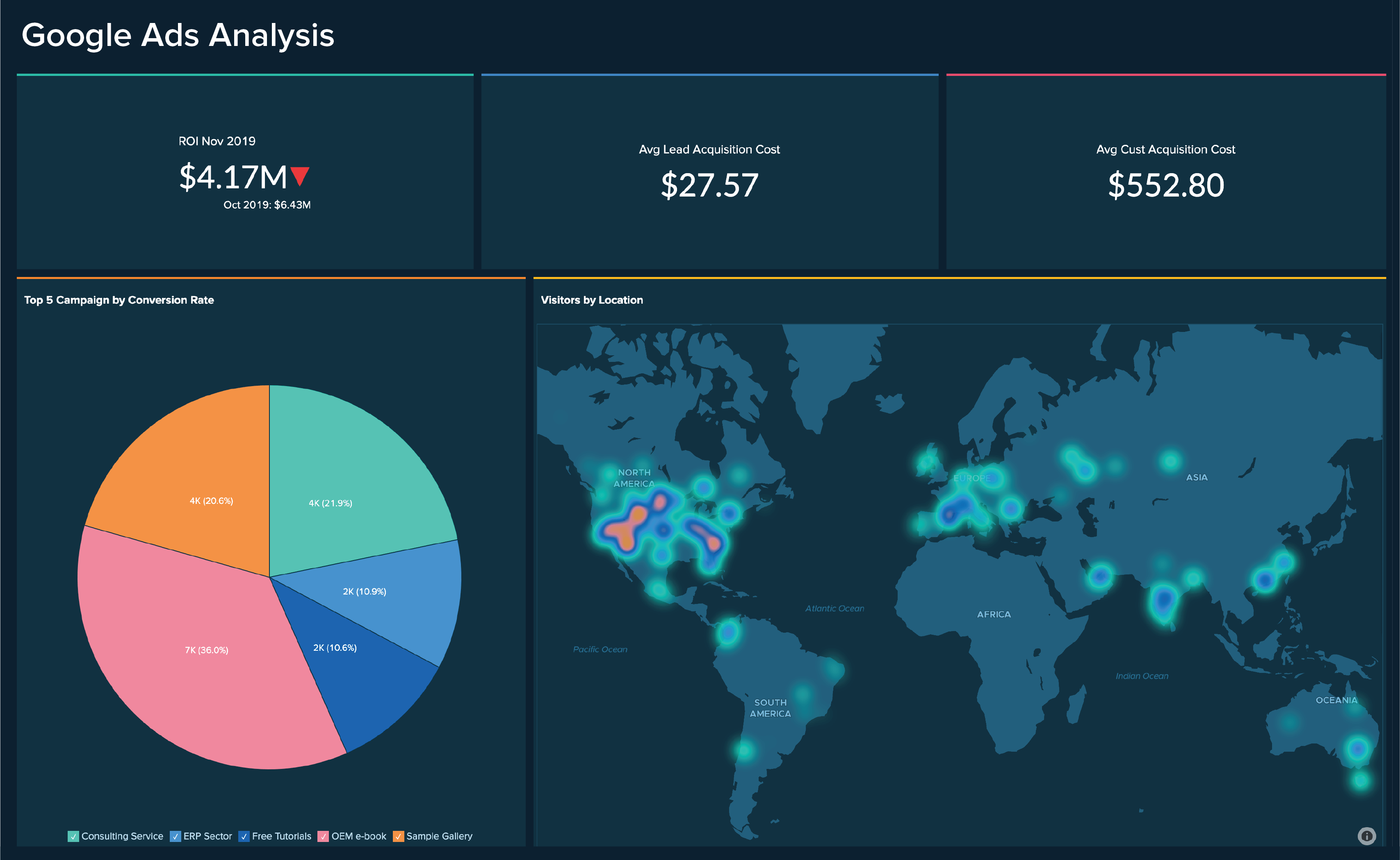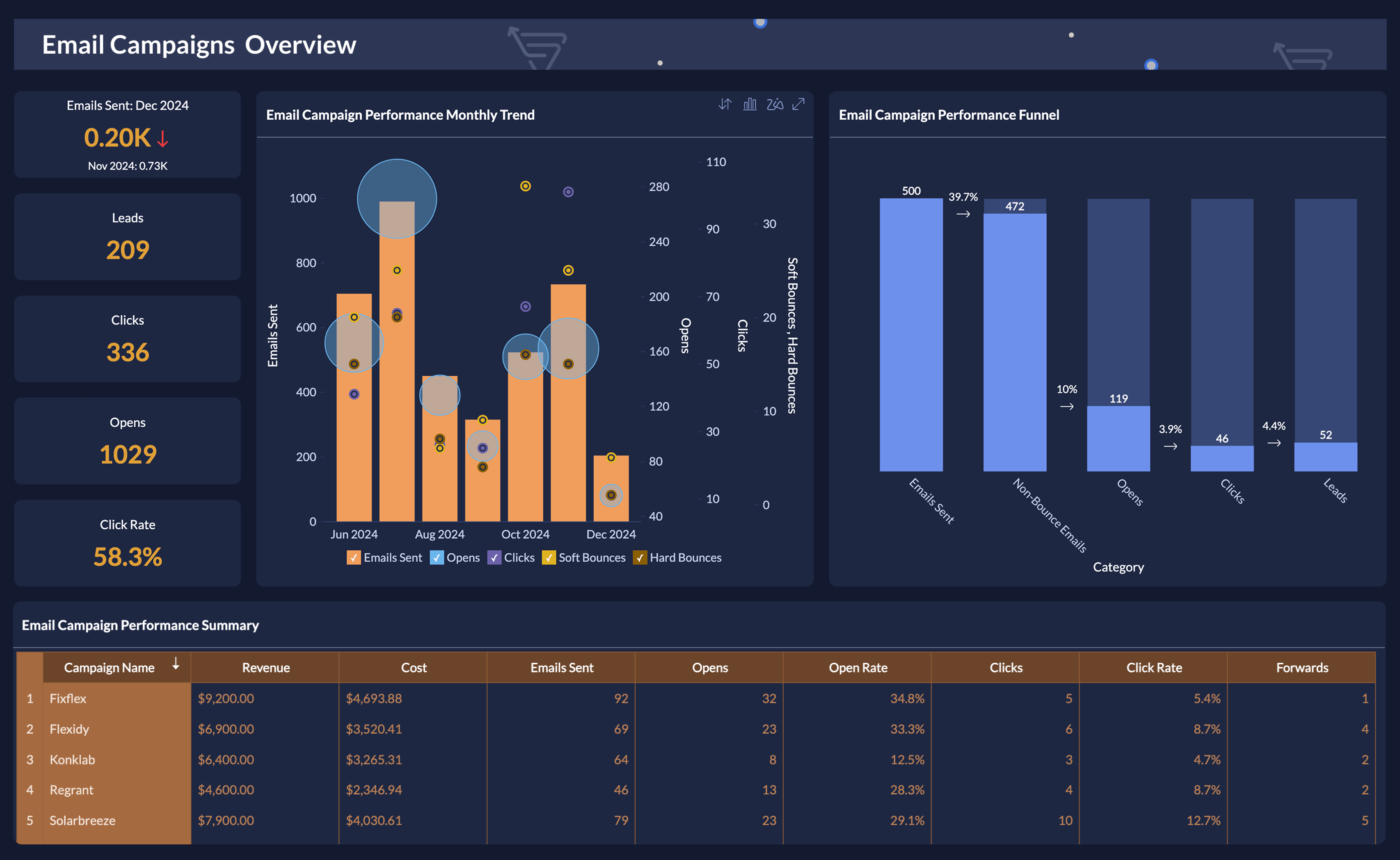 Key features of our Marketing Analytics Tool
2 Million Users. 50 Million Visualizations. 1 Analytics Platform.
Collaborative analytics

Develop & analyze reports together with your content marketing team. Share and embed your visualizations for wider consumption.

Pre-built visualizations

Instantly kick start your analytics journey with over 75 pre-built data visualization reports and dashboards on your marketing performance.

Email, export, and print reports

Export or print reports for offline access. Schedule your reports and dashboards to be emailed automatically to the given recipients.

Data blending

Combine data from different sources for cross-functional analysis. For example, blend data from Bing Ads, Google Analytics, and CRM to create a full conversion funnel.

Smart AI analytical assistant

Type out your questions, and see Zia, our AI-powered assistant, come up with suitable answers in the form of reports and KPI widgets.

Embedded analytics

Get a powerful BI, reporting, and white-labeled analytics solution, embedded within your product/application, or set up as a standalone portal.
Marketing analytics dashboards
Zoho Analytics lets you slice and dice your marketing data the way you want. The pre-built marketing dashboards give you a quick bird's eye view of all your key metrics.
Website Analytics
Track your website's performance key metrics such as impressions and clicks, CPC, CTR, keywords, search volume, and more.
Analyze website data from:
Google Analytics
Google SearchConsole
Semrush
Ad Analytics
Track your ad campaign metrics such as impressions, clicks, engagement rate for your campaigns, CTC, CPC, conversion rates, and more.
Analyze data for your ad platform:
Google Ads Analytics
Bing Ads Analytics
LinkedIn Ad Analytics
Social Media Analytics
Track the performance of your social media handles with social media analytics and monitor key metrics such as subscriber count, engagement rate, and more.
Analyze data from all your social media platforms:
Facebook Analytics
Twitter Analytics
YouTube Analytics
Website Analytics
Ad Analytics
Social Media Analytics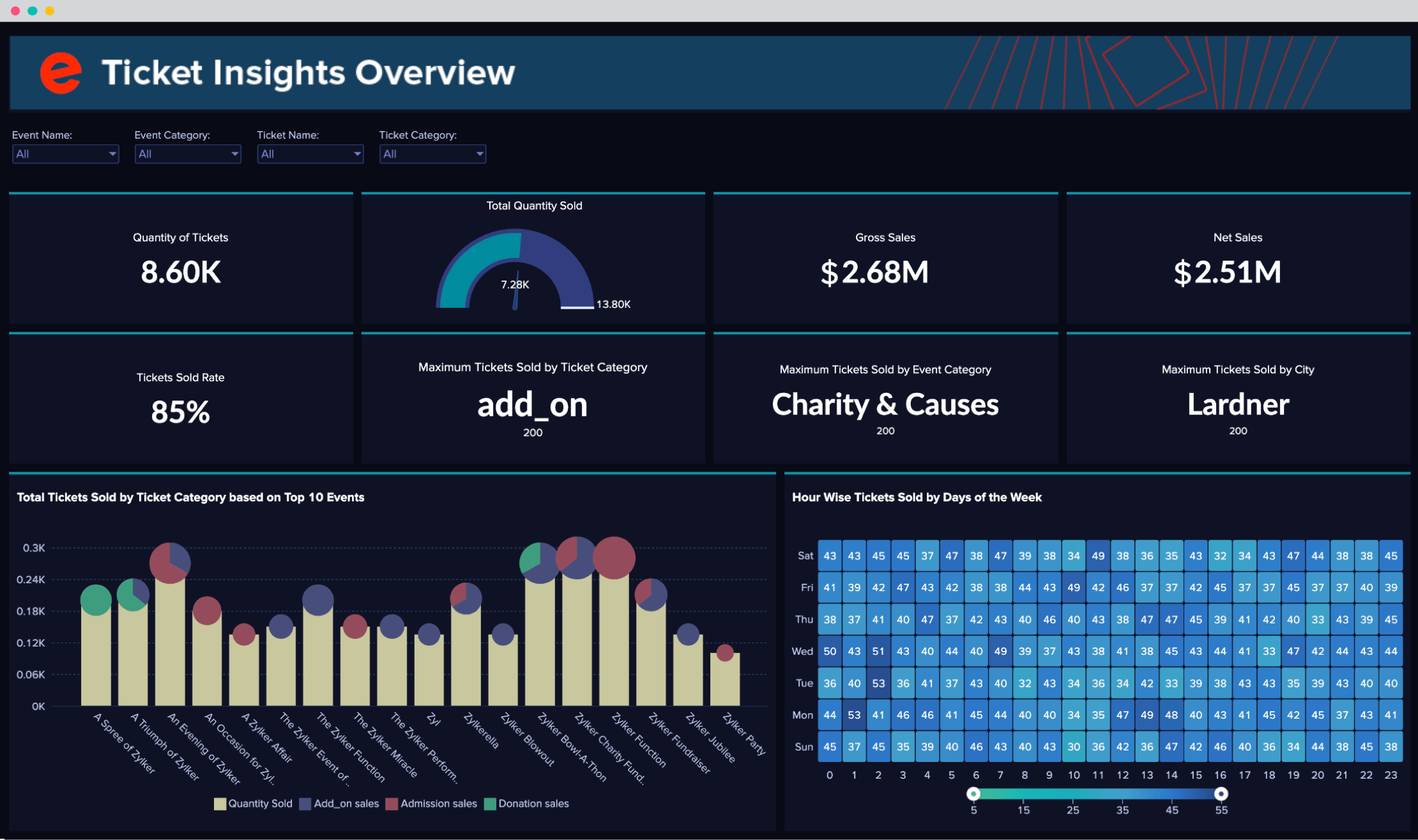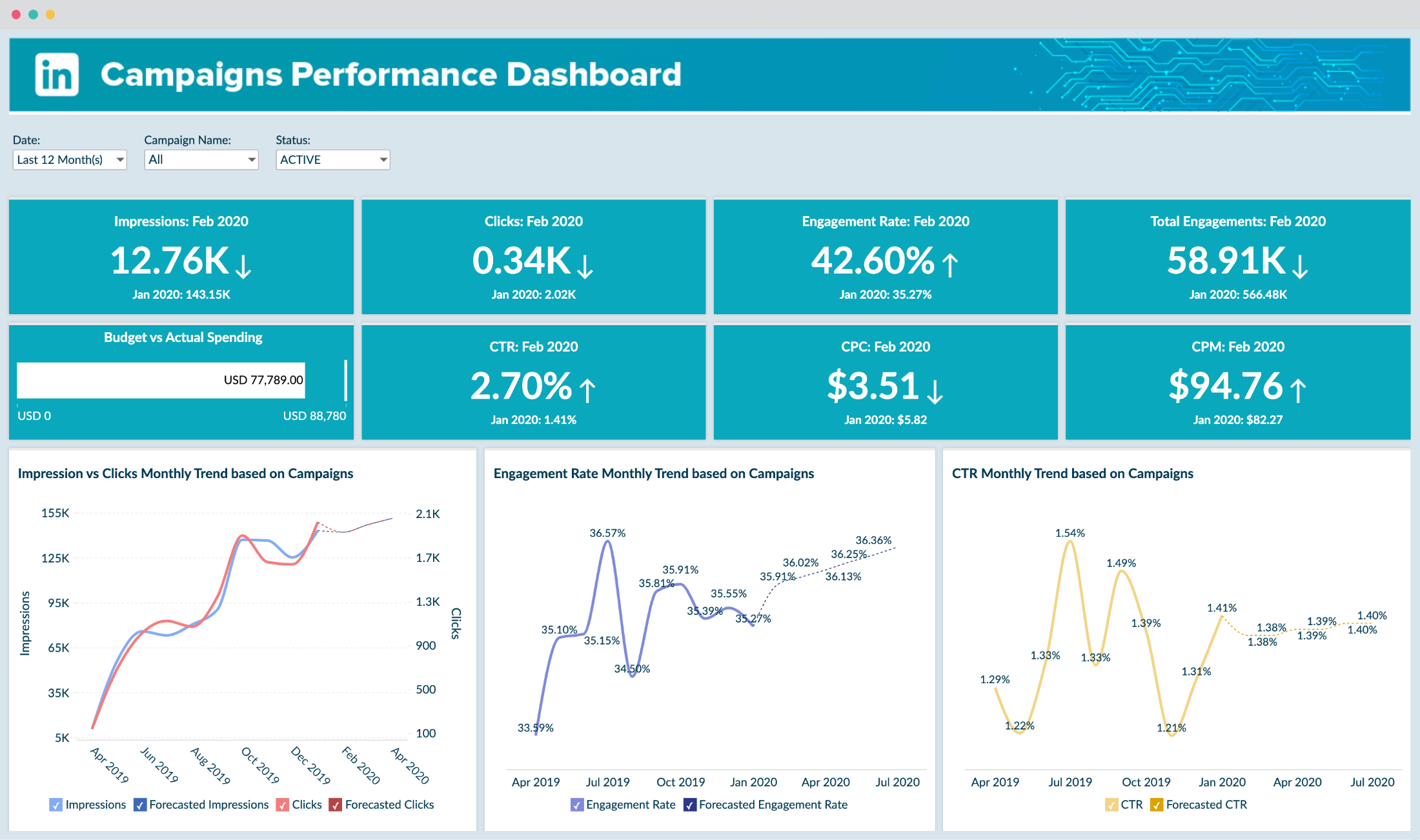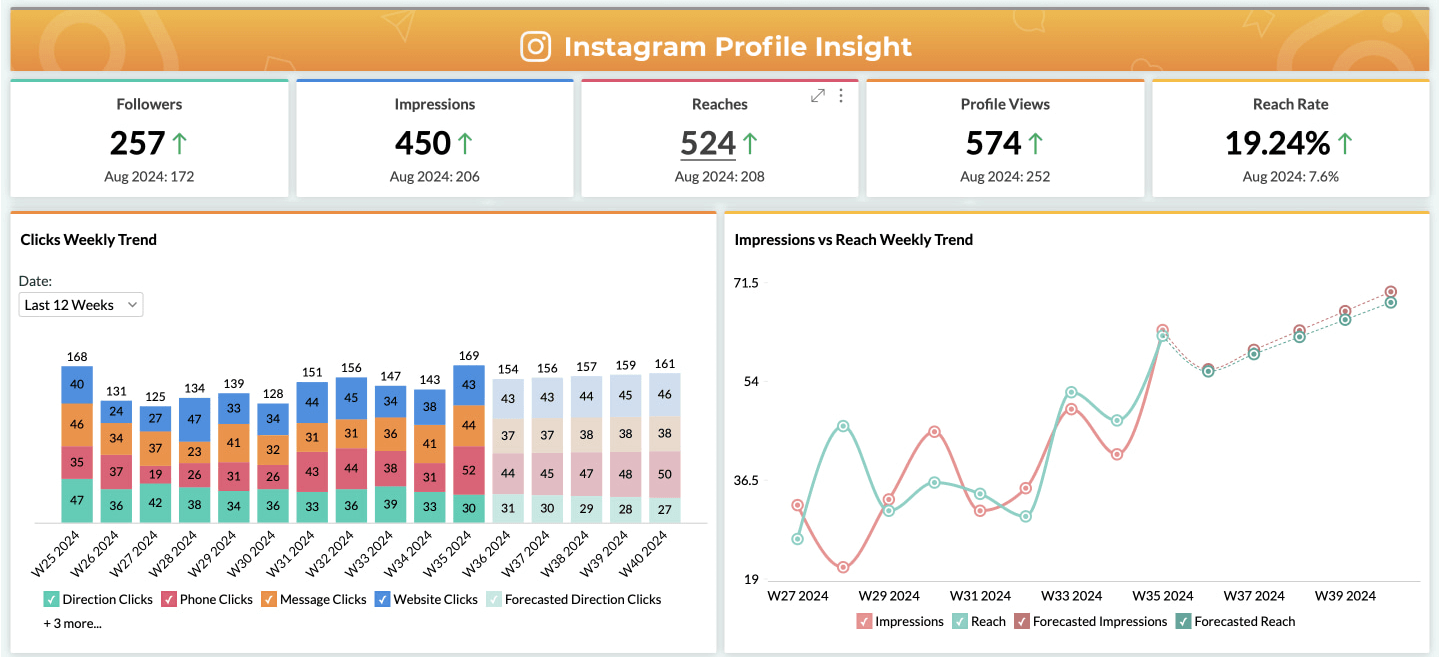 Hear it from our customers
"Zoho Analytics is an excellent tool for tracking and optimizing campaigns. The automated mailers let us send weekly reports to all our clients in an automated fashion. I would recommend it to any mid-size company which deals with data."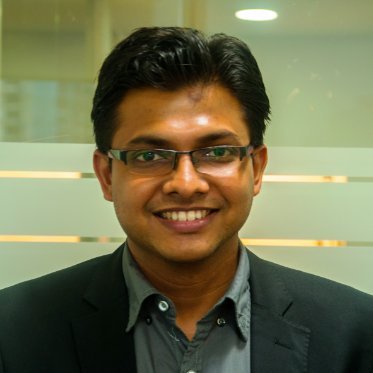 Anshuk Aggarwal
Co-Founder, Xplanck
Overview of Marketing Analytics
What are marketing analytics tools?
Marketing analytics tools are solutions that enable businesses to actively track, measure, and analyze their marketing performance using charts and graphs. Marketing analytics software consistently monitors your marketing performance, identifies trends and anomalies in the marketing data, and provides valuable insights into your marketing strategies.
Why do you need a marketing analytics tool?
A marketing analytics tool is helpful for businesses make informed decisions, optimize marketing strategies, and improve overall marketing performance. Here are some key reasons why you need a marketing analytics tool:

Performance Measurement
Identifying Successful Campaigns
Customer Insights
Attribution Analysis
Competitor Analysis
What are the types of marketing analytics?
Marketing analytics encompasses various types of analytics that help businesses gain insights into their marketing efforts and performance

Customer Segmentation & Profiling
Inbound Marketing Analytics
Outbound Marketing Analytics
Attribution Analytics
Marketing Mix Modeling
What are the benefits of using marketing analytics tool?
Marketing analytics software is a useful tool to analyze and track the marketing activities of any business. The benefits of using marketing analytics software are as follow:

Generate reports and KPIs : Marketing analytics software enables performance monitoring through reports and KPIs generated from marketing data pooled from multiple sources. They also help in spotting trends and patterns which can determine the further course of action.
Accurate insights : With the help of modern technologies such as artificial intelligence (AI) and machine learning (ML), marketing analytics software provides accurate and reliable insights, consumable by users of all types.
Better decision-making : By leveraging the insights gained from marketing analytics software, businesses can make better decisions regarding their marketing strategy, helping them to optimize their efforts and achieve their goals.
What are the key features to look for in marketing analytics software?
To ensure the accuracy of the insights obtained from your data, it is recommended that the marketing analytics software you choose possesses the following features:

Data blending capabilities to merge data from multiple sources like files and feeds, databases, business applications etc.
Multiple data visualization options, such as charts, KPIs and pivot tables etc.
AI-powered analytics that can easily identify accurate insights which can be consumed by all
Collaborative features that enable teamwork and knowledge-sharing

In addition to the above, a modern analytics tool will offer more advanced analytical features.
Why choose Zoho Analytics as your marketing analytics platform?
With Zoho Analytics marketing analytics platform, you can easily interpret complex data thanks to a wide range of data visualization options. Use the power of AI-augmented analytics to dive deep into insightful data analysis. Boost your marketing team's productivity and efficiency with Zoho's collaborative features. Sharing and presenting your marketing analytics is also a breeze with Zoho's embedding capabilities for reports and dashboards.