What's new in Analytics Plus?
Release 4100 - Release date: December 24, 2018
In-memory columnar engine for faster analytics 
In-memory columnar engine has been integrated into Analytics Plus for high performance at scale. Now experience analytics at speed with faster rendering of reports and dashboards. 
Note: The in-memory columnar engine is available only for the Linux platform of Analytics Plus. 
Actian Vector (community and commercial versions available) columnar engine is now supported as a plug-able option for high performance at scale. Users can use this as an alternative to the inbuilt columnar engine. 
Note: Actian vector columnar engine is supported in both Linux and Windows platform. 
Get in touch with analyticsplus-support@manageengine.com for more details.
Release 4000 - Release date: November 15, 2018
Revamped home page
Analytics Plus home page has been completely revamped for easy navigation. 
1. Dashboards can now be accessed with a single click using the preview cards.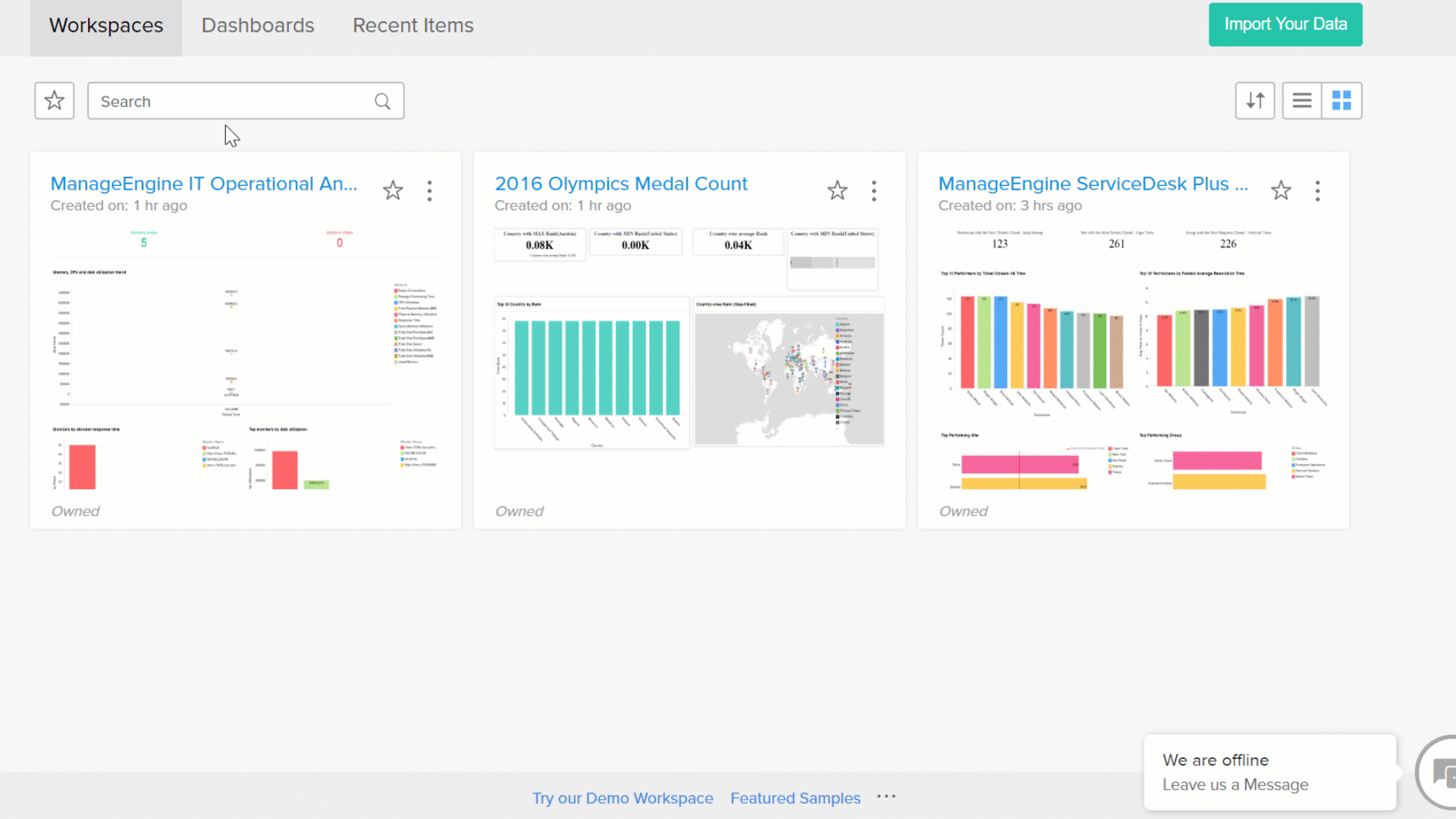 2. The main navigational elements are made bigger and bolder now, with the analytics elements organized into three categories (dashboards, reports & data) for easy accessibility.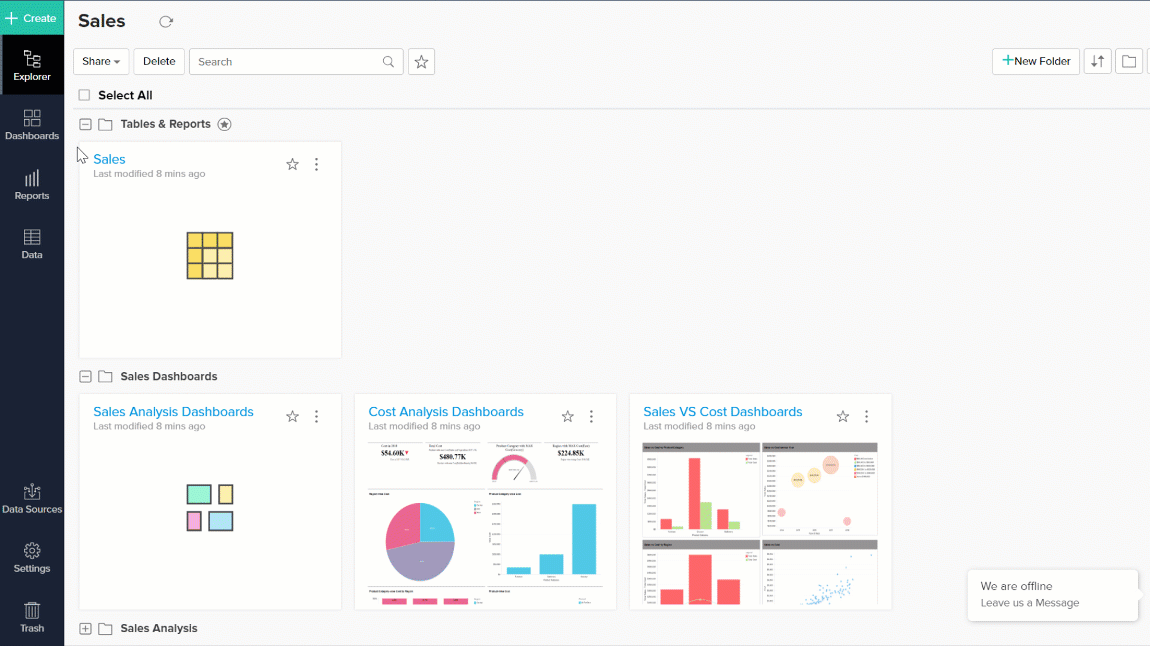 3. Analytics Plus now allows theme customization, enabling you to change the look and feel of the entire application with a single click.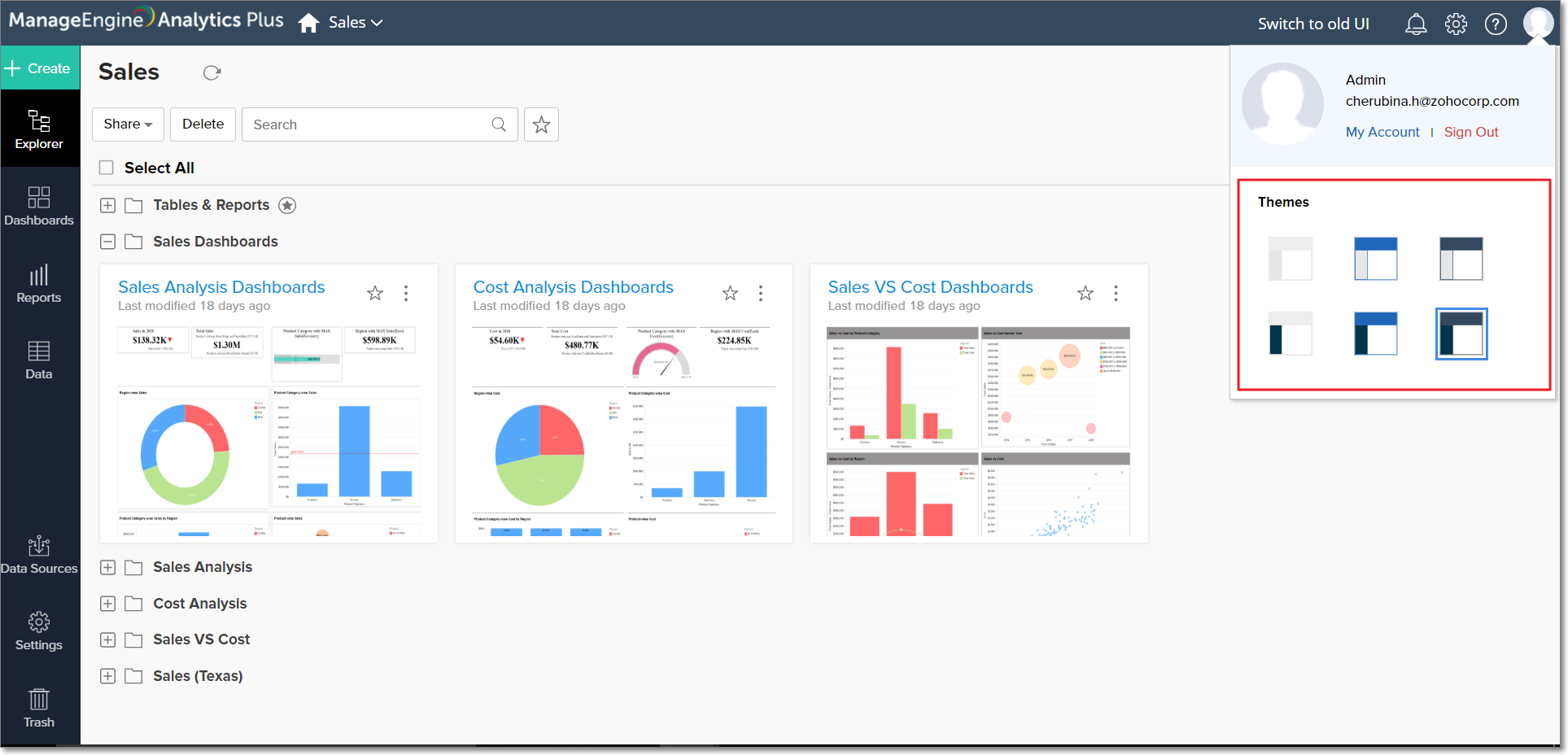 Introducing Report Commenting
Insert comments in your reports and reach consensus with your team regarding key metrics without ever leaving your Analytics Plus console. 
Click here to learn more.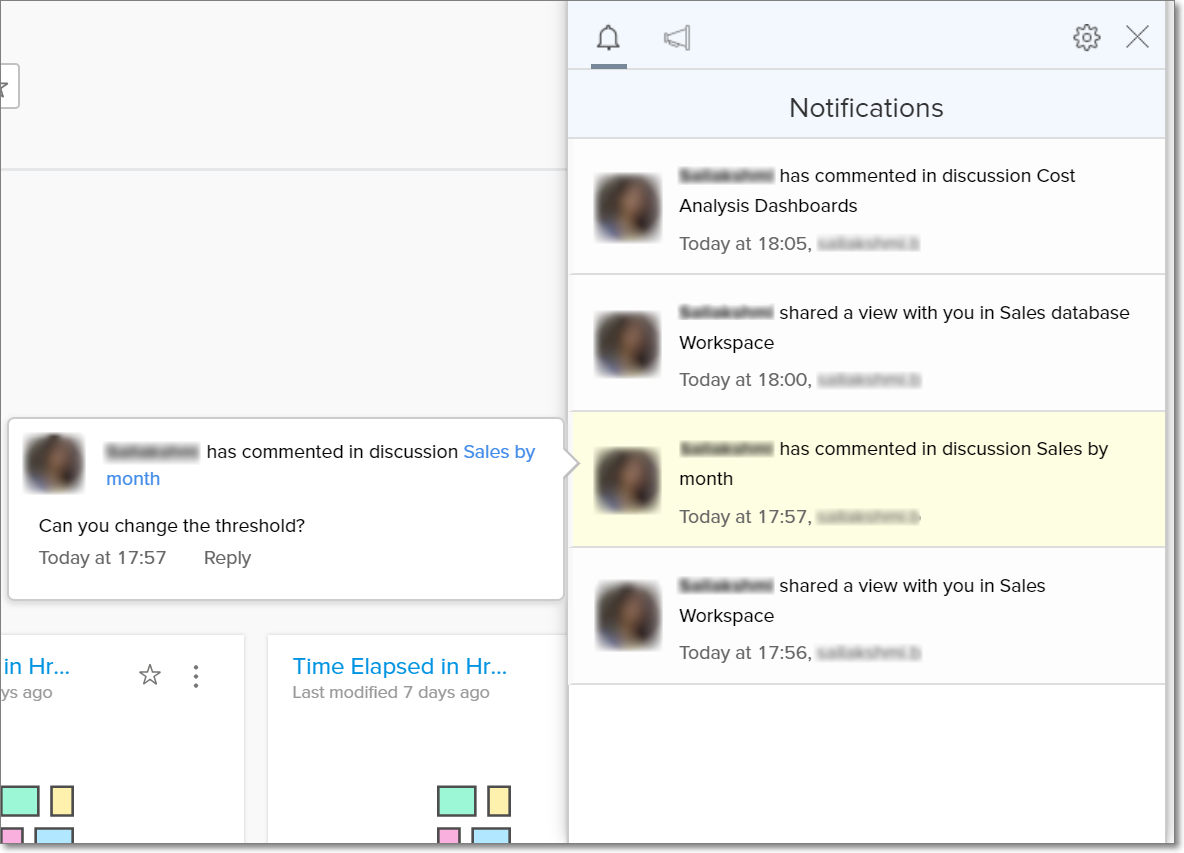 Import data from cloud sources
Analytics Plus now supports importing data from cloud sources such as Google Drive, Box, Dropbox, and OneDrive. Click here to learn more. 

Introducing new themes for dashboards
Analytics Plus has introduced six new preset themes for dashboards. You can now apply specific colors to each element in the dashboard with a single click. 
Click here to learn more.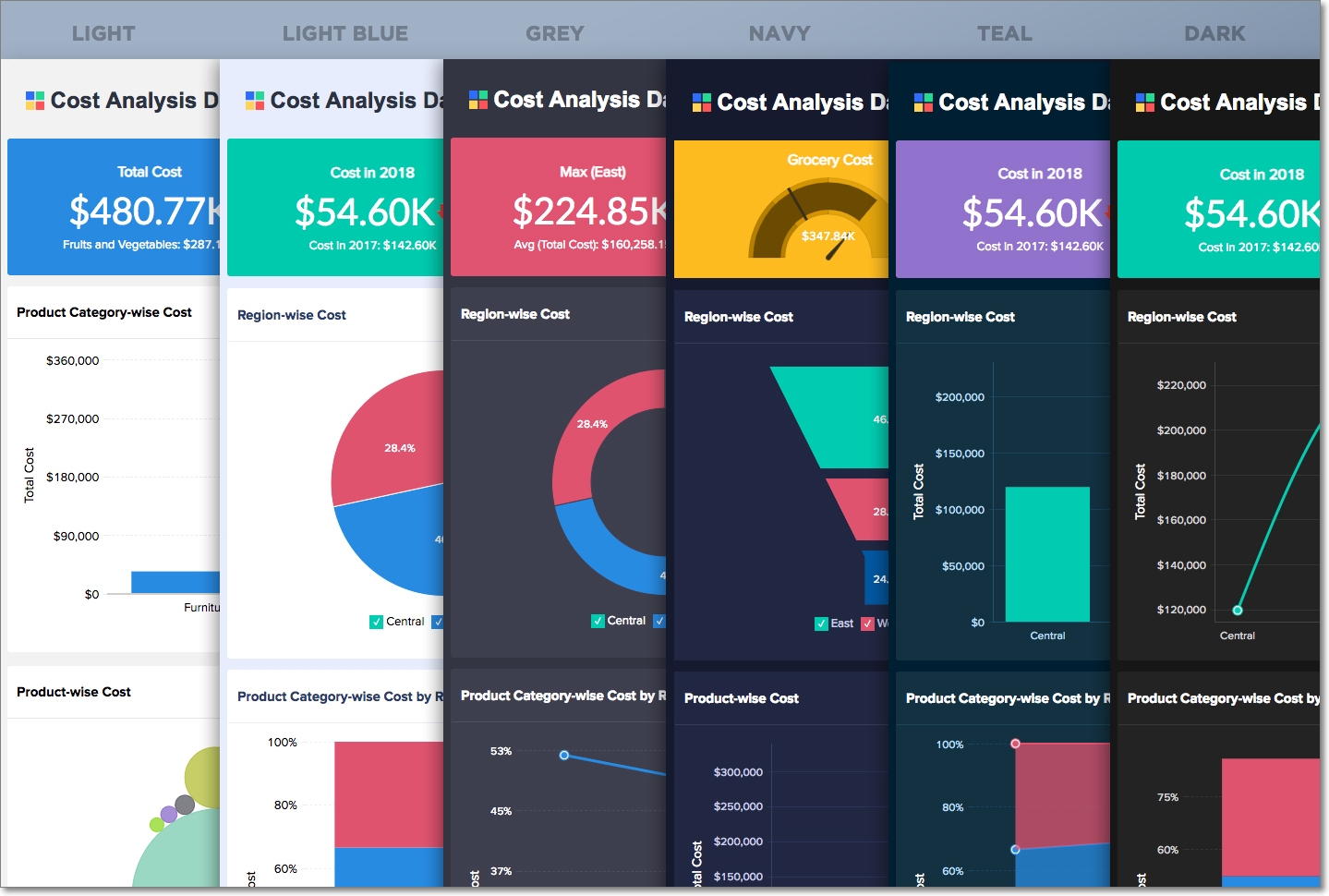 Advanced summarizing functions for pivot table
Analytics Plus now supports the following advanced summarizing functions in pivot table.
% of Row in Group  - Displays the data in each cell as a percentage of the total value, of each row within a group. 
% of Column in Group - Displays the data in each cell as a percentage of the total value, of each column within a group. 
Lookup Value - Displays the data in each cell by fetching value from any of Previous/Next/First/Last cell, based on the Base Field selected.
Click here to learn more.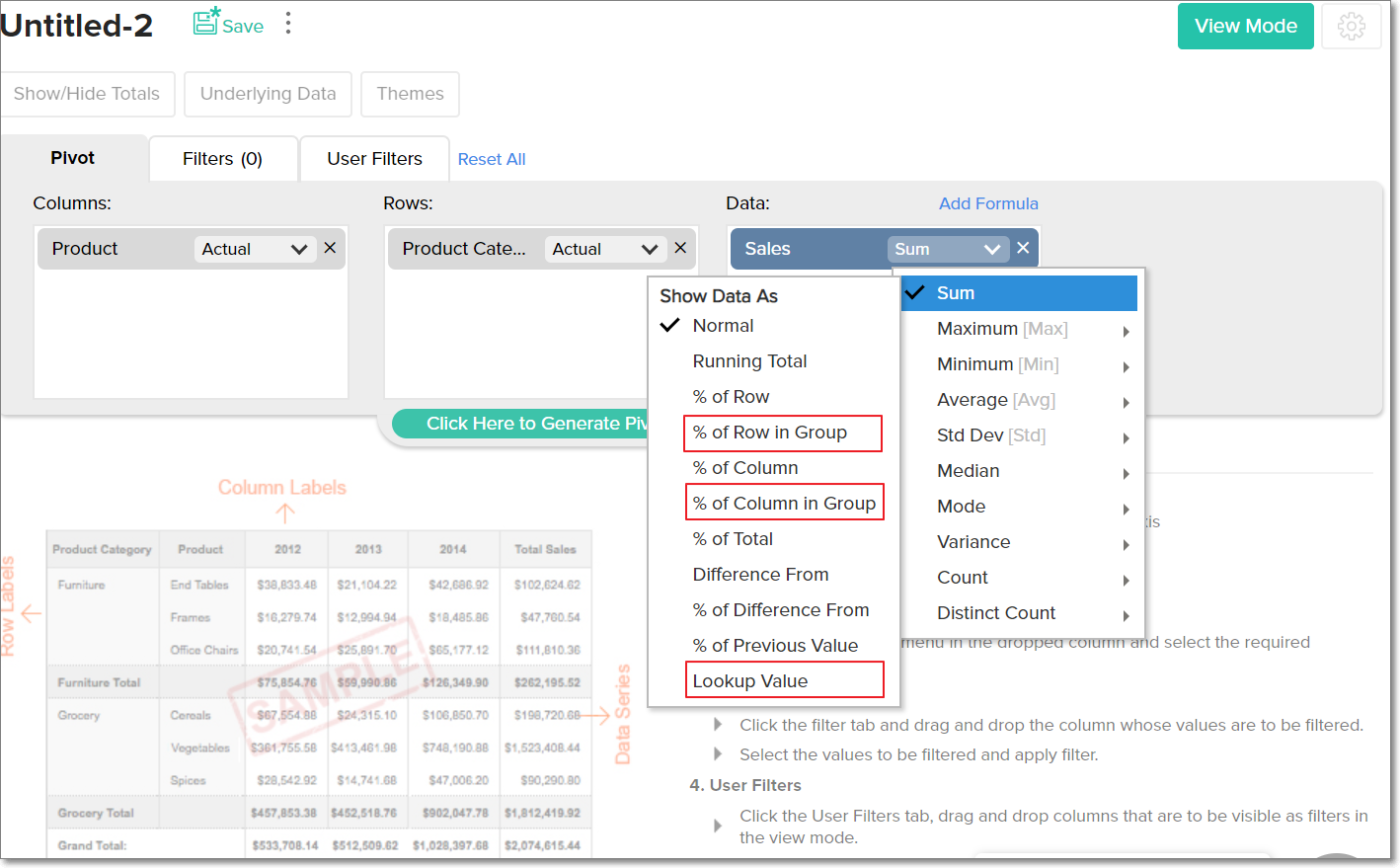 Share selective columns from tables
While sharing tables, you can now exclude columns with personal data to ensure data security and GDPR compliance. 
Click here to learn more.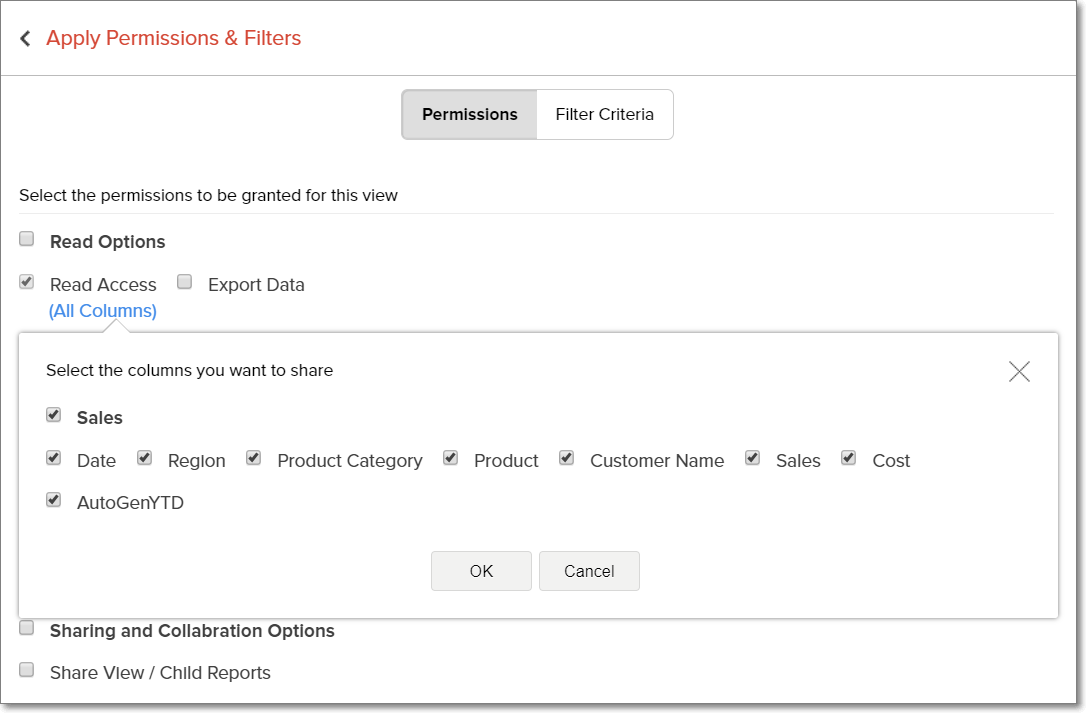 Configure lookup relationships
Analytics Plus now allows you to customize your reports by revising the default lookup relationship between tables used in creating the report.
Click here to know more.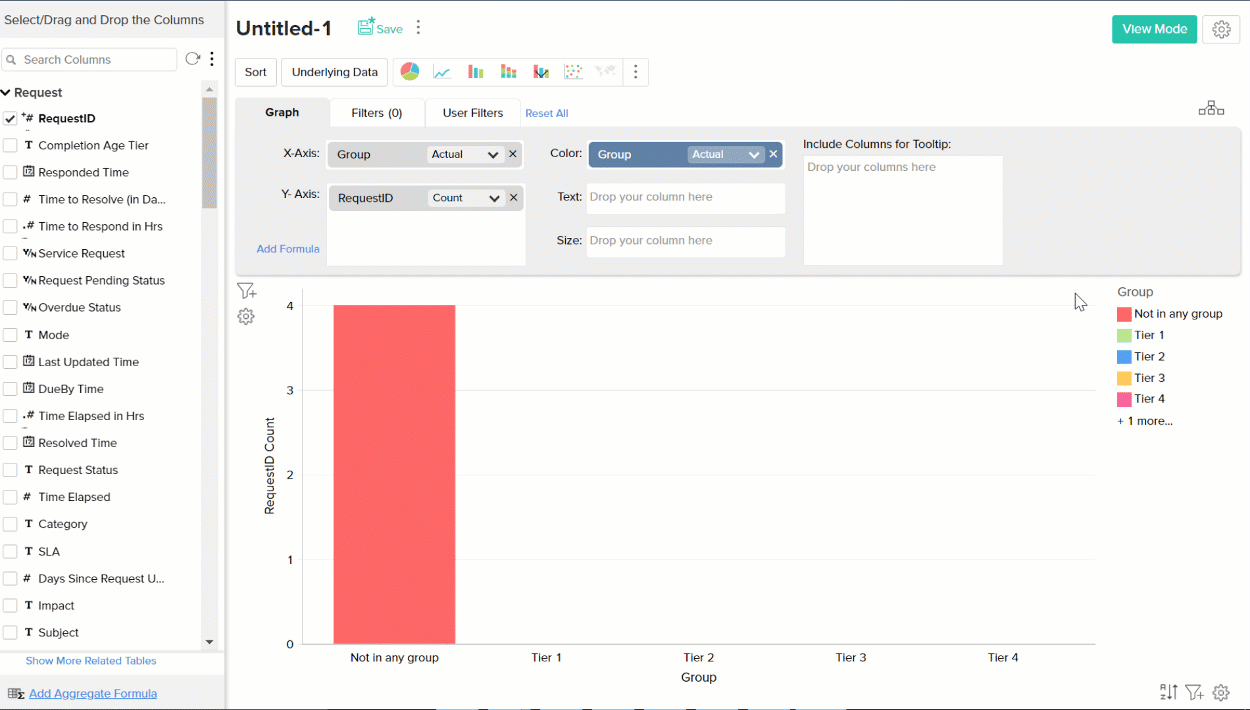 Customized dashboard interactions
You can now enable or disable the following interactions in your dashboard:
Drill Down in charts
View Underlying Data in reports
Sort Menu in grid views
Show/Hide Columns in tabular views
Contextual options menu on hover
Smart Align charts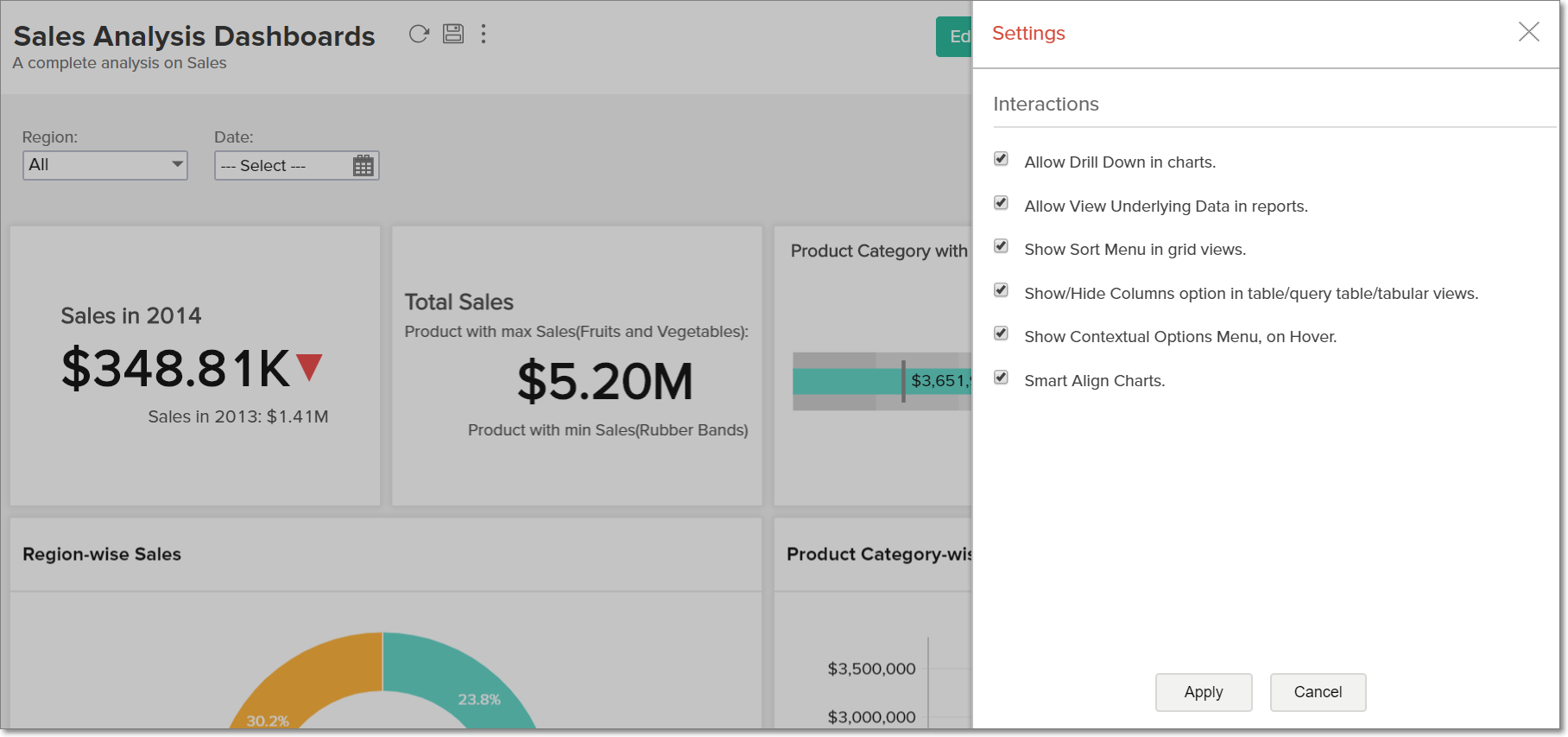 Colored KPI Widgets
Using the new widget color options you can select specific colors for each widget in your dashboard. Click here to learn more.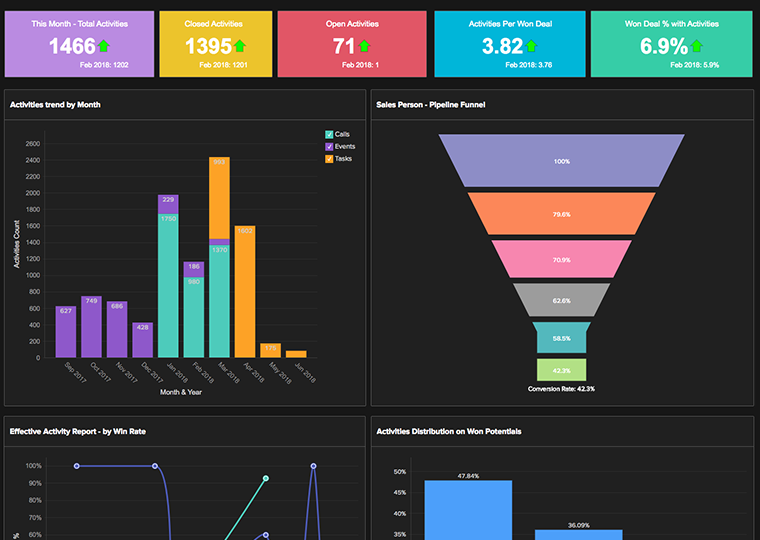 Data Alerts
Analytics Plus now allows you to create alerts and get notified via email or in-app notifications when data points breach a threshold. 
To learn more, refer the Data Alerts section.
Release 3950 - Release date: October 12, 2018
Launching advanced analytics for ServiceDesk Plus' request history, projects, and knowledge base mangement modules. 
Analytics Plus now offers out-of-the-box analytics for ServiceDesk Plus' request history, projects, and knowledge base management modules.
Note: Existing Analytics Plus users should upgrade to Analytics Plus build 3950 and ServiceDesk Plus build 9422 to enable these reports.
Release 3900 - Release date: September 18, 2018
Change in terminology
Henceforth, the Reporting Database will be referred to as Workspace. You can learn more about Workspaces here. 
A Database Owner or DB Owner will be referred to as a Workspace Admin.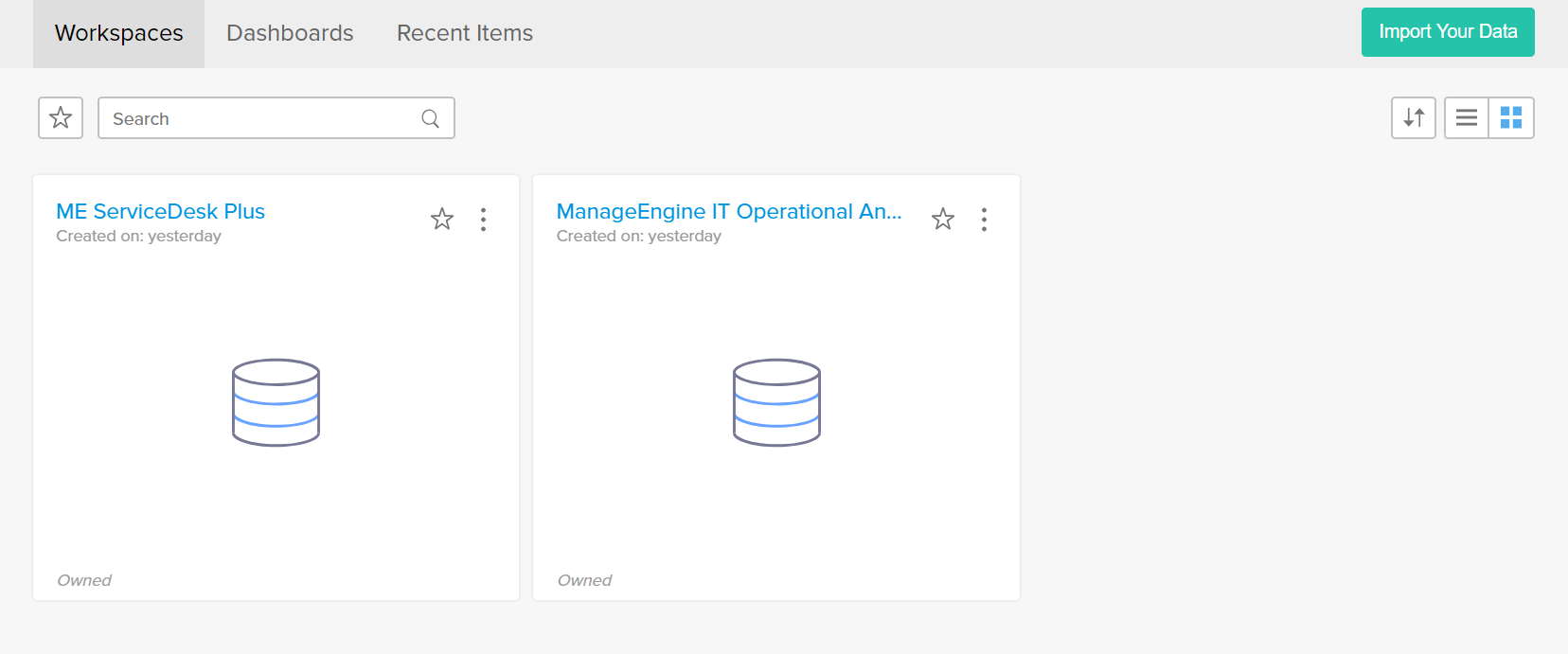 Note: The name change will not affect any existing functionality. If you have any questions, please write to us at analyticsplus-support@manageengine.com. 
Merging User Filters
Analytics Plus now allows you to merge duplicate user filters from different tables as one common filter. The below animation shows the merging of user filters.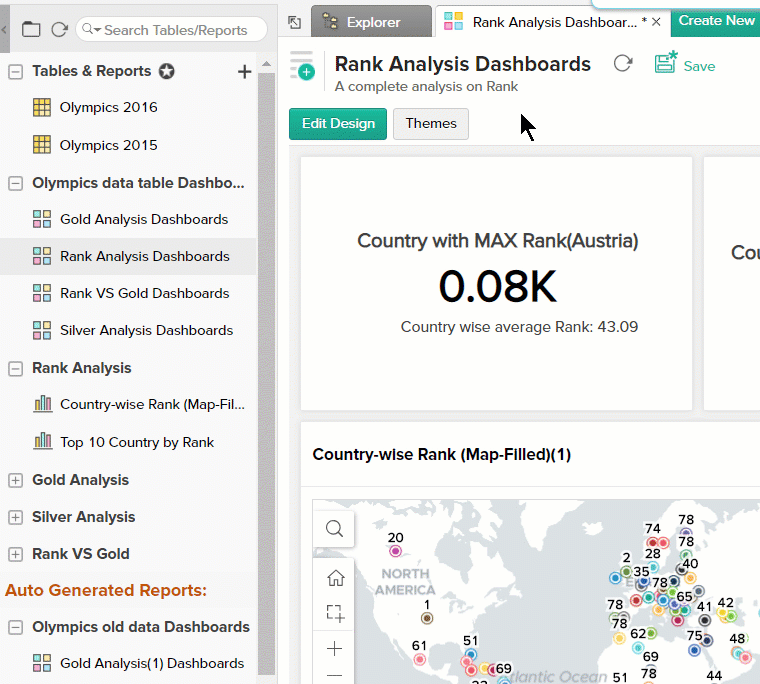 The option to merge user filters comes in handy when you have a dashboard with reports created over common columns (columns with the same name) from multiple tables. Click here to learn more.
Release 3800 - Release date: August 17, 2018
Data Protection and GDPR compliance
Analytics Plus rolls out its next phase of updates in compliance with GDPR. With this update, columns marked as 'personal data' will be excluded during export operations. Users can opt to include these columns manually using the column picker. Click here to learn more.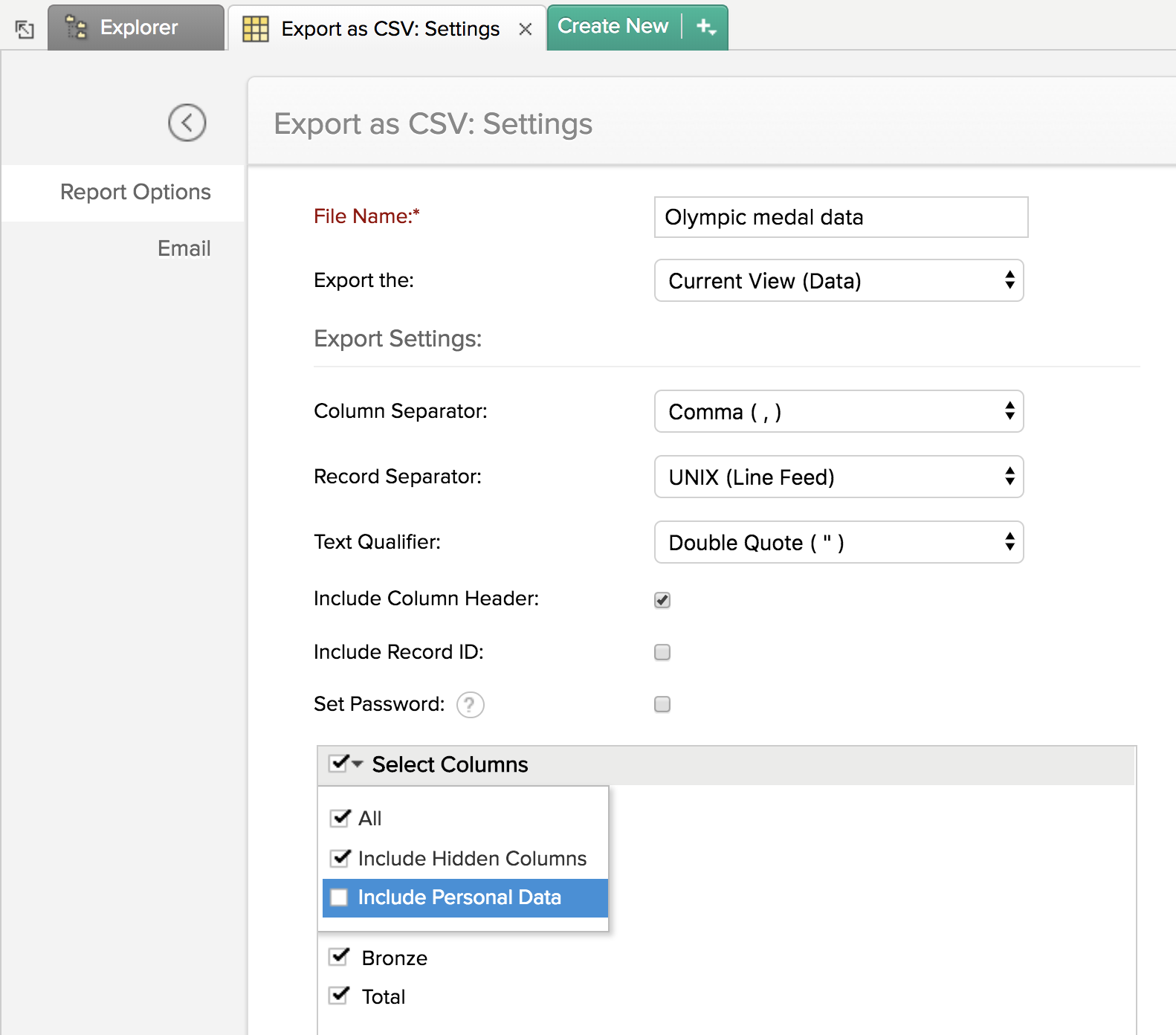 Enhacements in dashboard user filters
Dashboard user filters will now be anchored to the explorer bar to allow users to apply filters to reports from any section of the dashboard. Users no longer have to scroll to the top of the dashboard to access the filters.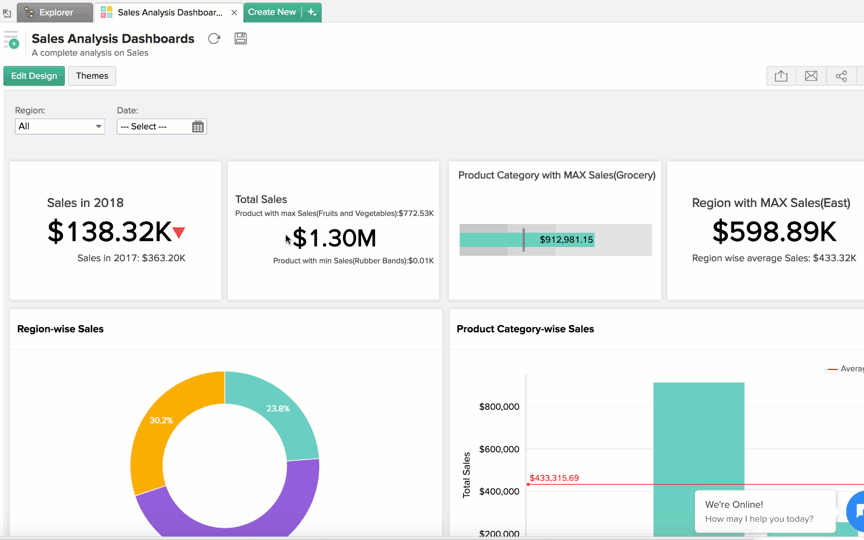 Updated geo location picker for maps 
You can now use the updated geo location picker  to resolve unidentified locations on map charts. Until now, users had to provide latitude and longitude of the unidentified location. Click here to learn more.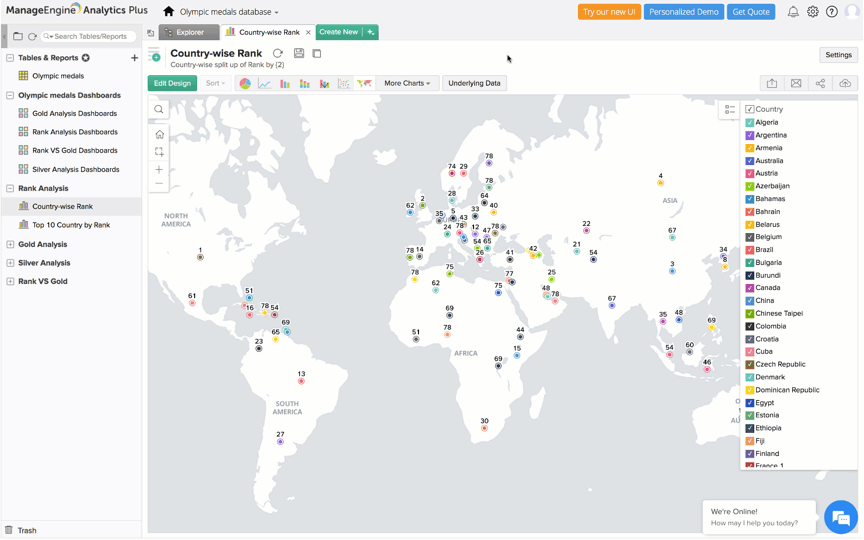 Enhanced data prep option for tables
You can now use the split column option to effortlessly split text-based columns using separators such as comma, space, ampersand, etc., This can be used to extract user ID's  from email addresses, separate first and last names, etc., Click here for more information.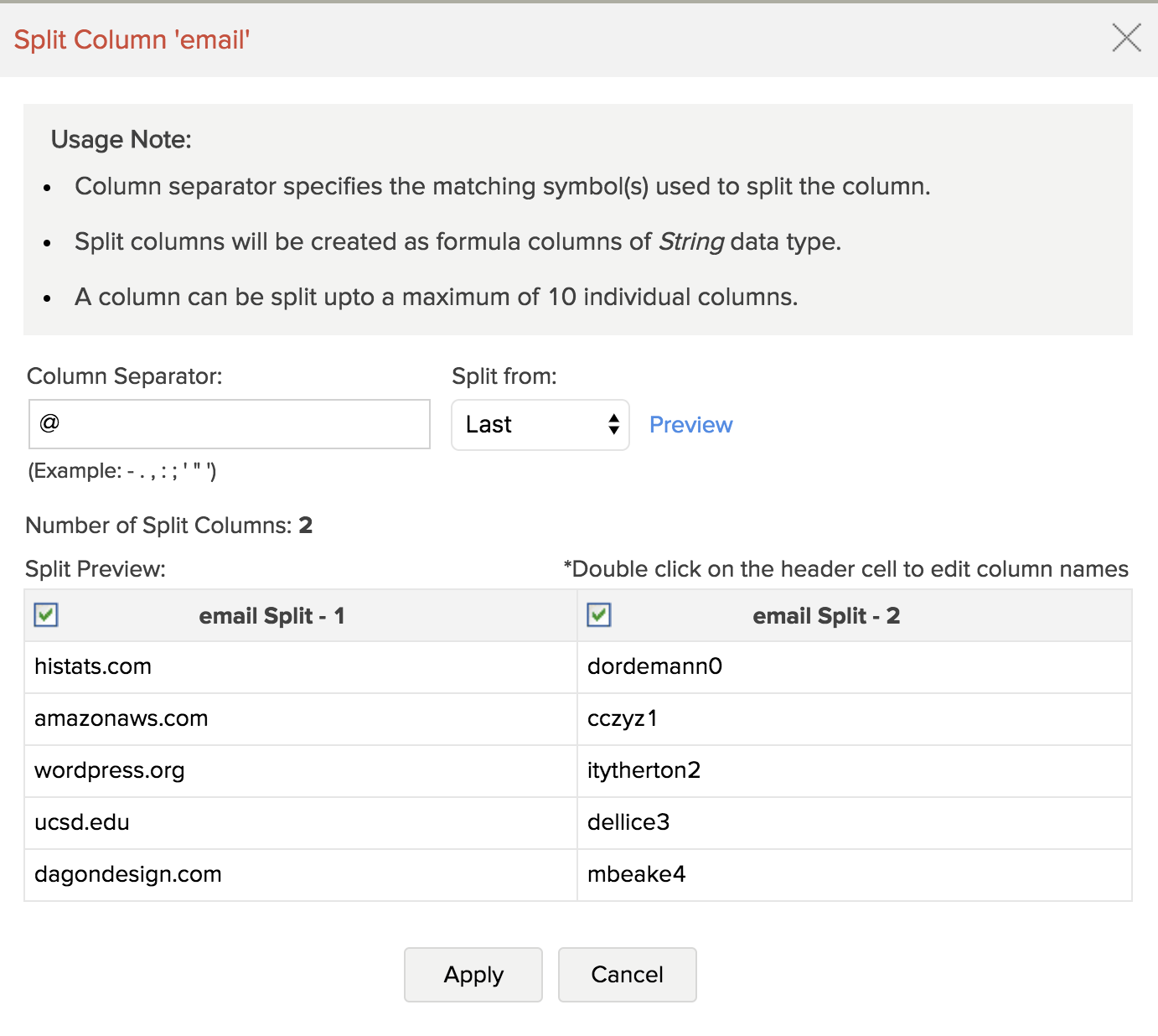 Introducing support for MS Access Database
You can import data from MS access database into Analytics Plus using local drives, FTP servers, cloud drives, and web links of MS Access Database. Click here more information.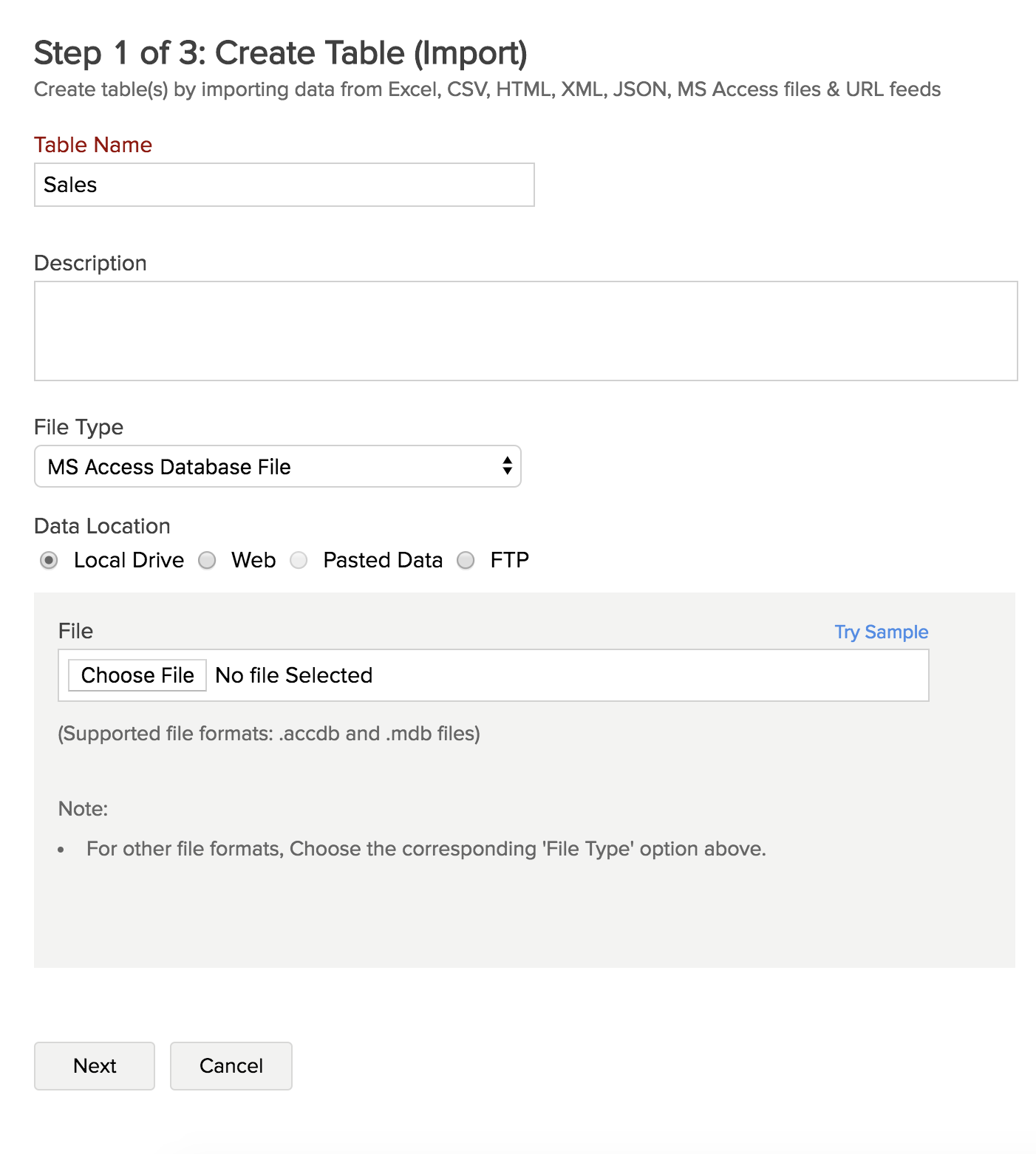 Introducing support for dynamic parameter for web URL imports
With this update, you can pass dynamic parameter values such as current date, time, and current date and time, while importing data from web URLs.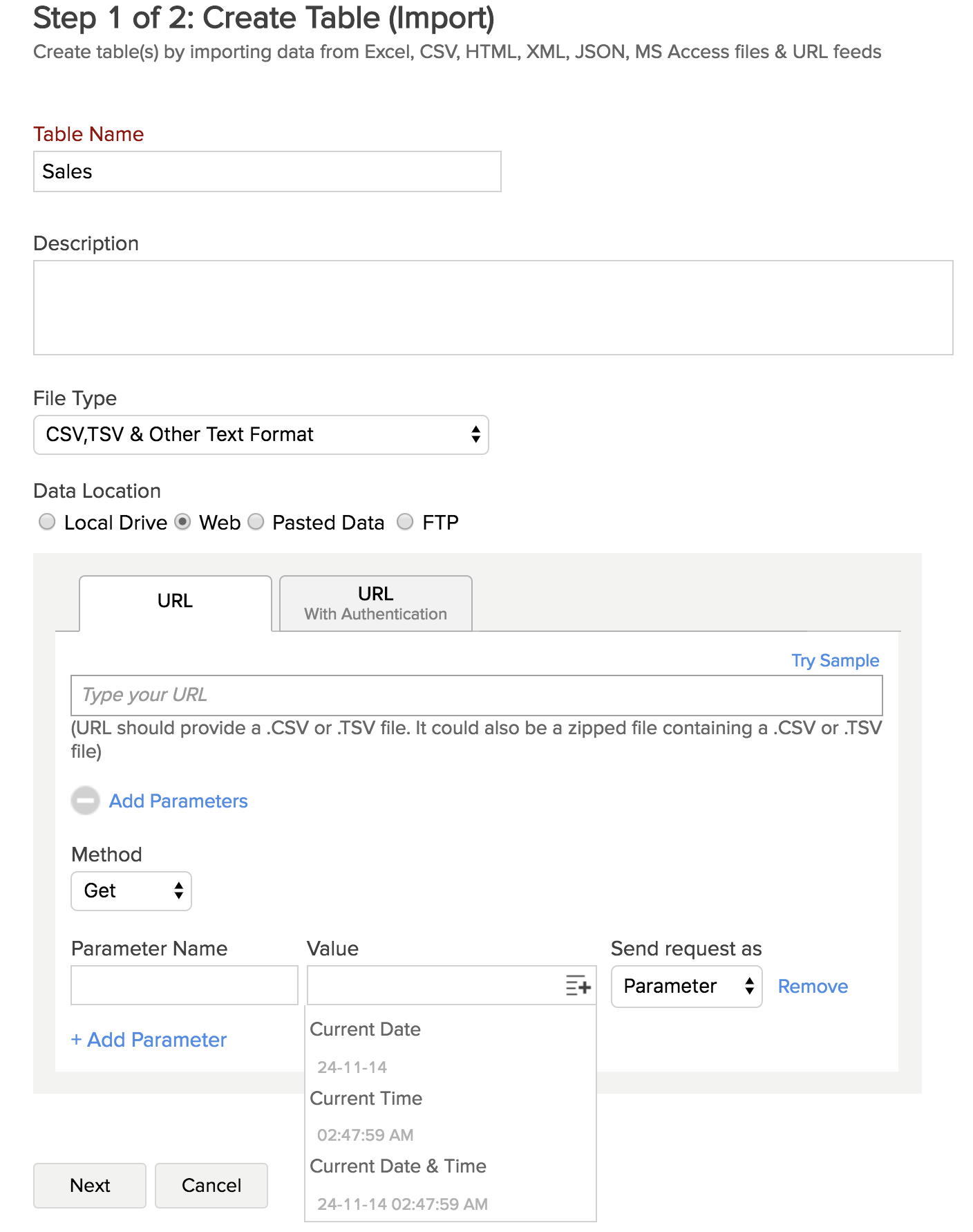 Introducing support for multiple date formats during import
Import tables that have date columns in different  formats. Earlier, all date columns needed to be in a single date format for proper categorization.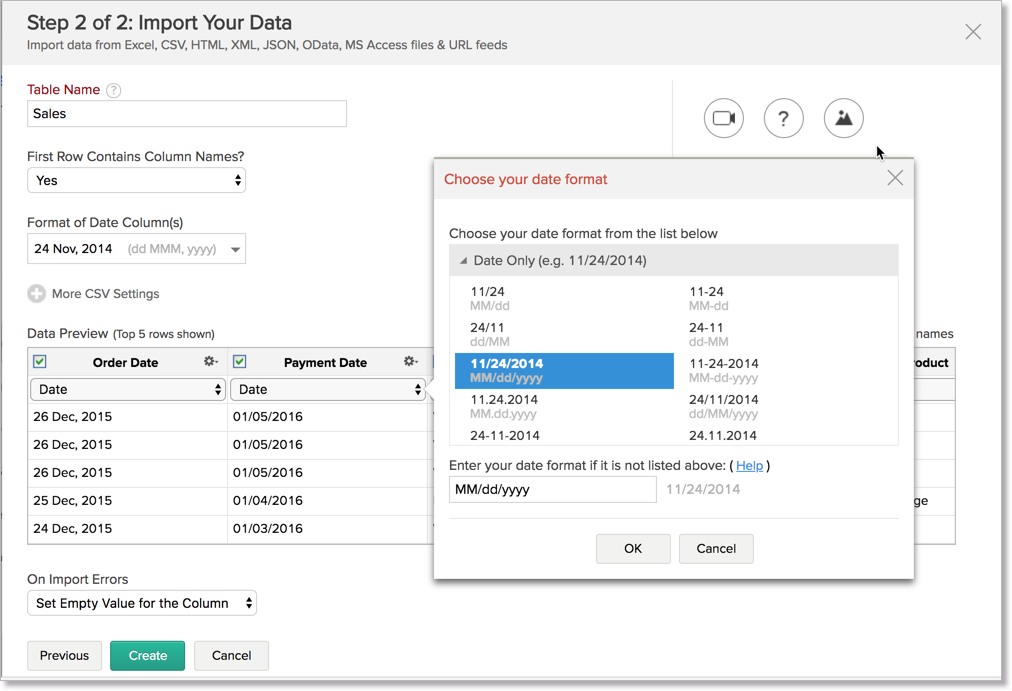 Introducing support for importing data from secured web URL using OAuth authentication
Analytics Plus now supports importing data from web links using OAuth 1.0 and OAuth 2.0 authentication protocol. 
Release 3700 - Release date: June 11, 2018
Data protection and GDPR compliance
With this release, we roll out our first phase of updates to make Analytics Plus GDPR (General Data Protection Regulation) compliant. You now have options to ensure data safety, especially during sharing and collaboration.
Password protection for your exports and email attachments
You can now choose to set a password for files exported or emailed from Analytics Plus. Click here to learn more about securing your emails and exports.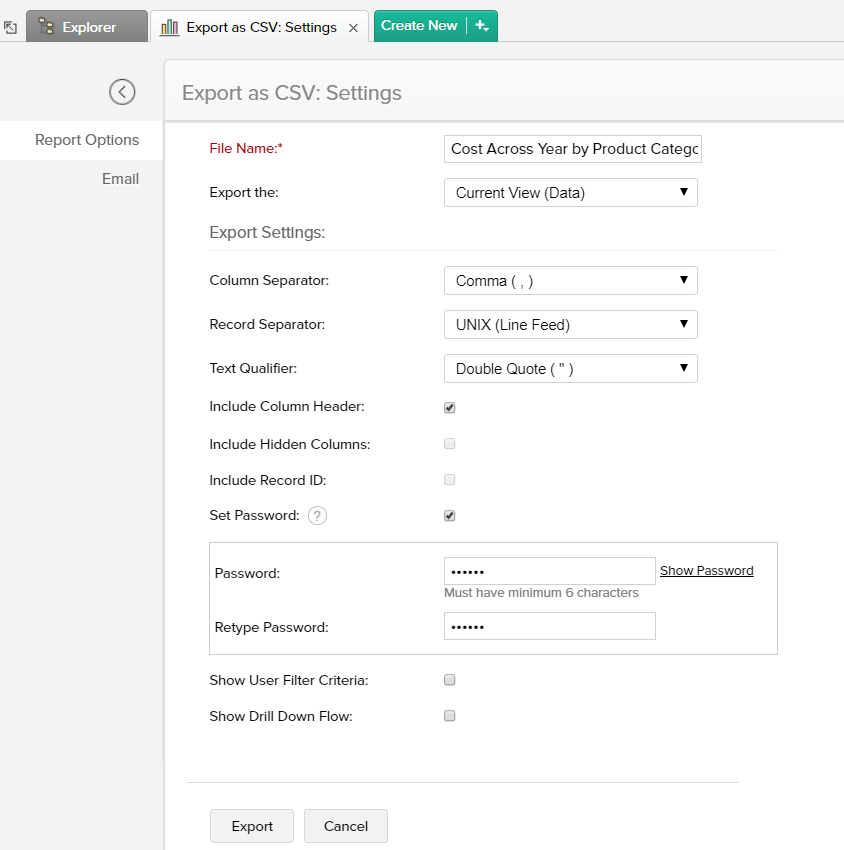 Safely publish your dashboards
You can now safely publish your dashboards and other views using password protection. Click here to know more about protected publishing.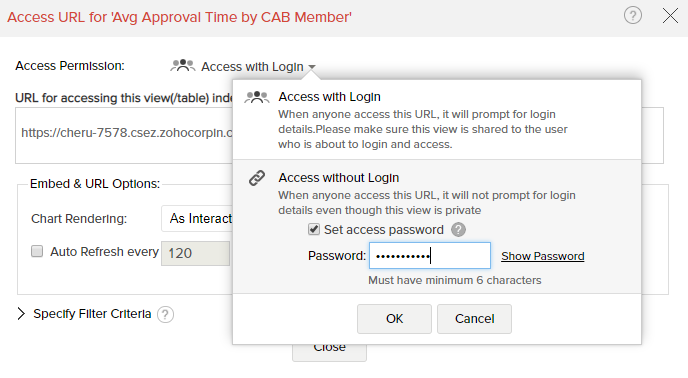 Feature updates
New map chart variants
Map chart now supports three more types: Map - Bubble, Map - Pie, and Map - Bubble Pie. Click here to know more about enhanced map charts.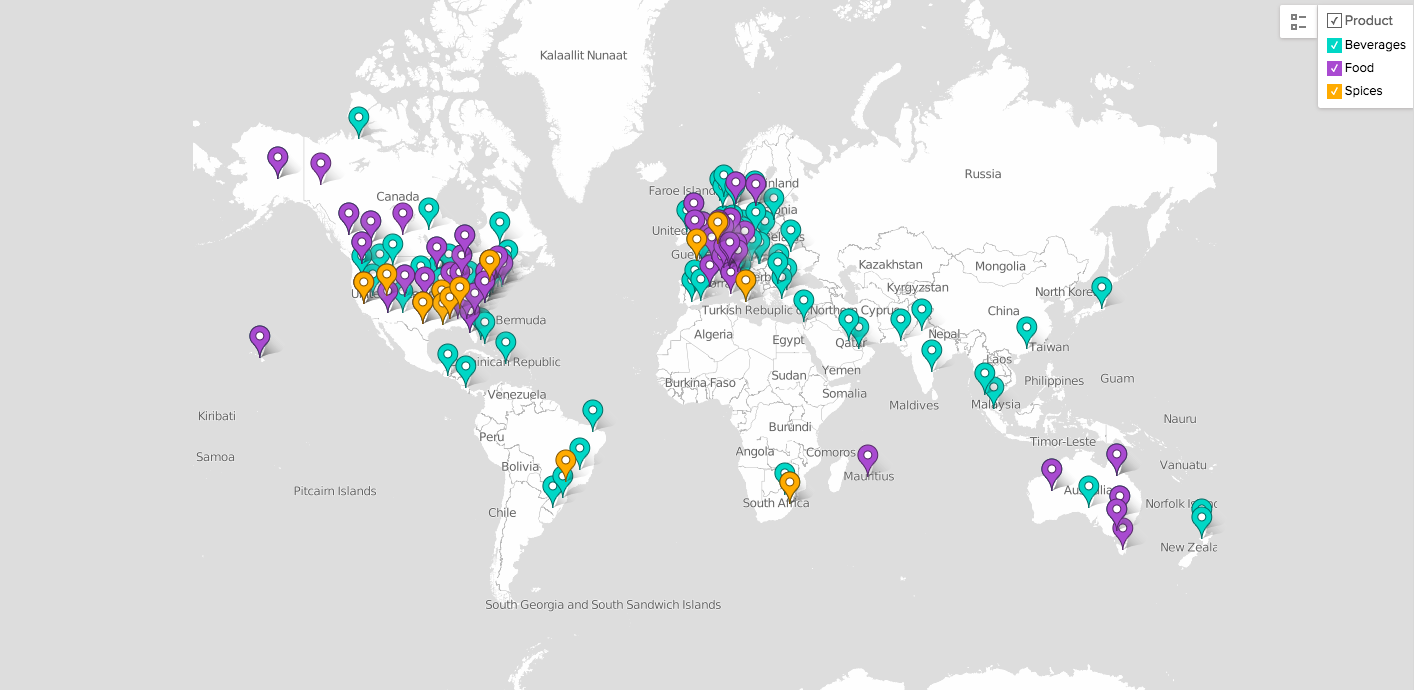 Customize KPI widgets and charts
Analytics Plus provides quick formatting options in KPI Widgets. You can also customize the X axis, Y axis, color, and tooltip components in charts.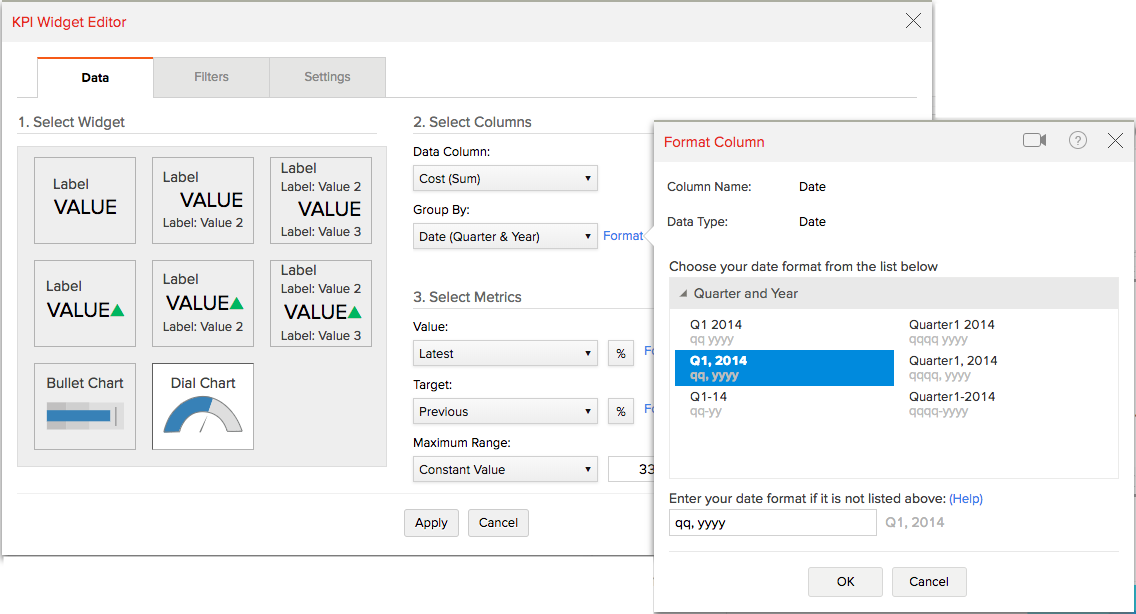 Release 3500 - Release date: May 18, 2018
Introducing a unified data sources page to manage all your data imports
The Data Sources page enables users to view and manage all data sources within the same workspace from a single location. You can view details such as data source, table name, last imported time, and next import schedule. A Sync Now option lets you synchronize the data source on an ad-hoc basis. 
This page can be accessed by clicking on the Data Sources button at the buttom left of the screen. 

Enhanced e-mail scheduler for sharing reports and dashboards
An enhanced e-mail scheduler allows users to schedule e-mails containing reports and dashboards on the last day of the month, as opposed to manually choosing the last date of each month.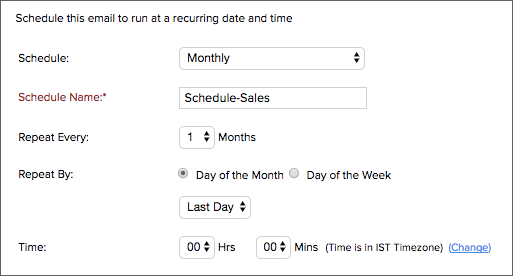 Introducing dynamic threshold for charts 
We've upgraded the chart threshold feature to include dynamic values such as sum, average, minimum or maximum. 
Users can also choose the scope of the threshold - a single threshold line for the entire chart, or multiple threshold lines for each data point in a chart.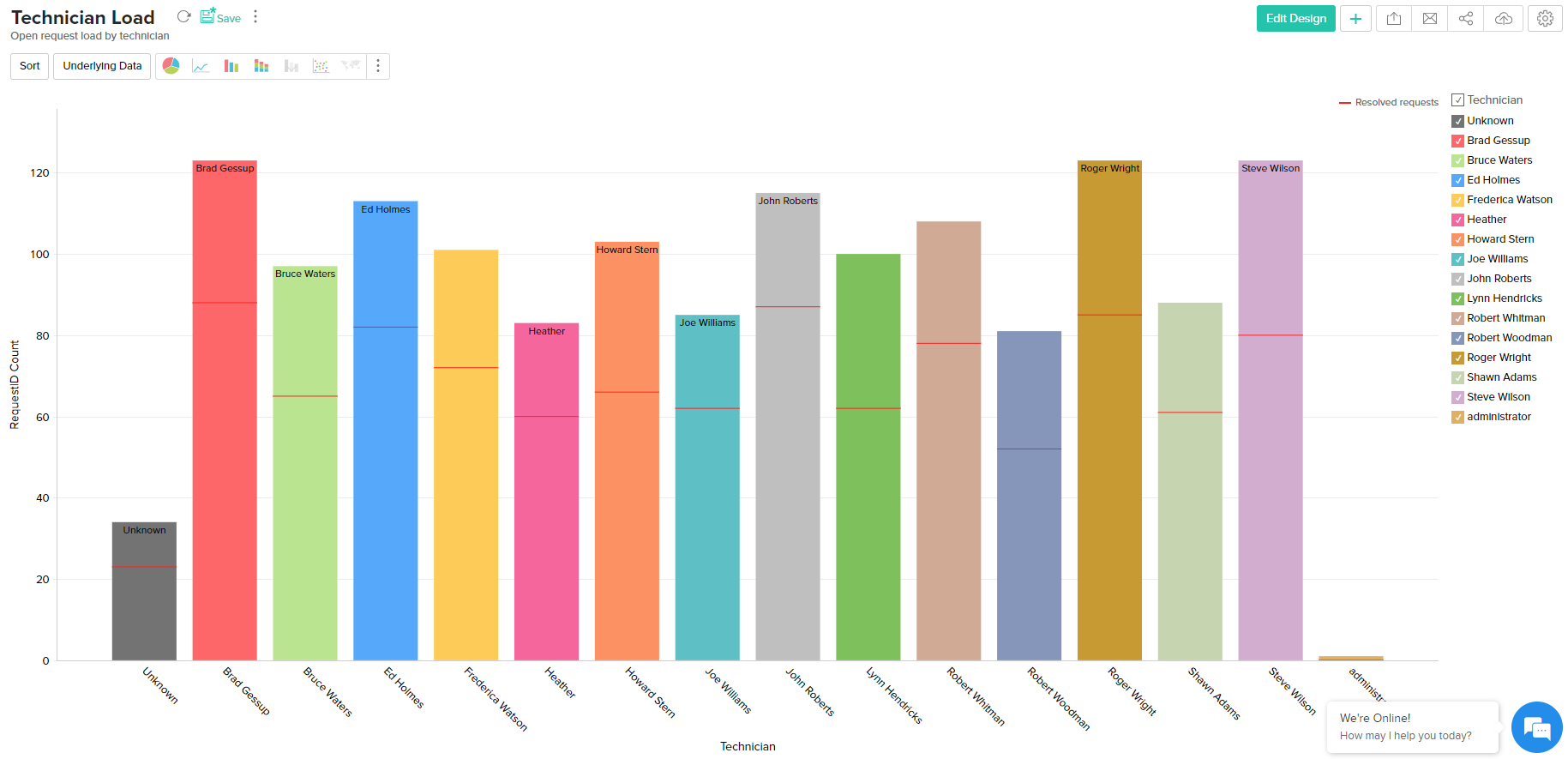 Enhanced grid themes for workspaces
Users can select a common color theme for all tabular views in a workspace. Tabular views include Pivot and Summary reports.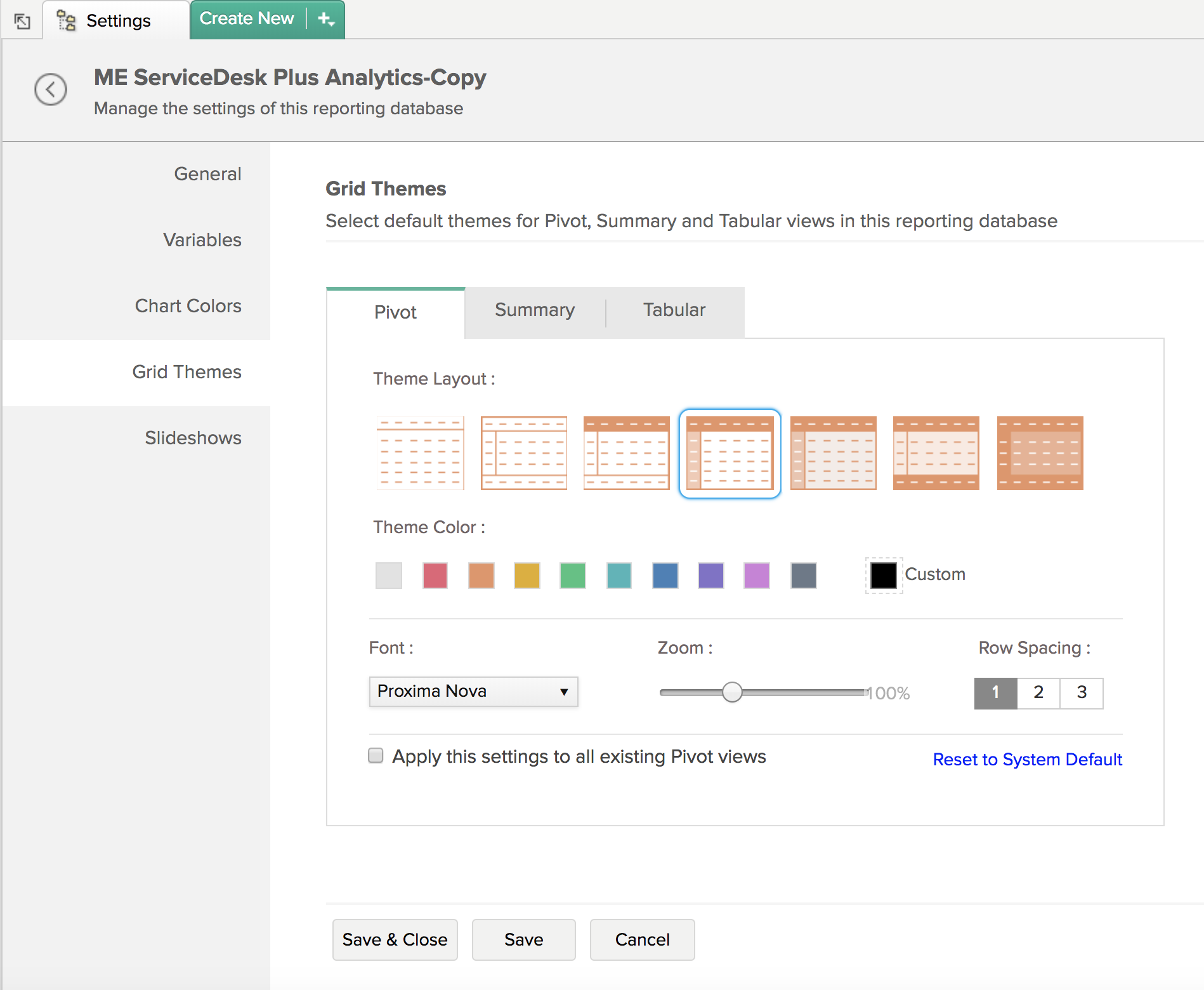 Click here to learn more. 
New UI for 'User Filters' dialog box 
The UI for the User Filters dialog box has been enhanced to help users quickly customize reports to represent derived metrics.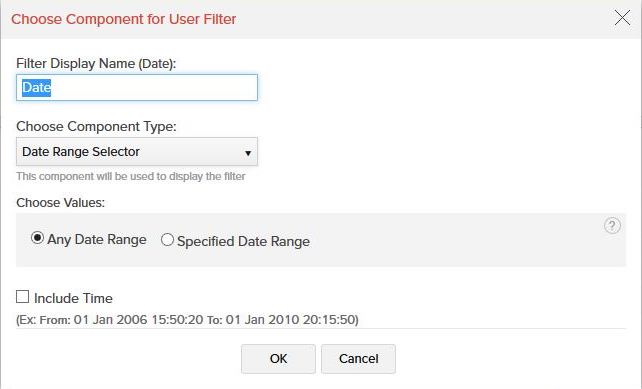 Support for Importing OData feeds
Import  data into Analytics Plus using the weblinks of OData feeds. Learn more.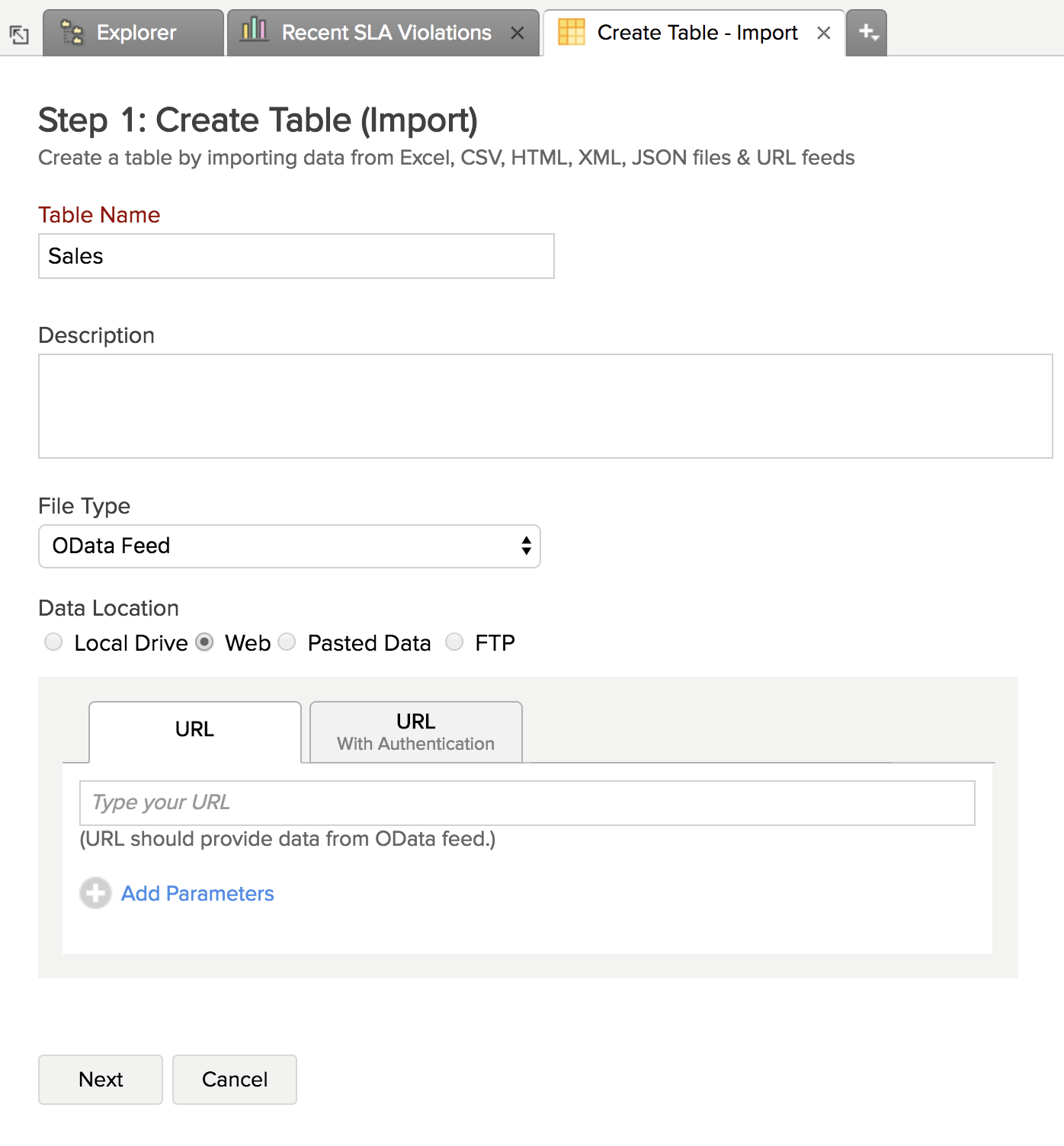 Shortened Embed/Permalink URL 
The Embed/Permalink URL generated for reports and dashboards has been shortened to facilitate easy sharing of reports and dashboards.
Please note that all previously generated URLs will continue to work without any glitch.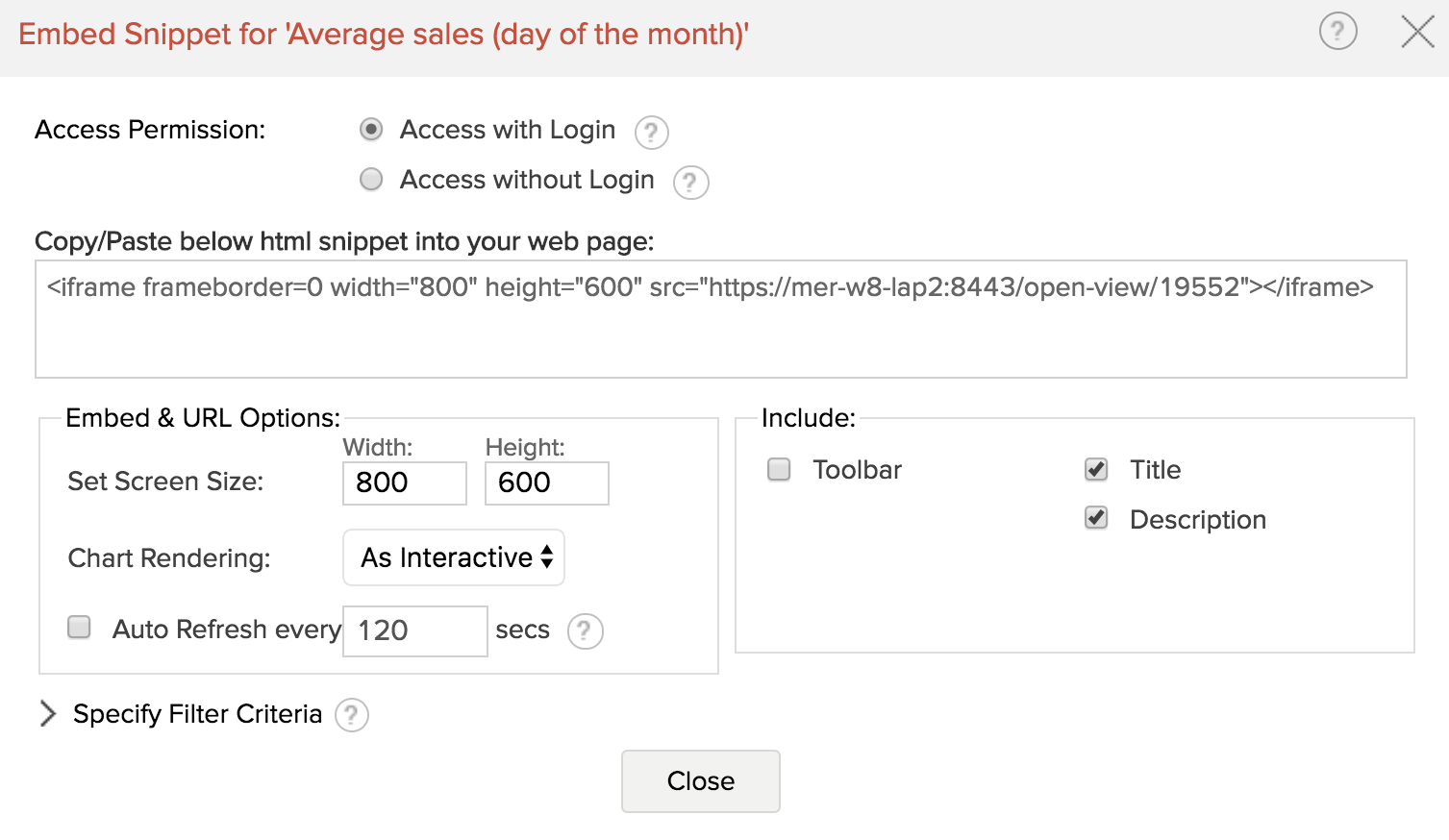 Enhancements in dashboard themes
The new update lets you customize the font style, size, and color for the dashboard title and description. 

Support for filled map chart
Color-code countries, cities or regions on a geographical map based on values in the report legend.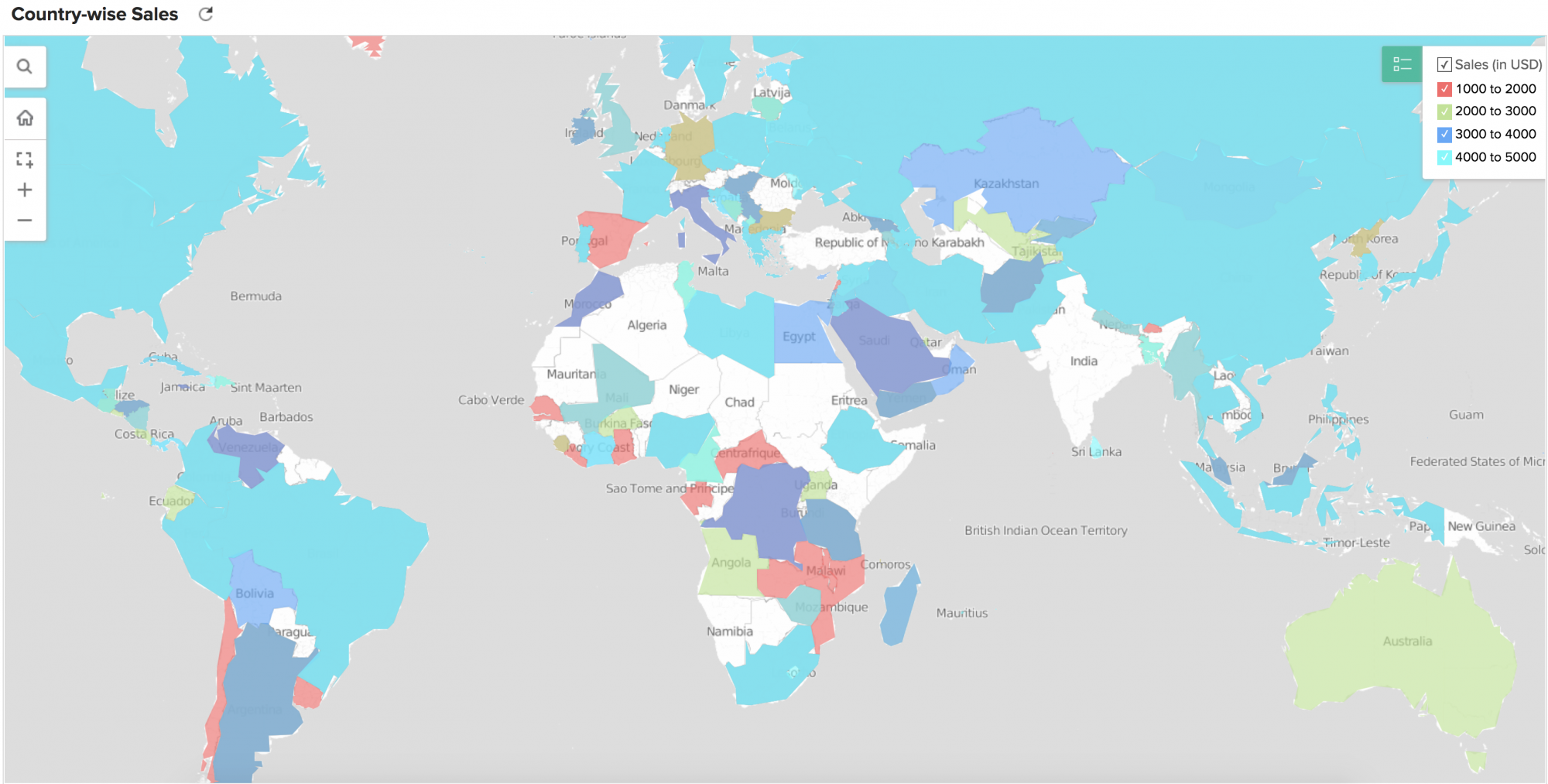 Introducing support for median and mode functions
You can now represent Median or Mode of numeric fields in your reports.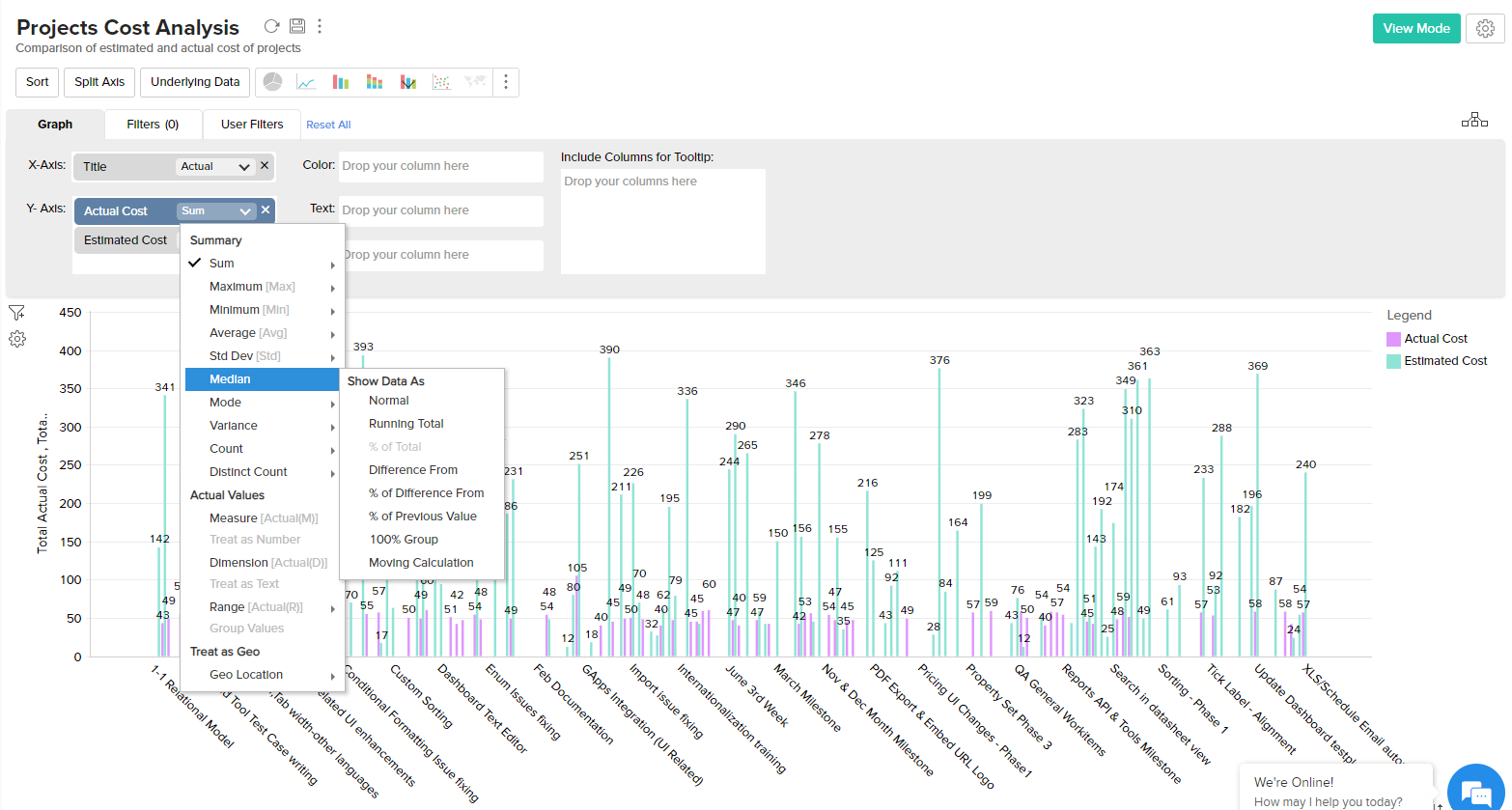 Import data from multiple sheets in an Excel workbook simultaneously
To make it convenient for users to import data from Excel, we've introduced an  option to import data from multiple sheets of an Excel workbook at one go. Each of these sheets will be stored as independent tables in your workspace.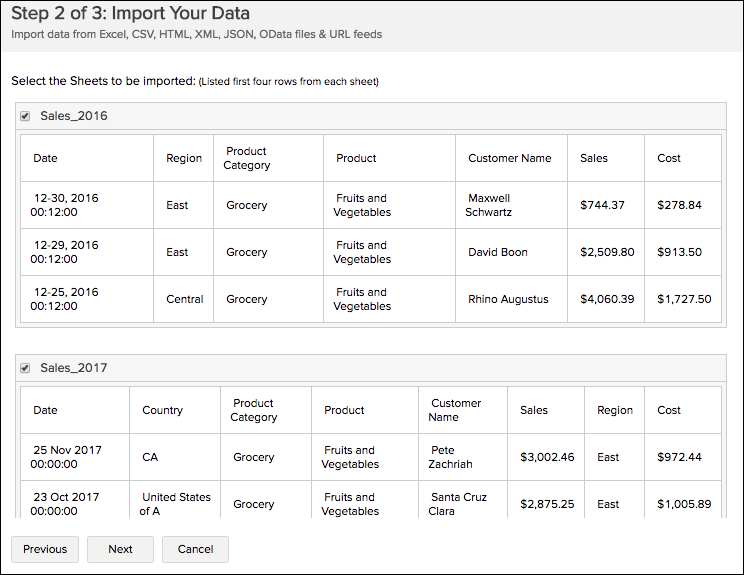 Release 3400 - Release date: March 15, 2018
Support for map chart
Analytics Plus now supports map charts. Your metrics can now be tagged against geographical locations on a map view. The below map chart shows the country-wise split of total sales for Europe. Click here for more information about map charts.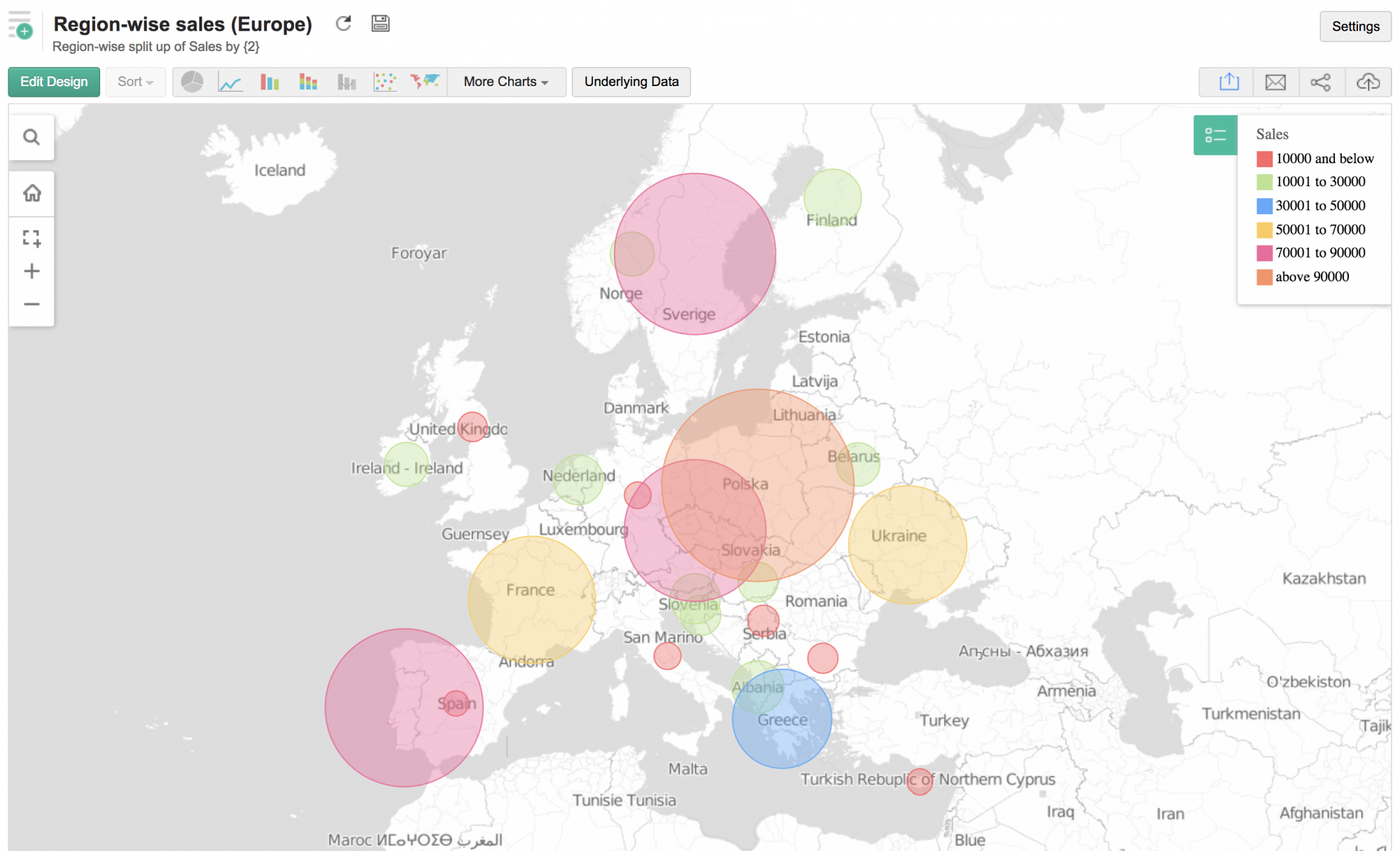 Support for API integration
A wide range of APIs allows you to perform actions such as user addition, export reports, share reports and much more. Click here for more information. 
Support for Windows authentication
Analytics Plus now supports Windows authentication for importing data from in-house MSSQL servers. Click here for details on how to import data from in-house MSSQL servers using Windows authentication. 
Release: 3300 - December 4, 2017
Introducing support for change management module in ServiceDesk Plus MSP
Analytics Plus now supports change management module for out-of-the-box integrations with ServiceDesk Plus MSP.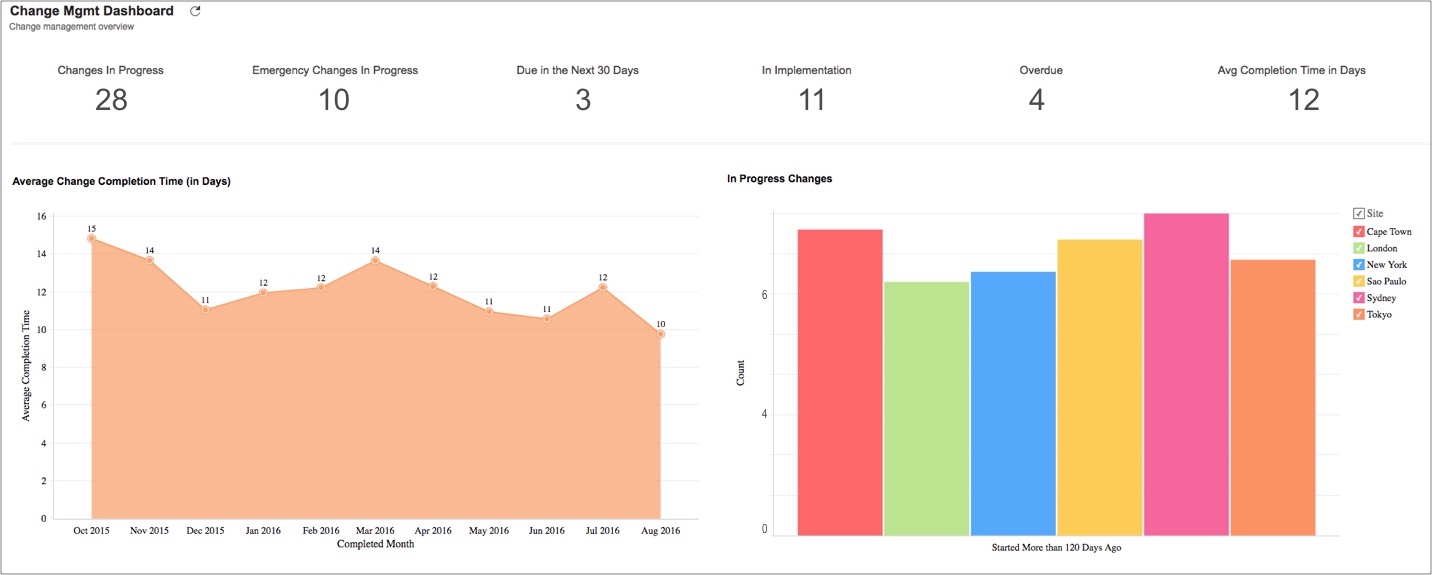 Note: You should be on the ServiceDesk Plus MSP build 9303 or above to get these reports.
Introducing new chart types for widgets
The new version of Analytics Plus supports two new chart types for widgets. 
Bullet Chart: A horizontally inclined graph that lets you compare the performance of a single, primary parameter against a predefined target.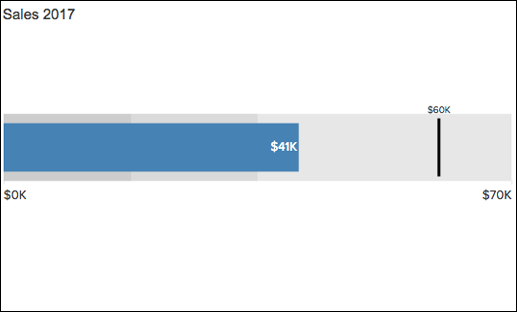 Dial Chart: Also known as a speedometer chart, dial chart is a semicircle featuring numbers at the arc and a needle that represents the real-time count of your metric.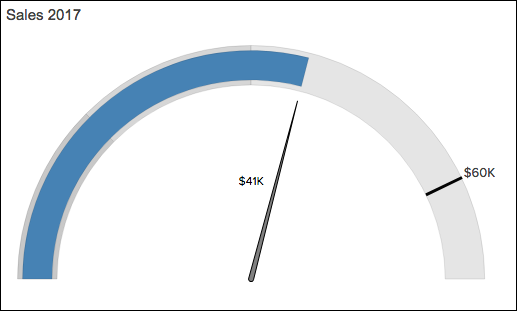 Release: 3250 - October 10, 2017
Introducing a New Gallery Option
The Gallery option features reports and dashboards from the latest Analytics Plus releases. The featured report templates can be copied on to your own database. This feature is only available for the out-of-the box integrations such as ServiceDesk Plus, OpManager etc.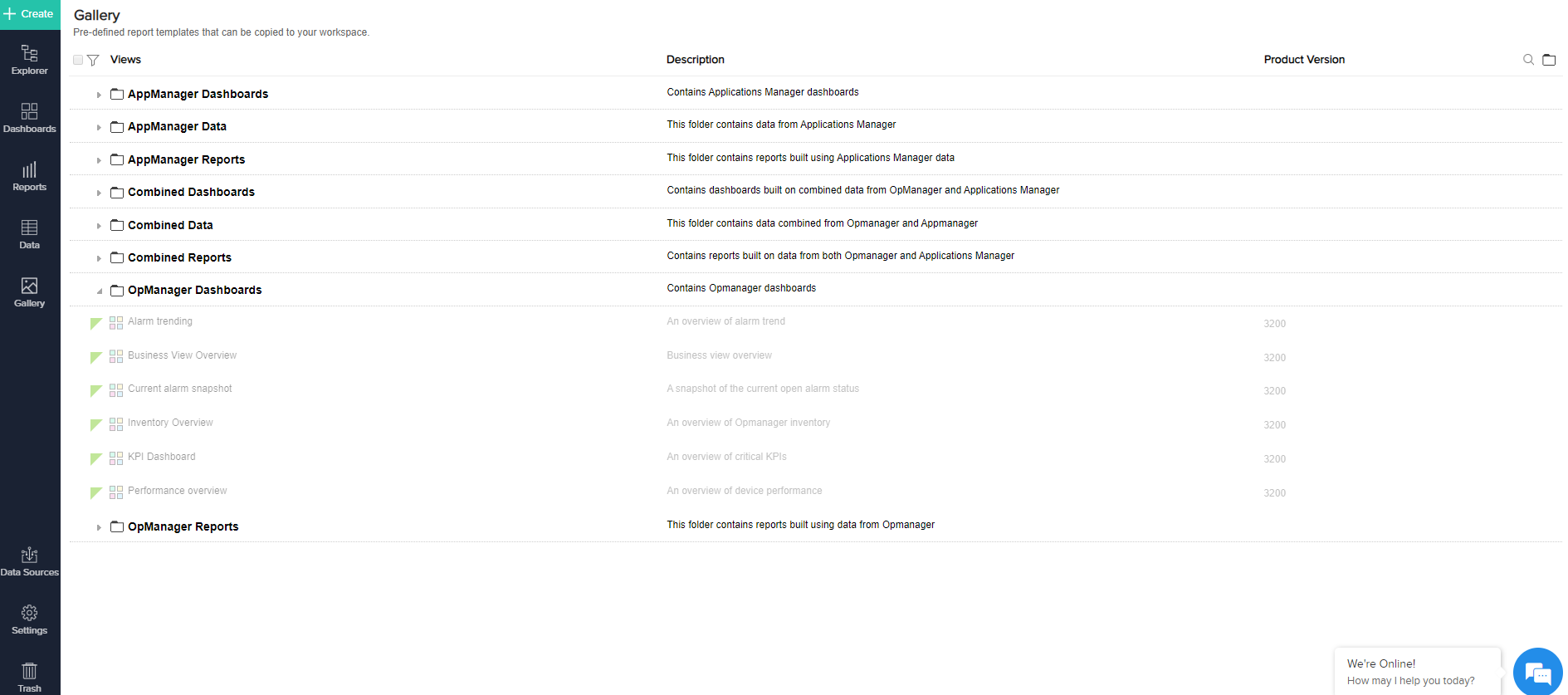 The Gallery lets you preview and copy new reports to your own database: 
- Gallery List View
Filter reports by type, related views, product version, import status and more from the list view. 
- Multiple Import Options
You can import reports from the Gallery, either individually, or in bulk using the multi-select option.
- Report Preview
Use the preview feature to view a live sample before import.
- New Reports
Newly added reports will automatically move to their respective folders and are labelled as "New".   

New Report Alerts
Alerts about new dashboards or reports added to the gallery will now be available as in-product notifications. Users can view new reports or dashboards templates by clicking the notification.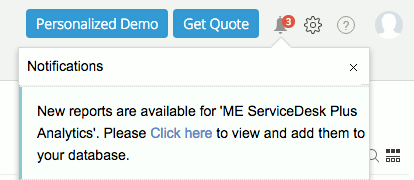 Release: 3200 - August 25, 2017
Homepage Gets a Facelift with all Import Options in a Single Page
Now you can see all the import options in a single view, unlike the older version where you had a running banner displaying multiple import options.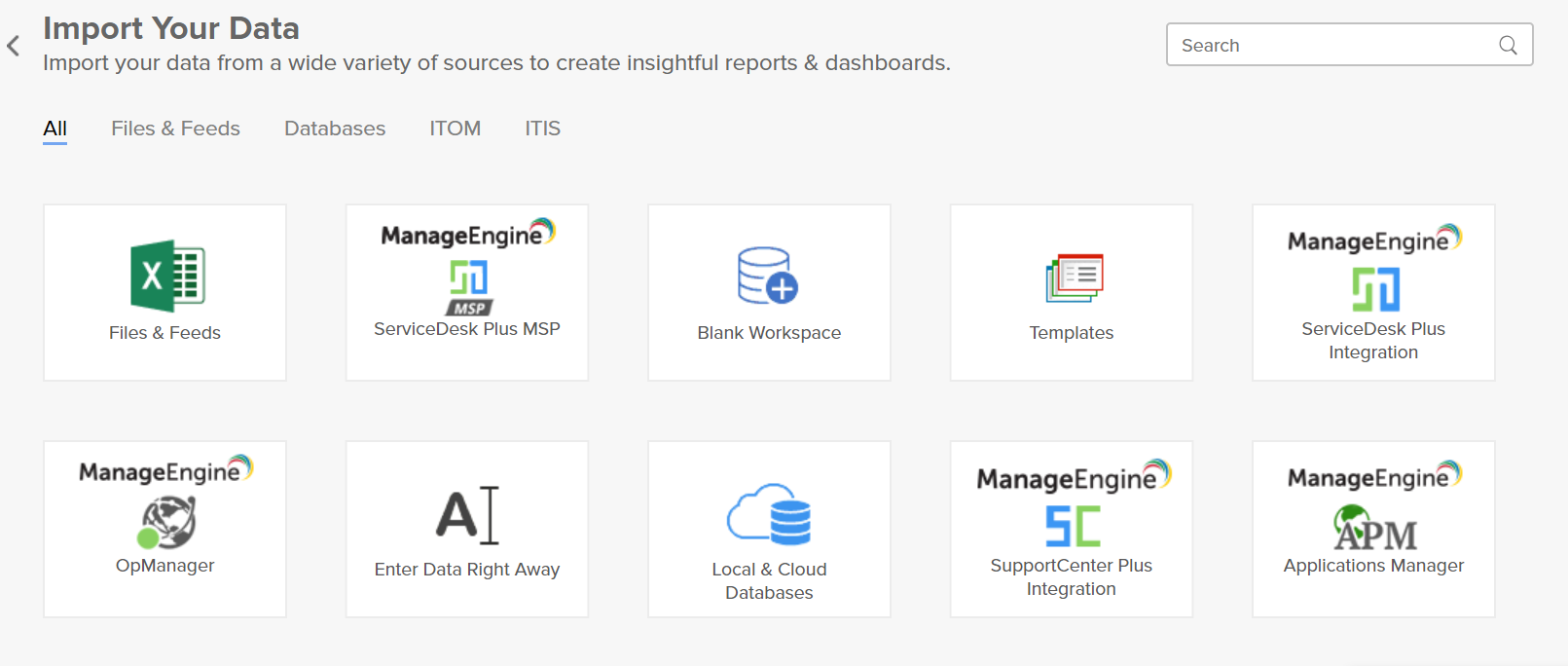 Support for Packed Bubble Chart
Analytics Plus now support packed bubble charts. This chart is similar to the bubble chart except that the bubbles are all tightly packed together to make efficient use of space. Size of each bubble represents the values it represents. 
Enhanced Chart Chooser for Dashboards
An enhanced Chart Chooser dialog box not only displays all your chart options but also lets you switch between charts real fast. 
New "Edit" Option in Explorer
You can now use the new Edit option  in the explorer window to launch reports in the edit mode directly. 
Note: This option is not available for tables. 
Improvements in scalability
We've made scalability improvements to increase the efficiency of the application. For example- older versions supported export of only up to 1 million cells at a time, but the new version lets you export tabular views with up to 3 million data cells, at one go. 
Enhancements in Chart Colors to Include more Colors
The Chart Colors option introduced under database settings lets you pick your chart colors from the custom color palettes, where you can choose amongst solid, monochrome or gradient color options.
New UI for Edit Email Schedules
Make changes to your scheduled emails easily with interactive icons for edit, delete, pause and send now options. To use this feature, click on the email icon at the top right corner of your report and opt for Edit Email Schedules.    
Data Import – Support for Google Cloud SQL and Heroku PorstgreSQL
The new update extends data import options to include Google cloud SQL and Heroku PorstgreSQL cloud databases. To import data using these databases, use the Local & Cloud Databases tile on your homepage.  
Enhancements in the Lookup Feature
We've made some changes to the Lookup Column feature to enhance its usability. 
Lookup column over another looked up column: You can now configure a cascading look up. The parent column that you are looking up can in turn be looking up another column from a different table. This is equivalent to using multiple JOINS in an SQL statement.  
Specify data types for the lookup column: Up until now, when you configure lookups, the child column inherits the data type of the parent column. With new update, you can now pick a different data type for the child column from a drop-down menu. 
Support for default and mandatory Values: You can now specify default and mandatory values for a lookup column in the Edit Design window.
Enhancements in Mouse-over Effects for Charts
Hovering your mouse over sections of the report highlight the corresponding value on the legend.  
Improved View Underlying Data Feature for Related Tables
The View Underlying Data feature in Analytics Plus has been updated so that you can now toggle between data from related tables. Earlier, this feature only supported individual tables. So, if you had a report created using data from two related tables, and wanted to view the underlying data, you could only see the tables separately. But now, you could view the individual table in addition to the related table. 
Note: By default, when you click the View underlying data option, you get the base table joined with columns from the related table. You could always select the individual table separately to view data from that table. 
Before this update:
Below is a screenshot from the older version, that shows how you could only view underlying data from individual tables, i.e., tasks and request.  
After this update:
This screenshot shows how you can view data from the individual table as well as the related table, i.e., tasks and related tables, and request.  
Release: 3100 - March 9, 2017

Enhanced Formula Editor with Suggestions
Analytics Plus formula editor has been enhanced to support features such as keyword highlights, suggestions, error messages etc.
In this update the following features have been supported:
Suggestion: Provides you possible suggestions as you type your formula.

Keyword Highlight: Highlights the keywords in the formula for better readability and understanding.

Warning/Error notification: Displays intuitive warning in the case of inaccuracies or errors in formulas.
Click to learn about creating formula columns.
Introducing Variables Feature in Analytics Plus
Analytics Plus has introduced a new feature called Variables. Variables are placeholders that helps database owners assign dynamic values for individual users of the database.
You can use these variables as a part of the Sharing filter criteria to filter reports dynamically based on the user who has logged in. You can currently use variables in Sharing Filter criteria. We plan to support variables in features such as user filters, formulas etc. very soon.
You can create and manage variables from the Variables tab in the Settings page.
Click here to know more.
Support for Bubble Charts
Analytics Plus now supports Bubble Charts. These charts are useful to visually represent values based on the size of the bubble. You can use a bubble charts instead of a Scatter plot, where scatter points are replaced by bubbles. The size of the bubble will be determined by the field placed in the Size section of the chart designer.
Support to Set 'Column Width Ratio' while Exporting as PDF
Analytics Plus now gives you options to set the column width ratio while exporting any tabulated report (Pivots, Tabular View and Summary View) as a PDF. You can choose to either export the report with
Equal width for all columns, or

Maintain the same width proportion used in the report
Enhancements in User Filters
In continuation with our updates on the user filter feature (Timeline Filter), we have once again come up with a list of enhancements to improve usability.
In this update, the following features have been supported:
Highlighting applied filters:
This feature automatically highlights the user filter that has been applied on your report/dashboard with a subtle green color. This helps you quickly identify the filter that has been applied.
Filter Level Reset:
You can now reset individual user filters on reports and dashboards. To reset individual filters, click the reset link available above the corresponding filter.
Excluding Dashboard Filters:
Exclude specific reports (in a dashboard) from being effected by dashboard filters.
To exclude,
Click the Options icon of the report in the dashboard designer

Select Exclude Dashboard Filters.
Default Value in Timeline Filter:
You can now set a default value for the timeline filter too.
To set a default value,
Click the Edit icon on your timeline filter

In the selected values, click the Star icon that appears on mouse over to mark the value as default.
Timeline Date Column mapping:
You can now map a date column to be used for a timeline filter at a report level.
Click the Options icon of the report in the dashboard designer (in edit mode).

Select the date column from the Mapping Timeline Filter drop-down.
Improved Drill Down Feature
Analytics Plus now allows you to dynamically select the drill down path from the chart interface. Earlier, when you define a drill down path, you will be allowed to traverse only through the defined path. Now, all the related columns will be listed in a drop down and you can choose the drill down path on the fly.
You can also configure the list of additional columns that are to be listed as a part of the drill down while sharing a chart.
In order to dynamically drill-down, click on the chart area and select Drill Down by.
Week Settings at Database Level
You can now update the week settings such as start day of the week, week format and week mode at the database level. All the reports in the database will use this week setting.
To do this,
Login to Analytics Plus

Open the corresponding workspace

Click Settings > General
Live Connect with Amazon Redshift Database
We have released a new and simple method to import data directly from various cloud databases such as Amazon RDS, Amazon Redshift, Microsoft SQL Azure into Analytics Plus. In addition to that we are introducing an option to live connect with your Amazon Redshift database.
In this method data will not be imported from Amazon Redshift and stored in Analytics Plus. Instead for every report that you create, Analytics Plus will generate appropriate queries to fetch the required data from Amazon Redshift at the time of report creation. Click here to know more.
Note:
The live connect feature is available only in Analytics Plus paid plans.

The feature is currently available only for Amazon Redshift.