Welcome to Zoho Expense, a cloud-based expense reporting software to record and report all your business expenses. Zoho Expense helps you manage complete expense reporting work flow, right from the uploading of a receipt, to its approval and reimbursement. With advanced features like auto scan for receipts, Zoho Expense stands out as a simple, yet efficient solution to manage and optimize your organization's expenditures.
Zoho Expense is a cloud-based software. So, all you need is the latest version of web browser to get the best expense reporting experience.
Click on the respective browser links to download or update your web browser to the latest version.
For mobile users, we have built the Zoho Expense app for iOS and Android phone platforms. Click here to know more about the Zoho Expense mobile app.
This user guide is structured based on the type of user roles available in Zoho Expense. As of now, Zoho Expense has three user roles:
Submitter - Can upload receipts, create expenses, create and submit expense reports for approval.
Approver - Can perform all the actions of a submitter, and also has permission to approve submitted reports. (including their own reports.)
Admin - Can access all the modules of the product; configure the product; assign user roles, and do a lot more.
Before taking a deeper look into various modules of Zoho Expense, it is essential to know a few common aspects of the product that will make things easier for you in the beginning.
If you're already a Zoho user ,you can sign in with your Zoho account's username and password.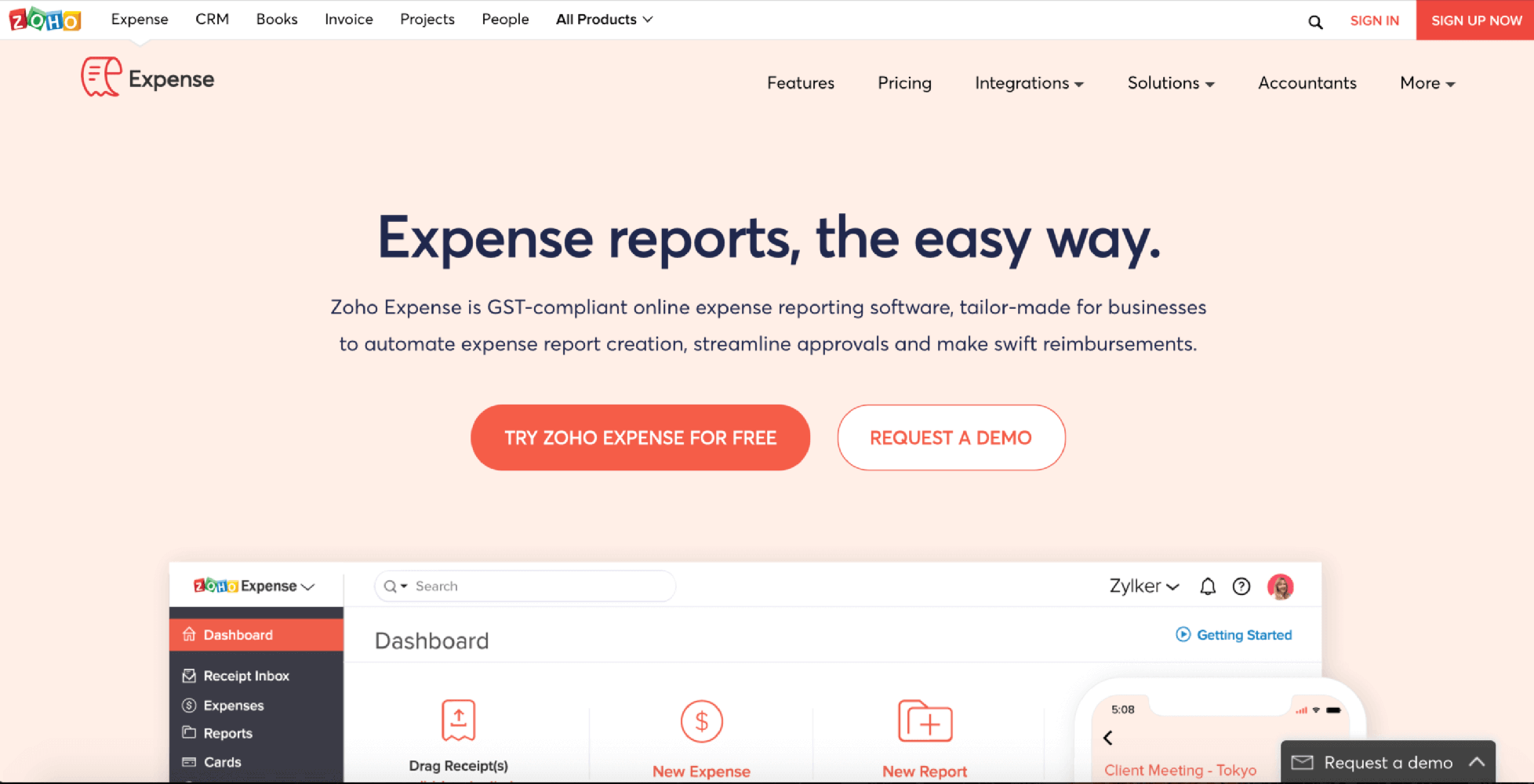 If you are a new user you can Sign up for free by clicking on the signup button on the Zoho Expense website and you'll be taken to the signup page where you will be asked to fill the following details:
Name: Your name
Email: Your Email address
Password: Set a password
Choose a location: Select your country
Make sure that you read the terms and conditions before signing up.
Click the Sign up button.
A verification email will be sent to your registered email address. Click on the link to verify your email address.
Your account is now activated.
The organizational setup page will ask you for particulars like the name of your organization, base currency, time zone, etc. Setup the organization and you're all set to go.
Soon after you log into your account, you will be taken to the dashboard. Your dashboard is more like the homepage for your Zoho Expense account. It provides you a rough overview of what's happening with respect to your business expenditures.

It provides you information on:
Submitted and Unsubmitted reports
Amount that is yet to be reimbursed
Unreported expenses
Unexpensed transactions from your card
Recent reports, and
Associated credit cards
If you are a submitter, or an approver, you can't get access to your organization's Zoho Expense account unless you receive an invitation from your Admin. The Admin can send you an invite by adding your email address to the organization.
Following that, you will receive an email asking you to join the account.
Click the Invite link and you will taken to a portal where you will be asked to enter your email address (to which the invite was sent) and set a password in order to access your account.
Zoho Expense is a Google Chrome extension of the web application of Zoho Expense. It enables you to create web receipts from any webpages or emails and upload them to your Zoho Expense account.
Download the extension here or search for it in the Chrome web Store.
Click on the button + ADD TO CHROME and select Add extension in the pop up that follows.
The extension will now be installed in your Chrome browser.
Note: If you have multiple organizations and you need to switch among these organizations, Click on the Hamburger icon located besides the name of your organization and select your required organization.