Recurring Invoice Details
To view details of a recurring invoice, click on the Sales tab and select Recurring Invoices. Now, select any recurring invoice.

On the right side of the page you will be able to see its details.
The deatils afre broadly classified into:
Overview
The main fields in this include:
Invoice Amount:
The amount generated on the Invoice.


Next Invoice Date:
The date on which the next invoice will be generated.

Recurring Period:
The billing schedule of the invoice. Eg: Weekly, Monthly, Daily, etc.
For a recurring invoice with Never Expires option selected while creating, it will show billing runs forever.
If the billing cycle is set then the notification will show as billing cycles remaining.

Unpaid Invoices:
This tab notifies about the number of invoices that have not been paid by your customer.
Recurring invoices with the card icon next to them denote that those invoices are enabled with Auto-charge.
Next Invoice
You can see the next invoice which is to be generated by clicking on the Next Invoice button next to Overview.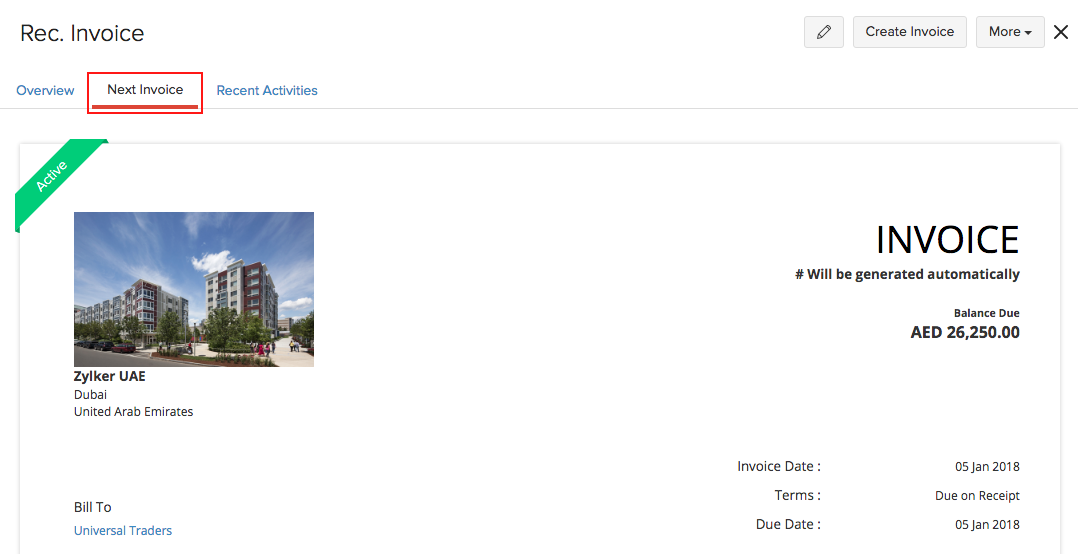 Recent Activities
The recent activities show all the updates done to the recurring invoice by the user. You can see the recent activities by clicking on the Recent Activities button next to the Next Invoice button.
Collecting Payments from the List View Tab
For an invoice with Auto-charge:
Click on the unpaid invoices notification tab to view the list of invoices that are not yet paid by our customers. When Auto-charge is enabled, you can change your customer's card by clicking on Charge Customer. Learn more about Online Payments.

For an Invoice without Auto-charge:
Click on the unpaid invoices notification tab to view the list of invoices that are not yet paid by your customers. When Auto-charge is not enabled, you can make offline payment recording for the unpaid invoices by clicking on Record Payment. Learn more about Offline Payments
---