GoCardless
GoCardless is a UK based Direct Debit provider. Integrating GoCardless with Zoho Books enables you to easily collect one-off or recurring invoices via Direct Debit - putting you in control of your cashflow. Your customers will be able to set up the Direct Debit mandate and pay the invoices that you send using the link in the email or through the client portal.
This integration is currently available for the United Kingdom, Canada, New Zealand, Switzerland and Australia.
Things to Remember:
To accept direct debit payments with GoCardless you must have a GBP/EUR bank account connected with your GoCardless account.
Integrating Zoho Books with GoCardless will let you accept payments in GBP. But, to register for SEPA(Single Euro Payments Area) and to accept payments in Euro, you will have to contact GoCardless.
In order to allow customers to pay via GoCardless, you need to enable Allow this customer to pay via Direct Debit option for your customers in the Other Details section of the contact creation/edit page.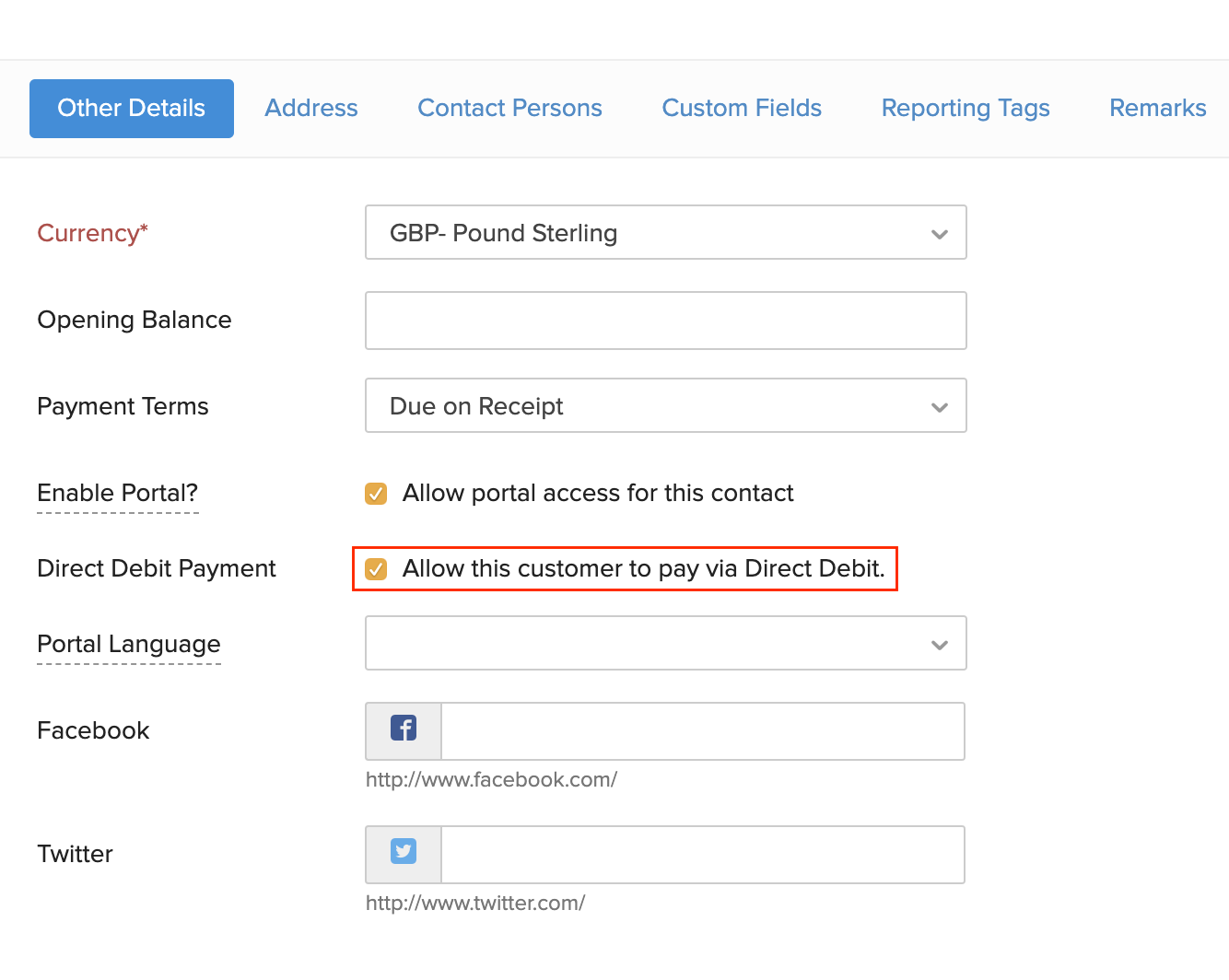 It will take 3-5 days to process a transaction.
The minimum transaction amount is £1 and the maximum is £5,000. To increase this limit, please contact GoCardless.
Connecting GoCardless with Zoho Books:
Setting up the integration with GoCardless will enable your customers to make payments through the Client Portal. To configure GoCardless:
Existing GoCardless Users
Go to Settings > Integrations > Customer Payments.
Click the Set up Now button, listed below GoCardless's logo.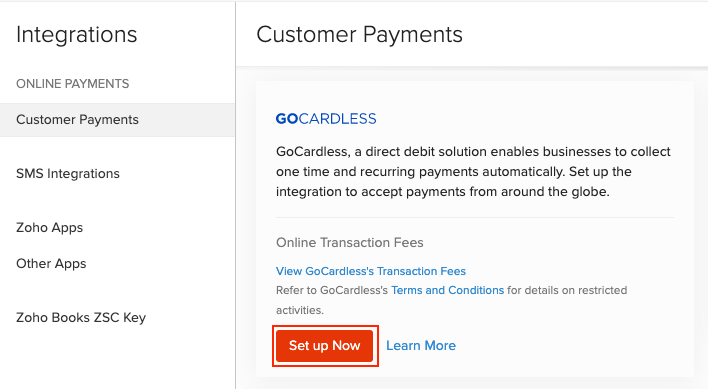 Enter your email and password registered with GoCardless in the following screen and click Connect account.
New GoCardless Users
Go to Settings > Integrations > Customer Payments.
Click the Set up Now button, listed below GoCardless' logo.
Create a new GoCardless account in the following screen by clicking Sign Up.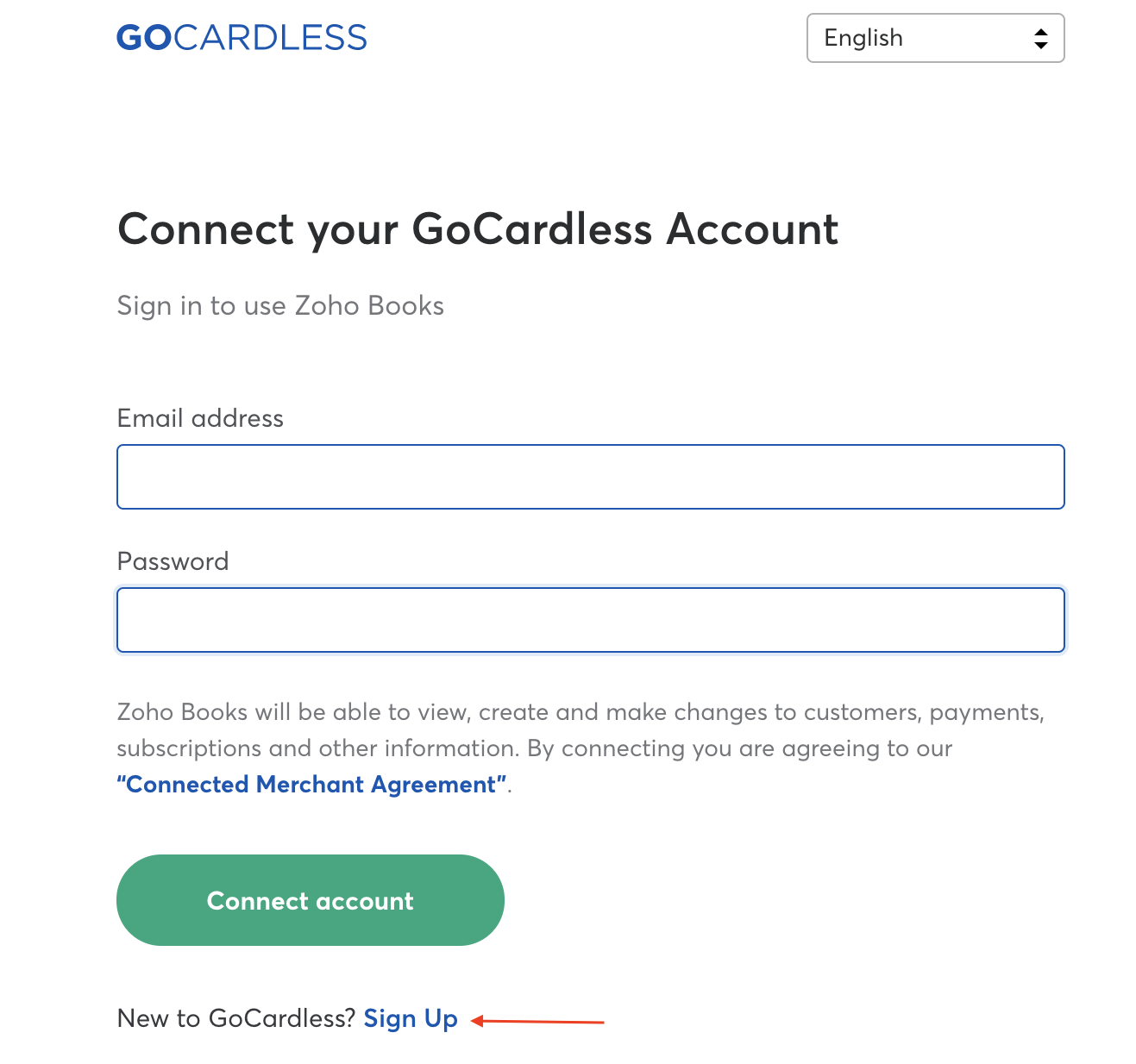 Enter the required details and click Create account.
You will receive a verification email from GoCardless. Sign in to your GoCardless account using the link provided in the email.
Once signed in, select Settings in the top-right corner and select Company Info.
In the following page, fill in your company information and the bank account details you would like to send/receive payments.
Other Actions
Preference
You can change the header content of the payment page by changing the Mandate Description. To change the Mandate Description:
Go to Settings > Integrations > Customer Payments > GoCardless.
Click Preferences.
You will be able to edit the Mandate Description in the pop-up.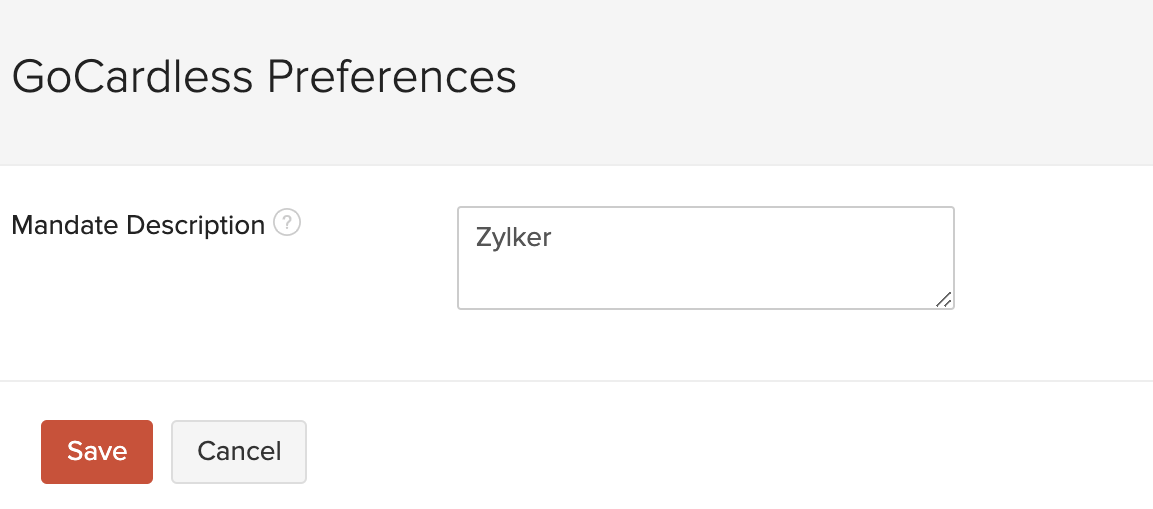 Note: Your organisation's name will be displayed by default if no Mandate Description is provided.
Mandate Sync
Direct debit sync in GoCardless allows you to fetch your customers' mandate details from your GoCardless account to your Zoho Books account.
Here are a few things you should remember while enabling Direct Debit Sync:
The primary email ID of your customer in Zoho Books should match the email ID of the customer in GoCardless.
Only active mandates in GoCardless will be fetched.
Mandates of two or more customers in Zoho Books with the same primary email ID will not be fetched
For customers to pay via GoCardless in the client portal, you need to enable the option Allow customer to pay via Direct Debit in the contact edit page.
To enable Mandate Sync,
Go to Settings > Integrations > Customer Payments > GoCardless.
Click Initiate Sync.

Reconciliation
Reconciliation helps you keep track of GoCardless transactions along with the fees levied on each transaction. The amount for all invoices paid via GoCardless will fall into your GoCardless Clearing account. Now, by enabling Reconciliation you will get a clearer picture of what happens, that is, you can track the amount you actually receive in your account and the amount that is being withheld as transaction fee.​
To enable reconciliation:
Go to Settings > Integrations > Customer Payments > GoCardless.
Click Reconciliation.


Click Configure Bank Accounts in the following page.
Fill in the following details: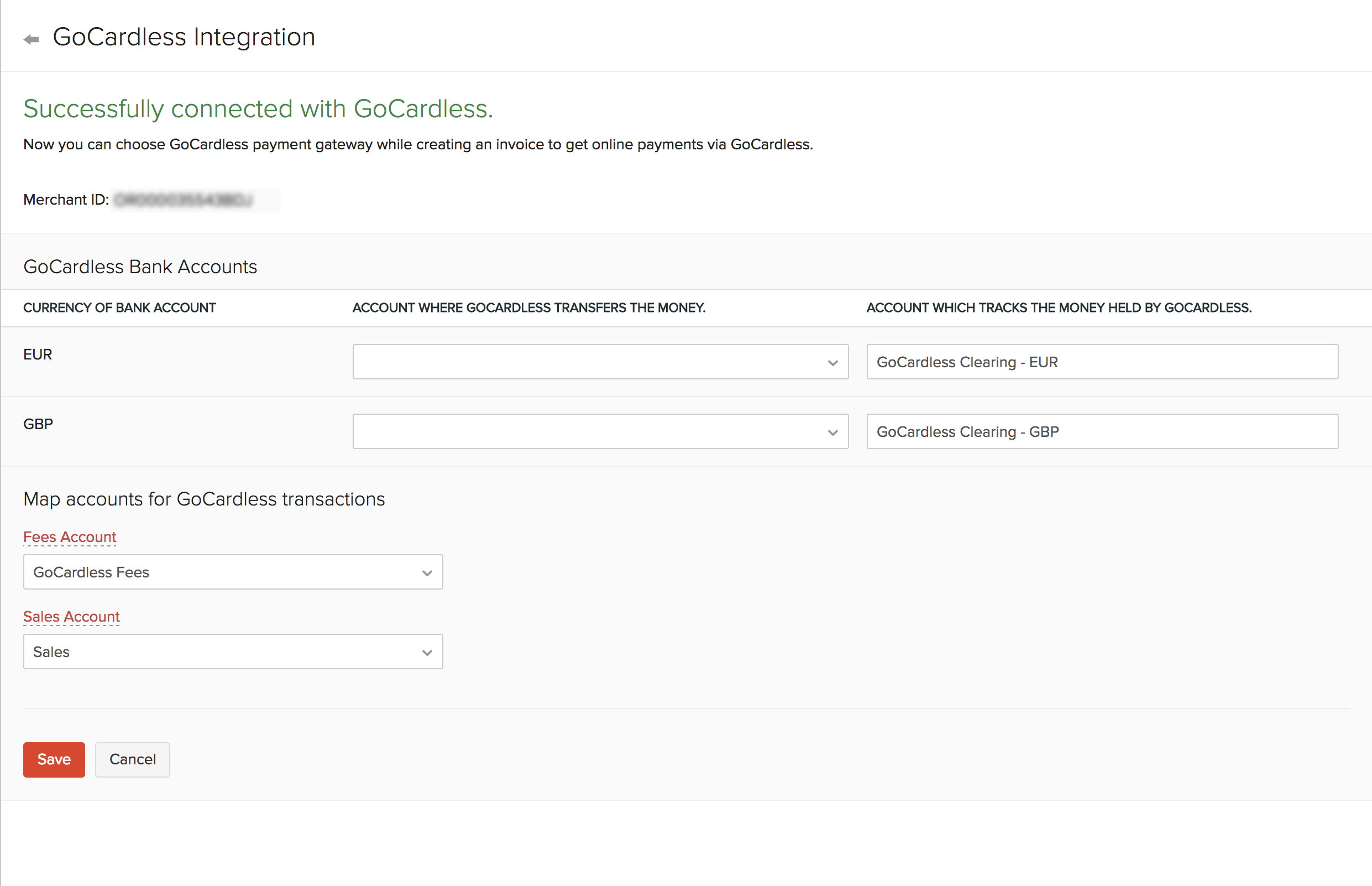 Account Where GoCardless Transfers The Money:
You can map your bank accounts in which you receive payments from GoCardless.

Fees Account:
This account tracks the fees charged by GoCardless for the transactions processed through their payment gateway. By default, the label is GoCardless Fees. This account will be of type Expense.

Sales Account:
This account tracks the total sales that happened through GoCardless transactions on your GoCardless account. By default, the sales account is selected. This account will be of type Income.

Monitoring GoCardless Clearing in Zoho Books:
The GoCardless clearing account in the Banking module will give you insights on the transactions that happened on a daily basis. You can easily have a clear picture of the consolidated sales that happened, the fees GoCardless has charged for the transactions, refunds if any and the amount transferred to your bank account by GoCardless. If there is any pending amount that GoCardless owes you, it will be shown as Amount in Zoho Books on the main tab.

Also can be viewed from the Banking main window,

Transactions Involved in GoCardless Clearing Account:
| Type | Description |
| --- | --- |
| Sales without Invoices | Total amount of previous day's consolidated sales processed through your GoCardless account. |
| GoCardless Fees | The fees GoCardless charged for every transaction processed through their service. |
| Transfer Fund | The amount GoCardless deposits in your bank account. |
| Customer Payment | The amount received for the invoices sent via Zoho Books. |
Edit/Disable:
You can edit the accounts configured with GoCardless or choose to disable the GoCardless feeds.

Transaction History
You can view the list of all your transactions under Transaction History. To do so:
Go to Settings > Integrations > Customer Payments > GoCardless.
Click Transaction History and you will be redirected to GoCardless where all your transactions will be listed.

Remove Integration
To disable the GoCardless integration:
Go to Settings > Integrations > Customer Payments > GoCardless.
Click Remove to disable the integration.

If you had disabled the integration at GoCardless, you can click Re-connect and enable the integration once again.
Making payments through Client Portal using GoCardless
Your clients can view a list of invoices sent by you in the portal. If the invoice is unpaid, they can choose to pay instantly by clicking on Pay Now.

In the following page, they need to choose the Direct Debit option and click PROCEED TO PAYMENT.
Insight: Customers can also choose to save their account details for future transactions by checking the Use this Direct Debit mandate for future transactions option.
They'll be redirected to the GoCardless' payment page, where they need to enter their account details and initiate the Direct Debit process.
The next time your customer wants to pay for an invoice, he can either pay using an already saved account or use another account.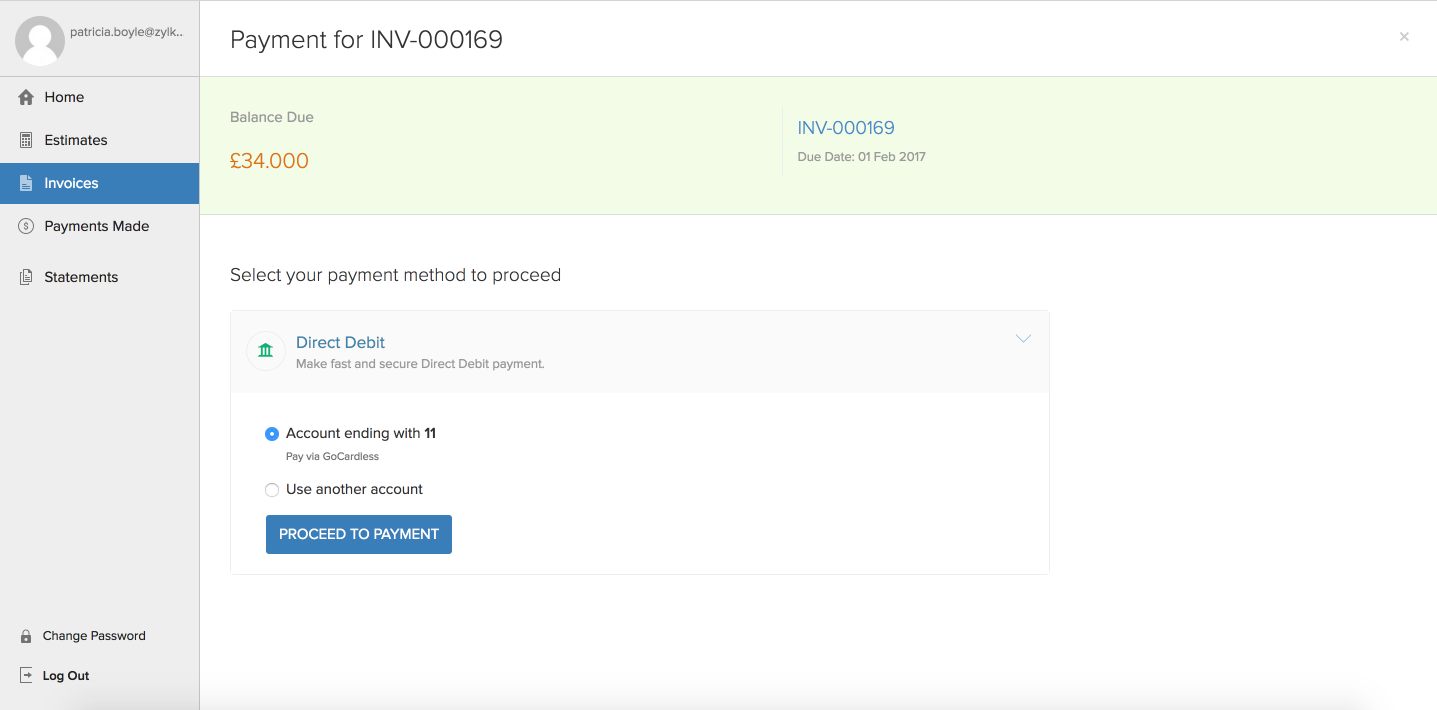 ---
Transaction Charges
The online transaction fees will depend upon the charges specified by GoCardless.
As on July 1 2019: Transaction fee- 1% of transaction value capped at £2 /€2 / C$4/ A$3.50 / NZ$4.40.
---