The FAQ page can be a strange beast of a webpage. Its purpose is to answer the questions your prospects or customers often ask that can't be easily answered anywhere else on your website. So the page runs the risk of reading like a miscellany: A collection of disparate questions-and-answers prompted by a wide spectrum of site users. From an organizational perspective, this can make things tricky.
What's more, visitors to your FAQ may very well be more frustrated than visitors to other pages on your site; and that possibility is worth keeping in mind.
It's also worth keeping in mind that users absorb information differently, which means the FAQ may need to take a multimedia approach to be valuable for all visitors. And it's a page you should be willing to update regularly, as new questions come in, others aren't asked so often anymore, and visitors leave feedback on your current answers.
Given all that, it's not easy to find an exemplary FAQ page. Here are three of our favorites from the year—the ones that made us giddy when we came across them:
1. Best Made
The FAQ page for outdoor lifestyle brand Best Made looks like this: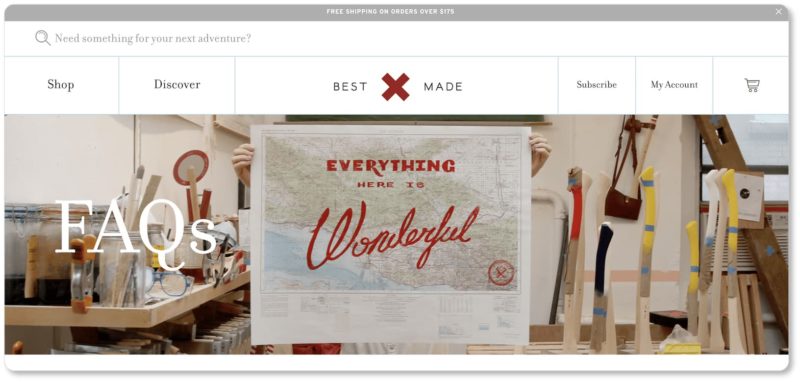 Best elements of Best Made's FAQ:
Their tone is familiar and inviting. That opening paragraph is some of the best FAQ copy we've seen. Best Made recognizes that the psychology of the FAQ visitor is unlike that of visitors to other pages. Maybe they're there to find the answer to a question they think they should have gotten on another page of your website, and they're frustrated. Maybe they're having an issue with your product, or there's a glitch in your service; and they feel deceived.
Best Made's copy calms visitors and reminds them that the company is there for them even after the product's been purchased. It invites visitors to engage as they would with a friend: The company won't just answer queries about their product; they'll also "help plan your next adventure."
Their answers are short and to the point. Best Made uses an accordion design, so the answers appear when a user clicks on the plus-sign beside each question. This keeps the page looking clean. And when the answers are visible, they're short enough that the page doesn't feel overwhelming: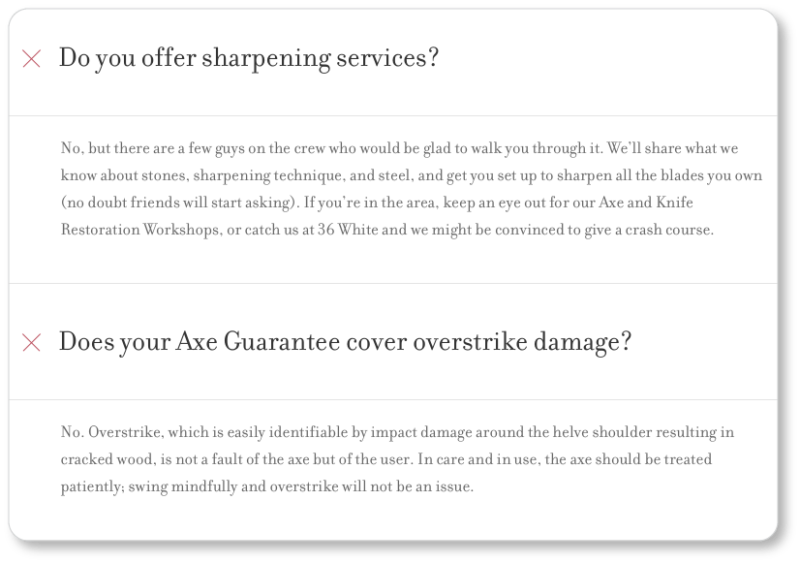 They don't ignore the negative or difficult questions. If you didn't take the time to read the answers to those questions above, take a look now. You'll notice that Best Made had to answer both of these questions in the negative.
Best Made didn't pass over the questions whose answers might disappoint their prospects. Rather, they answered them straightforwardly.
What's more, in response to the first question, Best Made generously offers to share what they know in workshops and crash courses. And in response to the second question, they don't simply say "no" to covering overstrike damage. They describe the real cause of overstrike, positioning themselves an authority on the matter. Two great moves.
They offer multiple ways of being in touch: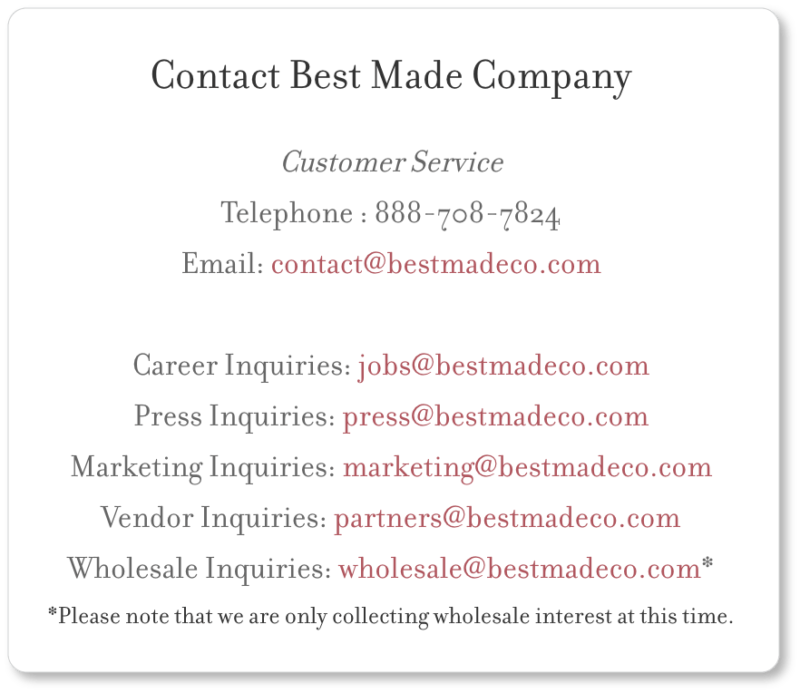 The company has dedicated email addresses for different types of queries. This ensures the question gets to the right team and response time is quick. Best Made also offers links to social media for visitors who prefer to ask their questions there, and displays a floating "Support" so users can send their questions without having to leave the page:

They remember conversions. See that "Newsletter Sign Up" above? That's a smart lead-generation move. And since Best Made offers a standout guarantee to the right of its "Subscribe" CTA, prospects are all the more likely to sign up.
2. AncestryDNA
Rather than a basic FAQ page, the genealogy company offers a comprehensive support page. Its FAQs are under the heading "Most Popular Help Articles." If your offering is complex enough to require an extensive support page, your frequently asked questions should still be given pride of place: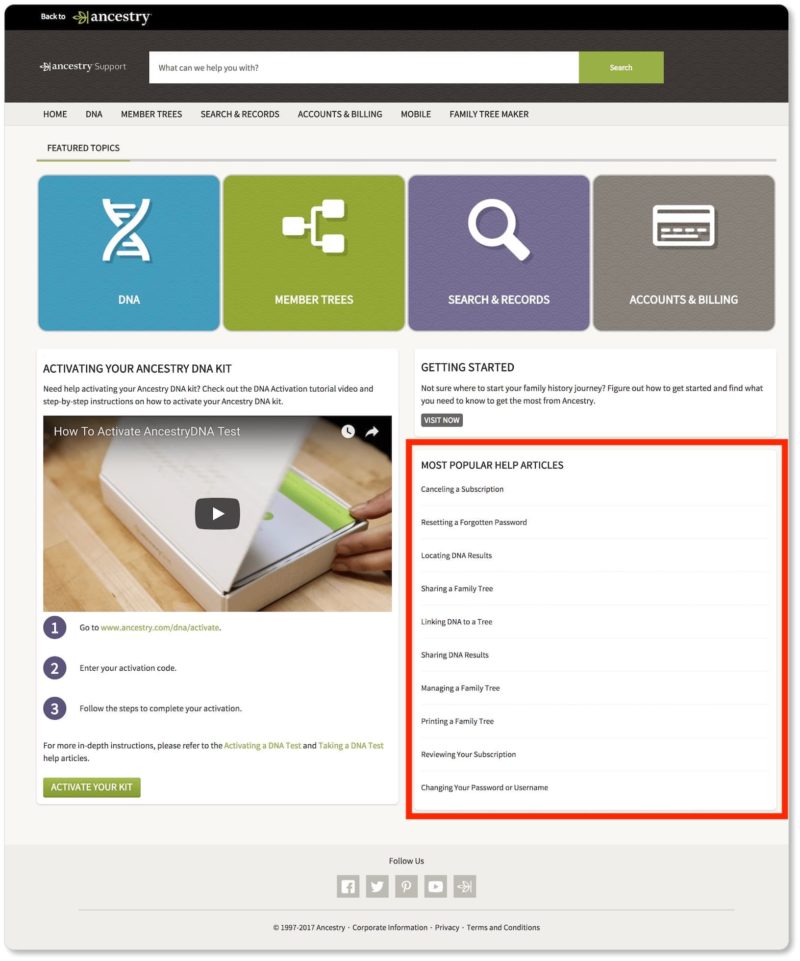 Best elements of AncestryDNA's FAQ:
They're attentive to information hierarchy. Aside from "FAQs," the first two things AncestryDNA's support page offers are a "Getting Started" CTA and a video on "Activating Your Ancestry DNA Kit." They first address prospects who are still deciding whether to use their service, as well as brand new customers who are beginning their genealogical journey.
The information deeper in AncestryDNA's support section ("Finding Biological Family," "Assigning a Manager to Your DNA Test") is for customers who've been with the business for awhile and know their way around the support section a little better. They're also "stickier" customers who are probably more willing to dig deeper to get the information they need.
They use multimedia. We clicked on the FAQ for resetting a forgotten password, and were taken to this page: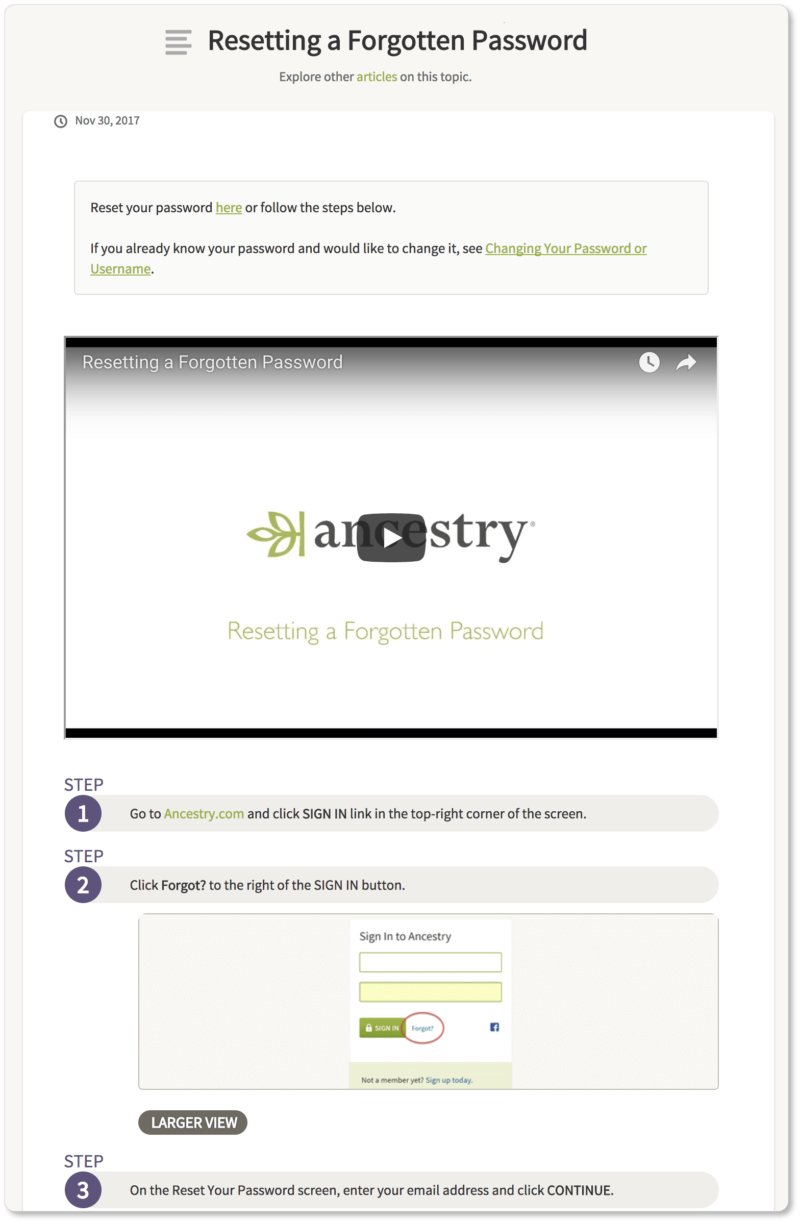 AncestryDNA recognizes that users absorb information differently; so they answer this question through both video and screen shots.
They don't limit their FAQs to their support page. Prospects are bound to have questions no matter what page of the website they're on. So while the company maintains a discrete FAQ section on their support page, they also include FAQs on other pages that are appropriate to the content on that page.
For instance, when a prospect clicks on the primary CTA on their homepage ("Explore AncestryDNA"), they're taken to a landing page that gives an overview of the service. At the bottom of this page is another FAQ curated specifically for prospects: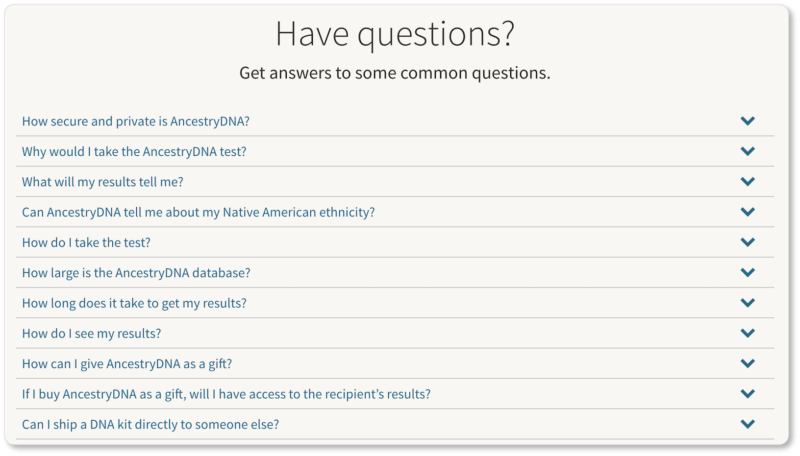 For new customers about to activate their DNA kits, the company offers a separate FAQ (this one pops up in a modal window) that answers questions specific to the activation process: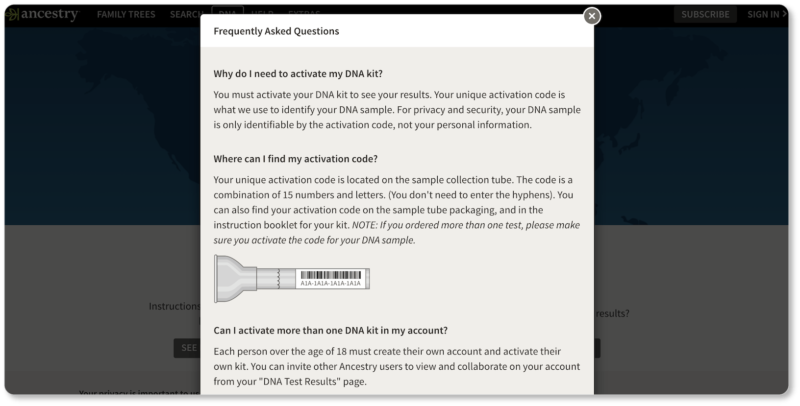 AncestryDNA is a company that's thinking about the kinds of questions visitors are likely to have on every page of their site.
3. YouTube
YouTube's Help Center is surprisingly and wonderfully minimalistic (Its FAQs are couched under that first item, "Popular on YouTube Help"; but the help center as a whole is worth paying attention to):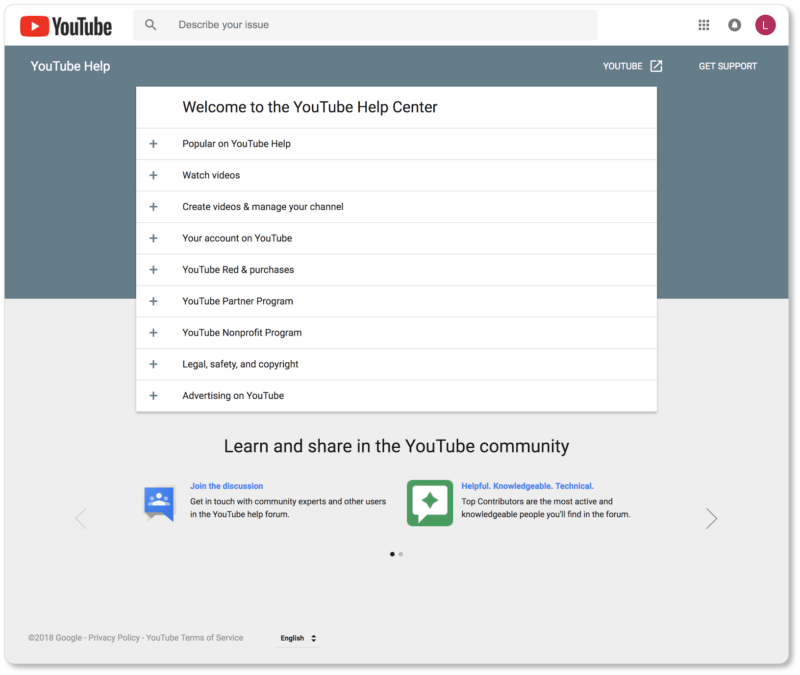 Best elements of YouTube's FAQ:
They offer a brilliant navigational structure. The last thing we'd expect is for the video-sharing giant's help page to look so clean and uncluttered, given the number of questions it contains. But their menus lead to sub-menus (running four deep), and they've categorized their topics intuitively for the user. Here's how we navigated when we wanted to understand how the "What to Watch Next" feature works:
They include a search feature. Search is an important feature for great UX, even if your FAQs are much less extensive than YouTube's. It keeps users from having to scroll or click through to find the question in your knowledge base that mirrors theirs.
They ask for feedback. After every answer YouTube provides, users are asked "Was this article helpful?" If a user clicks "No," a box pops up asking how the answer could be improved. This is an excellent way for YouTube to keep iterating its responses until they're useful for every visitor: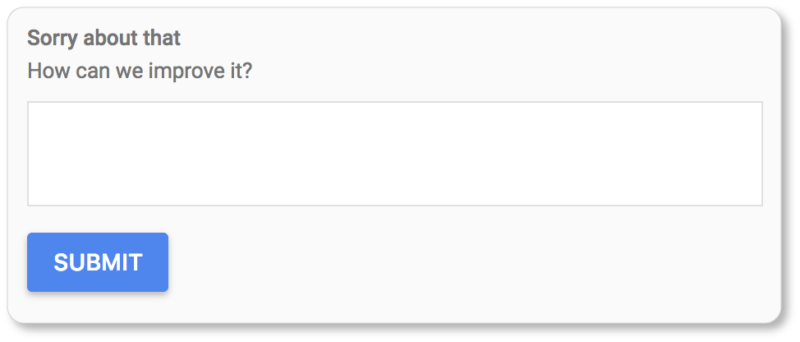 They include links to community forums, help videos, and "known issues":


These are excellent resources for users who want more multimedia support, who want to know if the issue they're experiencing is a temporary glitch in the system that everyone is experiencing, or who can't find the answer to their question and think they'd get a faster answer from YouTube's community. These kinds of links function as great backup plans for questions that an FAQ might not cover.
So there you have it. Keep in mind that even if you're a smaller business, there are plenty of tips you can take from companies with larger support sites. (Indeed, each of the best practices above are essential features of smaller FAQs). So if you're looking for FAQ page examples to model your own on, don't feel you need to limit your research to smaller businesses.
If you're just getting started (or if you're revamping your FAQ page), check out our best practices for creating your list of FAQ questions, dig into the pages we look at in our FAQ page content… and get going. If you're lucky, you may even experience some delight in answering your prospects' and customers' questions.