General and Accounts
1. What is Zoho Projects?
Zoho Projects goes beyond the traditional project management space. Of course it also offers great planning and reporting capabilities, but Zoho Projects is better because it is social too combined with collaboration and bug tracking features.
Zoho Projects allows users to post their working status and allows project members to chat with each other. The Project Stream helps all the team members get instant updates about what's going on with the project. And you can keep all content organized and accessible by centrally posting files and easily creating a project web page or documentation.
2. Is Zoho Projects reliable and confidential? Is my data safe and secure with Zoho?
At ZOHO Corporation, we respect your need for online privacy and protect any Personal Information that you may share with us, in an appropriate manner. As a condition to use of Zoho Services, you consent to the terms of the Privacy Policy Statement as it may be updated from time to time.
In addition we are US/EU Safe Harbour Compliant.
Zoho takes the security of your data and information very seriously. We have taken many different steps to help ensure the safety of your data. This includes physical security practices (like 7x24x365 security, video monitoring, biometric access, bullet-resistant walls), Network Security (encryption, intrusion detection/prevention), People Processes and Redundancy/Business Continuity.
For more details see Security Policy
3. How do I get started with Zoho Projects?
If you click the Sign Up for Free link you will be redirected to a sign up page. Here you need to fill in some basic information like e-mail address, name and create your Zoho Projects account.
Zoho Projects free plan offers the following features to get started with :
Create milestones, task list and tasks
Set task dependencies and reminders
Gantt and resource utilization charts
Document sharing
Email management
Collaborative dashboard
Interactive forums
Chat Rooms
Team Intranet (Wikis)
User Management
Portal customization
Shared group calendar
Import Basecamp projects
Import contacts from Zoho CRM / Mail Suite
Import Microsoft projects (both MPP / MPX)
Works with Google Apps like Google Docs, Google Calendar, Gmail and iGoogle
Note: Subtasks, Task duration in hours, Timesheets, BugTracker & iPhone Native App are available only in paid plans.
For more details see Plans and Pricing
4. What are the browsers supported for the New Zoho Projects 4.0?
The supported browser versions for Zoho Projects 4.0 are as follows :
To add a client user :
Internet Explorer - 9 and above
Google Chrome - 23 and above
FireFox - 17 and above
Safari - 5 and above
Note : We request users to upgrade their browsers to the latest version for a better and smooth user experience.
5. Does Zoho Projects has multi-language support?
Yes. Zoho Projects supports 16 different languages like Chinese, Czech, Danish, Dutch, English(US), French, German, Italian, Japanese, Polish, Portuguese, Portuguese (Brazil), Russian, Spanish, Swedish, Korean and Turkish.
Note : If you wish to see pages in your favorite language then send a request to support[at]zohoprojects[dot]com
6. How can I change the Portal URL?
The Portal URL can be changed by the Portal Owner only.
To change the Portal URL :
Go to the Settings tab and click the Admin Settings link
The portal url change page is displayed with the existing portal name
Type-in the URL you like to have for your portal
Click the Change the Portal URL button
The new portal name will reflect in your portal url.
Note: No special characters are allowed in the portal URL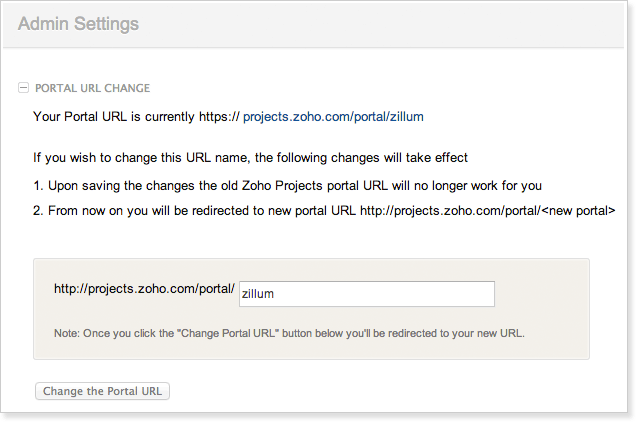 7. Is it possible to have multiple administrators in a portal?
Yes. There can be multiple administrators for a project.
1. To add a new user as Admin
Go to All Users tab
In Company Users section, click Add User option
Type the user's email id and select the user role as Admin
Click Add User button
2. To update an existing user's role as Admin
Go to All Users tab
In Company Users section, mouseover the user's email id
Click Edit option and select Admin role
Click Update User button
8. Do the archived projects count against my number of project for billing purposes?
No. Only the Active projects in a portal are taken into account for the total allowed projects.
9. How to change my e-mail address?
To change the email address :
Log into accounts.zoho.com
Click the Email Address option
Click the Edit button and update the email id.
10. Can I change the portal owner in Zoho Projects?
Yes. You must be the Portal Owner in order to change the ownership. The ownership can be changed to another user who is in the Admin role.
To change the ownership :
Go to the Settings tab and click Admin Settings link
Click the Portal Owner Change link
Select the new portal owner from the drop-down and click the Change the Portal Owner button
This will update the new portal owner.
Note :
Portal Owner Change is enabled for the paid plans only.
Portal Owner Change is not available for the portals that are mapped with Google Apps domain.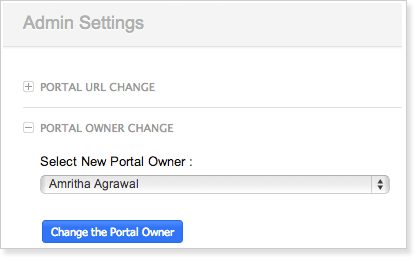 11. Can Zoho Projects can be installed in local machine or intranet?
No. It is not possible to install Zoho Projects in local machine or intranet. You can only access Zoho Projects online.
12. How do I copy a project?
Currently, it is not possible to copy an existing project.
13. How do I save a project as a template?
Currently, it is not possible to save an existing project as a template.
14. Is it possible to add custom fields in Zoho Projects?
No. Adding custom fields is not possible with the current design in Zoho Projects.
15. How can I edit the e-mail invitation sent to the newly added users?
The invitation mail sent to the new users are sent from our application server. Modifying this invitation mail is not possible.
16. Is there a way of having desktop shortcut for Zoho Projects?
No. Zoho Projects being an online project management service, it can be accessed only through a browser.
17. How do I find the archived projects option?
The link for the archived projects section is displayed just below the New Project option in home page.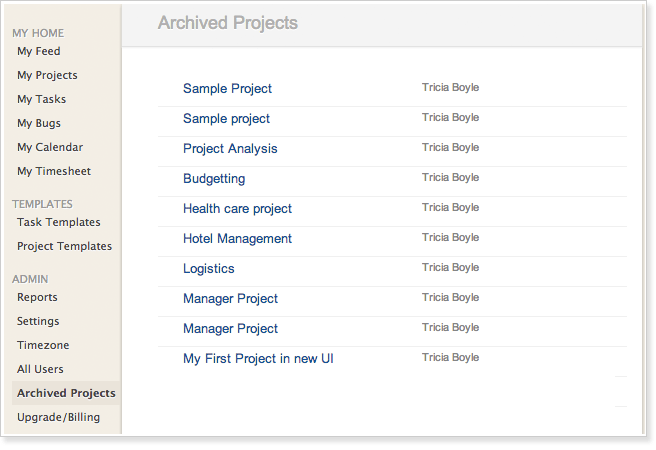 Note: This option is available only for the Portal Owner and Administrators in Zoho Projects.
18. How do I un-archive an archived project?
The archived projects can be unarchived only by the Portal Owner and Administrators in Zoho Projects.
Log into the portal, click the Archived Projects link listed below the New Project option
Mouseover the project name and click action button link to the left of the project name
Click Edit Project option from the drop-down list
Select the status Active from the Project Status drop-down
Click Update button
This unarchives and makes the project active.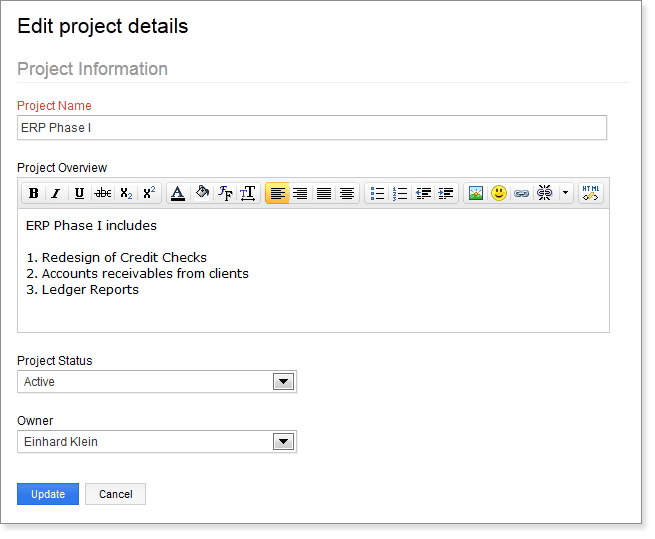 19. Do you have keyboard shortcuts?
Yes. We do have the following keyboard shortcuts.
20. How can I reset any user's password as a Portal administrator?
Though you are the Portal Owner, it is not possible for you to reset the password of other project members. Only the respective user can reset the password.
To reset the password, refer https://zohosso.wiki.zoho.com/#ChangePassword.
21. Is this software absolutely free?
Zoho Projects offers a Free plan with 1 Project and unlimited users which is free forever.
22. I need to make my company users access the project template. How do I do that?
If you want all users to access the project templates, you must update their user role as Administrator using the All Users » Company Users option.
23. Does Zoho Projects support sub projects?
Currently, we do no support sub projects in our Project Management.