Sales Reports & Dashboards
Zoho CRM offers fully customizable reports in all the modules. (Sales, Marketing, Support and Inventory) We feature a number of flexible options, such as cross-linking modules, arithmetic operations, different types of layouts, 3-level column grouping, public/private folders, scheduling reports generation and delivering to the intended users (including non-Zoho CRM users) through email. In addition, 25 plus standard reports are packed in various modules which can be used as a ready reference and enhance the learning experience.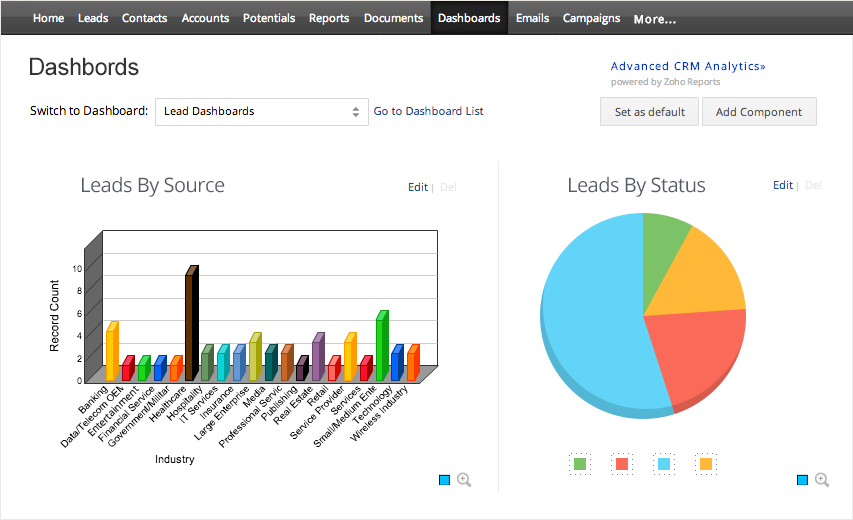 CRM Dashboard provides a real-time snapshot of your organization's key metrics. Using CRM dashboards you can easily visualize comparisons, patterns, and trends in sales, marketing, support, and inventory related data. In Zoho CRM, dashboard is comprised of different types of two-dimensional/three-dimensional (2D/3D) charts which are generated dynamically based on the latest data. One unique element is the Sales funnel chart, which can be used to visualize the sales pipeline at various stages.
CRM Reports
40+ standard CRM reports in sales, marketing, customer support, and inventory management modules
Create cross-link reports spanning across multiple modules
Create tabular, summary, and matrix type reports
Perform arithmetical operations using aggregate functions (sum, average, min and max)
Store reports in different types of public/private folders and enable access to the users according to their access privileges
Schedule the report generation mechanism and send printer-friendly reports to the specified users, including non-Zoho CRM users
Export sales report data to various user-friendly formats such as PDF, HTML, XLS and CSV
Standard CRM & Sales Reports
Sales Force Automation
Sales by Lead Source
Potentials Closing by this Month
Pipeline by Stage & Probability
This Month Sales Report
Accounts by Industry
Marketing Automation
Leads by Source Report
Campaigns Revenue Report
Campaign Leads
Potentials by Campaign
Customer Support
Products by Cases
Cases By Origin
Cases By Status
Cases By Priority
Popular Solutions
Inventory Management
Purchase Orders by Status
Quotes by Stage
Invoices by Accounts
Sales Orders by Status
Products by Support Termination date
CRM Dashboards
Interactive CRM dashboards with an aesthetically pleasing layout and fast loading capability
Fully customizable Sales dashboards with different types of Bar, Funnel, Pie, and Line charts
Drill down Sales charts for further data analysis
Display charts in customized home page
Standard CRM & Sales Dashboards
Sales Force Automation
Sales by Lead Source Chart
Potentials by Type
Sales Pipeline by Stage Chart
Sales by Accounts
Marketing Automation
Campaign Leads
Campaign vs Revenue Chart
Leads by Source & Status
Leads by Industry chart
Customer Support
Cases by Origin Chart
Cases by Priority
Cases by Status
Inventory Management
Purchase Orders by Status
Quotes by Accounts
Invoices by Status
Sales Orders by Status
Advanced CRM Analytics
The Advanced CRM Analytics powered by Zoho Reports enables you to analyze your CRM data by creating powerful reports and dashboards. The Sales & Marketing teams can slice and dice the data and make better data-driven business decisions.Learn More